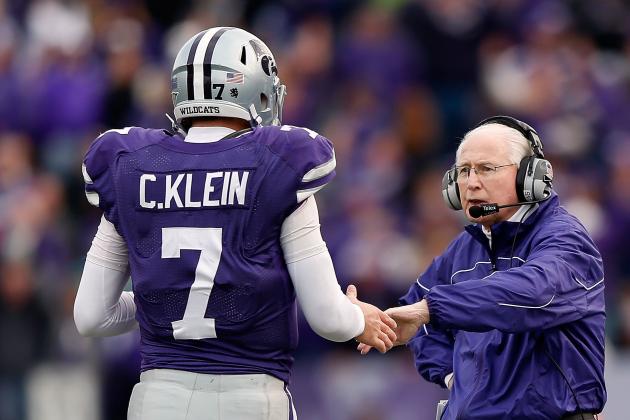 Jamie Squire/Getty Images

It's never too early to start projecting where Big 12 teams will be traveling during the holidays. This year, we've got eight of 10 teams that will enjoy an extra game.
These things are always fluid, but if things stay the way they are right now, this could be a logical projection for where each Big 12 team ends up in the postseason.
It's a testament to how good this conference is when 80 percent of the league's members go bowling.
Everyone take a bow.
Begin Slideshow

»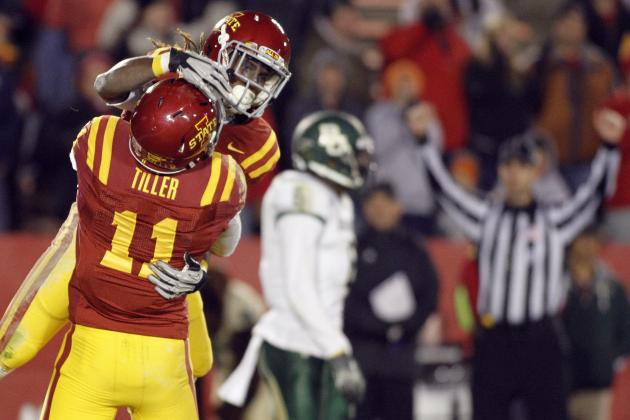 Matthew Holst/Getty Images

The Iowa State Cyclones should be the last Big 12 team to become bowl-eligible with a 6-6 record.
Right now, Iowa State is 2-3 in the Big 12 (5-3 overall) and its projection is as follows for the rest of the season: A win against Kansas, and losses to Oklahoma, Texas and West Virginia.
Iowa State will be playing the Big East team that finished fourth in the conference and as usual, things are fairly convoluted in the Big East standings. Cincinnati or Pitt are a likely opponent for Iowa State.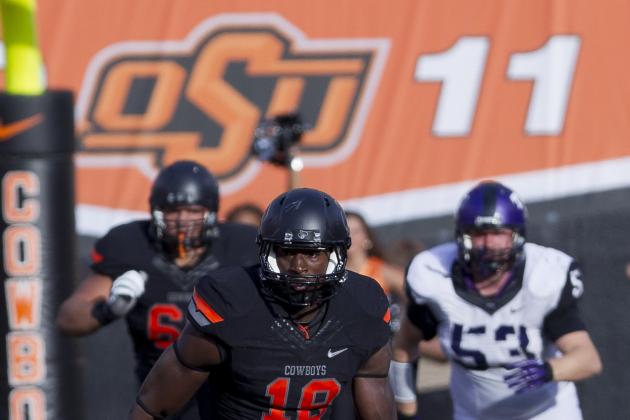 Richard Rowe-US PRESSWIRE

Here's the problem for the Oklahoma State Cowboys. I actually have them finishing with a strong 7-5 record, but the Cowboys will slide down in the bowl selections due to other Texas teams getting picked ahead of them by other bowls.
Oklahoma State is currently 3-1 in the Big 12 (5-2 overall), but their upcoming schedule is a nightmare. I've got the Cowboys losing to Kansas State, West Virginia, Texas Tech and Oklahoma but beating Baylor.
The Cowboys should finish 4-5 in the Big 12 with a very respectable 7-5 overall record.
The Meineke Car Care of Texas Bowl selects the sixth Big Ten team and at this point, I'm not so sure the Big Ten will have six eligible teams.
A probable opponent for Oklahoma State is Iowa.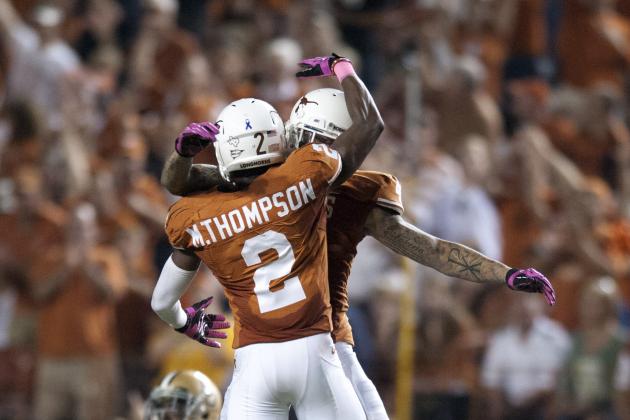 Cooper Neill/Getty Images

The way the Texas Longhorns have looked the last four weeks, a Holiday Bowl is a pretty nice bonus. San Diego is lovely in late December and last year, the Longhorns had a ball (beating up Cal).
Texas is 3-2 in the Big 12, but it should finish 4-5 (losing to Texas Tech, TCU and Kansas State but beating Iowa State). Sorry Longhorn fans, your team's defense just makes me skeptical of any upsets from here on out.
So who are the Longhorns going to face? An 8-4 USC, Stanford or Washington.
Admit it, this could be a dream bowl for the folks at Bridgepoint (bowl sponsor) if USC gets the pick as it may be the first time we see every seat filled at Qualcomm Stadium.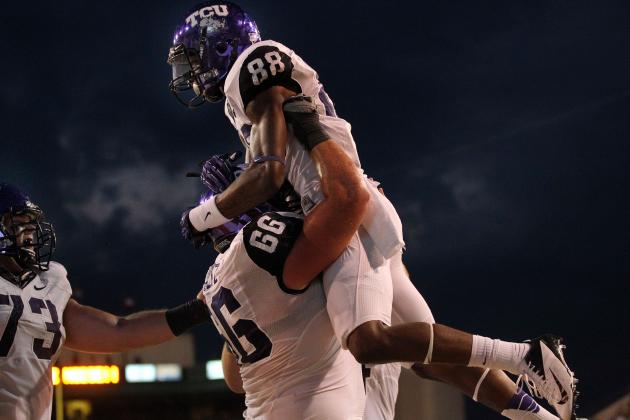 Layne Murdoch/Getty Images

To be perfectly honest, TCU, Texas and Oklahoma State are all fairly close in projected records, but defense has proven to be key. Although the Horned Frogs' defense has taken a beating over the last two weeks, I think they split the next four games against West Virginia, Kansas State, Texas and Oklahoma.
I know that's a brutal four-game stretch, but I like Gary Patterson and I think his team has some upsets in mind.
With that being said, the Horned Frogs need to win one more game to become bowl-eligible, and there is the possibility they don't reach six wins.
We may need to revisit this in two weeks, but for now, I'm projecting a 7-5 record for TCU and a trip to Tempe, Ariz., in late December to face Northwestern.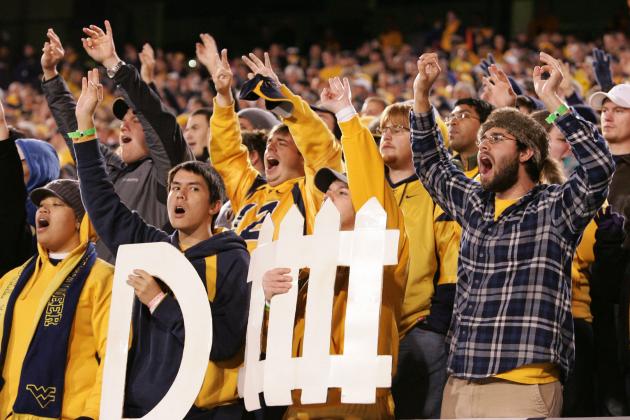 Charles LeClaire-US PRESSWIRE

The West Virginia Mountaineers will probably win out with the exception of their game against Oklahoma, so that would leave them 5-3 in the Big 12 and 9-3 overall.
The Mountaineers played in the Orange Bowl last year. While the Alamo Bowl is a step down in terms of status, at least the stands will be full. San Antonio is a great place to chill out and enjoy the local attractions.
West Virginia will most likely play Oregon State unless Oregon State goes to the Rose Bowl and Oregon goes to the BCS Championship. In that scenario, Arizona looks like an Alamo Bowl candidate.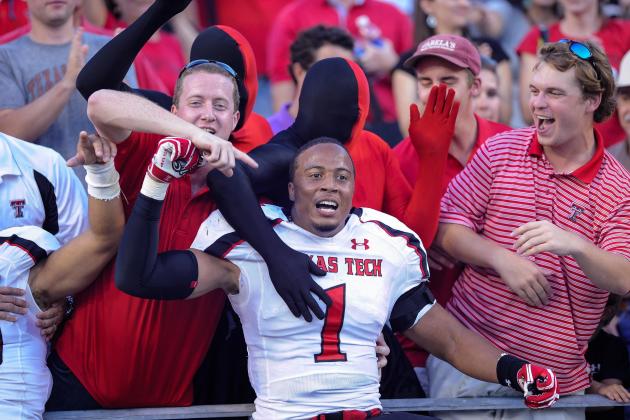 Jerome Miron-US PRESSWIRE

The Texas Tech Red Raiders have lost to Oklahoma and Kansas State, but the most difficult part of the schedule is out of the way—they may see one more loss
Finishing 6-3/7-2 in the Big 12 is a great season for head coach Tommy Tuberville. Spending January 4 in Jerry's Palace in Arlington, Texas is a win-win.
The Red Raiders' joy over being in the Cotton Bowl may be short-lived because they'll play an SEC team.
Most likely matchup: Texas Tech vs. Mississippi State or Texas A&M.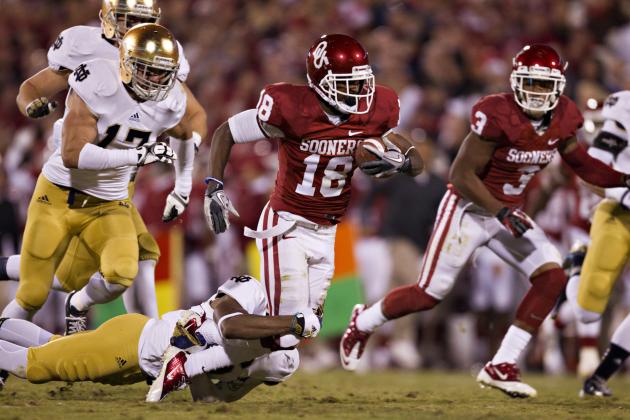 Wesley Hitt/Getty Images

The Oklahoma Sooners were stunned by Notre Dame last week but they should recover quickly and take their frustrations out on poor Iowa State this week.
I've got the Sooners finishing 7-2 in the Big 12 (they may drop one more league game) and a probable 9-3 overall.
The question of the day is who will Oklahoma play in the Fiesta Bowl?
The Big Ten doesn't offer much and the SEC will have already had its two teams selected so that leaves a Pac-12, ACC, Big East, non-AQ or independent to choose from.
If USC beats Notre Dame, Oklahoma may have a rematch with Notre Dame, but Notre Dame losing to USC looks iffy.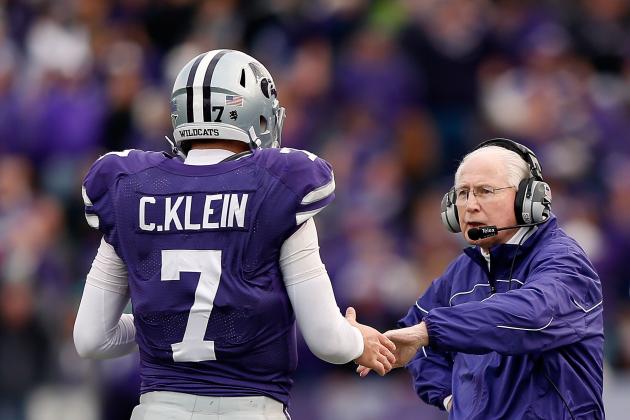 Jamie Squire/Getty Images

Kansas State vs Alabama. Let's do this.
The Wildcats have a very good defense and beside Notre Dame, are probably one of the only two BCS Championship contenders that can contain Alabama.
Nick Saban vs. Bill Snyder. My goodness, this will be the most beautiful thing in the world to watch. Two Hall of Famers (for sure) going head-to-head.
Let's do this.