NCAA Football Rankings 2012: Hits and Misses from Week 10 Polls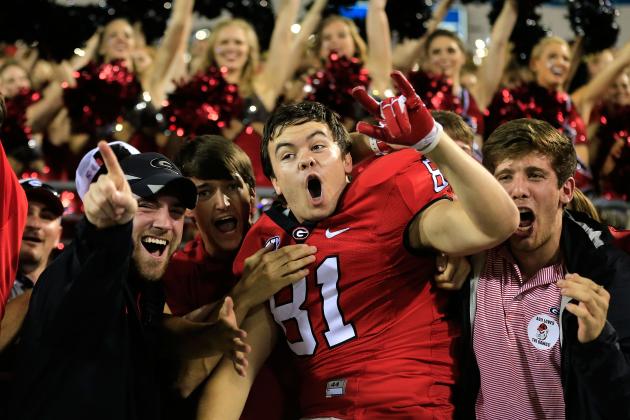 Sam Greenwood/Getty Images

Week 10 of the AP poll and USA Today coaches' poll saw high rankings for overrated teams in college football.
Case in point: Everyone's favorite team, Boise State, was ranked as high as No. 14 in the coaches' poll.
After losing to an overrated Michigan State team and beating up on the "Little Sisters of the Poor," as Ohio State president E. Gordon Gee would say, Boise State is 7-1 and high in the rankings.
But Boise State isn't the only overrated team benefiting from a high ranking. No sir, there are plenty more. Here are the hits and misses from this week's poll.
Begin Slideshow

»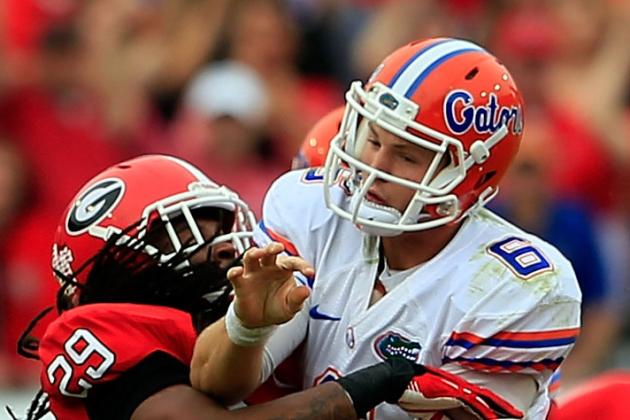 Sam Greenwood/Getty Images

The sixth spot is the perfect place for Georgia.
After beating Florida, Georgia has proven that it is one of the best one-loss teams in the country, but is it the best one-loss team in the country?
The verdict is still out, though, because LSU has quarterback struggles and the Tigers defense looks to be one of the best in the country again, giving up just 243 yards per contest. Although Georgia held Florida to 266 total yards and forced six turnovers, the Bulldogs are eighth in the SEC in total defense, allowing an average of 355 yards per game.
Still, the Bulldogs have plenty of talent on offense and defense, and with a significant win against Florida, the Bulldogs deserve to be right there with No. 5 LSU.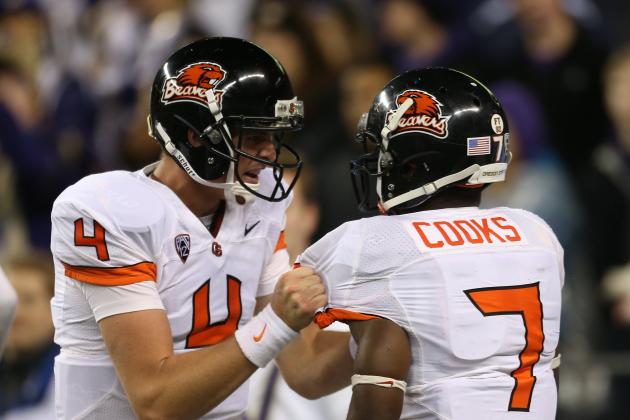 Otto Greule Jr/Getty Images

Oregon State's success in the polls is derived from preseason rankings.
You're an idiot; Oregon State wasn't ranked in the preseason.
Right you are, but a now 6-3 Wisconsin team was ranked at No. 13 when Oregon State faced it, and after the Beavers won 10-7, everyone lost their minds. The Beavers gained believers when they beat No. 19 UCLA the following week 27-20, and after beating mediocre teams, Oregon State was ranked at No. 7 in the AP poll.
But then, Oregon State faced the mighty Washington Huskies. You know, the team that LSU waxed in Death Valley 41-3, Oregon defeated 52-21 and Arizona picked apart 52-17? Washington beat Oregon State 20-17, yet Oregon State is ranked No. 13. Go figure.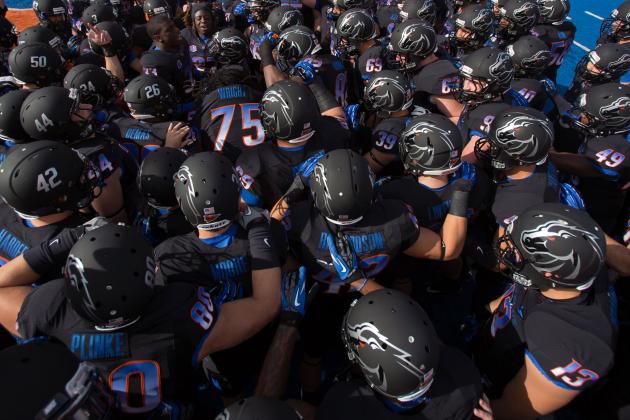 Otto Kitsinger III/Getty Images

At least the AP poll has its head on straight.
While the coaches so generously gave Boise State a No. 14 ranking, the writers in the AP poll brought the Broncos back to reality with a No. 19 ranking.
Whether the wins come against Wyoming, UNLV, New Mexico or even a talented BYU team, Boise State's 7-1 record deserves recognition and a spot in the polls. No one should argue that.
But a No. 14 ranking is out of the question. The Broncos have yet to beat a significant team this year, and before you argue that BYU is a significant win, take a look at its 5-4 record. For all of these reasons, Boise State deserves to be no higher than No. 19.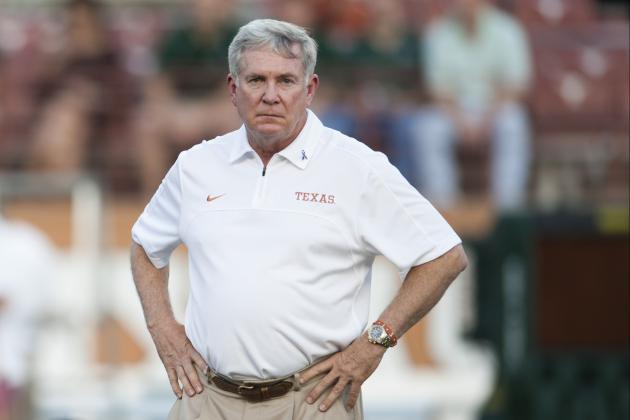 Cooper Neill/Getty Images

If your face and your palm are unfamiliar with one another, this might introduce them.
How in the world is Texas ranked No. 22? Are the coaches aware that Mack Brown's Texas team is 6-2, with one of its losses being a 63-21 loss to rival Oklahoma?
Forget all of that. How can Texas receive a top ranking after merely defeating a 1-7 Kansas team 21-17? Someone please explain that one. Texas wins two games in a row against Baylor and Kansas by a combined 10 points, and it receives votes? Ten points—as in the number that's more than double Baylor and Kansas' combined wins.
Honestly, this looks like a political play to have one of the more recognizable teams in football ranked.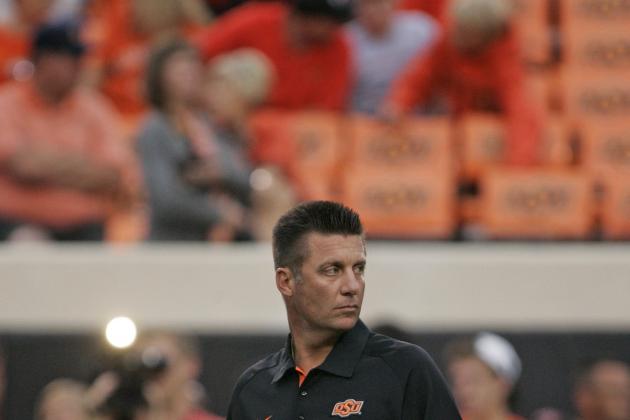 Brett Deering/Getty Images

Here's a Big 12 team that deserves to be ranked.
Oklahoma State has won three games in a row after a 2-2 start, including wins against a ranked Iowa State team and TCU. The coaches' poll rewarded it with a Top 25 ranking. The same cannot be said of the AP poll.
The Cowboys beat Iowa State by 21 points and beat TCU by 22. At least the coaches were aware of Oklahoma State's success.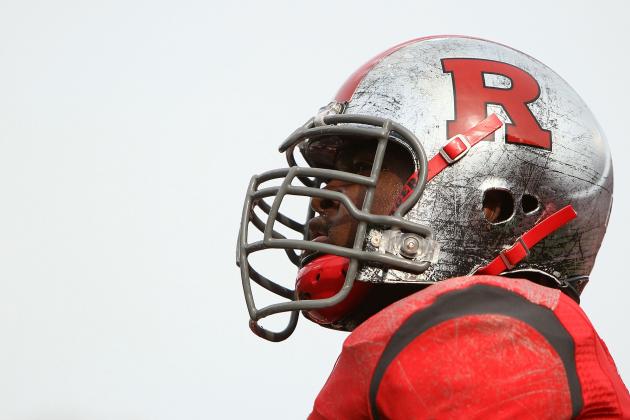 Alex Trautwig/Getty Images

Rutgers' run was fun while it lasted.
Going 7-0 with a victory against (a depleted) Arkansas team warranted a ranking, but after Rutgers lost to Kent State 35-23, the Scarlet Knights shouldn't be ranked.
Losing to 7-1 Kent State is somewhat respectable, but ignoring teams such as UCLA and Arizona in the coaches' poll to give Rutgers a No. 25 ranking after a loss that should have never happened isn't fair.
Arizona is coming off an upset against USC and a blowout over a Washington team that just upset Oregon State. Simply put, the coaches were wrong to vote for Rutgers over Arizona.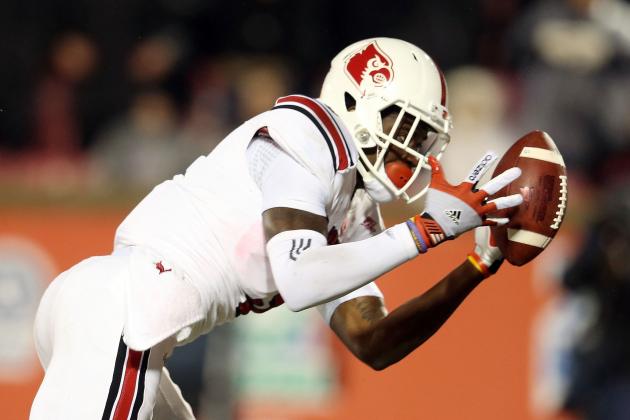 Andy Lyons/Getty Images

Louisville shouldn't be on the back burner any longer.
Louisville is an undefeated team with an absolutely tremendous quarterback. Enough can't be said about Teddy Bridgewater.
Bridgewater may be the most poised quarterback in the country. He drops back and calmly picks apart defenses with both mobility and restraint. Bridgewater has 2,110 yards and 13 passing touchdowns with four interceptions.
After he led Louisville back to beat Cincinnati 34-31 in overtime, it's time to give this team the credit it deserves.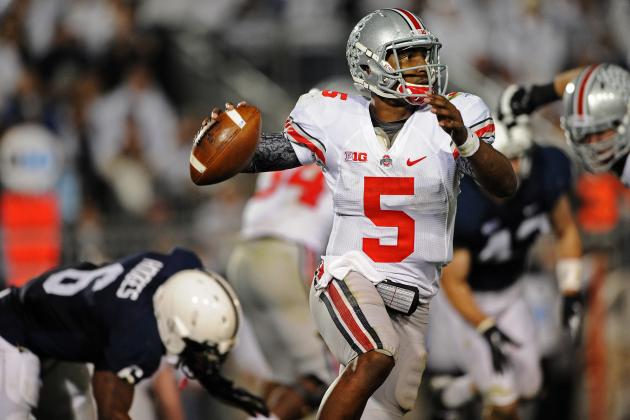 Patrick Smith/Getty Images

Too bad there's not an i to dot in overrated.
Ohio State is a great football team. Urban Meyer has made sure of it. But is it No. 6-worthy? Eh, it's hard to argue that point.
From the outside in, it looks like Ohio State's success this season is a direct result of the Big Ten's woes. After all, only two teams are ranked in the Top 25 of the AP poll, including Ohio State, and only one in the coaches' poll.
And you know what? That perception is reality. The Buckeyes' win against Nebraska was a great one, but other than that, which wins qualify as significant wins at this point? Despite being undefeated, this Ohio State team has much to prove, and it just might be the weakest team in the Top 10.