Ranking College Football's Most Likely Potential Job Openings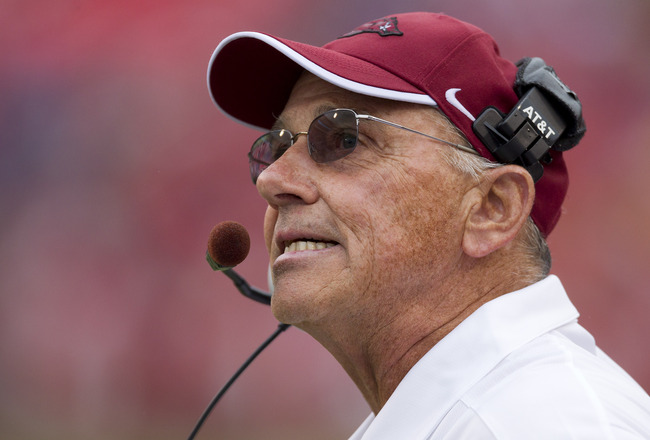 Arkansas head coach John. L Smith looks up to the scoreboard with disappointment
Wesley Hitt/Getty Images
The time of year is coming around when coach firings crank up and hot seats get scalding. Some coaches in college football have managed to win their way out of uncomfortable situations, but others have not been so lucky.
Let's rank which head-coaching jobs are most likely to open up if things do not turn around for these teams.
5. Texas
Cooper Neill/Getty Images
Mack Brown's job as the Longhorns head coach does not seem to be in immediate danger, but the longtime coach is beginning to feel his seat getting a little warm.
Texas is on its way to its third straight mediocre season, and the days of being a perennial national championship contender are behind it.
The main thing in Brown's favor is his contract, which expires in 2020. ESPN's Darren Rovell tweeted out the figures Monday, and they call for Brown to earn a $3.5 million buyout if he's fired on or before Dec. 31 of this year, which would be paid in installments of $700,000 over five years. But the buyout number drops to $2.75 million on Jan.1, 2013 and then down to $2.25 million on the first day of 2015.
If the Longhorns job were to potentially open up, it would be the most sought-after job in the nation—hands down. However, Brown has enough clout to be given the chance to turn things around in Austin and turn the team back into a national powerhouse.
4. Auburn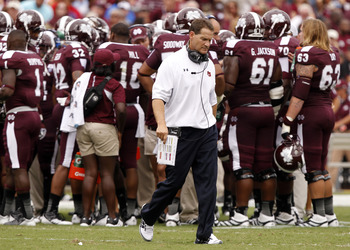 Butch Dill/Getty Images
Auburn president Jay Gogue published a letter earlier this week in support of the football program, but that is unlikely to extinguish the firestorm surrounding head coach Gene Chizik.
The good will from the national championship season has worn off, and one thing is becoming very apparent as the years pass: Cam Newton made Chizik look like a much better head coach than he actually is. Outside of that Newton-led season, Chizik is 17-17 at Auburn.
Auburn's passing attack is 115th in the nation, and the team is only scoring 16.4 points per game. The losses are beginning to stack up for the Tigers.
3. Kentucky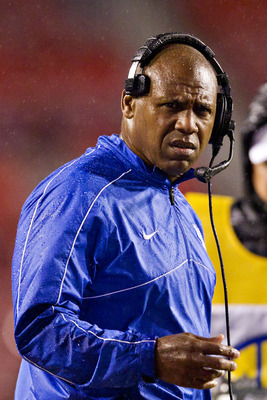 Wesley Hitt/Getty Images
Last Saturday's 29-24 loss to No. 11 Georgia was a valiant effort, but it also ensured that Kentucky would have its third straight losing season.
The numbers are beginning to mount against head coach Joker Phillips. When Phillips came in, the team had a streak of four straight winning seasons. Under his tutelage the team hasn't won more than six games in a season.
Phillips' team has been decimated by injuries in the offensive backfield, but that does not excuse the fact that it has lost all six SEC games by an average of 14 points.
2. Tennessee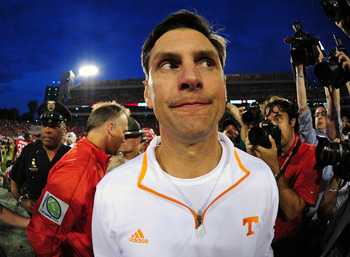 Scott Cunningham/Getty Images
Saturday's 38-35 loss to South Carolina in Columbia may have been the last straw for a lot of Tennessee football fans. Head coach Derek Dooley is 4-17 as a head coach in the SEC and has lost 12 of his last 13 games within the conference.
Could Volunteer fans actually be missing the days of Lane Kiffin?
The program has regressed tremendously under Dooley, and it seems like he is unable to motivate his team for big games.
With an easy November schedule (Troy, Missouri, Vanderbilt and Kentucky), it is conceivable that Tennessee finishes the season with seven wins, but that likely isn't enough to save Dooley's job.
1. Arkansas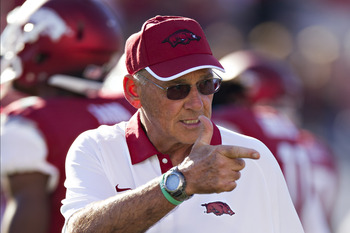 Wesley Hitt/Getty Images
The situation was not amazing when John L. Smith walked in, but he has done little to show that he can motivate his Razorbacks squad. Arkansas had a No. 10 preseason ranking coming into the season but has since dropped off the college football map.
The team opened up with a 49-24 win against Jacksonville State but then lost four in a row (Louisiana-Monroe, Alabama, Rutgers and Texas A&M). While the losses against the No. 1 Crimson Tide and currently ranked Aggies would normally be nothing to squawk at, the Razorbacks got run out of the building in both games, outscored 110-10.
Smith was only meant to be a temporary replacement, and Arkansas athletic director Jeff Long has stated he wants a new head coach by December (h/t ESPN):
While speaking to the Touchdown Club in Little Rock, Ark., Long told Razorbacks fans that he wouldn't discuss coaching candidates but didn't rule out considering current interim coach John L. Smith for the job. It's clear the coaching search is up and running and Long wants to move very quickly once the regular season is finished.
Smith has shown what he can do as a head coach—nothing. Do not expect to see Smith along the Razorbacks sideline next year.
Keep Reading