College Football Week 9 Betting Picks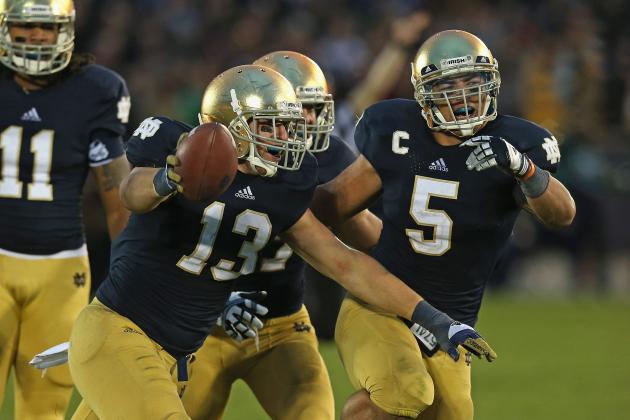 Jonathan Daniel/Getty Images
Will No.5 Notre Dame's impressive defense be enough to beat and cover the spread against No.8 Oklahoma?
It's Thursday and to my loyal followers, you know what that means.
It is another edition of my College Football betting picks. Another successful week kept the money flowing into my wallet, as my picks went 2-1 (1-0 Game of the Week pick) ATS.
Before I get to my week 9 picks let's review what happened in Week 8.
Last week I said to take Colorado to cover the +40 point spread against the mighty USC Trojans. Both teams prior to the matchup had weak records ATS, but USC always seems to struggle to cover game spreads of anything higher than 35.
Well, last week USC covered by winning 50-6. Matt Barkley threw for 298 yards and six touchdowns, with one of those touchdowns being his 100th-career score as a Trojan.
Sitting at 0-1, the next game I picked was Kansas State to cover a +2.5 spread against West Virginia. Heisman candidates Geno Smith (WVU) and Collin Klein (K-State) battled, but Klein and the Wildcats rolled Smith and his Mountaineers 55-14.
An easy cover. Klein threw for a career-high 323 yards and three touchdowns. Klein also ran for four scores, as this game turned ugly really quick. The Wildcats scored on their first eight possessions, including seven straight touchdowns, as they exploited the weak West Virginia defense.
In the Game of The Week I told you to take the Florida Gators to cover the -3.5 spread against the South Carolina Gamecocks, and boy, did they ever. The Gators put a beat down on South Carolina winning 44-11.
Gators quarterback Jeff Driskel clobbered the Gamecocks' secondary, as he threw for four touchdowns. The Gators' defense was once again stellar. as they held the Gamecocks to just 191 total yards and forced four turnovers.
In my last six picks I have gone 5-1 ATS. Let's continue down the winning path with my four picks (two Game of the Week picks) for Week 9.
2012 Record ATS
17-11 (7-1 Game of the Week Picks)
Week 8 Results
(My picks of week 8 are in bold)
Colorado Buffaloes 6 No. 11 USC Trojans 50 (-40.5) Loss
No. 4 Kansas State Wildcats 55 West Virginia Mountaineers 14 (-2.5) Win
Game of the Week Pick
No. 9 South Carolina Gamecocks 11 No. 3 Florida Gators 44 (-3.5) Win
Begin Slideshow

»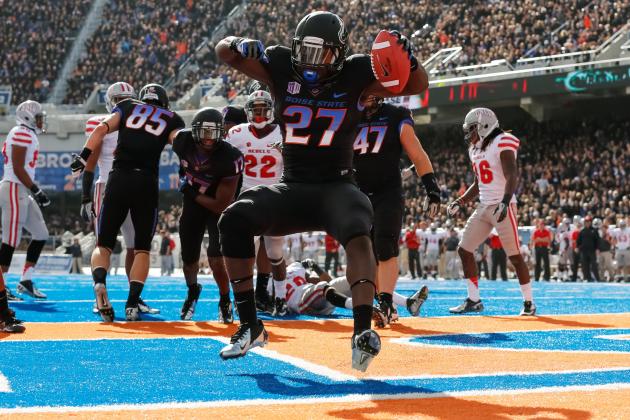 Otto Kitsinger III/Getty Images

Date: Saturday, October 27
Time: 3:30 p.m. ET
Current Line: Wyoming +16.5
The Story: Since losing the season opener to a now-weak Michigan State team 13-17, the Broncos have won six straight (despite winning some games ugly) and travel to Laramie, Wyoming to take on a Cowboys team that many thought had a decent chance to finish in the top three of the Mountain West this season.
Boise State's defense has been the key for them all season, as they find themselves in the top 10 for several defensive categories, including pass defense (158 yards per game), pass-efficiency defense (95.6), turnovers (22) and points allowed (13.5).
Last week the Broncos manhandled the Running Rebels of UNLV 32-7, with the Rebels only scoring off a fumble return.
The Cowboys will enter Saturday's contest without their head coach Dave Christensen, who was fined and suspended one week due to his actions after Wyoming's loss to Air Force on Oct. 13.
Wyoming's problem throughout the season has been their defense. On average, the Cowboys give up 234.7 yards passing and 213.6 yards rushing, which has given the Cowboys a 99th-ranked defense.
Even though the Cowboys stand at 1-6, they have been a tough team to put away. The Cowboys have played the Texas Longhorns (17-37), Toledo (31-34) and Air Force (27-28) tough. Last week, the Bulldogs of Fresno State had the home-field advantage and went on to destroy the Cowboys 42-14.
Recent Trends: Boise State is 4-3 ATS this year. Wyoming is 4-3 ATS this year. In three home games this year, Wyoming had gone 0-3 SU losing by a total of six points. In the last three seasons, Wyoming has gone 1-1 ATS versus Boise State. Since 1992, in games being played at Wyoming Boise State is 2-1 ATS.
The Pick: The Cowboys tend to play a little tougher at home rather on the road. Although Wyoming holds a 4-2 ATS record versus Boise State since 1992, I am taking Boise State to cover. It's hard to see the Cowboys' offense generating anything against this tough Broncos defense. Boise State should win this game no questions asked and easily cover.
Boise State -16.5
Boise State 31 Wyoming 6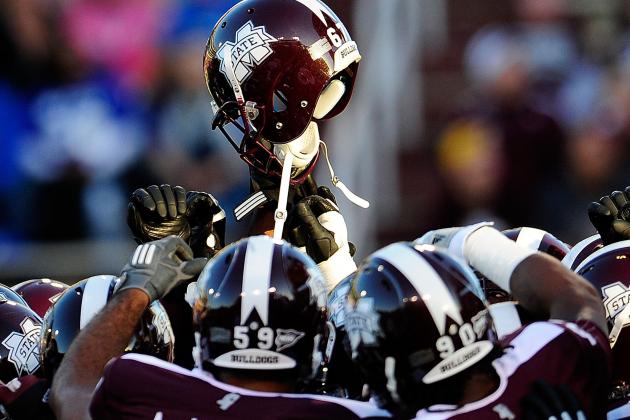 Stacy Revere/Getty Images


Date: Saturday, October 27
Time: 8:30 p.m. ET
Current Line: Alabama by 24
The Story: When Dan Mullen left Florida and took the head-coaching gig at Mississippi State, he said that he will make this team a contender within a short period of time.
Right now, the Bulldogs sit at 7-0, their best start since the 1999 season ('99 started 8-0) and in a race for the SEC crown.
The Bulldogs will visit Tuscaloosa, Alabama to take on the top-ranked Crimson Tide of Alabama. This game is one of the most important games in Bulldog history.
In the last four meetings, the Crimson Tide have easily closed the book on Mississippi State, as they've outscored the Bulldogs 117-27. The Bulldogs are fueled upon mid-tier defense and offense, ranking 50th in total offense and 25th in total defense.
The key for the Bulldogs will be how well their offensive stars play against Alabama's top-ranked defense.
Quarterback Tyler Russell has had a stellar season, throwing for 1,573 yards and 15 touchdowns. Russell will need to get the passing game going right away. Bulldogs running back LaDarius Perkins (724 yards, 103.4 ypg and 8 touchdowns) needs to get the rushing attack ignited from the get-go.
If the Bulldogs offense can exploit 'Bama's defense, they can contend for the victory.
The only flaw for the Crimson Tide is their lackluster strength of schedule at this point of the season. The only competitive game they've been in was against Ole Miss on Sep. 29, when some how the Crimson Tide's offense only put up 33 points and cruised to a 33-14 victory.
Other than that, Alabama has played a declining Arkansas team (in which they won 52-0) and the top team in the Big Ten (Big 10 is a very weak BCS conference).
Thus far, the Tide's four SEC opponents this year are a combined 3-12 in conference play, but the Bulldogs have an even less intimidating SEC schedule, as the teams they've played are a combined 0-14. The key for Alabama will be how well they can play in their first real test of the 2012 season.
Recent Trends: Alabama is 4-3 ATS this season. Mississippi State is 5-2 ATS. In games played at Alabama since 1992, the Bulldogs have gone 7-3 ATS. In the last three seasons, Alabama has gone 1-1 ATS, with the last game seeing Mississippi State covering a +18 point spread onward to a 7-24 loss on 11/12/2011. In home games this season, Alabama is 0-3 ATS, while the Bulldogs are 1-1 in road games.
The Pick: Without a doubt this will be Alabama's first test of the season. The Bulldogs have stuck around 'Bama in their contests lately. Straight Up I'd take Alabama to win this game, but a 24-point spread to cover is a lot against a pretty solid squad. I expect Mississippi State to hang tough. Take Mississippi State to cover.
Mississippi State +24
Mississippi State 13 Alabama 31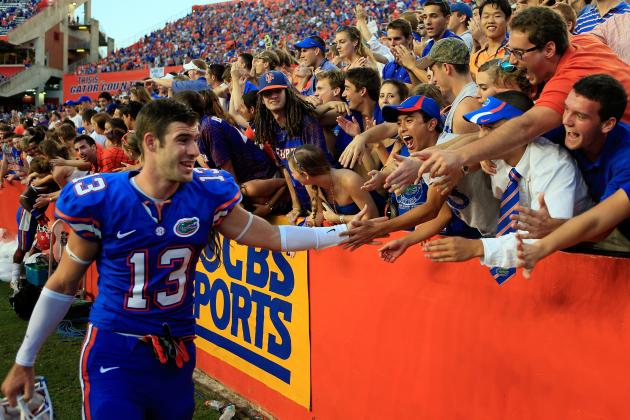 Sam Greenwood/Getty Images

Date: Saturday, October 27
Time: 3:30 p.m. ET
Current Line: Georgia +6.5
The Story: The Florida Gators will travel to EverBank Field in Jacksonville, Florida to take on their rival and preseason SEC East-favorite Georgia Bulldogs in the "World's Largest Outdoor Cocktail Party" game.
Since 1915 the Gators and Bulldogs have been battling it out in this great college football rivalry. Georgia leads the all-time series with a record of 47-40-2.
In the last ten meetings, Florida leads the series7-3. This game will be another classic, as BCS implications and the SEC East are on the line.
Florida needs just one more win to wrap up the SEC East and have their tickets punched to Atlanta, while Georgia needs this victory to win the rest of their games this season.
The Gators' rise to the top has been a surprise to many this season. A come-from-behind victory against Texas A&M, and a win over (at the time) a high-ranked Tennessee Vols squad. Then their physical-onslaught victories against LSU and a routing of the Gamecocks of South Carolina 44-11.
The Gators thrive on their defense, second-half adjustments, special teams play and second-half stamina. The Gators passing attack has also been clicking of late, which was needed in the early portion of the season. Georgia enters this game struggling.
Last week they barely beat an always weak Kentucky team 29-24. Bulldog quarterback Aaron Murray carried the load for the Bulldogs, as his 427 passing yards (a career-best) and four touchdowns lifted the Bulldogs over Kentucky.
Georgia's defense has struggled of late, even with the majority of the squad healthy. The key for the Bulldogs will obviously be their defense. If the Bulldogs don't improve, the Gators will run up and down the field against Georgia, and another South Carolina debacle will ensue.
Recent Trends: Florida is 6-1 ATS this season (covering in six straight games). Georgia is 2-5 (in their last five games they've gone 1-4, failing to cover in three straight). Florida is 13-7 ATS versus Georgia since 1992 and 1-1 in the last three seasons. In games that are played on grass, the Gators are 5-1, while their counterpart is 1-5 ATS.
The Pick: I am once again sticking with the hot hand and picking the Florida Gators to cover the -6.5 spread. Florida's defense and offense will be too much for the Bulldogs to handle. Also, the recent trends all point to Florida to cover. The Gators want their tickets punched for the SEC championship game and will be out for blood Saturday. Take Florida.
Florida -6.5
Florida 35 Georgia 21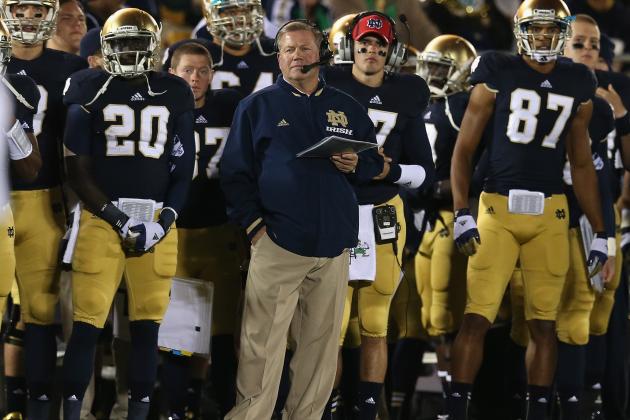 Jonathan Daniel/Getty Images

Date: Saturday, October 27
Time: 8:00 p.m. ET
Current Line: Oklahoma by 11
The Story: It's time to put up or shut up for the men in the Gold helmets. Being undefeated this late in the season (first time in a decade) has Lou Holtz drooling all over the ESPN College Gameday desk, while Mark May is still trying to figure out how ND is undefeated.
Well, Notre Dame has had quiet a season so far. This is the first time that Notre Dame has flirted with the idea of a National Championship in awhile.
With five games remaining on the schedule, only two tough teams remain, and this week it's the eighth-ranked Sooners out of Oklahoma University. The game will be played in the always tough town of Norman, Oklahoma, where under Sooners head coach Bob Stoops holds a 79-4 record.
After Notre Dame's dominance against Miami (FL) at Solider Field, the Irish have started to win some rugged, ugly games. Two weeks ago, it took a goal-line stop in overtime to put away Stanford 20-13 in overtime, and in the following week it took a late comeback to win an ugly game against BYU 17-14.
The key for Notre Dame to win this game is to get the secondaries of OU to respect the Irish's passing game.
Currently the Irish hold the 96th-best passing attack in the nation, averaging 194 yards per game. Everett Golson/Tommy Rees need to chuck it down the field just like they did against Miami (FL).
Oklahoma has the ninth-best passing defense in the FBS, as they yield only 163.5 yards per contest.Oklahoma's defense will be stacked up against the run heading into the game, as the Irish average 193.9 yards rushing per game. If Notre Dame's quarterbacks can throw the ball efficiently early on, Oklahoma will respect their passing game, therefore giving ND the chance to run the ball.
After losing at home to Kansas State 19-24, the Sooners have caught fire of late, winning three straight. In the three games, the Sooners have scored 156 points (average of 50.6 points per game). Two weeks ago, OU destroyed their rivals the Texas Longhorns in a Red River Massacre, winning 63-21.
Last week the OU train kept rolling, as they picked apart former-Notre Dame head coach Charlie Weis' Kansas Jayhawks 52-7. If Oklahoma wants to stay in the BCS picture, they can not afford another loss, and need at least six teams ahead of them lose.
The key for the Sooners will be their offense. Notre Dame has one of the best defensive units in the FBS. If Oklahoma can put up the same numbers they've had over the past three games, it will be an easy victory for them.
Recent Trends: Notre Dame is 4-3 ATS this season. Oklahoma is 4-2 ATS this season. Notre Dame has won eight of nine all-time meetings with Oklahoma. The last time Notre Dame and Oklahoma met up was in 1999, when Notre Dame handed first-year head coach Bob Stoops a loss. Since 1992 Oklahoma is 1-0 ATS versus Notre Dame. This season Oklahoma is 2-1 ATS at home, while Notre Dame is 1-0 ATS on the road.
The Pick: Both teams come into this game hungry for a chance to remain relevant in the BCS picture. Oklahoma is always a tough team to beat at home, but with the line standing at 11 in favor of Oklahoma, I feel that is way too high.
Notre Dame has an excellent defense that can stop the Sooners. In the last three games the Sooners played weak defensive teams in Texas Tech, Texas and Kansas. Of their entire schedule, the toughest defense they squared off against was Kansas State, who has the 23rd-best defense in the nation. As we all know OU lost that game.
The Irish have the sixth-best defense in the nation. It will be interesting to see how OU's offense will take on ND's defense. I believe this game will be a nail-biter. Since the line is that high, I'm taking Notre Dame to cover the spread.
Notre Dame +11
Notre Dame 24 Oklahoma 20
All lines are subject to change based on the line movement. All lines are from ScoresandOdds.com.
Follow me on Twitter @SMcDermott29