College Football: Could All-SEC Team Beat All-Americans from Everywhere Else?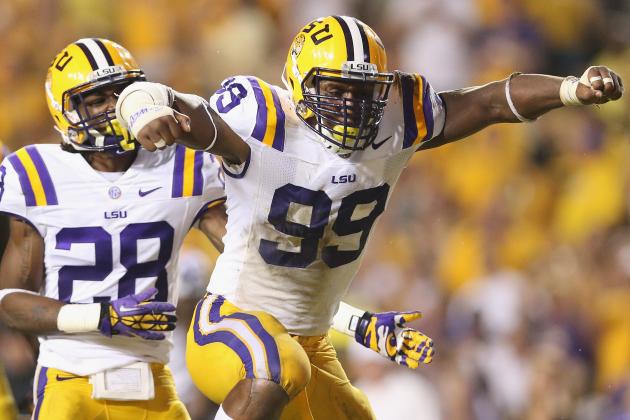 Ronald Martinez/Getty Images

Is the SEC the best conference in college football?
It's the question that fans of every other conference have been begging to answer "no" to, and one that SEC fans want to affirm. With six consecutive national titles, it's hard to argue against the SEC being the nation's most powerful conference.
But rather than look at teams, let's look at talent. Today, we'll look at a hypothetical football all-star game between the best players in the Southeastern Conference and the best players from everywhere else in the country.
It sounds like a tall task for the SEC. Can the six-time defending champs stand their ground? Or will the other power conferences band together and rise up?
Find out in this slideshow as we break down the teams position-by-position.
Begin Slideshow

»
Justin K. Aller/Getty Images

SEC: A.J. McCarron, Alabama
Everyone Else: Geno Smith, West Virginia
Edge: Everyone Else
The first challenge here was deciding which SEC quarterback to choose to go up against Smith. While Tyler Wilson of Arkansas may be more attractive to NFL scouts, McCarron has been absolutely masterful this year, managing the Alabama offense to perfection and showing flashes of legitimate big-time talent.
However, he is not nearly as explosive of a player as Geno Smith. Though he was, to an extent, exposed against Texas Tech and Kansas State, Smith remains the consensus No. 1 pick in the NFL draft.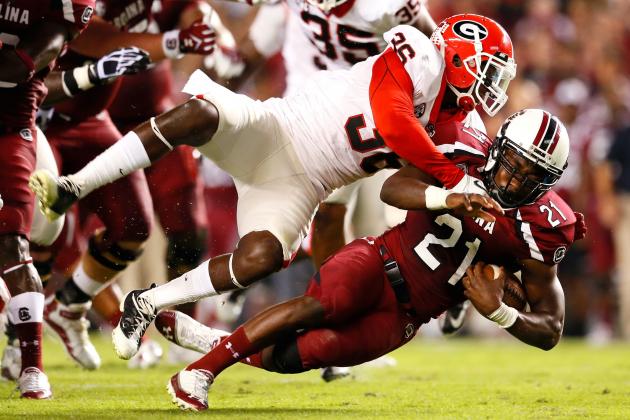 Kevin C. Cox/Getty Images

SEC: Marcus Lattimore, South Carolina; Eddie Lacy, Alabama
Everyone Else: LeVeon Bell, Michigan State; De'Anthony Thomas, Oregon
Edge: SEC
Bell and Ellington would be quite the duo. Bell is an absolute freight train of a running back, perhaps one of the only backs in the country who can out-physical an SEC defensive line. Thomas is lightning in a bottle and probably the best playmaking running back in the country, but he's somewhat unproven against SEC defenders.
But their competition is just too talented. Lattimore is an ideal blend of size and speed, while Lacy is another Alabama wrecking ball.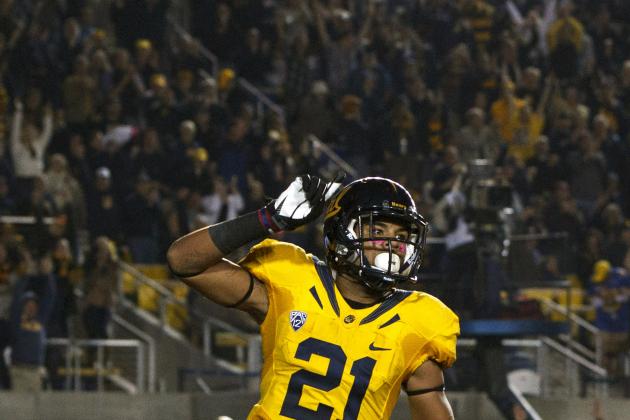 Jason O. Watson/Getty Images

SEC: Justin Hunter, Tennessee; Cordarelle Patterson, Tennessee; Jordan Matthews, Vanderbilt, Cobi Hamilton, Arkansas
Everyone Else: Keenan Allen, Cal; Robert Woods, USC; Terrance Williams, Baylor, Marquise Lee, USC
Edge: Everyone Else
This is perhaps the most lopsided of the positional group battles, as the rest of the nation possesses arguably four of the five best receivers in the country.
Woods and Lee are a lethal duo for Southern Cal, Williams is a well-documented deep threat, and Allen is perhaps better than all three of them.
For the SEC, a talented duo of Hunter and Patterson from Tennessee, Vanderbilt's Matthews, and Arkansas' Hamilton could be effective, but they lack the playmaking brilliance of the other group.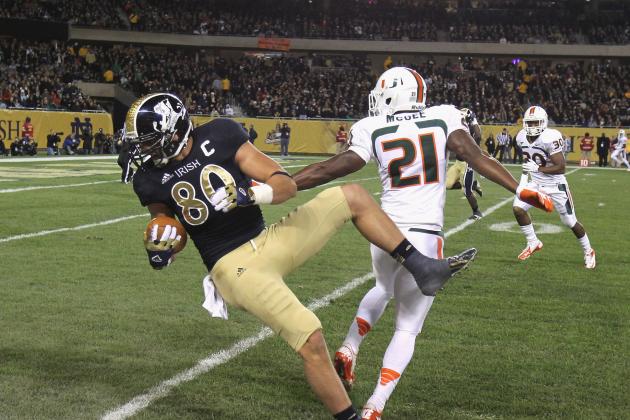 Jonathan Daniel/Getty Images

SEC: Jordan Reed, Florida; Michael Williams, Alabama
Everyone Else: Tyler Eifert, Notre Dame; Zach Ertz, Stanford
Edge: Everyone Else
While Reed, a converted quarterback who has turned into Florida's best receiving threat, and Williams, an immense man of 270 pounds, would be an excellent duo of tight ends, the team of Eifert and Ertz would be much better. Bleacher Report's Matt Miller has them rated as the nation's top two tight ends, and their production has echoed that sentiment.
This isn't that lopsided, but there is a clear winner.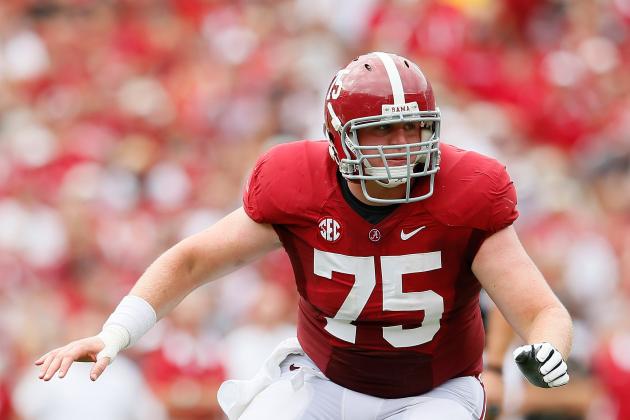 Kevin C. Cox/Getty Images

SEC: Tackles- Luke Joeckel and Jake Matthews, Texas A&M; Guards- Chance Warmack and Barrett Jones, Alabama; Center- T.J. Johnson, South Carolina
Everyone Else: Tackles- Taylor Lewan, Michigan and Eric Fisher, Central Michigan; Guards- Jonathan Cooper, UNC and Omoregie Uzzi, Georgia Tech; Center- Khaled Holmes, USC
Edge: SEC
The SEC's offensive line would be anchored by two sets of teammates who both help to comprise two of the best offensive lines in the country. Texas A&M's Jockel and Matthews are instrumental to Johnny Manziel's success, and Alabama's Warmack and Jones help power the nation's most lethal rushing attack.
Though the rest of the nation's line would be talented, anchored by future first-rounder Khaled Holmes, they simply couldn't compare with the Aggies and Elephants of the SEC.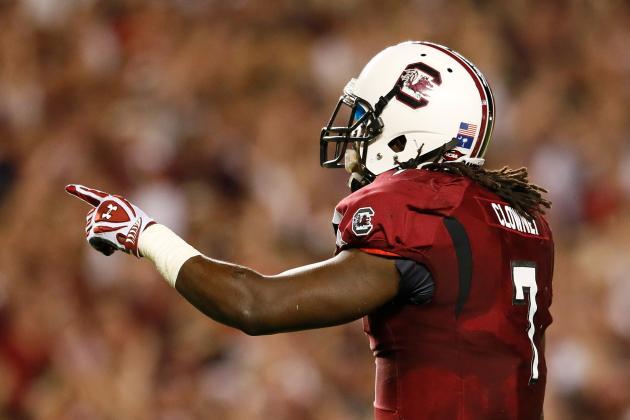 Kevin C. Cox/Getty Images

SEC: Ends- Jadeveon Clowney, South Carolina and Sam Montgomery, LSU; Tackles- John Jenkins, Georgia and Anthony Johnson, LSU
Everyone Else: Ends- Bjoern Warner, Florida State and Alex Okafor, Texas; Tackles- Jonathan Hankins, Ohio State and Star Lotulelei, Utah
Edge: SEC
This is the closest and most intriguing position battle.
On one hand, you have Hankins and Lotulelei as interior linemen for the rest of the nation, with a pair of elite pass-rushers in Warner and Okafor on the outside. From the SEC, you have the two best edge rushers in the country in Clowney and Montgomery coupled with Jenkins and Johnson, two absolute monsters on the inside.
What this comes down to is the pure speed that Clowney and Montgomery have. The opposition would be constantly double-teaming one, if not both, of these ends, giving Jenkins and Johnson the ability to create pressure on the quarterback.
While the same could potentially be said for the rest of the country, it's the speed of the ends that tips the scale in the SEC's favor.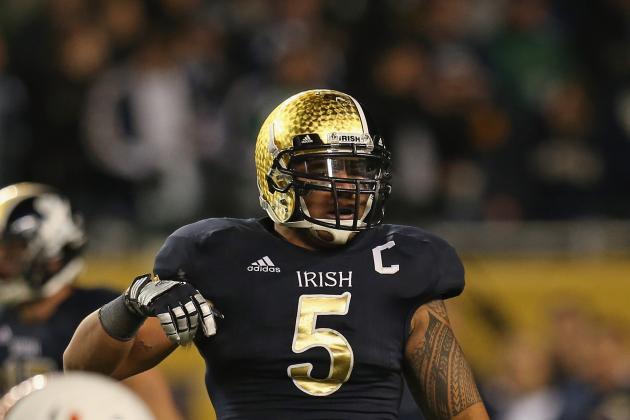 Jonathan Daniel/Getty Images

SEC: Jarvis Jones, Georgia; Barkevious Mingo, LSU; Keith Minter, LSU
Everyone Else: Chase Thomas, Stanford; Khaseem Rutgers, Rutgers; Manti Te'O, Notre Dame
Edge: SEC
The presence of Te'O alone makes the rest of the country an attractive choice here, but his supporting cast, while talented, simply does not measure up to the talent on the other team.
The SEC not only has a fellow elite inside linebacker in Keith Minter, but they have two dominant outside linebackers in Jones and Mingo. Both of these players are one-man wrecking crews, and imagining them playing behind the SEC's defensive line should give offensive linemen nightmares.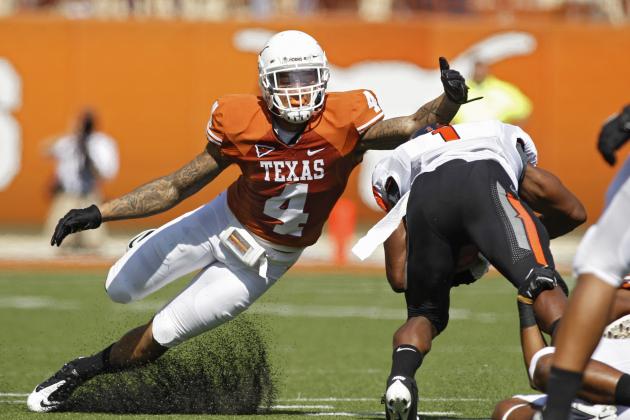 Erich Schlegel/Getty Images

SEC: Corners- Dee Milliner, Alabama and Jonathan Banks, Mississippi State; Safeties- Eric Reid, LSU and Matt Elam, Florida
Everyone Else: Corners- David Amerson, NC State and Xavier Rhodes, Florida State; Safeties- Tony Jefferson, Oklahoma and Kenny Vaccaro, Texas
Edge: Tie
It was hard to decide this one, so I called it a tie. Here's why: the talent gap between the SEC and the rest of the country is almost non-existent, and I don't want to account for who they'd be facing in this game.
Milliner and Banks are probably as good, if not better, of a cornerback tandem as Amerson and Rhodes. However, the same can be said about Jefferson and Vaccaro at safety. Depth can be considered, but as for the four players that will be on the field the most, there really isn't a clear edge.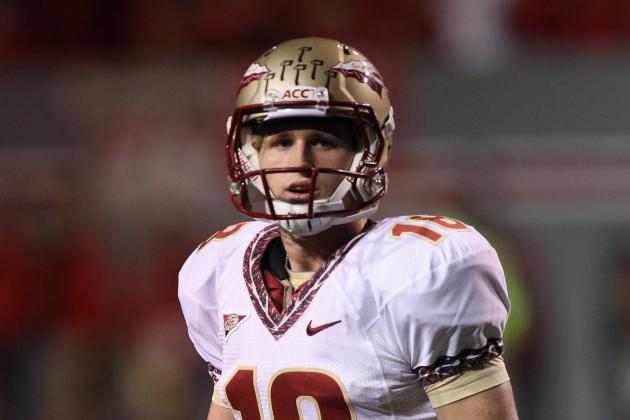 Streeter Lecka/Getty Images

SEC: Kicker- Caleb Sturgis, Florida; Punter- Kyle Christy, Florida; Returner- Marcus Murphy, Missouri
Everyone Else: Kicker- Dustin Hopkins, FSU; Punter- Sean Sellwood, Utah, Oklahoma State; Returner- Tavon Austin, WVU
Edge: SEC
Florida's duo of Sturgis and Christy have been instrumental in the team's surprising vault towards the top of the BCS standings, and they will be complemented by a talented sophomore return man in Murphy.
On the other side, Hopkins, Sellwood, and the always-explosive Austin make a formidable opponent. But based on this year's stats, the SEC takes the cake.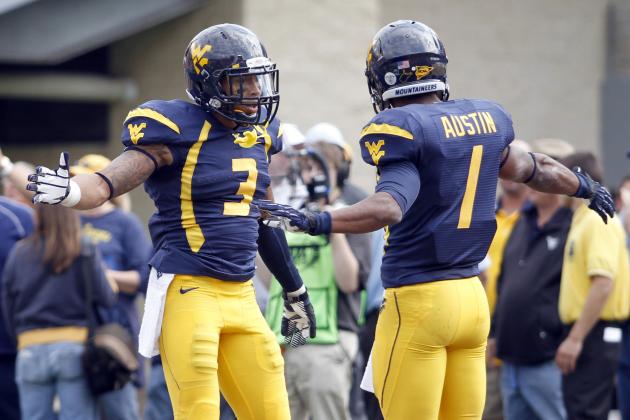 Justin K. Aller/Getty Images

SEC:It's funny and important to note that the offenses I thought would best fit each team also happen to fit some of the best teams in the conference and country. For example, with a strong offensive line, running game, and an intelligent quarterback, the All-SEC team could run a simple ground-and-pound offense, much like what Alabama runs now. They'll rely on a good push from the offensive line, strong production from the backs and the quarterback managing passing situations and avoiding turnovers.
Everyone Else: With four all-world receivers and a top-flight quarterback, the All-Americans could run an up-tempo spread offense. With the "lightning and thunder" combination of De'Anthony Thomas and LeVeon Bell in the backfield with Geno Smith, this would be a lethally efficient, almost unfairly-talented offense. It would be a constant no-huddle with a deep passing game. Let's call it a mix between Chip Kelly's Oregon hurry-up and Dana Holgorsen's WVU offense.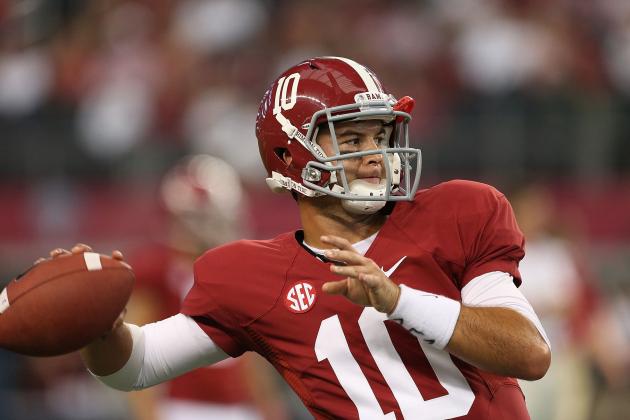 Leon Halip/Getty Images

Here's my take on how the game would go.
-Early on, the SEC would have to adjust defensively to the fast-paced spread that the All-Americans will run. They'll allow a touchdown early, but settle down by the end of the first quarter.
-The SEC offense will be very hard to stop, with a steady diet of five and six-yard runs wearing down the defense. That will open the door for a downfield passing game led by McCarron.
-SEC's lethal front seven will be, for the most part, neutralized by the rest of the nation's fast-paced offense centered around short passes. Clowney, Jones, Mingo and company will get a few sacks, but Geno Smith will do a good job of keeping plays alive. Against one team, like Oregon or Oklahoma, an SEC defense may be able to stop this kind of offense. But with five or six elite playmakers on the field at all times, it's impossible even for the mighty SEC defense to completely shut down the offense.
-Regardless, college football is all about controlling the line of scrimmage, and the SEC offensive line simply will not move. The All-Americans will try every kind of blitz in the book, but between the strong offensive line, tight ends, and great blocking backs, McCarron will be untouched.
-The game will be close, perhaps even in the All-Americans' favor, through 30 minutes of play. But after halftime, the SEC's ball-control offense will take over, and McCarron will find a wide open Cordarelle Patterson for a back-breaking 75-yard touchdown pass to seal the game late.
Final Score: SEC 31, Everyone Else 21