College Football Polls 2012: Grading Week 8 AP and Coaches' Polls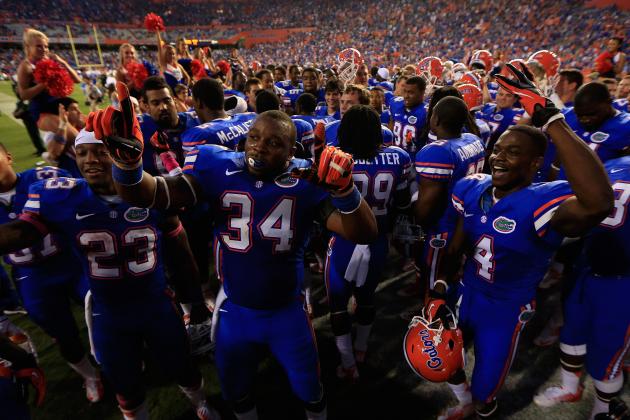 Chris Trotman/Getty Images

Week 8 in college football started with the Oregon Ducks on upset alert along with their No. 3 ranking in the first BCS poll. Of course all indications of a road loss to Arizona State were dashed with a convincing 43-21 victory.
The Saturday games saw South Carolina traveling to Florida to potentially set up the winner of the SEC East. In the Big 12, Kansas State traveled to Morgantown to take on West Virginia in matchup of Heisman Trophy contenders Collin Klein and Geno Smith.
But there was plenty more dust that got kicked up in the college football landscape, and here on Sunday we look at the release of the newest USA Today Coaches' and AP polls.
Begin Slideshow

»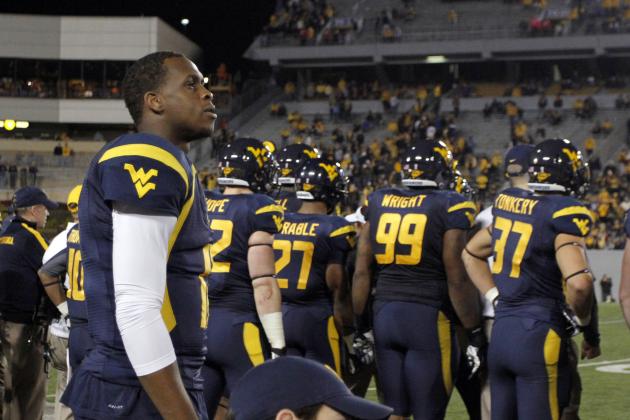 Justin K. Aller/Getty Images

Wisconsin - Coaches: 25; AP: NR
Poll Grade: B+ (Coaches), B+ (AP)

James White and Monte Ball powered the Badgers past Minnesota after a slow first quarter that had Wisconsin only winning 7-6. From the second quarter on, it was not much of a challenge as White and Ball combined for 341 yards as the Badgers defeated the Gophers 38-13.
At 3-1 they remain firmly in control of the Big Ten Leaders division among the teams eligible to play for the Big Ten Championship.
Both polls get it right for the most part. Wisconsin is barely on the outside looking in with the AP Poll but should get back in after a win next week.
Texas - Coaches: 24; AP: NR
Poll Grade: B+ (Coaches), B+ (AP)

Joe Bergeron's five touchdowns on the ground were very much the reason Texas held off Baylor in a lone star shootout that ended 56-50. Coming off the embarrassing loss against Oklahoma last week, the Longhorns responded on offense and were fortunate to create a timely turnover on defense in the third quarter to swing the momentum permanently back to Texas.
The loss to Oklahoma took Texas out of the AP, but like Wisconsin, if they get a win next week, they should be back in. Otherwise, they are right where they should be in the recovery from last week against the Sooners.
Ohio - Coaches: 23; AP: 23
Poll Grade: C+ (Coaches), C+ (AP)

The Bobcats finally cracked the Coaches Poll after defeating Akron on Saturday. Frank Solich's team moves to 7-0 on the season, and Tyler Tettleton became the all-time leader in touchdown passes in Ohio history.
I'm not crazy about Ohio being this low. Still, 7-0 is 7-0. No one can argue if you win the games on your schedule and they should be in the top 20. Nothing crazy, though. They aren't top 15 or anything but something a little higher than 23.
Hopefully a win next week can move the Bobcats up a few more deserved slots.
West Virginia - Coaches: 22; AP: 25
Poll Grade: B+ (Coaches), A (AP)
The loss last week against Texas Tech wasn't all that unexpected since the Mountaineers had to go on the road back to back games in Texas. Coming back home, though, playing Kansas State was supposed to be a rejuvenation for Geno Smith and company.
It turned out to be anything but as Collin Klein accounted for seven total touchdowns while Smith and the WVU offense could only muster two as a team en route to a 55-14 home beatdown courtesy of the undefeated Wildcats.
The AP Poll got it a little better than the Coaches Poll this week by putting WVU at 25. A loss like that on top of the loss to Texas Tech should take the Mountaineers to the bottom of the poll.
Texas A&M - Coaches: 21; AP: 22
Poll Grade: A (Coaches), A (AP)
A gallant effort by the Aggies that started off well at The 12th Man, but quickly got away from them against LSU, who was coming off a big win against South Carolina the week before in Baton Rouge.
Despite leading the game 12-0 for most of the first half, three interceptions by Johnny "Football" Manziel along with two Aggie fumbles doomed Texas A&M as they fell to the Tigers 24-19.
The Aggies move two spots down in the Coaches Poll since they played LSU as tough as they did despite the turnovers they gave up. The AP has them at 22, no complaints with that. Pretty right on.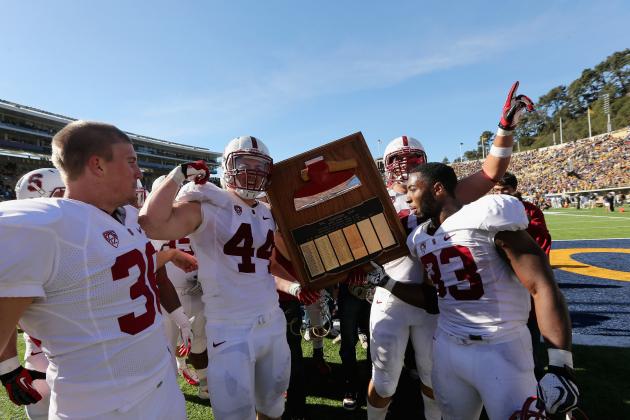 Ezra Shaw/Getty Images

Michigan - Coaches: 20; AP: 20
Poll Grade: B+ (Coaches), B+ (AP)

The Wolverines achieved two milestones on Saturday. First, they beat rival Michigan State for the first time since 2007 and finally reclaimed the Paul Bunyan Trophy, ending the Spartans' four-year stranglehold on the hardware.
In the process of its 12-10 slug-fest victory, Michigan also became the first school in college football with 900 wins. The score and the game may not be pretty, but in a rivalry game, victories are the only things that matter.
That said, a slight move up five spots in the Coaches Poll and three spots in the AP makes sense with a two-point victory against a 3-4 Michigan State team.
Stanford - Coaches: 19; AP: 19
Poll Grade: B+ (Coaches), B+ (AP)

The Cardinal took care of business against a rival of its own, beating Cal 21-3 in a game where Stepfan Taylor ran for a career high 189 yards. Stanford physically outplayed the Bears and kept them out of the end zone all day.
Like Michigan, they took care of business against a rival. They won a little more convincingly than the Wolverines but definitely against a weaker opponent. Stanford's placement in the rankings makes sense after a marginal gain in the polls.
Boise State - Coaches: 18; AP: 21
Poll Grade: B (Coaches), B (AP)

It's not often we're using "dominant" to describe the Broncos on defense, but that's exactly what they were in punishing UNLV 32-7. They allowed the Rebels' only points during a half-speed fourth quarter.
Boise State's loss against Michigan State remains the only blemish on Boise State's 6-1 record.
I'm not crazy about them being ahead of a team like Ohio right now, which is definitely a reverse case for Boise State since they have so often been ranked low in the polls when they've been unbeaten. The truth is that the Michigan State team that beat them in Week 1 is now 4-4 and the undefeated Bobcats deserve to be higher than the Broncos right now. Not much higher, but still higher.
Texas Tech - Coaches: 17; AP: 15
Poll Grade: B+ (Coaches), A (AP)

A triple-overtime thriller had the fans in Fort Worth on the edges of their seats as the Red Raiders outlasted a TCU team that was every bit up to the offensive challenge Texas Tech presented.
Seth Doege threw for seven touchdowns in the 56-53 shootout, which sets up a very intriguing and season-impacting matchup with Kansas State next week in Manhattan.
I like where the Red Raiders are now in both polls despite the slight difference. However, a win vs. Kansas State next week should definitely give them consideration to move up to No. 10.
South Carolina - Coaches: 16; AP: 17
Poll Grade: C (Coaches), C (AP)

This was a total meltdown for the Gamecocks in a game that could have put them in the driver's seat of the SEC East. Instead, three first half turnovers converted by Florida into 21 points put the Gators ahead in a convincing 44-11 final in Gainesville.
The Gamecocks were No. 8 and 9 in the Coaches and AP polls, respectively, before the Florida game. A loss to the BSC No. 2 team by the margin they lost should make their placement in both polls today decent. But it still seems to high with the way they played. I think a move down as low as 20 in both could be justified at this stage of this season.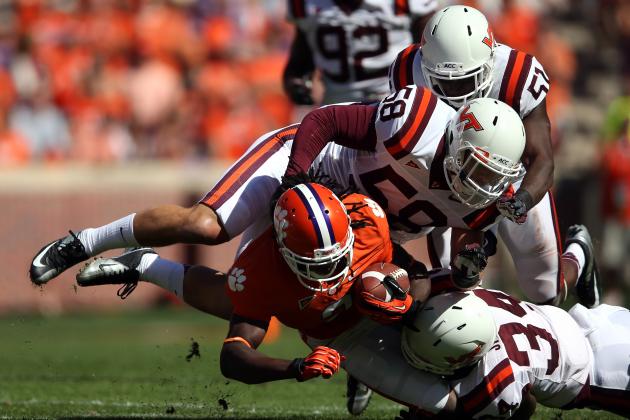 Streeter Lecka/Getty Images

Rutgers - Coaches: 15; AP: 18
Poll Grade: B+ (Coaches), B (AP)

The now 7-0 Scarlet Knights got off to a slow start against Temple and trailed 10-0 at the half. Tut got things going in the third quarter and ran away from the Owls with a 35-10 final.
The Coaches Poll has Rutgers as a top-15 team, which is justified considering an undefeated record in the Big East. The writers, though, appear to be giving the Scarlet Knights lukewarm love. A few more victories could move them up to the top 15 in both polls.
Louisville - Coaches: 14; AP: 16
Poll Grade: A (Coaches), A (AP)

The also undefeated Cardinals didn't bring their best game against South Florida, but what they brought was enough to upend the Bulls, 27-25.
A very intriguing Big East showdown could come in the final week of the season if both Louisville and Rutgers remain unbeaten.
The Cardinals didn't move anywhere in the polls after beating South Florida and it's completely justified since they struggled to a marginal victory over a marginal team.
Clemson - Coaches: 13; AP: 14
Poll Grade: A (Coaches), A (AP)

Give credit where credit is due; the Clemson defense created four turnovers and finally got some good headlines this season as the Tigers handled Virginia Tech 38-17.
Clemson's Sammy Watkins returned to All-American form with eight catches for 84 yards as the Tigers move to 6-1 on the season.
The Tigers' performances since the loss to Florida State have been convincing victories and having them knocking on the door of the top 10 in both polls. That's a perfect spot for a team getting hot at the right time.
Mississippi State - Coaches: 12; AP: 13
Poll Grade: B+ (Coaches), B+ (AP)

The Bulldogs led Middle Tennessee only 10-3 at the half but outscored the Blue Raiders 35-0 in the second half behind three Tyler Russell touchdown passes.
The fact is, they are 7-0 and have the No. 1 Alabama on upset alert next week in Tuscaloosa.
In terms of the polls, an undefeated SEC team usually deserves to be in the top 10. I say "usually," because the Bulldogs have not had big games against the better teams in the SEC this season. They will, though, when they face Alabama, Texas A&M and LSU over the next three weeks.
Victories in those games can get them into the top 10.
Georgia - Coaches: 11; AP: 12
Poll Grade: B (Coaches), B (AP)

The Bulldogs found out like the Gamecocks did last month that Kentucky is hard to handle at home. Nevertheless, Georgia outlasted the Wildcats 29-24 behind Aaron Murray's four touchdown passes (now the all-time leader at UGA).
Next week, they're heading down to Jacksonville for the cocktail party with Florida, which could leave Georgia plenty to celebrate about if they upend the Gators and take control of the SEC East.
I just don't know if I like Georgia ranked higher than Mississippi State right now. Next week will settle that for both teams with big conference games on the docket.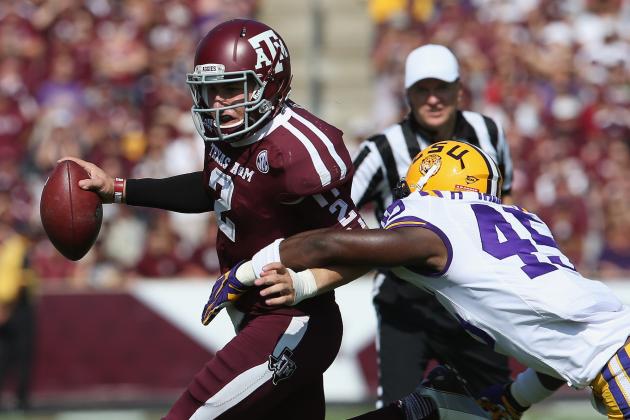 Ronald Martinez/Getty Images

Florida State - Coaches: 10; AP: 11
Poll Grades: B+ (Coaches), B+ (AP)

Despite a couple of first-half fumbles and an overall slow start, the Seminoles pulled away with 17 unanswered points in the fourth quarter to win their rivalry game against Miami by a final of 33-20.
The fact is, Miami is a marginal team a sluggish victory deserves to have little to no movement in the polls. That's exactly how Florida State fared in this week's polls.
Nevertheless, they're still in control of the Atlantic division of the ACC, which can make worrying about poll placing irrelevant.
Oregon State - Coaches: 9; AP: 7
Poll Grade: A (Coaches), B+ (AP)

This wasn't a flashy game by any means, but the Beavers won convincingly over Utah 21-7, keeping their undefeated season alive.
You can't help but start to look ahead to Saturday, November 24th when rival Oregon comes to town. There's a lot of football to be played before then, but it does start to creep in more and more that Corvallis could potentially be hosting two undefeated Oregon schools.
The Beavers certainly deserve to be where they are in the polls. Each passing win allows them to creep closer into the top five as their civil war game against Oregon nears.
USC - Coaches: 8; AP: 10
Poll Grade: A (Coaches), A (AP)

Matt Barkley threw for six touchdown passes and had only one incompletion as the Trojans massacred Colorado 50-6.
Barkley's day was also special as he threw for his 100th touchdown pass as a Trojan, becoming the all-time leader in Pac-12 history.
The loss to Stanford loss obviously hurt USC, but they've been on the rebound since and are nicely positioned as a low top-10 team as its game against Oregon nears as well.
Oklahoma - Coaches: 7; AP: 8
Poll Grade: A (Coaches), A (AP)

The Sooners moved to 5-1 behind a dominating display against Kansas, 52-7. Landry Jones had 291 yards and three touchdown passes, as the stage is set for a huge top-10 matchup with Notre Dame coming to Norman next week.
Oklahoma has been notoriously overrated in the polls throughout the years. But right now they deserve to be where they are after scoring 40 points in yet another game. The Notre Dame showdown could give them a boost into the top five if they come out on top.
LSU - Coaches: 6; AP: 6
Poll Grade: A (Coaches), A (AP)

The Tigers trailed Texas A&M 12-0 early but created five turnovers and contained Aggies' quarterback Johnny Manziel en route to a 24-19 victory in College Station.
Jeremy Hill rushed for 127 yards for the Tigers as they continue to win with a strong running game and even stronger defense.
With two hard-fought victories against South Carolina and Texas A&M, a sixth-place spot keeps LSU in prime position to play Alabama in a couple of weeks.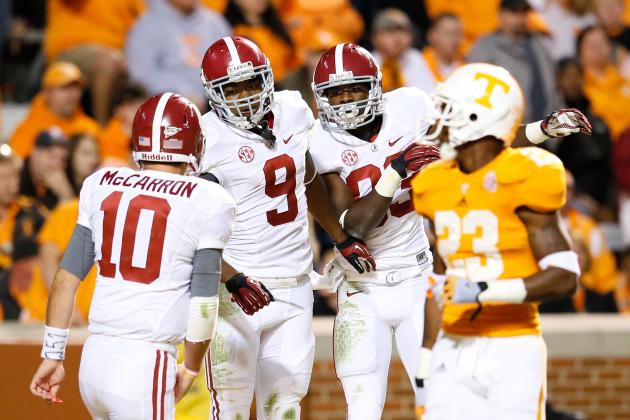 Kevin C. Cox/Getty Images

Notre Dame - Coaches: 5; AP: 5
Poll Grade: B (Coaches), B (AP)

The Irish's Theo Riddick had 143 yards and left BYU without an answer as Notre Dame held off the Cougars 17-14.
Still undefeated, the Irish are going to have step up their game when they travel to Oklahoma next week to take on the top-10 Sooners.
I'm not crazy about the Irish being where they are, but a victory over Oklahoma will certainly justify them being a top-five team, especially since it's a road game.
Kansas State - Coaches: 4; AP: 4
Poll Grade: A+ (Coaches), A+ (AP)

Collin Klein's seven total touchdowns makes him a definite favorite for the Heisman Trophy. The Wildcats remain undefeated after rolling over West Virginia 55-14.
But no rest for Bill Snyder and company as the Red Raiders of Texas Tech come to town next week to spoil the surprising season the Wildcats have had thus far.
Is their ranking surprising? Some could argue they have not earned the right to be No. 4 in the country. But their victory against Oklahoma and their handling of a very talented West Virginia offense gives them plenty of leeway to be a top-five team.
Florida - Coaches: 3; AP: 3
Poll Grade: A+ (Coaches), A+ (AP)

Three South Carolina fumbles, 21 Florida points. The Gators' defense never allowed the Gamecocks to get in a rhythm on offense and never let them in the game.
A victory next week over Georgia certainly punches their ticket to Atlanta and a possible SEC Championship in a season of unexpected success for Will Muschamp and the Gators.
A convincing 44-11 victory over a top-10 team (well, used to be top-10 team) almost makes a case for Florida to usurp Oregon. But it's not like Oregon was a slouch against their road opponent on Thursday night. Florida is good at three in both.
Oregon - Coaches: 2; AP: 2
Poll Grade: A+ (Coaches), A+ (AP)

The Ducks avoided the trap game with Arizona State and ended any drama of a road upset when they led 43-7 at halftime.
Who says it's only a passing league? Not Oregon, 406 rushing yards later...
Unless they struggle in a game against a marginal opponent or outright lose, they should not move below No. 2.
Alabama - Coaches: 1; AP: 1
Poll Grade: A+ (Coaches), A+ (AP)

Tennessee might have had Peyton Manning in attendance, but there was nothing close to a comeback against the Crimson Tide. Instead, Alabama rolled on the Volunteers, 44-13 in a game where A.J. McCarron threw for four touchdowns and 306 yards.
It might not have seemed like a big game on the schedule when the season started, but it certainly will be next week when Alabama hosts fellow SEC West foe, undefeated Mississippi State.