LSU or USC: Which Team Is College Football's Best 1-Loss Team?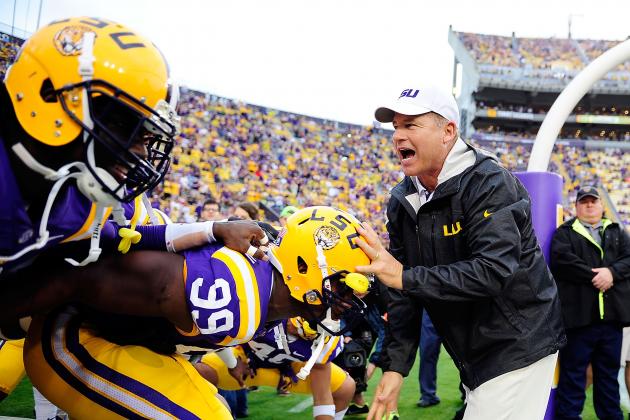 Stacy Revere/Getty Images

With half of the college football season in the books, this is the time for each and every team in the polls to make its final case for why it should be the team playing in the BCS National Championship Game.
With very few teams separating themselves through the first half, there are programs that see this as an opportunity to make a run.
There are a total of four one-loss teams in the Top 10 of the latest BCS rankings, but the USC Trojans and LSU Tigers quickly catch your eye. That is because those two programs were considered two of the top three teams in the preseason AP poll, as many thought that could possibly be the 2012 national championship matchup this season.
With both suffering an early loss, it is likely only one team can seriously make a championship push, but which one could that be?
Let's break down both the LSU Tigers and USC Trojans and see which is the best team in the country with one loss.
Begin Slideshow

»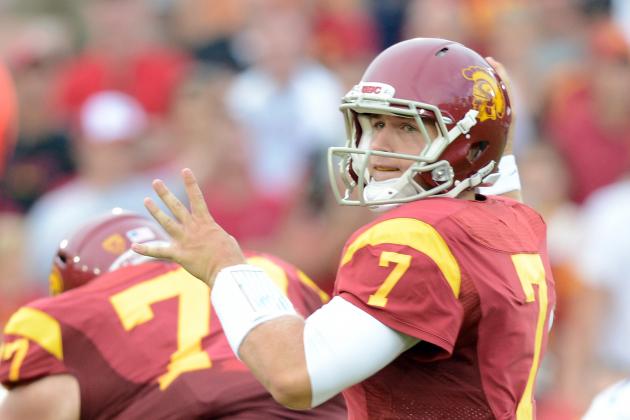 Harry How/Getty Images

LSU
Zach Mettenberger has not lived up to expectations, as he is completing less than 60 percent of his passes and has thrown four interceptions, including two in the red zone.
His seven turnovers in seven games and serious accuracy issues are enough to wonder if he will ever blossom into the quarterback many thought he would become before the season started.
Overall, he has not proven enough to be considered a quarterback you would want leading your team if you were chasing a national championship.
USC
Although Matt Barkley hasn't exactly had the season he would have liked his senior year, he is still one of the top quarterbacks in the country.
He is completing nearly 63 percent of his passes, has thrown for 1,475 yards and has 10 more touchdown passes than his six interceptions. Maybe the expectations were too high heading into the season, but Barkley will still be a first-round NFL pick in next year's draft.
Unlike Mettenberger, Barkley is capable of leading a team to victory and is somebody you can count on each week to get the job done with his arm.
Edge: USC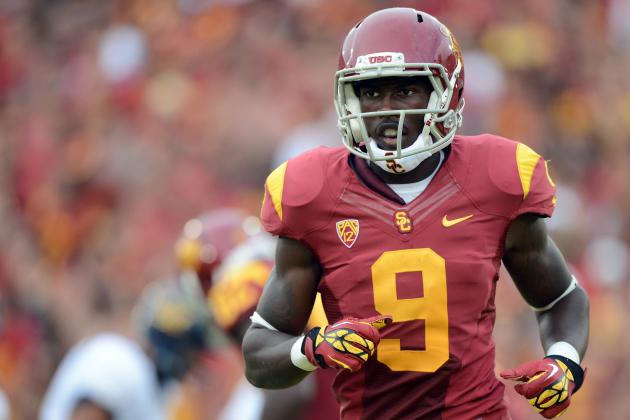 Harry How/Getty Images

LSU
Without a true passing game, the Tigers are much more one-dimensional than they were even with Jordan Jefferson and Jarrett Lee at quarterback.
LSU had to run the ball 53 times last week against South Carolina and is 19th in the country with 294 rushing attempts through seven games. But while a non-threat at quarterback may sound horrible, the Tigers still have one of the best offensive lines in the nation and have a plethora of running backs that can help contribute each week.
Still, this unit completely relies on the ground-and-pound game, as LSU has lost two games since 2011, and both games it was held under 100 yards rushing.
USC
The offense of the Trojans hasn't produced the way many thought it would, but it is still averaging over 400 total yards of offense and scoring 32 points a contest.
Besides Barkley leading the way, USC also has two wide receivers in Marqise Lee and Robert Woods who will likely be first-round picks in an NFL draft in the near future. Running back Silas Redd has picked up exactly where he left off at Penn State, and the entire USC team is averaging five yards per carry on the ground.
You can say what you will about the defensive performances of the Pac-12, but there aren't many players on this Trojans offense that won't be playing on Sundays at some point.
Edge: USC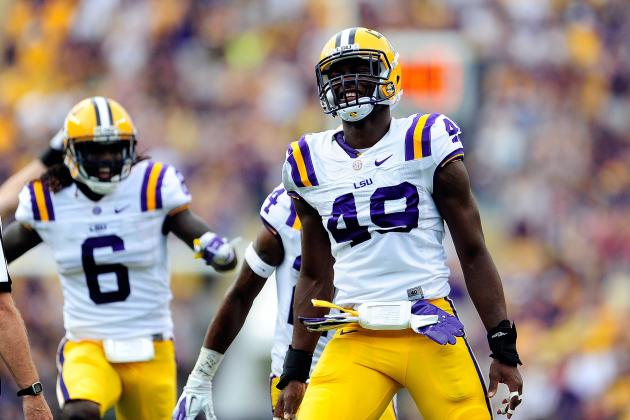 Stacy Revere/Getty Images

LSU
Things haven't changed much from a year ago, as the Tigers still have the second-best defense in the country, while Alabama is still the only team ahead of them.
The 20 sacks through the first seven games is second-best in the SEC, and the 13 red-zone trips allowed are second-lowest in the conference. The defensive line, led by Sam Montgomery and Barkevious Mingo, remains one of the best in college football, while a younger secondary from a year ago is quickly coming along.
The Tigers may not be as explosive on this side of the ball as they were last season, but this defense is still a unit you would love to have on your team.
USC
The Pac-12 doesn't receive much credit for defensive play, but the Trojans are ranked 25th in the country in total defense.
While it shouldn't be compared to the physicality of the Tigers unit, the Trojans do a great job of forcing turnovers, as the 16 through six games is tied for 12th-best in all of college football.
Linebacker Dion Bailey has had a remarkable year, while shutdown cornerback Nickell Robey has really made a name for himself during his junior season.
The USC defense isn't quite as aggressive or dominant as the Tigers', but it can certainly hold its own this year.
Edge: LSU
LSU
The Tigers have appeared to be sleepwalking through the entire 2012 schedule, as the team barely escaped against Auburn and couldn't put Towson away until the fourth quarter.
But despite being outplayed by the Florida Gators, LSU did only lose the game by eight points. They also managed to drop over 400 yards on a great South Carolina defense and did knock off the highly ranked Gamecocks.
USC
Unlike LSU, the Trojans have yet to beat a ranked team, as they lost to a ranked Stanford club earlier in the year.
Other than playing the Cardinal and losing, USC really hasn't played anybody, as victories over Syracuse, Hawaii, California and Utah don't really hold much weight this season.
However, these two programs do share a common opponent in Washington. LSU gave the Huskies a beatdown of 41-3, while USC allowed 299 total yards and won by a score of 24-14.
Edge: LSU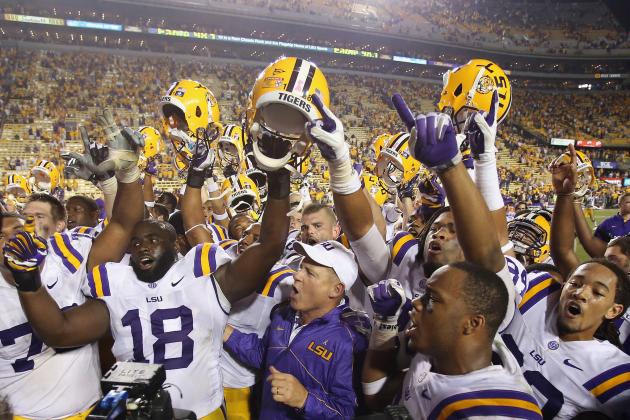 Ronald Martinez/Getty Images

If we are talking about which team is best fit for a national championship run, it would be the LSU Tigers.
Although neither team has looked great at times, the Tigers play much better defense and have terrific success running the football. Sure, the Trojans are running well with Silas Redd carrying the load, but I'm not sure USC would have the same success with a smaller offensive line against a physical team such as South Carolina.
LSU has also shown more throughout the year, as the team has a solid road victory against Auburn and defeated an undefeated South Carolina team last week. USC, on the other hand, is the only team in the Top 10 of the BCS rankings besides Alabama that has not beaten a Top 25 team in the first half of the regular season.
Defense wins championships, and we have yet to see how this USC program would fare against a quality unit such as an LSU or Alabama defense. We have seen the Tigers completely destroy finesse Pac-12 teams in the past, such as Washington this year and Oregon last season.
If these two schools were to battle it out right now for a chance to go to the BCS National Championship Game, you would be wise to put your money on the LSU Tigers.