Big Ten Football: Game-by-Game Picks for Week 8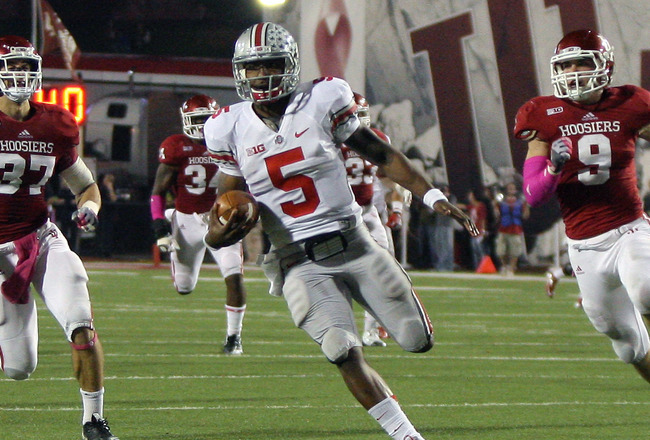 Wish you could play every week, Indiana and Ohio State. Wait, that's probably a bad thing to wish.
Pat Lovell-US PRESSWIRE
We've got a full slate of games this week in Week 8... sort of. We've got six games on tap, including a trio of very interesting late afternoon games, and let's be honest, football's just better when it starts at 3:30. It's just that Indiana is playing Navy, since Illinois is on a bye week.
Ohio State puts its undefeated season on the line in another road game, but it's against a team that could very well be worse than Indiana. That would be Purdue, and all Purdue has done over the last couple weeks is push and shove its way to the bottom of the Big Ten, squandering a priceless opportunity to position itself for a Big Ten Championship berth.
Meanwhile, Michigan looks to end Michigan State's four-year reign of terror in that in-state rivalry, and while the Wolverines' fatal flaws of the last couple years don't seem to be corrected, Michigan State is currently sitting at 4-3 on the year and winning the battle of who could not care less.
Your night game is Penn State at Iowa in what has turned into an oddly competitive quasi-rivalry over the last decade or so. Neither team is remotely consistent or trustworthy this year, so look for a game that could be close or about a 24-point win in either direction. Fun! Perhaps!
At any rate, here's every game of the week. Plan your Saturday accordingly.
Onward!
Noon: Purdue at Ohio State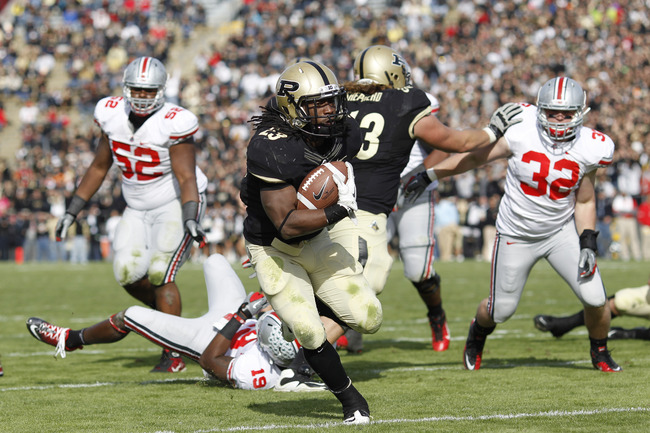 Joe Robbins/Getty Images
If you're looking at this game and intrigued because Purdue has won two of the last three against Ohio State, that's somewhat understandable, but let's get one thing straight: Purdue doesn't win at Ohio State. Purdue hasn't won in Columbus since 1988, which is before any player on either team was even born (though we did have to double-check on Robert Marve and Justin Siller—both February '89 kids).
But more important than historical trivia is one simple truth: Purdue isn't playing nearly well enough to be considered a serious threat to the Buckeyes' undefeated season. Not if Michigan can run up a 44-13 margin of victory. Not if Wisconsin can break off its biggest running output of the season (by far, even) against that defense.
If Wisconsin can run on Purdue, you know who can really run on Purdue? Ohio State, who has rushed for 724 yards in just the last two games alone. Don't expect that pace to slow much, especially at Ohio Stadium. This could get out of hand in a hurry.
Final score: Ohio State 45, Purdue 13
Noon: Minnesota at Wisconsin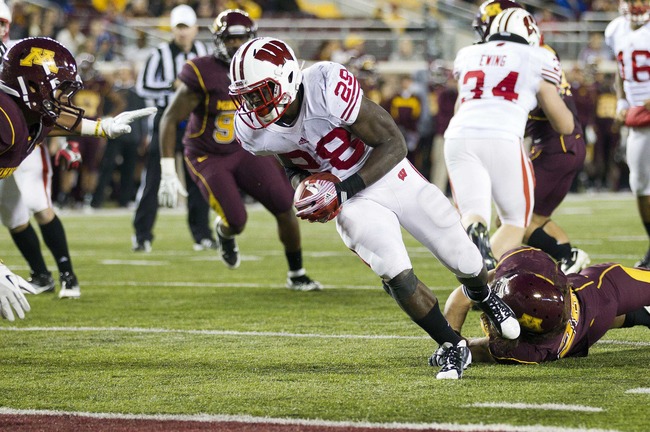 Jesse Johnson-US PRESSWIRE
Speaking of football being better at 3:30, here's a noon game that won't be worth waking up for. Minnesota is the most deceptive 4-2 team in a BCS conference, teetering on the precipice of a 4-8 season and certainly not looking like a bowl team in any respects.
Meanwhile, Wisconsin has begun running the ball with the aplomb and vigor that we became accustomed to over the last few seasons, and if last week is any indication, Minnesota's in for a rough Saturday.
Moreover, though, Jerry Kill has the Minnesota defense playing tougher than last year. That defensive line can still be pushed around, and there's really not a whole lot Kill can do about that.
Expect a beating here.
Final score: Wisconsin 42, Minnesota 10
3:30 PM.: Nebraska at Northwestern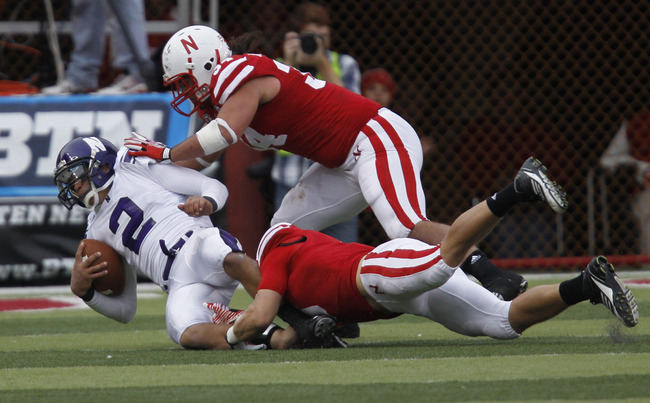 Bruce Thorson-US PRESSWIRE
Northwestern fans looking at this game and saying to themselves, "well, we won in Lincoln last year, so this should be a win too" are about to get a very rude introduction to how poor previous years' scores and locations are as predictors for future games.
That's not to say Northwestern can't win this game, it certainly can. But Nebraska's favored in a high-scoring contest, and Northwestern's defense has a brutal test on its hands.
For that matter, so does Nebraska's.
Expect points, and lots of them, this week, since Ohio State and UCLA proved that with a mobile quarterback running a spread, you can run on Nebraska. Meanwhile, Taylor Martinez threw all over Northwestern last year, and he should face minimal resistance doing so again this Saturday—especially since he and his receivers have improved much more than Northwestern's secondary has.
Nebraska should get one or two more stops in this game, though. Northwestern's offense is prone to disappearing for stretches, while the Husker option is still as well-oiled as ever. Look for this to be a struggle and a Nebraska win.
Final score: Nebraska 37, Northwestern 34
3:30 PM: Michigan State at Michigan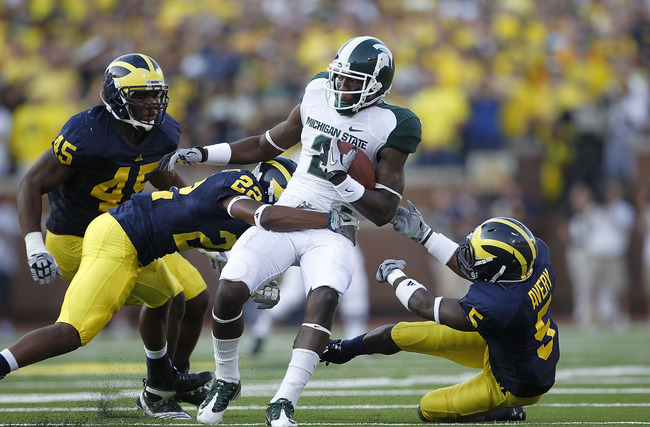 Leon Halip/Getty Images
What looked like a potential game of the year after the first week or two of the season is now a one-game playoff for the crown of the most disappointing team in the Big Ten, as both teams have toppled out of the Top 10 and Michigan has only crept into the bottom of the Top 25. If both teams turn into three-loss pumpkins by Week 8, well...hey, basketball season's right around the corner!
Doubtless, Denard Robinson and the rest of his fellow seniors have had this game circled on their calendars since mid-October last year, when Michigan State made it four in a row in the rivalry with a 28-14 victory in East Lansing. Not even the redshirt seniors have been part of a team that's beaten Michigan State, so this is a hugely important opportunity.
On the other sideline, it would be charitable to say that Michigan State's offense is a bit of a mess this year. Andrew Maxwell is fine throwing the ball; it's just that so few of his teammates are adept at catching it, especially with big TE Dion Sims still nursing an ankle injury. He's questionable for Saturday, and it's not looking good.
The biggest level of talent on either side of the ball for either team is, without question, Michigan State's defense. That's a side that can hold nearly anyone to 20 points or less. It's just that the Spartan offense tends to hold itself to 20 points or less as well, so what we've probably got in store is another low-output struggle on our hands.
Heck, put it this way: First one to 20 wins.
Final score: Michigan 20, Michigan State 16
3:30 PM: Indiana at Navy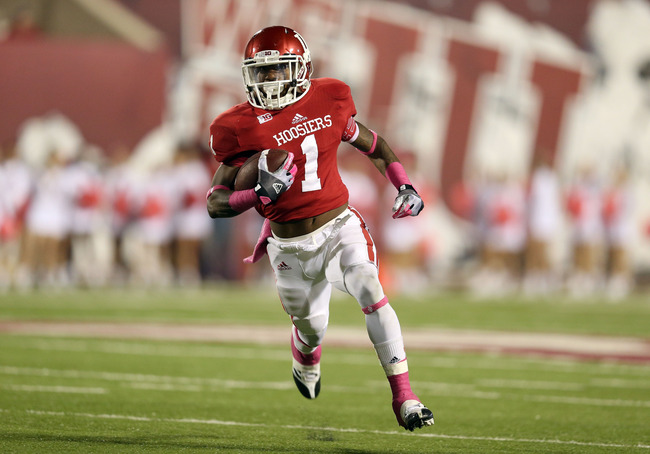 Andy Lyons/Getty Images
It's been two straight weeks of close calls for Indiana against some comparatively high-level competition, as the Hoosiers have dropped home games to Michigan State and Ohio State by a combined seven points. That's a pretty middle-of-the-pack performance for the Big Ten this year, which is rather astonishing since Indiana most certainly does not have middle-of-the-pack talent yet.
Now comes an intriguing road test as the Hoosiers finish up their non-conference slate with a game at ever-plucky Navy (indeed, it's the Big Ten's last non-conference game). The Indiana defense's shortcomings should be on display in this one, as opponents are rushing for five yards a pop and 221 yards a game against the Hoosier defense.
We could see a Navy victory here easily, and that would certainly be a gut punch for an Indiana team that's been working toward respectability and still has even an outside shot at a .500 record.
But if Kevin Wilson's the coach of the year that we think he is around here, the Hoosiers will be ready for Navy's ground attack—and will have an aerial counter-attack of their own at the ready. This should be an interesting (if not talent-filled) clash of opposing styles and a nice third option if the other two games are boring.
Final score: Indiana 29, Navy 28
8 PM: Penn State at Iowa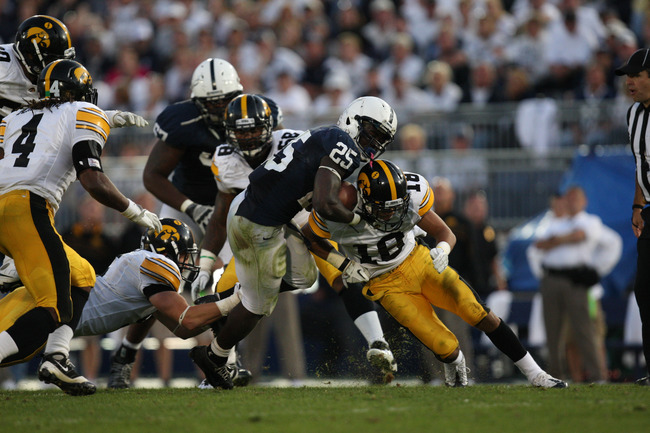 Rob Christy-US PRESSWIRE
Fun fact: This will be the third Iowa-Penn State night game in the last four seasons, with only 2011 coming in the daytime. Moreover, Iowa-PSU 2008 was a November game, which means no outdoor night games in the Big Ten, and it was the only 3:30 game on the entire conference slate that day.
That kind of prolonged special attention from the scheduling powers-that-be adds even more heft to a burgeoning rivalry. Joe Paterno exacted his revenge on Iowa for years of painful losses with a 13-3 win last season, and while Paterno's no longer with us, new head coach Bill O'Brien would be more than happy to make this a winning streak for the Nittany Lions.
Meanwhile, Iowa (like Penn State) is sitting pretty at 2-0 in conference play and would love nothing more than to keep proving September doubters wrong (again, like Penn State) en route to an improbably division title run.
The matchups in this rivalry have historically been intriguing and close, though one-sided games occasionally pepper the landscape of the last 15 years. This looks like another close game, but both of these teams have laid some absolute eggs this year.
And this sounds amazing after last year, but Matt McGloin looks like a way better quarterback than James Vandenberg this year. Combine that with Iowa's probable loss of RB Mark Weisman, and this should be five wins in a row for Bill O'Brien's "Tryin' Lions" (I just made that up) (it's not going to stick) (sorry).
Final score: Penn State 16, Iowa 10
Keep Reading