Predicting the 10 Hottest College Football Coaching Jobs This Offseason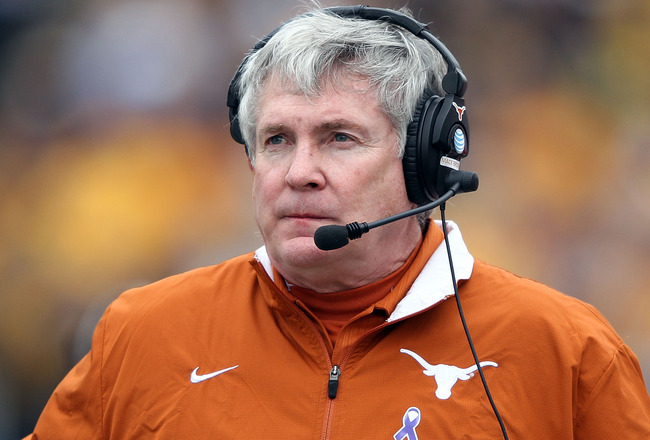 Jamie Squire/Getty Images
We are nearing crunch time in college football.
A lot of teams are trying to make that final push to become bowl eligible, several teams are trying to make a case for a BCS bowl and many coaches are fighting for their jobs while all of this is happening.
Coaching in college football is a ruthless career choice. You can be replaced at the drop of a hat. It doesn't matter how well you recruit or how nice you are as a person, you are judged mainly on wins and losses. If your team is not producing victories, there is a great chance you will be roaming the sidelines at some other school.
There are currently many coaches on the hot seat that should begin printing their résumé, since there is a chance they will be shown the door at the end of the year.
Here are 10 programs that may have a vacant head coaching position and where candidates should consider taking their talents.
10. Boston College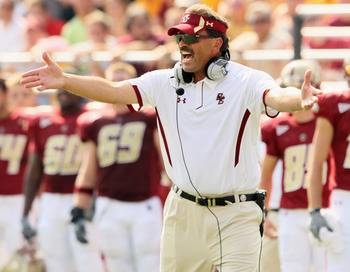 Elsa/Getty Images
Coach on the Hot Seat: Frank Spaziani
Why He May Be Fired
Boston College is likely going to miss a bowl appearance for the second straight year, with the Eagles off to a 1-5 start.
The program has only won five games since 2011, is not competitive at all with the rest of the ACC and is now losing to teams such as Duke and Wake Forest.
Why Job Is Interesting to Have
Boston College isn't the sexiest school in the world to coach at, but it does have its perks.
The school is the only major program in the New England area. Therefore, recruiting isn't that difficult.
It's also a school that has won over 600 games all-time and has produced many NFL players, including B.J. Raji and Matt Ryan.
9. Kansas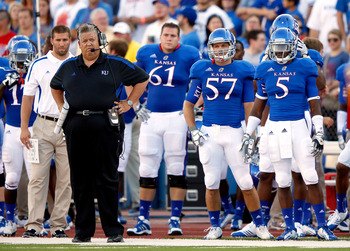 Jamie Squire/Getty Images
Coach on the Hot Seat: Charlie Weis
Why He May Be Fired
With Weis bouncing from job to job over the last few years, it wouldn't be surprising if he fires himself after this season.
Nobody really expected the coach to leave an offensive coordinator job with Florida and stay in Kansas for very long, anyway.
A 1-5 start on the year isn't what the Jayhawks had in mind when hiring him, either.
Why Job Is Interesting to Have
Mark Mangino proved you can win in Kansas.
The former head coach won 50 games in just eight seasons. He led the Jayhawks into the AP poll from 2007-2009 and even got the team to a BCS bowl in 2007.
You can win here—the next coach just has to be committed and have a lot of patience.
8. Syracuse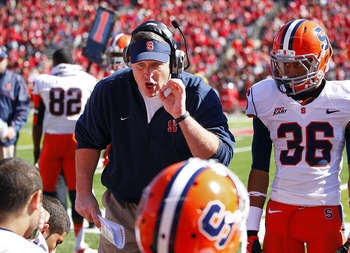 Rich Schultz/Getty Images
Coach on the Hot Seat: Doug Marrone
Why He May Be Fired
Marrone is in his fourth year as head coach of Syracuse and is likely going to miss a bowl game for the third season.
He has won less than 50 percent of his games at the school and the program may be looking for a fresh start as the Orange enter the ACC next season.
Why Job Is Interesting to Have
Syracuse may get more respect for its basketball program nowadays, but the football program has produced 42 All-Americans and has many members in the College Football Hall of Fame.
With a great home atmosphere in the Carrier Dome, the Orange will soon be members of the ACC, which is only going to help recruiting moving forward.
7. South Florida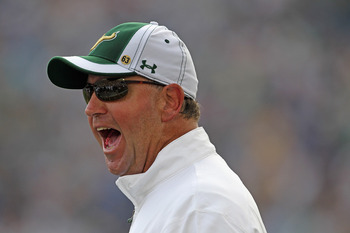 Jonathan Daniel/Getty Images
Coach on the Hot Seat: Skip Holtz
Why He May Be Fired
South Florida was one of the more talented teams in the Big East this year and was even picked as a dark horse to win the conference.
Instead, the Bulls are looking at the possibility of a losing season and missing a bowl game for the second straight year.
Why Job Is Interesting to Have
Just a few years ago, South Florida was quickly making a name for itself, often upsetting highly ranked teams and reaching six straight bowl games.
It appeared that the program was going to be the next Florida school that was going to steal the spotlight.
While the Big East isn't a popular destination, it is a Florida school, so talent isn't short when it comes to recruiting.
6. Georgia Tech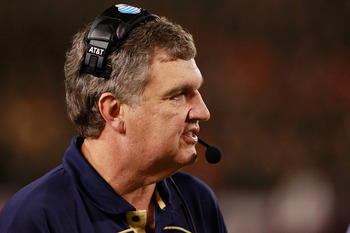 Geoff Burke/Getty Images
Coach on the Hot Seat: Paul Johnson
Why He May Be Fired
Johnson has led the Yellow Jackets to four straight bowl games, but he has lost every one of them.
Furthermore, he is in danger of missing a bowl game this year. The team has slipped to a 2-4 start and has lost to the likes of Middle Tennessee.
Why Job Is Interesting to Have
Georgia Tech may be the forgotten school in the ACC at times, but this is a program that has produced 21 All-Americans and has won four national titles.
The history is there with this program, and many top recruits wouldn't mind staying in the Atlanta area to play for the Yellow Jackets.
Somebody just needs to come in and give this school that magic touch once again and it will be all right.
5. California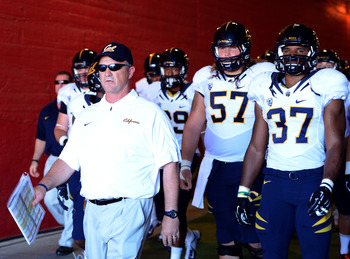 Harry How/Getty Images
Coach on the Hot Seat: Jeff Tedford
Why He May Be Fired
Tedford has been with the Golden Bears since 2002, but hasn't won a bowl game since 2008.
He had one of the more talented Pac-12 teams heading into this season, but has got off to a 3-4 start, including one loss to Nevada.
It may be time for both to begin heading their separate ways.
Why Job Is Interesting to Have
With the Pac-12 looking like it has turned the corner, there may be no better time than now to try to land a coaching job in the conference.
More and more top players are heading out west and the coaching power got stronger with Mike Leach and Rich Rodriguez. Let's also not forget that Cal has a great history of producing quality NFL players.

4. Arkansas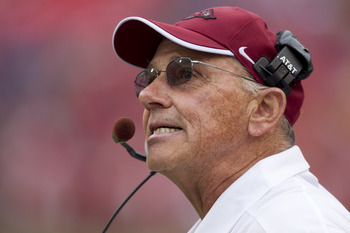 Wesley Hitt/Getty Images
Coach on the Hot Seat: John L. Smith
Why He May Be Fired
Maybe you haven't heard, but Arkansas was supposed to be a national championship contender this year. Instead, the program has lost to teams such as Louisiana-Monroe, Rutgers and was shut out by Alabama.
If that wasn't enough, the head coach is in massive debt, which almost guarantees he will be looking for a new job at the end of the year.
Why Job Is Interesting to Have
While Arkansas may not be the most accomplished school in the SEC and may be in the toughest division in the sport, it is still in the SEC. It also has an entire state to itself to pick and choose some of the top recruits.
The Razorbacks seem to be that program that can never quite get over the hump, but the right coach could help this school finally turn the corner.
3. Tennessee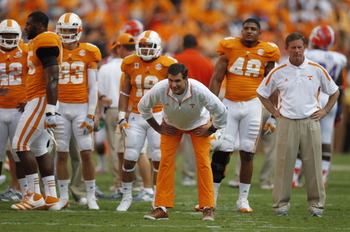 John Sommers II/Getty Images
Coach on the Hot Seat: Derek Dooley
Why He May Be Fired
Dooley was expected to turn this Tennessee program around and hasn't done much since he arrived.
He missed a bowl game last season, is winning only 45 percent of his games and is 4-15 against SEC competition since he took the job in 2010. Volunteer fans can only put up with so much.
Why Job Is Interesting to Have
While it may be hard to remember with the fast-paced life everyone lives today, Tennessee is still one of the more accomplished SEC schools there is.
We are talking about a school that has won six national championships, 16 conference titles and has only gone four years without reaching a bowl game since 1981.
Tennessee should still be considered an elite coaching job for anybody to take.
2. Auburn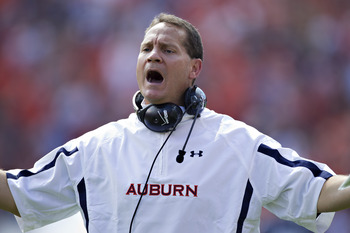 Wesley Hitt/Getty Images
Coach on the Hot Seat: Gene Chizik
Why He May Be Fired
Discounting the 2010 season, when Cam Newton came to Auburn and helped save the day, Chizik has been nothing more than an average coach.
If you take away the undefeated season with Newton, since 2009, Auburn has finished with a record of 17-15.
With a 1-5 record this season, including losses to Arkansas and Ole Miss, the days are numbered for the head coach.
Why Job Is Interesting to Have
Despite having to compete with a school like Alabama for recruits, Auburn picks up a fair amount of talent to be competitive in the SEC.
There also aren't many schools that have as much tradition or a rabid fanbase like Auburn does.
1. Texas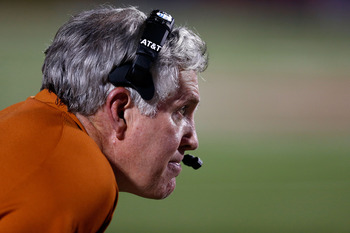 Scott Halleran/Getty Images
Coach on the Hot Seat: Mack Brown
Why He May Be Fired
Brown has done great things with this Texas program, but it appears he is on the downside of his career.
He missed a bowl game completely back in 2010 and is 0-6 against ranked teams since 2011. There has been talk of retirement, but even if the head coach isn't ready to hang it up, he may be forced to coach elsewhere.
Why Job Is Interesting to Have
It's Texas! There aren't many programs in college football that are as big and popular as the Longhorns.
This school has absolutely no problem recruiting whatsoever and top recruits will continue to line up outside the door, regardless of who is coaching. We hear coaches call every new gig their "dream job," but walking the sidelines in Austin, TX is really one of those opportunities.
Keep Reading