Eight Unranked College Football Teams That Will Finish 2012 in the Top 25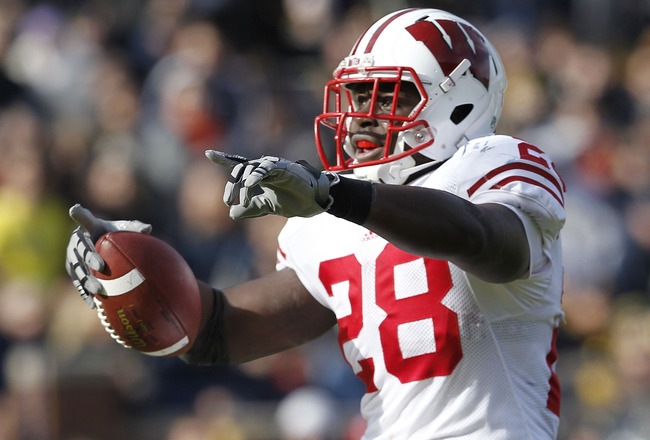 Gregory Shamus/Getty Images
The teams on this list are currently wallowing in that most woeful of categories: The unranked teams.
The eight on this list are not currently ranked in the BCS poll, but all of them will be by season's end.
Schedules are favorable, the teams have shown demonstrable progress and each one of them has the playmakers to finish the season strong.
Odds are, several of the teams currently ranked in the bottom half of the rankings will slip out by season's end, and these teams will be perfectly poised to take over their rankings.
8. N.C. State Wolfpack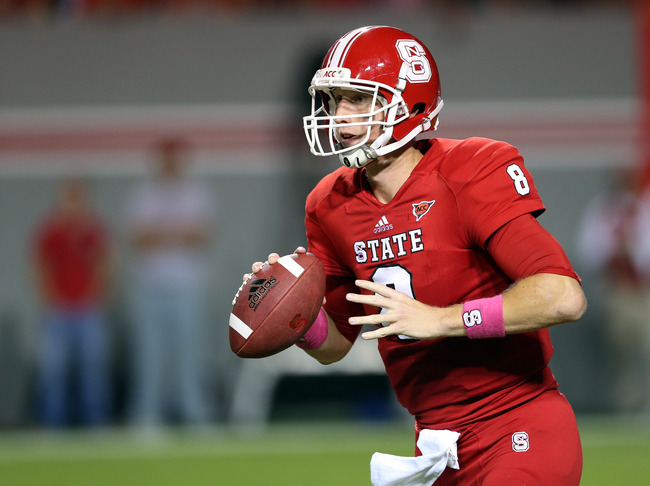 Streeter Lecka/Getty Images
Remaining Games: at Maryland, at North Carolina, Virginia, Wake Forest, at Clemson, Boston College

Record: 4-2
The problem with this team is that you never know which version will show up on game day.
Will it be the team that pulled out the gritty upset of Florida State, or the team that fell to Miami?
Even so, the talent is there for a run to the top of the ACC.
Quarterback Mike Glennon and the offense have shown flashes of brilliance at times, but without a consistent running game, this team is somewhat of a question mark.
That said, the upset of Florida State showed what Tom O'Brien's squad can do, and even with deceptively tough matchups against North Carolina, Maryland and Virginia coming up, this team could finish in the Top 25 with a little good fortune and a few less interceptions from Glennon.
7. Nebraska Cornhuskers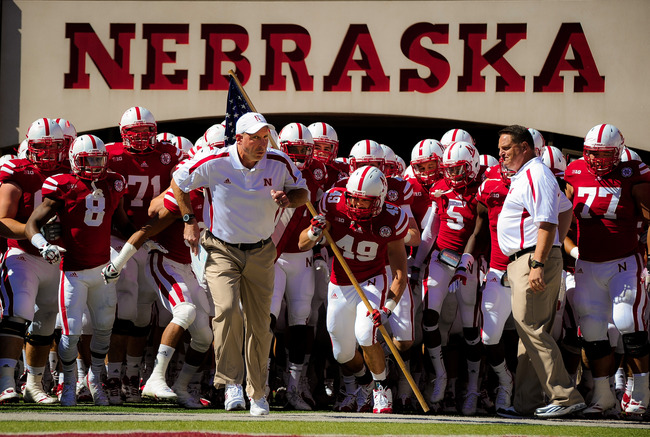 Eric Francis/Getty Images
Remaining Games: at Northwestern, Michigan, at Michigan State, Penn State, Minnesota, at Iowa
Record: 4-2
The last time we saw the Huskers, they were blasted by Ohio State, 63-38.
But things are still looking good for this team.
The defensive unit has shown the ability to be extremely stingy at times this season (see the Wisconsin game), and Taylor Martinez, Rex Burkhead and Amir Abdullah are a pretty potent trio coming at you out of the backfield.
It won't be easy, especially with road games against MSU and Northwestern, but expect only one more loss out of this team the rest of the way.
6. Louisiana Tech Bulldogs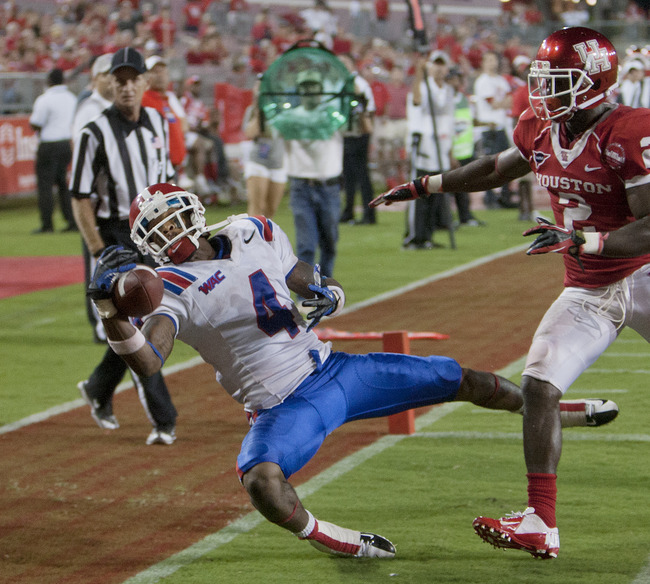 Bob Levey/Getty Images
Remaining Games: Idaho, at New Mexico State, UTSA, at Texas State, Utah State, at San Jose State
Record: 5-1
Coming off of last week's disappointing 59-57 loss to Texas A&M, the Bulldogs have got to be happy about their chances of cracking the BCS rankings by season's end.
The offense, led by wide receiver Quinton Patton and quarterback Colby Cameron, does not face a team that has the talent to stop it for the rest of the year.
This offense is clearly the best in the WAC, and one of the better offenses in the nation, as evidenced by its 53.8 points per game average, which leads the FBS.
Barring some sort of weird upset, the Bulldogs will finish the season without another loss to find themselves in the lower half of the BCS rankings when the final week rolls around.
5. Ohio Bobcats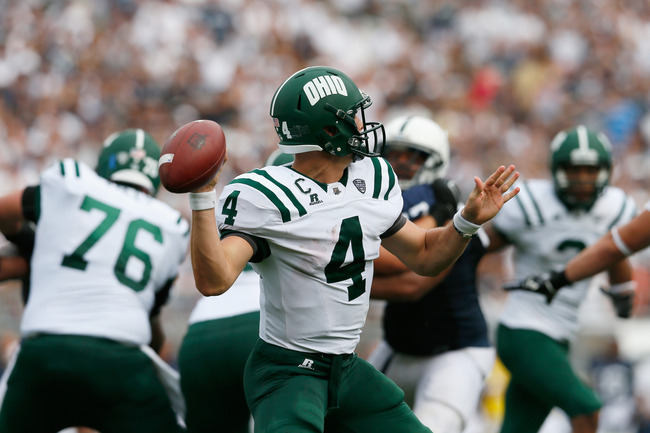 Rob Carr/Getty Images
Remaining Games: at Miami(OH), Eastern Michigan, Bowling Green, at Ball State, at Kent State
Record: 7-0
Football is good to the state of Ohio.
The Bobcats are one of only two teams with a 7-0 record at this point in the season.
The other is Ohio State.
In spite of a relatively weak MAC schedule, if the Bobcats finish the season without a blemish, they will sneak into the BCS rankings.
Then again, many of you would argue that the MAC is stronger than the Big Ten or the Big East, so we won't blast them too much for the weakness of the conference.
Tyler Tettleton has progressed as a quarterback and has the ability to do damage either with his arm or legs, while Frank Solich's defense is limiting opponents to 23.6 points per contest.
4. Texas Longhorns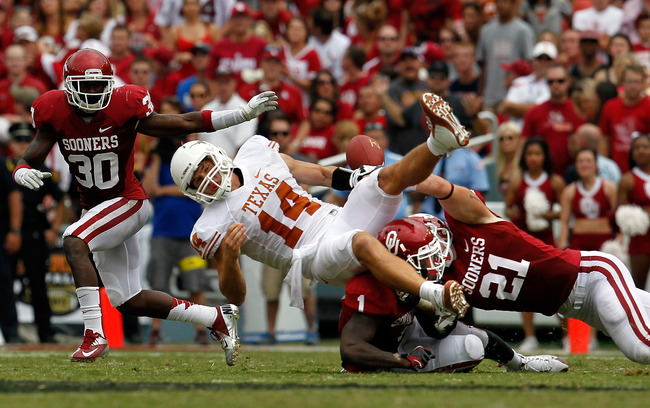 Tom Pennington/Getty Images
Remaining Games: Baylor, at Kansas, at Texas Tech, Iowa State, TCU, at Kansas State

Record: 4-2
The defensive issues that have reared their ugly heads in Texas' consecutive losses are not too much to overcome.
Tackling needs to be sound. It's really that simple—no scheme, no tricks, just tackle.
If the Longhorns can figure that out, they will finish the season with, at most, three losses, and several wins against ranked opponents.
David Ash, in spite of a less than great performance against Oklahoma, has shown serious improvement through the course of the season, and he still has the tools to lead this offense.
The 63-21 loss to Oklahoma was ugly, but it does not signal the end of the season for the 'Horns.
3. Wisconsin Badgers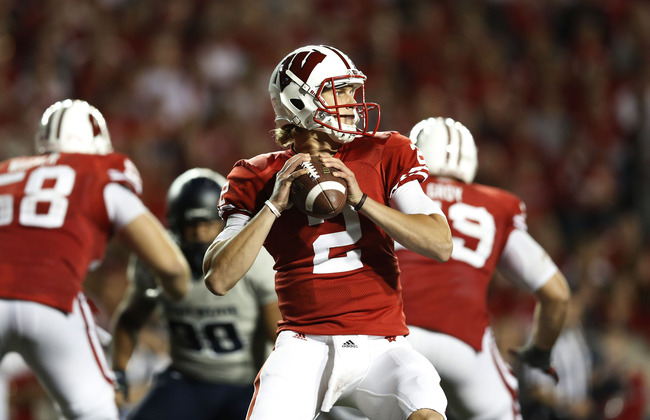 Tom Lynn/Getty Images
Remaining Games: Minnesota, Michigan State, at Indiana, Ohio State at Penn State
Record: 5-2
The Badgers have not been the high-powered juggernaut that they were last season and have already suffered two regular-season losses, matching their total from 2011.
But things are not all bad in Mad-Town.
Joel Stave has showed progress at the quarterback position, and Montee Ball has been rolling, scoring eight touchdowns in the past three games.
The schedule is still difficult, with Ohio State and Michigan State yet to face off against Bret Bielema's squad, but both of those teams will make the trip to Camp Randall, where the Badgers are tough to beat.
If this offense continues to roll, it is not difficult to imagine the Badgers finishing the season without another loss.
2. NIU Huskies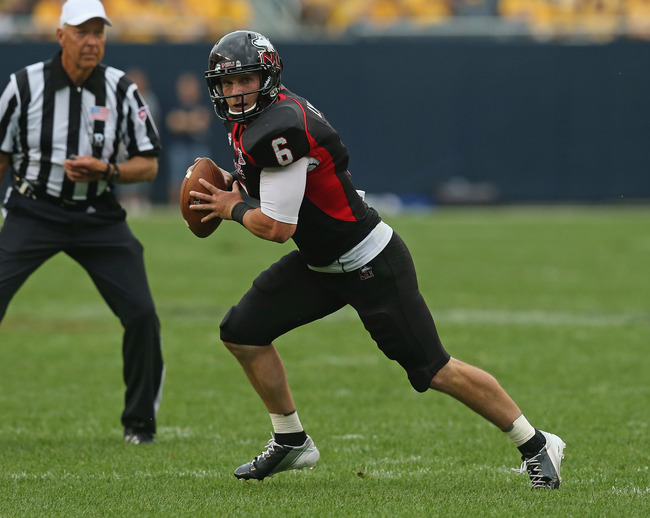 Jonathan Daniel/Getty Images
Remaining Games: at Akron, at Western Michigan, Massachusetts, Toledo, at Eastern Michigan

Record: 6-1
If you thought NIU was going to have a significant drop in production once stud quarterback Chandler Harnish left, you were not alone.
But you were also wrong.
His replacement, Jordan Lynch, has scored 22 total touchdowns—11 on the ground and 11 through the air.
The team's only loss came in its opener against Iowa, 18-17, and if the Huskies continue to win, they will find their way into the BCS rankings by season's end.
1. Nevada Wolf Pack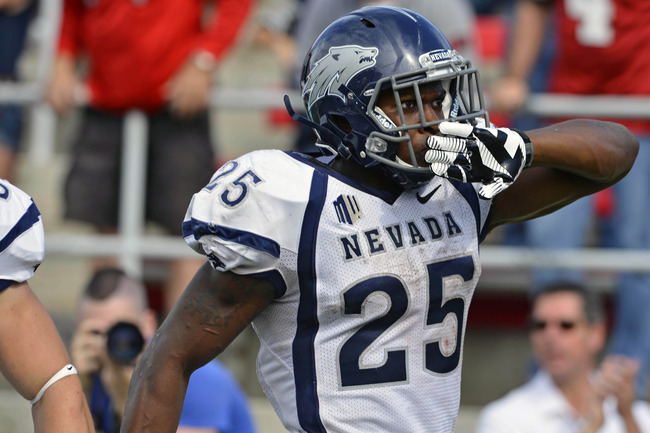 Ron Chenoy-US PRESSWIRE
Remaining Games: San Diego State, at Air Force, Fresno State, at New Mexico, Boise State
Record: 6-1
The Wolf Pack are sneaking by underneath the radar, but they are a very good team.
They are currently sixth in the nation in rushing yards per game, with 285.7 yards, and running back Stefphon Jefferson leads the FBS in rushing yards with 1,140 through seven games.
Meanwhile, quarterback Cody Fajardo has scored 16 times already this season and continues to lead Chris Ault's offense to 41 points per game.
Gouging a path through the MWC undefeated is not easy, just ask Boise State. But if anyone can pull it off, it will be the Wolf Pack.
That season-ending game with Boise State is going to be huge, as it will likely determine the conference champ, and it will be the only chance Nevada has to knock off a ranked opponent before the end of the year.
Keep Reading