Georgia vs. Kentucky: The Complete Game Preview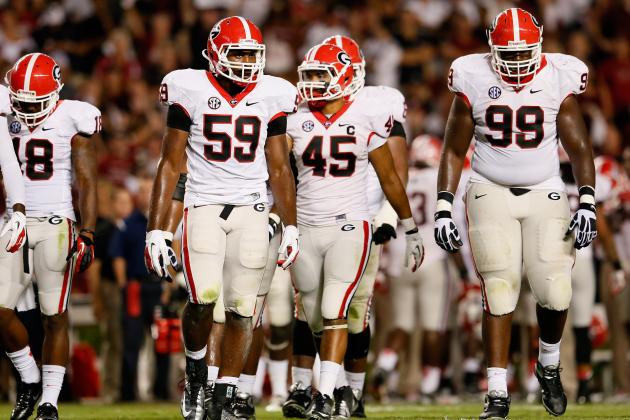 Kevin C. Cox/Getty Images

After having a much-needed week off, the Georgia Bulldogs will be back in action when they face the Kentucky Wildcats. According to experts, it should be a dominating win for the Bulldogs, but the Wildcats will not go down without a fight.
The important thing for the Bulldogs is to have a better showing than the South Carolina game. They also need to get back on a winning streak in order to stay in the SEC East race.
Who: Georgia vs. Kentucky
When: Saturday, 7 p.m.
Where: Commonwealth Stadium (67,942)
TV: FSN
Radio: Sirius 92, XM 200
Internet: GTV at Georgiadogs.com
Begin Slideshow

»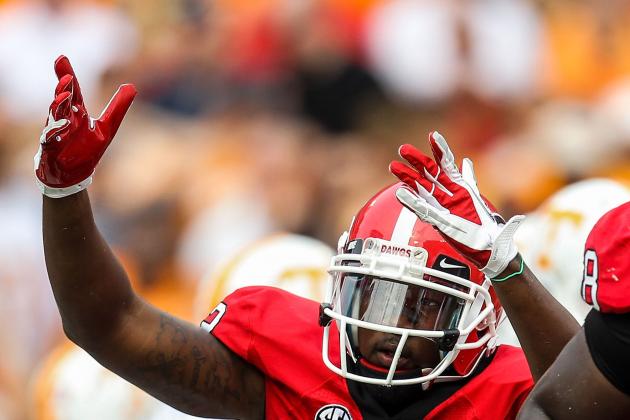 Daniel Shirey-US PRESSWIRE

QB: Aaron Murray, Hutson Mason, Christian LeMay
RB: Todd Gurley, Keith Marshall, Ken Malcome
FB: Merritt Hall, Richard Samuel
FLK: Tavarres King, Rantavious Wooten, Chris Conley
SE: Marlon Brown, Michael Bennett, Malcolm Mitchell
TE: Arthur Lynch, Jay Rome
LT: Kenarious Gates, Mark Beard, Austin Long
LG: Dallas Lee, Ben Reynolds
C: David Andrews, Chris Burnette
RG: Chris Burnette, Greg Pyke
RT: John Theus, Watts Danztler
DE: Abry Jones, Garrison Smith
NT: John Jenkins Kwame Geathers
DE: Cornelius Washington, Ray Drew, Mike Thornton
OLB: Ramik Wilson, Chase Vasser, Josh Dawson
OLB: Jarvis Jones, Jordan Jenkins, T.J. Stripling
ILB: Michael Gilliard, Amarlo Herrera
ILB: Alec Ogletree, Christian Robinson
CB: Malcolm Mitchell, Sanders Commings, Devin Bowman
CB: Branden Smith, Damian Swann
SS: Shawn Williams, Corey Moore, Josh Harvey Clemons
FS: Bacarri Rambo, Connor Norman
P: Colin Barber, Adam Erickson
PK: Marshall Morgan, Jamie Lindley
PR: Branden Smith, Damian Swann
KR: Branden Smith, Todd Gurley, Malcolm Mitchell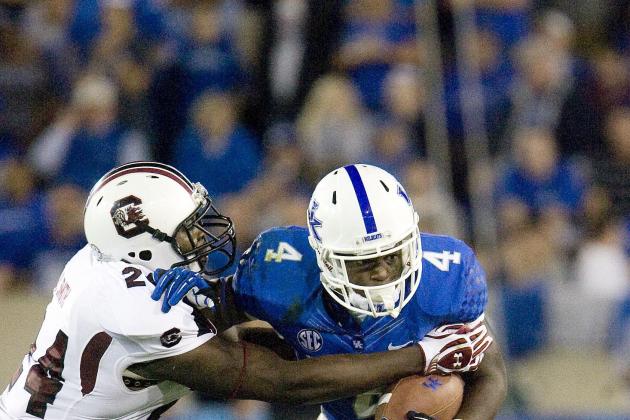 Mark Zerof-US PRESSWIRE

QB: Jalen Whitlow, Morgan Newton
TB: Jonathan George, Raymond Sanders
FB: D.J. Warren, Cody Jones
WR: La'Rod King, A.J. Legree
WR: Demarco Robinson, Marcus Sweat, Aaron Boyd
WR: Darly Collins, Gene McCaskill
TE: Tyler Robinson, Ronnie Shields
LT: Darrian Miller, Jordan Swindle
LG: Zach West, Teven Eatmon-Nared
C: Matt Smith, Max Godby
RG: Larry Warford, Jack Gruenschlaeger
RT: Kevin Mitchell, Trevino Woods
DE: Collins Ukwu, Farrington Huguenin
DT: Donte Rumph, Mike Douglas
DT: Tristian Johnson, Mister Cobble
E/LB: Taylor Wyndham, Alvin Dupree
WLB: Alvin Dupree, Khalid Henderson, Malcolm McDuffen
LB/S: Miles Simpson, Kory Brown
CB: Cody Quinn, Fred Tiller
S: Daron Blaylock, Ashley Lowery
S: Zack Blaylock, Mikie Benton
CB: Cartier Rice, J.D. Harmon
PK: Craig McIntosh, Joe Mansour
P: Landon Foster, Joe Mansour
KR: DeMarcus Sweat, Raymond Sanders
PR: Demarco Robinson, Gene McCaskill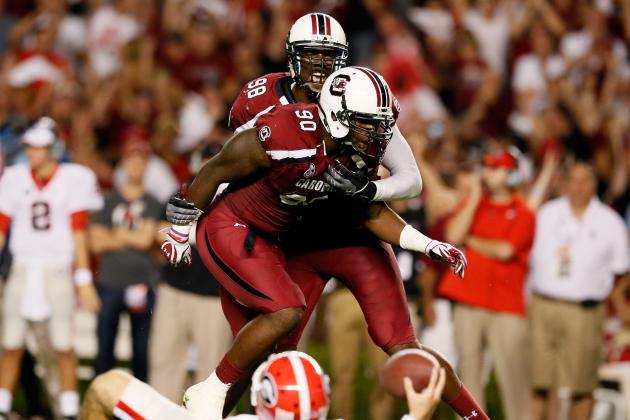 Kevin C. Cox/Getty Images

As mentioned earlier, the Bulldogs were off last week, but they needed it after taking one on the chin against South Carolina the week before.
The Bulldogs fell to the Gamecocks 35-7 and it was game that was over for the Bulldogs as soon as the first kickoff.
The Gamecocks scored 21 points in the first 10 minutes of play and never looked back. They got great production for quarterback Connor Shaw and running back Marcus Lattimore. Shaw threw for two touchdowns and rushed for one, while Lattimore rushed for 110 yards and scored once.
On the flip side, the Bulldogs could never get anything going on offense. Aaron Murray was 11-of-33 with 109 yards, one interception and was sacked twice. The Gamecocks also shut down the two freshman running backs as Keith Marshall and Todd Gurley rushed for a combined 76 yards on 25 carries.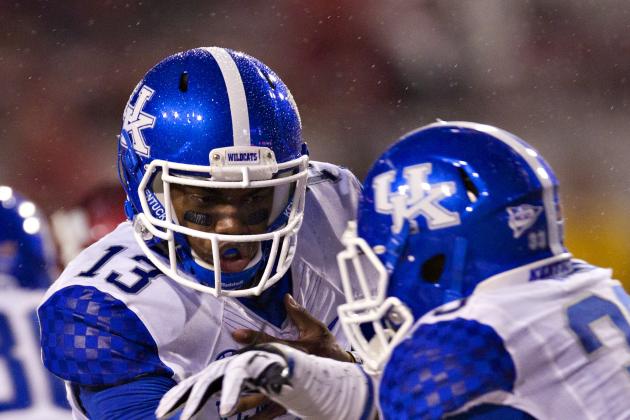 Wesley Hitt/Getty Images

Kentucky did not have a bye week, but they could have used it as they got hammered by Arkansas, 49-7.
The Wildcats had a tough time stopping Arkansas QB Tyler Wilson as he was 21-of-31 for 372 yards and a career-high five touchdowns.
Kentucky quarterback Jalen Whitlow did not have the same type of game as he went 2-of-10 for 83 yards.
The Wildcats only totaled 170 yards of offense and gave up 533 yards on defense. They also only gained six first downs while the Razorbacks gained 24.
What's even worse (or better depending on the way you look at it) is they called the game in the third quarter due to inclement weather. So it could have been a lot worse for the Wildcats.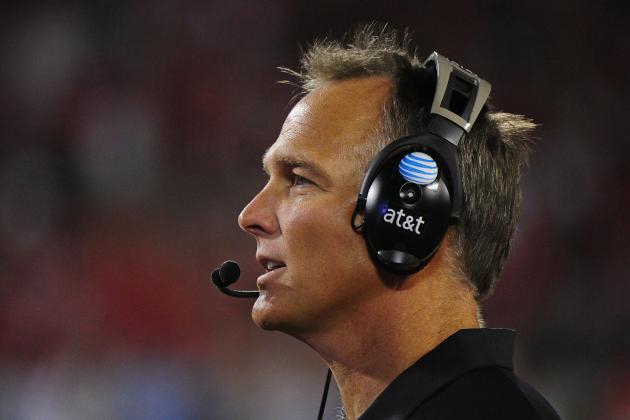 Scott Cunningham/Getty Images

This game means a lot for both teams, but Georgia needs this game more than Kentucky.
Why is that? Georgia is still in the hunt for the SEC East title. They need to win the next four games and hope that Florida beats South Carolina. If that happens, they will be back at the Georgia Dome in December, but they have to take it one game at a time and it starts with a win against the Wildcats.
As for Kentucky, the Wildcats are fighting for respect, but they are also fighting to save head coach Joker Phillips' job.
Things have not been going well for Phillips and the Wildcats this season, and they need a win in the worst way. If they could pull the upset, it would do so much for this program in terms of building for the future.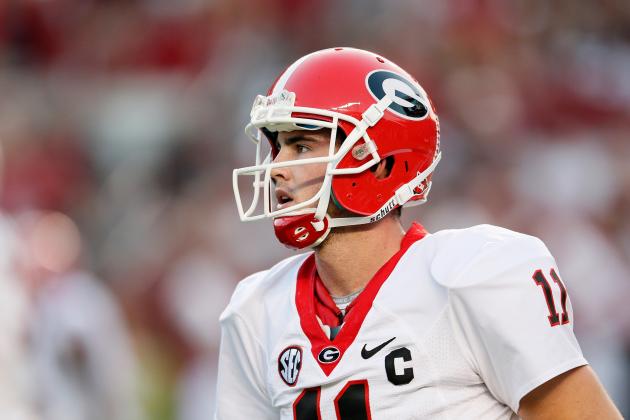 Kevin C. Cox/Getty Images

After one of his worst games in his college career, Aaron Murray needs to have a bounce-back game in order to get the Bulldogs back on track.
This will be the right time to do it because he is going up against a young defensive secondary in Kentucky.
The Wildcats have struggled on defense, giving up 32 points and over 415 yards per game. These are games where Murray plays is best, so expect him to have a 250-yard, three-touchdown performance on Saturday.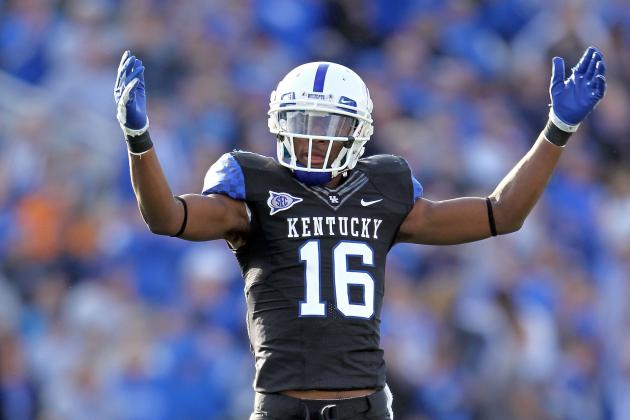 Andy Lyons/Getty Images

There aren't too many playmakers for the Wildcats but La'Rod King is one of the better receivers in the conference.
The senior wideout has 351 yards and four touchdowns so far this season including the lone touchdown scored last week against Arkansas last week.
King has caught 117 passes, which makes him the 13th player in school history to have 100 or more receptions in their career. He also has 17 career touchdown catches, which ties him with Steve Meilinger for fifth place on the Wildcats' career list.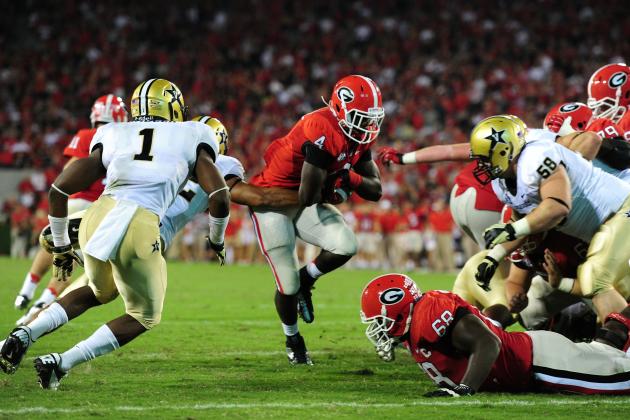 Scott Cunningham/Getty Images

The Bulldogs will win if they just simply play their game, which is a balanced attack on offense and applying pressure on defense.
They could not do it against South Carolina because the offensive and defensive lines could not win the battle up front. But they should have that same problem against the Wildcats who do not have great line play on either side of the ball.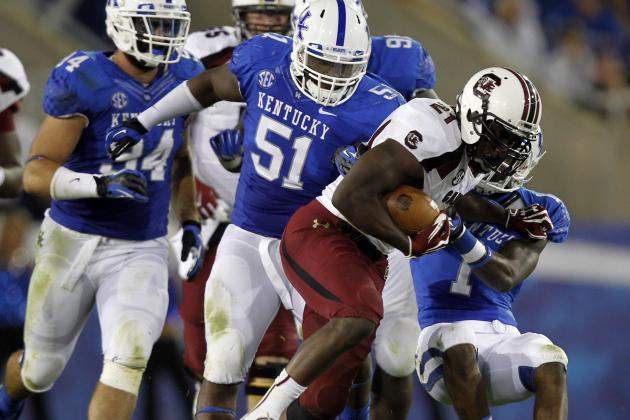 John Sommers II/Getty Images

The Wildcats will win if Georgia comes out flat, and they are able to get off to a quick start.
It's likely that freshman Jalen Whitlow will get the start at quarterback for the Wildcats, so he will have to play with more confidence and not get down on himself when things don't go the Wildcats way.
The defense will also need to apply pressure on Murray. The Gamecocks were constantly in Murray's face, which led to the offense only scoring seven points. If they frustrate Murray and force some early turnovers, then the Wildcats have a shot.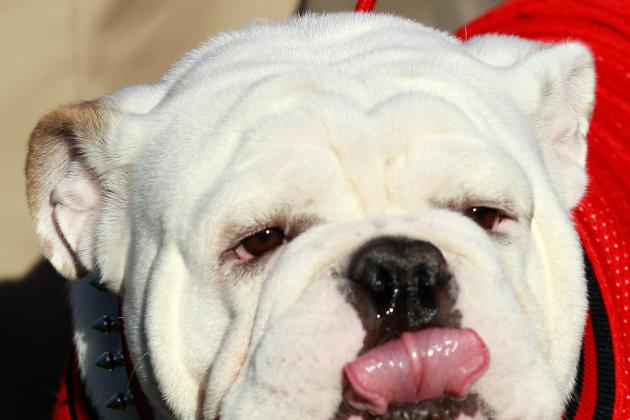 Sam Greenwood/Getty Images

On paper, this game should not be close, and by the way things are going for the Wildcats, it probably going to be what experts are predicting.
Georgia is coming off a disappointing loss and need to take their frustrations out on someone. This maybe the Wildcats' homecoming and Bulldogs linebacker Jarvis Jones may not play due to an ankle injury. But that's not going to matter because from the top to bottom, the talent difference between the Wildcats and the Bulldogs is night and day.
Murray, Marshall, Gurley and the Bulldogs defense will have a big day, and this game should be over midway through the third quarter.
FINAL SCORE: Georgia 45, Kentucky 10