10 Best 2013 JUCO Recruits Every College Football Fan Needs to Know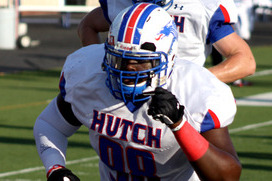 If you follow college football recruiting, you are familiar with Robert Nkemdiche, Montravius Adams and Max Browne.
These are the premier recruits heading into the 2013 signing period.
The guys on this list have taken a different route to get to the FBS, finding themselves at junior colleges at present, with the prospect of being recruited and making the jump next season.
The 10 players found here are the top 10 JUCO players set to make that jump next season, and if you haven't been introduced as yet, now is as good a time as any to discover their talent.
Begin Slideshow

»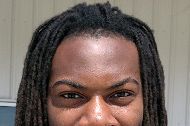 Smith is a hard-hitting, fast, extremely intelligent weak-side defensive end who has already spent the 2012 season racking up plays for East Mississippi Community College.
As it sits right now, he lead the team in sacks with six, has forced four fumbles and has an interception through seven games.
West Virginia, Florida State, Texas A&M and Mississippi State are all in contention for his commitment, with the Bulldogs appearing to be the current frontrunner.
His ability to make big plays and be a factor in both the passing and rushing defense will make him a great addition wherever he winds up.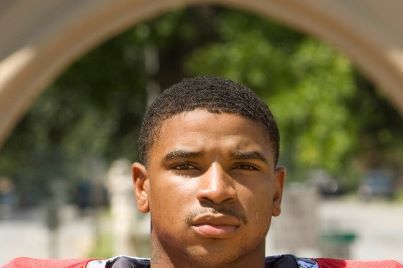 Alford is an all-purpose back who is at excellent rushing the ball and catching passes.
He demonstrated that talent against Snow College by rushing the ball nine times for 125 yards and two touchdowns, and also caught four passes for 135 yards and two more scores.
He is leaning toward Ole Miss, but is also considering Georgia.
With the Marshall and Gurley show still hanging around Georgia, it appears he would have more opportunity on the field at Ole Miss.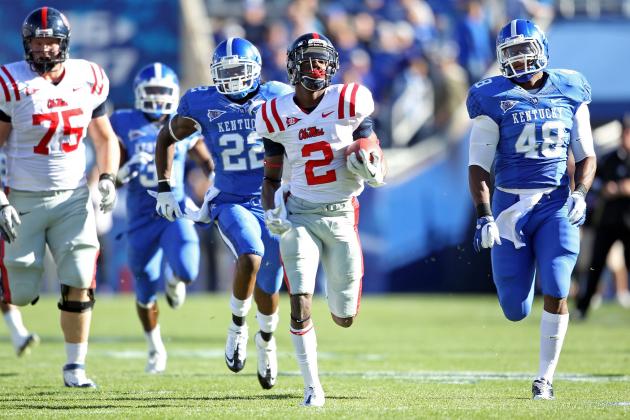 Andy Lyons/Getty Images

Brassell has the tools to make an impact in the FBS. His speed makes him a deep threat as a receiver, or he could make a difference on special teams as a return man.
He has been utilized as a receiver at East Mississippi, scoring three touchdowns so far this season.
He had to leave Ole Miss due to academic issues, but is rated as the fourth JUCO prospect in the nation by 247sports.com.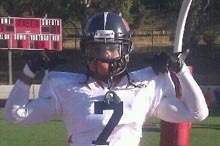 Nelson committed to Georgia back in February, but recently visited Oregon State.
He's a cornerback who has the physical tools to be a premier shutdown corner, much like current Oregon State corner Jordan Poyer.
Georgia's defense is loaded with talented, stud ballplayers, and the addition of Nelson to the secondary next season would help them shore up the one level of the defense that can use some major help.
That is, if he decides to stay.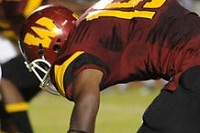 Gregory suffered a season-ending injury to his fibula early in September, but he is still a great prospect coming out of JUCO.
He is committed to Purdue, and has the physical tools to be that program's next great defensive end, in the same vein as Ryan Kerrigan.
He has great speed off the edge, and plays the edge of the field well.
Judging from his performance in his only appearance on the field this season, he will be an asset to any team.
He racked up five tackles, a sack and a pass breakup in a game against Ellsworth C.C. on September 1.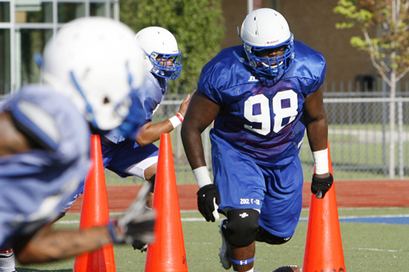 Toby Johnson is not the only defensive tackle out of Hutchinson that is going to have an impact at an FBS school somewhere.
Ben Bradley is an excellent prospect in his own right.
He has committed to Tennessee, and fans of the Volunteers need to realize what they have coming their way.
He has racked up six tackles for loss this season through seven games, and has the physical tools to make an impact as soon as he steps foot on the field at Neyland.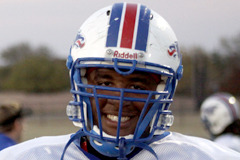 Johnson is a great prospect at his defensive tackle position, standing 6'4" and checking in at 310 pounds.
He continues to show the ability to be a force in the middle of the defense, registering four tackles for loss this season and posting seven quarterback hurries.
The fact that he has two passes broken up in 2012 is a testament to his versatility, and he has offers from all over the country.
Johnson is the nation's top JUCO player, as ranked by 247sports.com, and says he is being recruited the hardest by Miami, Georgia, Oklahoma, Tennessee and Ole Miss.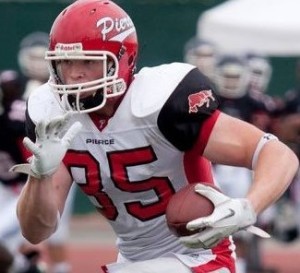 Sandland, an excellent tight end prospect from California, is the No. 1 prospect at his position.
He's 6'6", and has the size to block on the line, as well as the hands to be a factor in the passing game.
He recently dropped all SEC schools from consideration due to some issues with credits transferring, so is considering Cal, Nebraska and Oklahoma.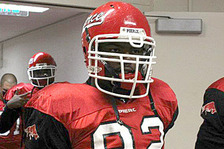 Combs is ranked as the No. 2 JUCO prospect at his position by Scout, and appears to be leaning toward Kansas right now after his time at Pierce.
He's a big, physical guy, with the potential to be a star for an FBS squad.
At 6'5", 305 pounds, the size is there, and if he continues to develop, he will be a huge catch for wherever he eventually commits.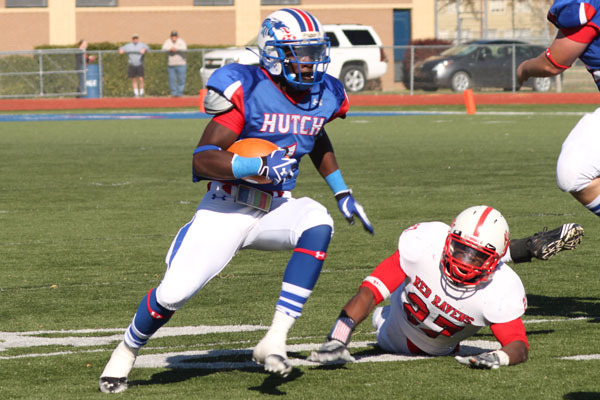 Hutchinson Community College is loaded.
Stewart is one of several players from this particular institution who is a very solid recruit.
He's versatile, with the ability to return both punts and kickoffs, and is averaging over 16 yards per reception for Hutchinson.
Scout ranks him the No. 1 JUCO recruit for 2013, and he has expressed interest in West Virginia, Georgia and Tennessee.