College Football Recruiting 2013: Leaders & Wildcards for Every 5-Star Recruit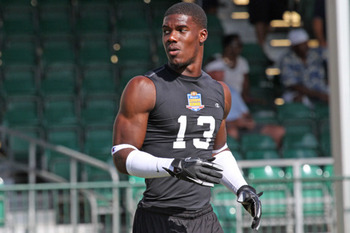 247Sports.com
When it comes to players and prospects in college football recruiting, everyone puts the majority of the focus on the 5-star recruits. These are the recruits that are the cream on the crop, best of the best, elite of the elite prospects in the country.
Former 5-star recruits include Matt Barkley, Jadaveon Clowney, De'Anthony Thomas and Manti Te'o. For this 2013 recruiting class, there are some interesting 5-star prospects who remain undecided about their college decision.
In this piece, we're going to look at the leaders and wild cards for every uncommitted 5-star prospect. So come inside and see if your favorite program is on track to land itself a 5-star prospect.
James Quick, WR
247Sports.com
Quick is a 5-star WR prospect per Scout.com. The Kentucky native is an athletic 6'1", 175 pound perimeter player with good speed, quickness and RAC skills.
He recently visited Ohio State and the visit has surged the Buckeyes up to tie with Louisville as his leaders. The wild cards are Kentucky, Tennessee and Cincinnati.
Justin Manning, DT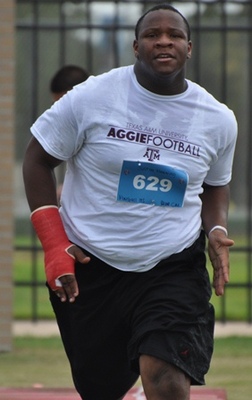 247Sports.com
At 6'2", 275 pounds, Manning is a DT prospect that looks like a linebacker on the hoof. He is the younger brother of DeMarcus Granger and is from Texas. Manning has great athleticism and quickness in the trenches.
According to Scout.com, Manning has whittled his choices down to a prime five of Oklahoma, TCU, USC, Texas A&M and LSU. I would look out for the Sooners and Horned Frogs.
Derrick Green, RB
247Sports.com
From Virginia, Green is a 6'0" running back that is close to 230 pounds. He has great straight-line speed and runs with excellent power. Green can be a bully with the ball and flashes some quickness.
The leaders for Green, reports Scout.com, include Auburn, Michigan, Ole Miss, Tennessee, Oregon and Virginia Tech. The Tigers and Wolverines would be my pick for a top two, but watch out for Tennessee.
Priest Willis, DB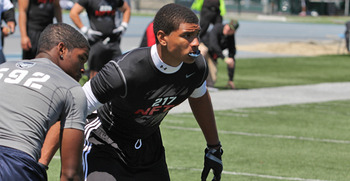 247Sports.com
A huge cornerback at 6'2", 200 pounds, Willis is from Arizona. His athleticism, loose hips and quick feet allow him to be a great cover man. He has the speed to carry receivers deep and closes on the ball very sharply.
Willis hasn't really narrowed his choices down, but Scout.com shows plans have been made to visit LSU, Notre Dame and Nebraska. As wild cards, I would suggest to keep an eye on USC and UCLA.
Tim Williams, DE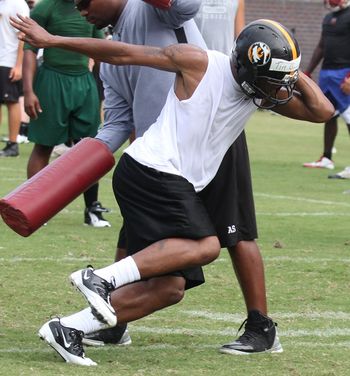 247Sports.com
An explosive edge defender from Louisiana, Williams is a 6'4', 230 pound defensive end prospect. He has great length, speed, strength and quickness which should allow him to develop into a complete DE in college.
Being from Baton Rouge, Williams is looking at LSU, but Florida State and Miami could be leading the Tigers right now. Also look out for USC, Alabama and Florida too, per Scout.com.
Antonio Conner, S
247Sports.com
Conner is out of Mississippi and the 6'1", 200 pound baller will be a safety in college. He has great speed, instincts and also is very good open field tackler. Conner can factor in the box or on the back-end due to his good range.
I'm 100% sure he will play in the SEC, and now the question is where. Ole Miss would be my prediction, but I would also caution Rebel fans to the threat of Alabama, LSU and Mississippi State.
Vonn Bell, S
247Sports.com
Bell is another talented safety in this class and plays in Georgia. The 6'0", 190 pound back-end defender is from Tennessee and has very good speed, athleticism, ball skills and range.
Bell has been one of the most heavily recruited players in this year's class and it's widely known by now that his top three schools are Tennessee, Ohio State and Alabama.
I think the Vols look good, but I also would not be shocked if the Buckeyes are the choice either.
Robert Foster, WR
247Sports.com
For a good portion of this recruiting cycle, Robert Foster really didn't pay too much attention to his recruitment. No leaders were given, no top schools were revealed and there wasn't a good read into his thinking.
Now, the 6'2", 190 pound blazer of a receiver prospect from Pennsylvania has let us into his recruitment a little more. Scout.com lists Pitt, Alabama and Ohio State as his top three schools. I would also toss Michigan State in there as a wild card.
Montravius Adams, DT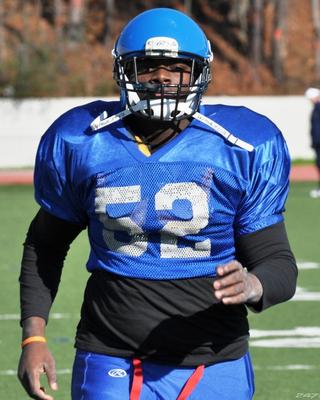 247Sports.com
Adams is a 6'3" DT that is just on the north side of 300 pounds. From Georgia, he the has big time snap quickness, hand speed, athleticism and strength to be a dominant playmaker in the trenches.
That's why pretty much every college football program in the country wants him. Scout.com reports Adams says he has no leader or top five right now, but Florida has gotten into the picture.
Based on my feelings, I think Auburn, Clemson, Tennessee, Georgia and LSU all have a shot.
Mackensie Alexander, CB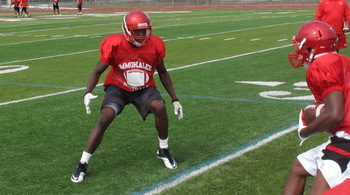 247Sports.com
ESPNU lists Alexander as a 5-star prospect and their No. 6 overall prospect, which is his highest ranking on any board.
A 5'11", 175 pound cover corner with great confidence, the Florida native doesn't like to broadcast his recruitment. Recently, Alexander told Scout.com that Notre Dame, Nebraska and Boise State are in the mix among other schools.
Matthew Thomas, OLB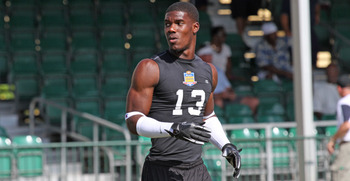 247Sports.com
Thomas' recruitment has been a tale of both decisiveness and indecisiveness. Florida State and Alabama were once his top two, then Thomas named USC, Miami, Georgia and Louisville among his top schools and now Scout.com also reports USF has entered the picture.
Thomas claims he has no leader or top five, but I maintain that the three key schools in this race are FSU, Alabama and Miami.
Laremy Tunsil, OT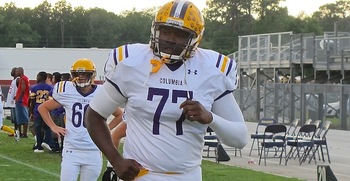 247Sports.com
The nation's best OT prospect's favorites have shuffled a bit throughout this year. Tunsil, a 6'6", 295 pound athletic specimen, has Georgia, Alabama and now Florida State as his leaders, according to Scout.com.
Florida is a school to really keep your on, too. I think the Bulldogs would be the choice if National Signing Day were tomorrow, but this race will go down until the very end.
Edwin Weathersby has worked in scouting/player personnel departments for three professional football teams, including the New York Giants, Cleveland Browns and the Las Vegas Gladiators of the Arena League. He spent a year evaluating prep prospects & writing specific recruiting and scouting content articles for Student Sports Football (now ESPN Rise-HS). A syndicated scout and writer, he's also contributed to WeAreSC.com, GatorBait.net and Diamonds in the Rough Inc., a College Football and NFL Draft magazine.
Keep Reading