NCAA Football Rankings 2012: Hits and Misses from Week 8 Polls
Matthew Holst/Getty Images
What are the hits and misses in the new Associated Press and USA Today Coaches' college football polls?
At first glance, you'll see one team took a dive like Felix Baumgartner in the Red Bull Stratos free fall from the edge of space. I'll get into that team later in one of my "miss" slides.
The new polls also have some hits, like including a deserving Big 12 team into the Top 25.
Give a click through and let me know what you think.
Hit: Stanford Not Dropping out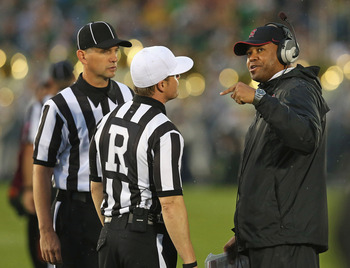 Jonathan Daniel/Getty Images
The voters in the AP and coaches' polls could have voted Stanford out after its disappointing overtime loss at Notre Dame. If they had, it would have been hard to argue.
However, Stanford stays in as the only two-loss team in the coaches' poll and the highest-ranked two-loss team at No. 22 in the AP poll.
Miss: LSU Moving Up Only a Couple of Spots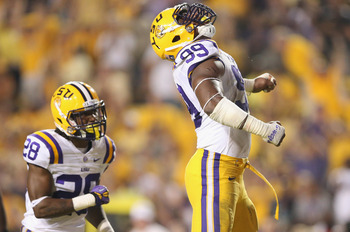 Ronald Martinez/Getty Images
LSU came into this weekend's game against No. 3 South Carolina ranked No. 8 by the coaches and No. 9 by AP. The Tigers' upset of the Gamecocks only moved them up to No. 6 in the latest polls.
That win, coupled with No. 5 West Virginia's loss to Texas Tech, should have been enough to move LSU into the top five of both polls.
Maybe the voters didn't give LSU its due because it lost at Florida the previous week, or maybe the voters didn't want to put another SEC team in the top five. Either way, it was a big miss in both of the new polls.
Hit: Texas Tech Cracking the Top 20 in Both Polls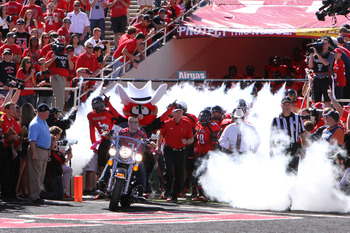 Michael C. Johnson-US PRESSWIRE
Texas Tech made its way back into the coaches' poll after dropping out last week and made its first appearance in the AP poll with a 49-14 victory over West Virginia.
Tech proved this week that it wasn't a team built entirely on its passing attack by putting on a defensive clinic against West Virginia quarterback Geno Smith, the Heisman front-runner. Tech held Smith to a single touchdown pass and a quarterback rating of 100.7, both figures season lows.
The win was an announcement to the rest of the Big 12 that the Red Raiders are a real threat to win the conference.
Miss: Ohio Being Left off the Coaches' Poll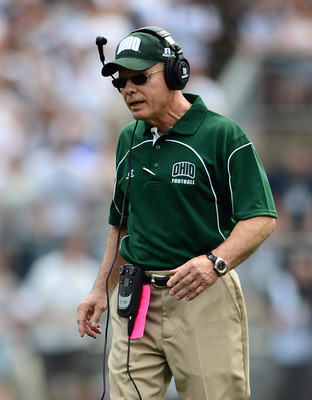 Andrew Weber-US PRESSWIRE
I could have put Ohio into the hit category, but I feel that the Bobcats being left off the coaches' poll is more shocking and thus deserving of a miss.
Ohio improved its record to 7-0 with a 34-28 win over Akron, a record that includes an impressive season-opening win at Penn State. Frank Solich's Bobcats beat the Nittany Lions 24-14, scoring 17 unanswered points in the second half.
If they win next week, they should crack both polls.
Hit: Notre Dame at No. 5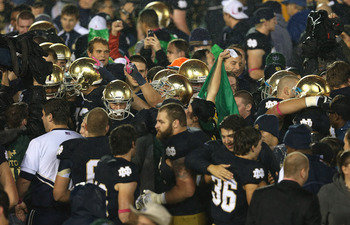 Jonathan Daniel/Getty Images
Notre Dame is having a great first half of its season. The Fighting Irish are winning games with a punishing defense that ranks second in the nation in points allowed per game. On Saturday, they held a Stanford team that had scored 54 points in an overtime win over Arizona to only 13.
With the 20-13 overtime win at home, Notre Dame was rewarded with the No. 5 spot in both polls.
The Fighting Irish's next tough game will be in two weeks when they travel to Norman to take on the Oklahoma Sooners.
Miss: West Virginia Dropping out of the Top 15 in Both Polls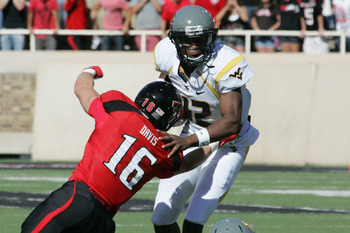 Michael C. Johnson-US PRESSWIRE
Did West Virginia get blown out this weekend by an unranked Texas Tech team? Yes, it did.
And should the Mountaineers have dropped from its previous ranking of No. 5 in the AP and No. 4 in the coaches' polls? Yes, they should have.
However, in defense of the Mountaineers, they did have to travel across the country in back-to-back weeks.
That could not have been easy on these players, especially after getting back from Austin on Sunday and then traveling from Morgantown, W.Va. to Lubbock, Texas on Friday. That gave them four days of practice and preparation for the Red Raiders.
They should have dropped, but not down to No. 17 in the AP and No. 15 in the coaches' polls.
Hit: Florida and Kansas State at No. 3 and No. 4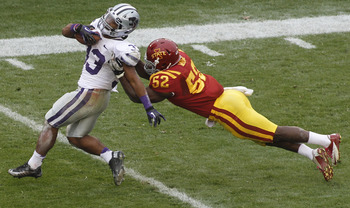 Matthew Holst/Getty Images
We all know what the top two teams are in college football: Alabama and Oregon. However, the next two teams are about as even as you can get.
The coaches like Kansas State as the third-best team and Florida as the fourth, while the voters in the AP poll see Florida behind Oregon and Alabama, with Kansas State lurking behind the Gators.
Either way, both the Wildcats and Gators are having a great season and should continue to push each other as the team in waiting should one of the top two drop a game.
Miss: Texas Falling from the Polls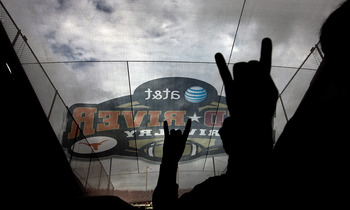 Tom Pennington/Getty Images
Two weeks ago, Longhorn Nation was riding high after a huge victory at Oklahoma State. Texas was ranked as high as No. 9 and could have cracked the top five if it could get past West Virginia and Oklahoma.
Fast forward two weeks, and the Longhorns are nowhere to be found in either poll.
So what happened? For starters, two straight losses: the first a close loss to the Mountaineers at home, the second a blowout by the hated Sooners.
Both losses were bad, but each loss was to a highly ranked team. The voters should have pushed the Longhorns down in the polls, but not completely out. Instead of having a team like Washington—which lost on Saturday to USC—at No. 23, the Longhorns should have taken that spot.
Keep Reading