Pac-12 Football: All-Conference Teams from Week 7 Action
Ron Chenoy-US PRESSWIRE
Taylor Kelly has played lights out for Arizona State in 2012
With this week's slate of Pac-12 games in the rearview mirror, we're finally starting to see who's who in the Conference of Champions.
The Week 7 action was chock-full of offensive highlights from freshman quarterbacks and veteran workhorses, as well as a few momentum-shifting defensive and special teams plays.
But who really broke out this week? Who stepped up and led by example to bring home the "W"?
Sometimes it's tough to say, especially in a conference with premiere talent on every roster. But that doesn't mean we can't try anyway.
Let's take a look at the All-Pac-12 teams from Week 7 to get a better idea of who truly is the best in the west.
Begin Slideshow

»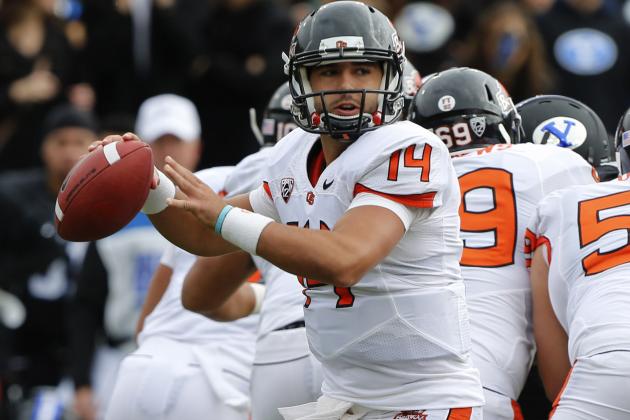 George Frey/Getty Images

First-Team: Cody Vaz, Oregon State
When Sean Mannion went down with a knee injury last week, most people thought that the Oregon State football team was destined to regress and fall out of the Top 10. But after the way Cody Vaz's collegiate debut went down on Saturday, there may be hope in Corvallis yet.
Prior to the matchup with Brigham Young, Vaz had not started a game since his high school days and hadn't seen any football action since 2010. So even though he is listed as a junior, Beaver fans had every right to be nervous about the signal caller's inexperience at the NCAA level.
Needless to say, Vaz silenced the doubters and then some. The OSU attack rolled up 450 yards of total offense on the fifth-ranked Cougar defense, including 332 yards and three touchdowns through the air. Vaz looked like a seasoned vet on the field in Provo, doling out orders with poise and precision while the BYU crowd let 'em have it.
He also found a way to get involved in the run game, delivering a crucial block on a reverse that opened up Markus Wheaton for a 12-yard razzle-dazzle touchdown.
So what does it all mean? Well, Oregon State is 5-0 for the first time since 1939, and Cody Vaz is the best quarterback in the Pac-12...at least until next week.
Second-Team: Taylor Kelly, Arizona State
Prior to the 2012 season, Taylor Kelly had only attempted four passes on the college gridiron. But through his first seven games this year, the sophomore has played like a multi-year starter.
On the road in Boulder, Kelly engineered a relentless Sun Devil onslaught with 308 yards and five touchdowns through the air on 20-28 passing. Junior RB Marion Grice caught three of those scoring throws, including two on screens that caught the Colorado defense horribly out of position.
Kelly tossed his hat into the dual-threat conversation, too, gashing the Buffs with his legs for gains of 23 and 27 yards on the ground. He notched a respectable 4.8 yards-per-carry, though that average is likely skewed by three sacks, including one for a 10-yard loss. Kelly seems to fit first-year head coach Todd Graham's offense perfectly, as he sports a passer rating of 176.0 and has 14 touchdown passes with only two interceptions.
Look for Kelly to make a name on the national stage when the No. 2 Oregon Ducks come to the desert for a primetime showdown tomorrow night.
Honorable Mention: Jeff Tuel, Washington State
Jeff Tuel didn't start the game for Washington State, but he finished it as best he could. The senior came on in relief after Connor Halliday was benched for tossing two interceptions on nine pass attempts. And while he couldn't carry the Cougs to victory, he did give Wazzu a fighting chance.
Tuel racked up 320 yards passing to go with two touchdowns and also managed to protect the ball against a nasty California defense. If the Cougars could find some solidity along the o-line to cut down on big losses, Tuel could lead them to better days in his final season on the Palouse.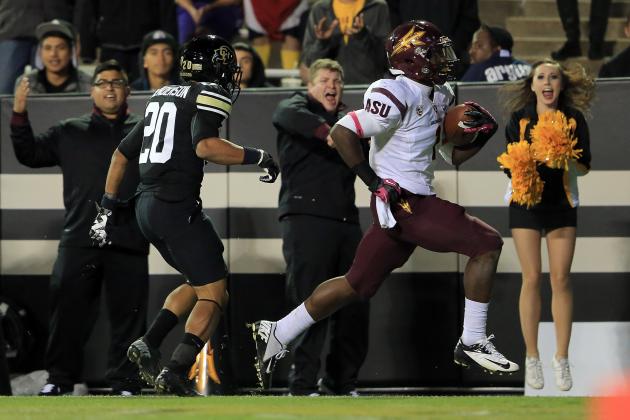 Doug Pensinger/Getty Images

First-Team: Marion Grice, Arizona State
A player with just one rushing attempt wouldn't seem a likely candidate for first-team running back, but that's just the way Marion Grice's day went against Colorado. The JC transfer showed his versatility in the passing game, hauling in five balls for 101 yards and three touchdowns.
On two of the scoring catches, Grice showcased his speed and elusiveness, taking short screen passes the distance against a disorganized Buff defense. The Sun Devils' first score of the night came when QB Taylor Kelly dumped the ball off under pressure, and Grice promptly took it 37 yards for a touchdown.
We'll have another chance to see Grice in action tomorrow against the Ducks. If he can continue to produce like he did in Boulder, Grice will become a household name in no time.
First-Team: C.J. Anderson, California
C.J. Anderson is having a stellar senior season so far, and his outing against Washington State was one of the best yet.
Anderson rumbled for 112 yards on 15 attempts for a very nice average of 7.5 yards per carry. He also found the end-zone twice against the Cougs, marking his second-straight multi-touchdown game.
If the California ground attack can continue to roll over defenses like it has of late, the Golden Bears might be able to fight their way to a bowl game. But if Anderson can't keep up his crazy production, a schedule with Stanford, Oregon and Oregon State still to come looks harrowing.
Second-Team: Stepfan Taylor, Stanford
Stepfan Taylor and the Stanford Cardinal got the short end of the stick in South Bend.
I've seen the replay of the 4th-and-goal play in overtime many times, and it seems pretty clear Taylor's last-ditch effort to spin and reach broke the plane of the goal line. Even after review, the officiating crew determined the video evidence inconclusive, and so mighty Notre Dame is now the No. 5 team in the country.
The end result doesn't take away from the senior's impressive showing against a formidable Irish defense. Taylor eclipsed the century mark, rushing and breaking tackles for 102 yards. He also managed to hang onto the wet pigskin, avoiding a fumble for the entire evening (Notre Dame had three). Couple that with the grave injustice of the game's final play, and it's clear Taylor deserves an all-conference mention.
Second-Team: Silas Redd, USC
USC's offense is supposed to be a pass-happy aerial assault that burns opposing secondaries, but the Trojans' real production has come on the ground so far in 2012, primarily on the shoulders of Penn State transfer Silas Redd.
In Seattle on Saturday, Redd came up in the clutch, notching 155 yards rushing on 26 carries, including an 11-yard touchdown scamper that gave 'SC a 10-0 lead. On a day when the Trojans only completed 10 passes, Redd's consistency carried the team to victory over UW.
Honorable Mention: Johnathan Franklin, UCLA
Johnathan Franklin didn't have a huge outing by any means, going for 79 yards and a score on the ground against Utah, but the redshirt senior made the clutch plays the Bruins needed to hold off the Utes on Saturday.
Franklin consistently broke tackles and turned potential losses into respectable gains, which helped the UCLA offense out of some tight spots. He also remained an active threat in the passing game, catching an 11-yard pass from QB Brett Hundley.
After a bye in Week 8, the Bruins (5-2, 2-2) will travel to Tempe to battle Arizona State (5-1, 3-0), and Franklin will be looked to as the senior captain to lead his team to victory.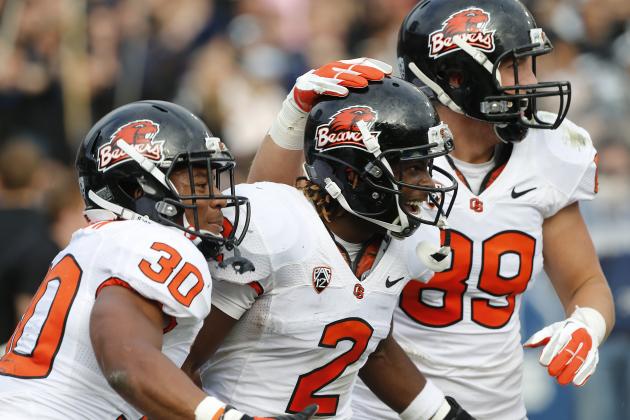 George Frey/Getty Images

First-Team: Markus Wheaton, Oregon State
QB Cody Vaz may have stolen the show in Provo, but senior wideout Markus Wheaton had a hell of a game against the Cougars, too.
Wheaton caught five balls for 66 yards and two touchdowns, including a 24-yard grab that broke a 7-7 tie in the first quarter. He also scored with a little trickery on a 12-yard end-reverse that gave Oregon State a 35-24 lead with under six minutes to play.
Now sitting at 5-0, the Beavers find themselves ranked No. 8 in the BCS standings and the AP poll. Markus Wheaton has been a cog in the Corvallis machine all year, and his performance against BYU is concrete evidence of that.
First-Team: Keenan Allen, California
Junior wide receiver Keenan Allen is a do-it-all superstar for California and really has opposing defensive coordinators scratching their heads.
Just ask Mike Breski, Washington State's defensive coordinator and defensive backs coach.
Against the Cougs on Saturday, Allen snagged 11 receptions for 166 yards, including a 69-yard touchdown bomb in the first quarter that gave the Golden Bears a lead they never relinquished. Cal QB Zach Maynard, Allen's half-brother, was slicing up the Wazzu D as the secondary struggled to keep up with his speedy, ultra-athletic sibling.
Allen, Maynard and the Bears have now won two in a row and have a chance to claw back to .500 when Stanford comes to Berkeley for the Big Game this weekend. The battle with the Cardinal figures to be a serious challenge for Cal's offense. But in the meantime, Allen can enjoy the limelight atop the All-Pac-12 first-team.
Second-Team: Brandin Cooks, Oregon State
Markus Wheaton wasn't the only Beaver receiver to notch a big day on Saturday, as sophomore Brandin Cooks also went off on BYU. The undersized Cooks (5'10", 179 lbs) hauled in eight balls for a monster 173 yards, including a 59-yard strike in the waning seconds of the third quarter. The long grab set OSU up with a first-and-goal from the five-yard line.
Cooks has impressed in his first two seasons with the Beavs and should only get better as he matures in coach Mike Riley's system. For his effort in Week 7, he nabs a spot on the All-Pac-12 second team.
Second-Team: Brett Bartolone, Washington State
There weren't very many offensive highlights for the home team in Washington State's uninspired 31-17 loss to Cal on Saturday, but the emergence of freshman wideout Brett Bartolone was definitely one of them.
The first-year Coug measures the same as Cooks (5'10", 179 lbs) and has exhibited the same kind of explosiveness in his debut season in Pullman. Against the Golden Bears, Bartolone caught seven passes for 44 yards, including both of Jeff Tuel's touchdown passes. His two scoring grabs weren't enough for Wazzu to win the game, but they were enough to earn Bartolone second-team all-conference honors.
Honorable Mention: Isiah Myers, Washington State
Washington State's Isiah Myers did all he could to propel his team to victory, snagging eight receptions for 108 yards. The sophomore was consistent all night, finding open space in the Cal defense. Myers' biggest catch came late in the fourth quarter when he sprinted deep into Bear territory for a 36-yard first down.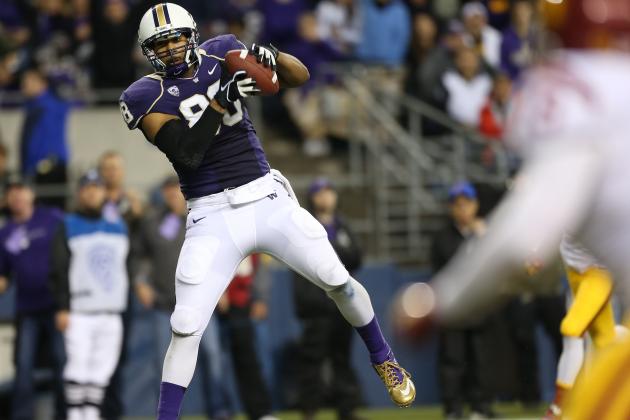 Otto Greule Jr/Getty Images

First-Team: Austin Seferian-Jenkins, Washington
One of the few bright spots offensively for UW in Week 7 was the play of tight end Austin Seferian-Jenkins. The 6'6", 266-pound sophomore is a two-sport star for the Huskies, as he also suits up as a forward on the Washington hoops squad. If he can translate his success on the football field to productivity on the basketball court, he could be a Husky legend in the making.
Against the Trojans, Seferian-Jenkins caught five passes for 83 yards, including a 29-yard touchdown late in the third-quarter that opened the door for Washington.
Even though the Trojans promptly slammed it shut by forcing three more Keith Price turnovers, the all-conference caliber of Seferian-Jenkins' effort was too compelling to gloss over.
Second-Team: Nick Kasa, Colorado
In similar fashion to his first-team counterpart, Nick Kasa was the only player on his sideline to produce some offensive highlights worth note. The senior tight end hauled in four grabs for 71 yards, which averages out to a hefty 17.8 yards per catch.
Kasa also caught Colorado's only touchdown pass against ASU, a 20-yard strike from Jordan Webb that gave the Buffs some momentum at the end of the first half. Despite his team getting pounded 51-17 in the end, Kasa did enough to warrant second-team honors.
Honorable Mention: Jake Murphy, Utah
Sophomore Jake Murphy had a solid day for the Utes, tallying four receptions for 65 yards with an average of 16.3 yards per catch. That kind of productivity from a young player in an offense as unsettled as Utah's is deserving of the honorable mention.
If Murphy could just find the end zone and put his five-game scoring drought to rest, he could become a go-to-guy for whichever Utah quarterback takes the field.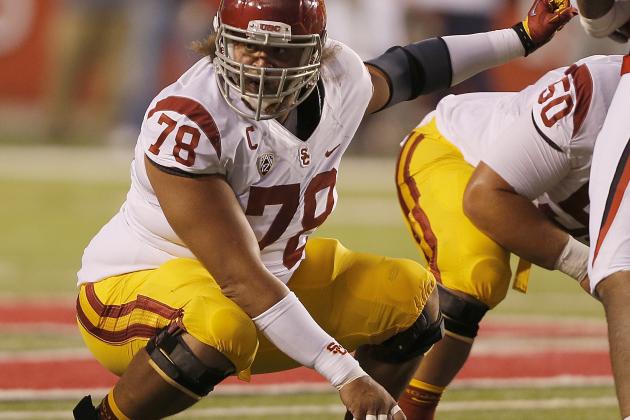 George Frey/Getty Images
Khaled Holmes has been critical to the Trojans' success this year
Due to the nature of offensive line play, it's quite a daunting task to pick out 10 linemen who set themselves apart in any specific week. So for the purposes of this slideshow, let's just highlight the best big boys holding down the trenches in the Pac-12 this season.
First-Team: Khaled Holmes, USC
Matt Barkley, Robert Woods and Marqise Lee may get most of the credit for the Trojans' success on offense, but center Khaled Holmes is the real field general for USC.
The 6'4", 305-pound senior orchestrates the offensive line with authority, calling out protection schemes as he reads the defense's rushing packages. When Holmes was forced to sit out for the Stanford game, the Trojans faltered on offense. Barkley threw no touchdowns to two interceptions and was also sacked five times.
Needless to say, Holmes' presence and continued health will be paramount this season—especially if USC hopes to sneak its way back into the BCS title talk.
First-Team: Xavier Su'a-Filo, UCLA
When Xavier Su'a-Filo decided to return to UCLA after his two-year LDS mission, it gave the Bruins' 2012 roster a big shot in the arm.
Su'a-Filo is only a sophomore, but he has the maturity level and discipline of a seasoned vet. As a true freshman in 2009, he started all 13 games at left tackle and helped UCLA to its only bowl victory of the Rick Neuheisel-era.
Back then he was an upstart kid, but in 2012, Su'a-Filo is a team captain and has been looked to as an experienced leader. The Bruins start three freshman on their O-line, and the youth has reared its head a few times. If Su'a-Filo wasn't there to hold down the left guard spot, a switch that he has handled seamlessly, UCLA's offense would be hurting.
First-Team: Hronnis Grasu, Oregon
Sophomore center Hronnis Grasu is the only Duck to make it on this slideshow, but that's because Oregon had a bye in Week 7. Grasu, a 6'3", 294-pound specimen, made the cut based on his entire body of work, which has been nothing but dominant since he first suited up in Eugene.
Grasu calls the shots in the Ducks' high-powered offensive attack, which currently ranks No. 4 in the nation in rushing. As a 14-game starter in 2011, he led an Oregon offense that ranked third in the country in scoring. Grasu has a football IQ far beyond his years on the field, which makes him one of the most valuable pieces of a talent-rich UO roster.
First-Team: David Yankey, Stanford
We all know how much Stanford loves to run the ball. If you don't, just check out the highlights from the Notre Dame game.
But it's not all Stepfan Taylor making would-be tacklers miss. A lot of the Cardinal's success on the ground comes from the big push of a very solid offensive line.
Junior LG David Yankey, now in his second season as a starter, is one of the most important pieces of that Stanford o-line. And with the loss of Jonathan Martin and David DeCastro to the NFL, Yankey has been asked to fly the flag for the Cardinal. So far he has done his job, as Stanford is 4-2 with a shot at the conference title. Some might even argue the Cardinal should have had another chance to make it 5-1, but let's not get into that again.
First-Team: Torian White, UCLA
Normally you wouldn't see a freshman o-lineman on the all-conference first team, but in Torian White's case, he is deserving. After what he did in Week 7, it's safe to say we will be hearing more about him as the Bruins garner increasing national attention.
White has been UCLA's starting left tackle all season, charged with the daunting task of defending freshman QB Brett Hundley's blind side. While he has definitely had some first-year hiccups, his performance in Week 7 against Utah was astounding.
White limited the Utes' marquee defensive threat, DT Star Lotulelei, to just two tackles (though one was a sack). He should only get better with experience, and figures to be a stalwart for the Bruins going forward.
Honorable Mention: David Bakhtiari, Colorado
The Colorado offense may not be flashy, and the Buffs have given up 26 sacks so far this season, but that doesn't mean there isn't talent in Boulder.
Junior LT David Bakhtiari is one of the best offensive linemen in the conference, and has also shown to be an emotional leader in the CU locker room. The 6'4", 295-pound space-eater fights hard in every game, despite the often deflating on field results.
For that reason alone, Bakhtiari deserves a mention for All-Pac-12 honors.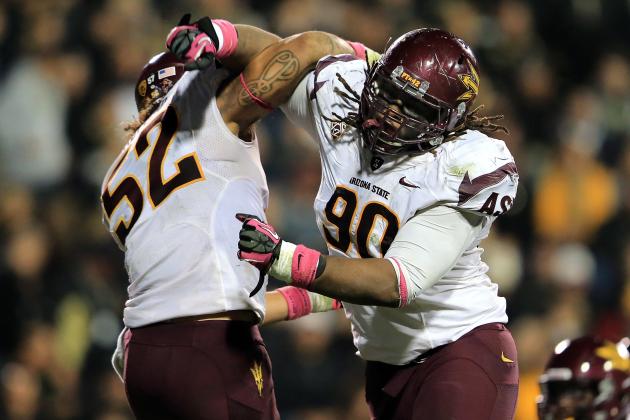 Doug Pensinger/Getty Images

First-Team: Will Sutton, Arizona State
The Colorado offense and quarterback Jordan Webb didn't stand a chance against ASU's defensive front, led by the unrelenting pass rush of Will Sutton. The junior defensive tackle was crushing the Buffaloes in the trenches, as he tallied five tackles, including four solo takedowns and two sacks. Sutton also recorded a pass break-up, which shows just how disruptive he was.
First-Team: Ben Gardner, Stanford
Ben Gardner and the Stanford defense were not to blame in the Cardinal's 20-13 OT loss in South Bend. In fact, Gardner is the reason Stanford scored a touchdown at all. The 6'4", 275-pound defensive end sacked Notre Dame QB Everett Golson, forcing a fumble that was recovered and returned for the only Cardinal touchdown of the game.
Gardner also recovered a loose ball in the third quarter when the Golden Domers were marching through the red zone, poised to tie the game. Having a hand in two turnovers earns the junior a spot on the All-Pac-12 first team.
First-Team: Andrew Seumalo, Oregon State
Andrew Seumalo had a beast of a game in Week 7 against BYU, recording four tackles (three solo) and 1.5 sacks. In the first quarter with the score tied 7-7, Cougar QB Riley Nelson dropped back on a third and six, looking downfield for an open receiver...but all he saw was Seumalo's mean-mug dragging him to the unforgiving turf.
The senior DT's solo sack forced BYU to punt, setting up the Beavers for a go-ahead score on the ensuing drive.
First-Team: Scott Crichton, Oregon State
While Seumalo was busting his way up the middle, defensive end Scott Crichton was doing his damage on the edge. The 6'3", 263-pound sophomore notched two sacks in Provo, including an eight yard loss on third and goal that forced the Cougars to settle for three points. If Crichton can continue to develop, he could become one of the most dominating defensive forces in the Pac-12.
Honorable Mention: Cassius Marsh, UCLA
Junior defensive end Cassius Marsh led the way for the Bruins in their 21-14 victory over Utah, tallying four tackles (three solo) and a sack. The UCLA d-line limited the Ute rushing attack to just 75 yards, and Marsh was a big factor in that dominance.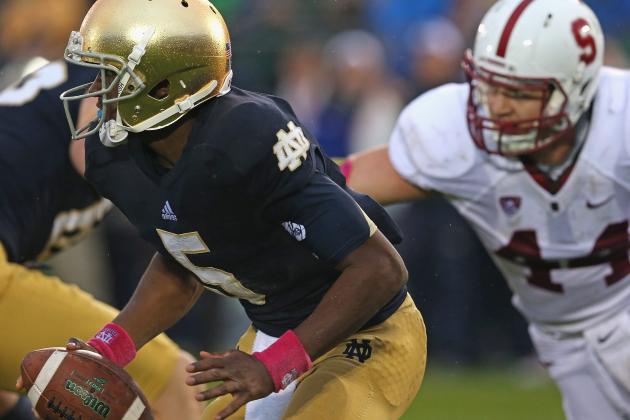 Jonathan Daniel/Getty Images

First-Team: Chase Thomas, Stanford
Chase Thomas is one of the highest-rated NFL prospects at the outside linebacker position, but before he splits for the professional ranks, the senior has some plays left to make in a Stanford uniform.
On Saturday in South Bend, Thomas did just that.
In the second quarter of what turned out to be a defensive classic, Notre Dame forced a Stanford punt which ended up being very bad for the Irish. Daniel Zychlinski sent a booming kick downfield, which was caught and downed inside the 10-yard line. Two plays later, QB Everett Golson coughed up the ball on a sack, and Thomas was there for the scoop-and-score.
The defensive TD marked the first time Notre Dame has trailed in 2012. Unfortunately for the Cardinal, it was also Stanford's only touchdown of the night.
Aside from that play, Thomas was rather contained, recording four tackles to bolster his fumble recovery. But the bottom line is when a defensive player scores a touchdown, he is going to get some glory.
First-Team: Brandon Magee, Arizona State
When people think of Arizona State linebackers, memories of Vontaze Burfict terrorizing opposing defenses come to mind. After the way Brandon Magee performed this week against Colorado, he made it clear Burfict wasn't the only one making plays for the Devils back then.
Magee, a 6'4", 248-pound senior, was all over the field in Boulder, registering nine solo tackles with two sacks, including a six-yard loss on a third and four at the end of the third quarter. The pass rush expert had no trouble breaking through the Buffs' o-line, hurrying and hitting QB Jordan Webb countless times.
Magee is a beast, plain and simple. Look for him to emerge as ASU climbs its way into the national picture.
First-Team: Dion Bailey, USC
On a night when the USC offense was inconsistent at best, the Trojan defense came up big, dominating Washington all night long.
Against the Huskies, sophomore LB Dion Bailey carried the torch for 'SC, notching seven tackles, as well as a momentum-grabbing interception that set the tone early. After Barkley & Co. cashed in on the turnover, the Trojans had a 10-0 first quarter lead that held up the rest of the way.
Bailey also made a huge play with 3:21 to play in the game, forcing UW QB Keith Price to fumble the ball after making a 15-yard gain with his legs. USC recovered the pigskin and ran the clock down to seal its third consecutive win.
Second-Team: Trent Murphy, Stanford
Senior OLB Trent Murphy had a hugely productive outing against Notre Dame, making 10 tackles, including a season high in sacks (1.5). Considering the slippery conditions in the game, it's especially impressive that five of his tackles were solo stops.
Murphy is by far the biggest linebacker on Stanford's roster (6'6", 261 lbs), but he was playing like the fastest man on the field. In the first play of overtime, Murphy fought his way into the backfield and sacked QB Tommy Rees for a seven-yard loss.
Second-Team: Cyrus Coen, Washington State
Despite the team's losing effort, the Washington State front-seven had a pretty solid night against Cal. Sophomore backer Cyrus Coen was a major contributor on Saturday, recording six tackles and snatching Zach Maynard's first pass of the night (the second straight game that Maynard's first attempt has been picked).
Wazzu is definitely looking for some answers right now, but Coen is turning himself into a certainty.
Second-Team: Rueben Robinson, Oregon State
The Oregon State defense was ballhawking in Week 7.
The Beavers intercepted BYU QB Riley Nelson three times, and Rueben Robinson was the recipient of one of those errant throws. The 6'3", 235-pound senior also tallied four stops to go with his red-zone pick.
Robinson didn't put up scary numbers, but he made the plays he needed to make.
Honorable Mention: For this honorable mention, two players had the exact same stat lines. So instead of picking, let's just applaud them both for strong performances.
Linebackers A.J. Tarpley of Stanford and Woodson Greer of Colorado both recorded seven tackles (five solo) and a sack, though both of their teams lost on Saturday. Greer and Tarpley are both sophomores, so you can expect them to have an even bigger impact as they gain experience. The Cardinal and Buffs are set to do battle on Nov. 3, and these two will certainly be ready to go.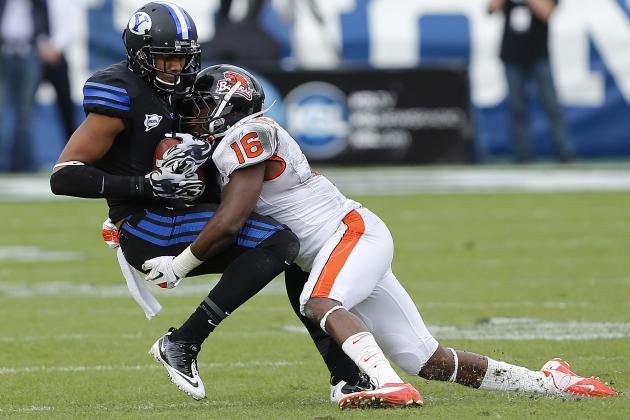 George Frey/Getty Images

First-Team: Jordan Poyer, Oregon State
At the start of the 2012 season, Oregon State was picked to be middling at best, with very few standout players to speak of. One of the Beavers on that short list was Jordan Poyer, a senior cornerback with a knack for making big plays. And now that OSU is the No. 8 team in the land, Poyer is emerging as a household name.
In the matchup with Brigham Young, Poyer didn't have a spectacular stat line, but he did have the most clutch play of the night. With under six minutes to play, QB Riley Nelson forced a pass that hit his receiver, but deflected directly into the hands of a sprinting Poyer, who carried the ball 49 yards the other way.
The defensive touchdown was the definition of a dagger, giving the Beavs a three-possession lead. Poyer also recorded a tackle and a pass break-up, cementing his position on the All-Pac-12 first team.
First-Team: Steve Williams, California
Junior CB Steve Williams had a monster day in Pullman, tallying six tackles (five solo), four pass break-ups and an interception.
The INT came early in the game, just a few plays after a Wazzu defender had picked off Cal's Zach Maynard. Williams sprinted under a long ball in the end-zone and just managed to get a foot in bounds, preventing the Cougars from capitalizing on the Bears' turnover.
If Williams continues to play with that sort of tenacity, Cal's already imposing defense will be all the more frightening.
Second-Team: Marcus Peters, Washington
Washington's loss to USC may overshadow his efforts, but the fact remains that Marcus Peters was a force against the Trojans. The freshman from Oakland, California made nine tackles, including five solo stops.
Peters also intercepted a pass from Matt Barkley in the first quarter, giving the Huskies possession facing a 10-0 deficit. Keith Price led the UW offense down the field and put seven points on the board. Without Peters' INT, this game could have been a blowout before the first break.
Second-Team: Rashaad Reynolds, Oregon State
Rashaad Reynolds didn't find pay-dirt like his compatriot Jordan Poyer, but he did harrass the BYU offense just as much.
The junior CB recorded three tackles, a pass break-up and an interception in Provo. The INT came on the Cougars' ensuing possession after the pick-six from Poyer, and put another nail in the half-buried coffin. Reynolds' 42-yard return into BYU territory was just the icing on the...coffin?
Honorable Mention: Michael Lowe, California
While Steve Williams was having a career-day against Washington State, Michael Lowe was doing his job holding down the other side of the field. The sophomore CB had a solid outing on Saturday, notching four tackles and an interception. Lowe's pick ended a long Cougar drive that had started at the WSU 10-yard line, and set the Bears up for a tie-breaking touchdown.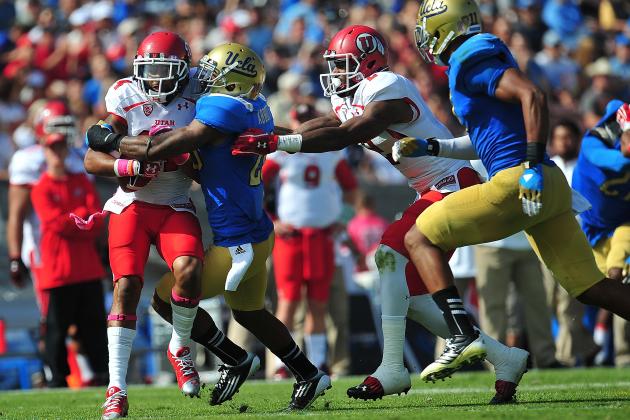 Gary A. Vasquez-US PRESSWIRE

First-Team: Anthony Carpenter, Washington State
The Wazzu defense couldn't hold the California ground attack in check, but the Cougars did do a serviceable job shutting down the Bears' passing game.
Led by junior safety Anthony Carpenter, Washington State limited Cal to just 189 yards through the air and also intercepted QB Zach Maynard twice. Carpenter was on the receiving end of one of those picks, snatching the ball out of the air on the WSU six-yard line. The play extinguished a very hot scoring opportunity for the Golden Bears early in the game.
Carpenter also tallied seven tackles, including five solos, in what turned out to be his best outing of the season. Look for him to keep making big plays in the Cougs' secondary.
First-Team: Tevin McDonald, UCLA
Tevin McDonald didn't have a flashy performance in Week 7, failing to record any sacks or interceptions.
He still gave the Utah offense fits on Saturday.
The sophomore free safety from Fresno, Ca. recorded 10 tackles, including eight solo stops. McDonald had his ears pinned back and was really flying to the ball carrier.
Because of the explosiveness of Ute RB John White IV, the Bruins were stacking the box with defensive backs, and the results were telling. UCLA limited the Utes to just 75 yards on the ground, including a remarkably paltry five yards in the second half. McDonald's precision tackling was a major boon to the Bruins' stout defensive effort.
Second-Team: Alden Darby, Arizona State
The Arizona State defense is loaded top-to-bottom and the 5-1 Sun Devils are a scary, underrated team right now. Junior safety Alden Darby has locked down the ASU secondary, which has been a major reason the Devils have the No. 9 defense in the country.
Darby had a productive game in Week 7, making five tackles, four of which were solo stops. He also got in on the pass rush alongside big Will Sutton, catching Colorado QB Jordan Webb for a five-yard sack.
Second-Team: Josh Shaw, USC
Josh Shaw is officially listed as a safety, but he may be filling the Trojans' void at cornerback opposite the stalwart Nickell Robey. Against Washington, Shaw emerged as a legit contender for a starting role, registering five tackles and a critical fourth-quarter interception.
The sophomore also takes the field as a special teamer and made a huge play recovering a fumble on a Robey punt return. Shaw could become a key contributor on an already menacing USC D.
Honorable Mention: Andrew Abbott, UCLA
While Tevin McDonald was locking down the run game on Saturday, strong safety Andrew Abbott was doing all he could to limit the Utah passing attack. And while the Utes did manage a solid day through the air against UCLA, Abbott got his, tallying two solo tackles and an interception off freshman QB Travis Wilson in his first drive as a starter. Prior to the tipped-ball pick, Utah had been marching down the field with authority, threatening to take the lead.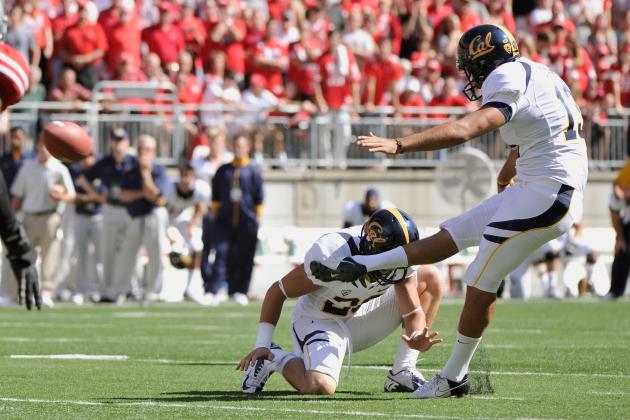 Jamie Sabau/Getty Images

First-Team: Vincenzo D'Amato, California
In the kicking game, there was none better in Week 7 than California's Vincenzo D'Amato. The junior was perfect on the day, booting a 52-yard field goal and nailing all four of his PATs in the Bears' win over Washington State.
The performance was important for D'Amato's confidence after he had two extra points blocked in Week 6 against UCLA. If he can continue to develop consistency to go with his beastly leg strength, D'Amato could become a sure thing on a Cal team with a lot of questions.
Second-Team: Jordan Williamson, Stanford
It may seem illogical for a kicker with a blocked field goal to grace the all-conference team, but the story behind Stanford's Jordan Williamson is all about context.
Williamson was 2-3 on field goal attempts in the Cardinal's showdown with then-No. 7 Notre Dame, hitting from 27 and 48 yards out (and getting swatted on a 25-yard try). He also managed to tack on his only extra point attempt on the night.
So what was so great about his performance? To really see, you need to look beyond the numbers. After all, it was a Top 25 matchup in a rainy and hostile South Bend, and it came down to a controversial overtime period. Suffice it to say, there were some serious challenges stacked against the young sophomore kicker, but he answered the bell.
Williamson's outing against the Irish helped erase the bad memories from his 1-4, freshman jitters debacle in the Fiesta Bowl last year. I'm still not sure Andrew Luck is ready to forgive and forget just yet.
Honorable Mention: Will Oliver, Colorado
Will Oliver's stats from Colorado's most recent embarrassment won't turn any heads, but the sophomore was the only Pac-12 kicker other than D'Amato to achieve perfection on Saturday. Oliver was 2-2 on PATs and also hit on his only field goal attempt, connecting from 36 yards out as time expired in the first half. That's just enough to get the nod.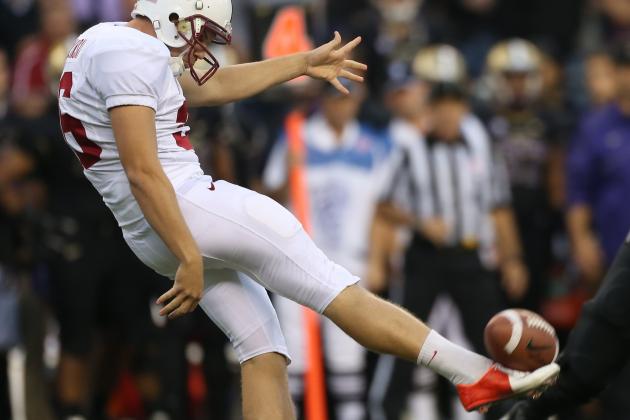 Otto Greule Jr/Getty Images

First-Team: Keith Kostol, Oregon State
Sophomore punter Keith Kostol did everything in his power to help the Beavers knock off BYU, providing a serious field-position advantage in a game that was locked up tight until the fourth quarter. Kostol booted six punts for 248 yards, which averages out to a gaudy 47.3 yards per punt. He also managed to blast a long of 58 yards, though it was marred by an unsportsmanlike conduct penalty against OSU.
But Kostol wasn't just powerful, he was also precise. Four of his punts were downed inside the 20-yard line, including one at the 10-yard line and one at the six-yard line. That sort of production from a punter simply can't be overlooked, and so he finds his seat on the All-Pac-12 first team.

Second-Team: Sean Sellwood, Utah
Despite the fact that Sean Sellwood only punted three times, his imprint on the Utes' clash with UCLA was huge. The senior from Salt Lake City averaged 54.3 yards per punt, with a gargantuan long of 65 yards. He also managed to down two punts inside the 20-yard line, giving the Utah defense a chance to slow the Bruins down significantly. If it weren't for Sellwood's spectacular play, UCLA may have beaten the Utes in much more decisive fashion.
In fact, his 65-yard skyrocket was so unexpectedly powerful that Bruin returner Steven Manfro had to sprint downfield to even make a play on the ball. To the delight of the UU faithful at the Rose Bowl, Manfro attempted an ill-advised catch-and-run that resulted in a fumble recovery and touchdown for the Utes. Had Sellwood gotten more chances to punt, he may have worked his way into the first-team discussion, but when it comes down to it, Kostol was just too dominant.
Honorable Mention(s): I'm going to break from the script a little bit to highlight the unprecedented prevalence of top-flight punters in the Pac-12. It was far too difficult to differentiate between these stat lines, so instead of splitting hairs, let's just look in awe at the greatness of this list.
Darragh O'Neill, Colorado
Nine punts for 396 yards with an average of 44.0 and a long of 48. Five punts downed inside the 20-yard line.
Daniel Zychlinski, Stanford
Six punts for 274 yards with an average of 45.7 and a long of 57. Two punts downed inside the 20-yard line.
Cole Leininger, California
Four punts for 182 yards with an average of 45.5 and a long of 61. One punt downed inside the 20-yard line.
Kyle Negrete, USC
Six punts for 238 yards with an average of 39.7 and a long of 59. Three punts downed inside the 20-yard line.
Jeff Locke, UCLA
Six punts for 235 yards with an average of 39.2 and a long of 55. Three punts downed inside the 20-yard line.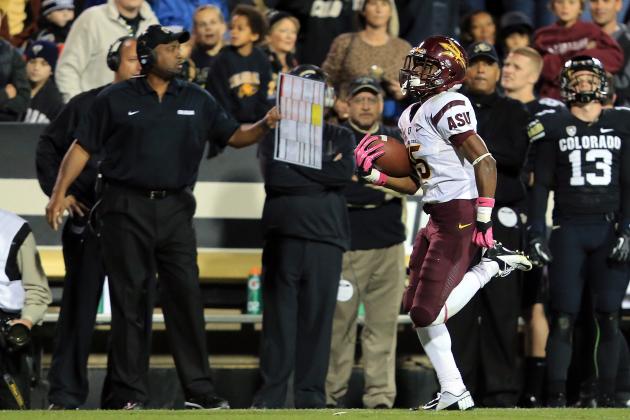 Doug Pensinger/Getty Images

First-Team: Rashad Ross, Arizona State
When a return man takes a kickoff to the house, he is bound to earn some love from his teammates and coaches. But when he takes a kick 100 yards in 11 seconds without being touched, that's worthy of another level of lauding.
Rashad Ross did just that in Week 7, returning the second-half kickoff all the way, literally going untouched by a Colorado player. That's just plain silly, and that's why Ross sits atop the list of All-Pac-12 kick returners.
Second-Team: Jaydon Mickens, Washington
It's not very often that a true freshman nabs a spot on an all-conference team, but Jaydon Mickens' effort in the kick return game against USC was too good to pass up. The wide receiver from Los Angeles' Dorsey High returned three kicks for a total of 83 yards, including a 30-yard explosion on the opening kickoff. In most weeks, a kick return average of 27.7 yards will earn first team honors, but because Ross found the end zone, Mickens is relegated to second team distinction. Husky fans should be very excited about his future in Seattle.
Honorable Mention: Damien Thigpen, UCLA
There were quite a few Pac-12 kick returners with similar stats this week, but Damien Thigpen's 34-yard long earns him the honorable mention. Measuring in at just 5'8" and 178 pounds, the junior receiver-running back hybrid took two kicks for 49 total yards, which works out to a solid 24.5-yard average. Thigpen has shown flashes of break-out potential on special teams in his first season returning kicks for UCLA.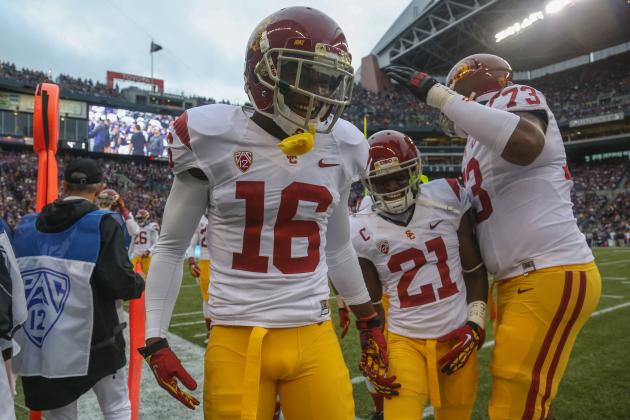 Otto Greule Jr/Getty Images

First-Team: Anthony Brown, USC
While there wasn't much to write home about in the punt return game this week, Anthony Brown's performance against Washington deserves some praise. The sophomore cornerback only got one chance to field a punt against the Huskies, but he made it count, busting out for a 21-yard return. He also blocked a punt and returned it for a touchdown, which makes him the easy pick for All-Pac-12 first team.
Second-Team: Cody Bruns, Washington
Cody Bruns returned two punts for a total of 32 yards, including an electrifying 27-yard burst in the third quarter that gave the Huskies a breath of life. Thanks to the long return, the senior wide receiver found himself with a healthy 16-yard average and a spot on the All-Pac-12 second team.
Honorable Mention: Drew Terrell, Stanford
On top of catching three balls for 37 yards against Notre Dame, Drew Terrell made an impact on special teams with three punt returns for a total of 24 yards. The numbers won't jump off the page and scream all-conference, but a consistent day of returns with a long of 13 yards gets the senior WR a little recognition.