The No. 9-ranked LSU Tigers narrowly edged the third-ranked South Carolina Gamecocks in Death Valley by a final score of 23-21 in what was a very close and hard-fought defensive battle.
LSU started things off solid with a 16-play, 68-yard drive that stalled in the red zone and resulted in a Tigers field goal. They were 4-of-4 on third down on the drive.
On their next drive, a horribly thrown interception by Zach Mettenberger was returned to the Tigers' 1-yard line and then punched in with a Connor Shaw touchdown pass.
Sam Montgomery sacked Shaw on third-and-long and the Gamecocks were forced to punt with a little over five minutes remaining in the game.
The Tigers answered quickly and put the game away on a 50-yard touchdown run by Jeremy Hill.
The Gamecocks drove the ball quickly down the field to close the gap to 23-21, but it was too little, too late, as the onside kick failed and the Tigers ran the clock out on the hopes of South Carolina's national-championship dreams.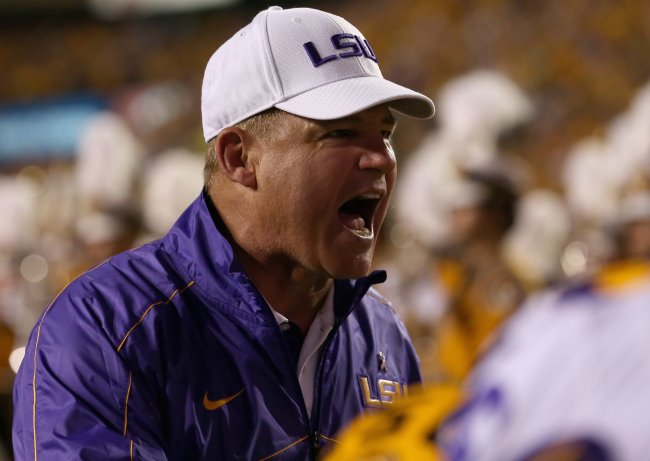 Ronald Martinez/Getty Images
Twitter Reaction
Political commentator Lou Dobbs is tired of politics and ready for some football!
'Nuf politics, now on to LSU-South Carolina, have a great weekend all!

— lou dobbs (@loudobbsnews) October 14, 2012
South Carolina was wearing the Battle Gray unis, as shown in this Twitpic from Bleacher Report:
South Carolina wearing their Battle Gray uniforms for tonight's game vs. LSU twitter.com/BleacherReport…

— Bleacher Report (@BleacherReport) October 14, 2012
Some Pac-12, USC Twitter users evaluated the tough defensive SEC matchup as a sign of weakness in the conference:
+1 RT @trjons We've seen enough of LSU to know they are overrated. After watching them vs. South Carolina, it's clear the SEC is overrated.

— usc psycho uscsyco (@uscpsycho) October 14, 2012
ESPN Stats explained the difficulty of the LSU offense in the red zone:
LSU 1st and goal at South Carolina 3 and settles for FG. South Carolina opponents have scored only 3 TD on 12 goal-to-go drives this season

— ESPN Stats & Info (@ESPNStatsInfo) October 14, 2012
Grades for Key Players
Zach Mettenberg, QB, LSU: D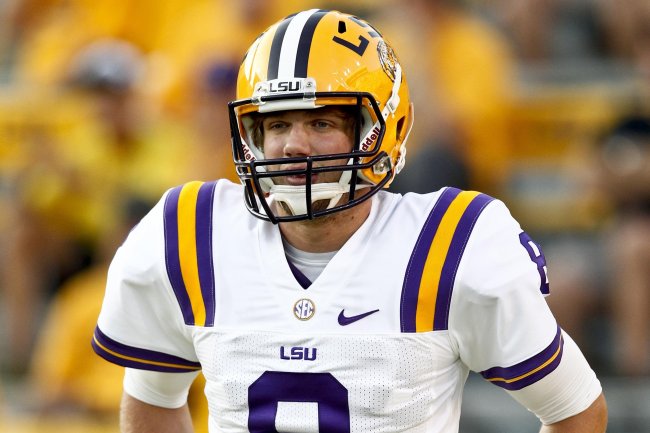 Derick E. Hingle-US PRESSWIRE
Mettenberg played good at times and made some decent decisions, but overall, he was poor in his progressions and too slow to get rid of the ball for much of the game.
His interception was returned to the 1-yard line and resulted in the Gamecocks going up, 7-3, in the first quarter.
Later, he overthrew Jarvis Landry on what would have been a beautiful touchdown reception by his teammate.
Jeremy Hill, RB, LSU: A
The young freshman running back gave tremendous effort throughout this critical SEC contest. He battled for every yard, and it finally paid off late in the fourth quarter.
He burst out on a 50-yard-touchdown run to seal the big victory for the Tigers. That gave him his second touchdown for the game and boosted his stats to an impressive 7.3 yards per carry in which he totaled 124 yards on 17 attempts.
Marcus Lattimore, RB, South Carolina: D+
The Gamecocks' star running back was limited to just 2.7 yards per carry, although he did punch in a short touchdown run.
South Carolina needs more out of its top threat if it wants to contend against the top competition of the Southeastern Conference.
Connor Shaw, QB, South Carolina: D+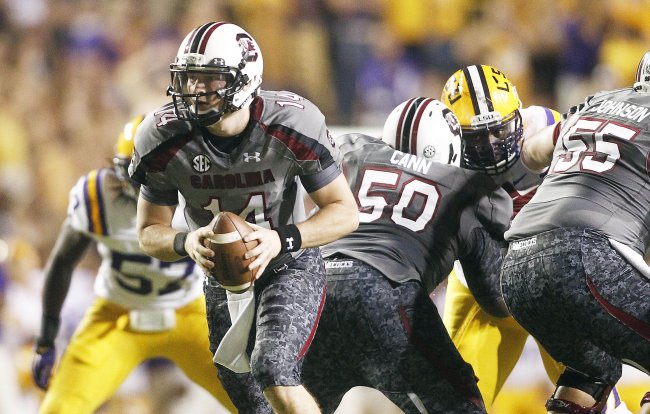 Crystal Logiudice-US PRESSWIRE
Shaw played a very poor game up until LSU put the game out of reach. His final drive was excellent, although the Tigers were playing a more conservative front on defense. It wasn't a prevent situation, but the intensity on the pass rush that disrupted Shaw for much of the game was nonexistent.
He'll need to be better as the season wears on and the Gamecocks try to bounce back from this disappointing setback in their hunt for an SEC title and BCS appearance.
Player of the Game: Jeremy Hill, RB, LSU

Ronald Martinez/Getty Images
This is no surprise. He was the biggest impact player in this game and the deciding factor. His 50-yard-touchdown run in the fourth quarter put the Tigers up by nine points—a lead they would not surrender.
What's Next
Despite the setback, the South Carolina Gamecocks can still position themselves to win the SEC East division with a win over the Florida Gators next week in Gainesville. They'll likely take a hit in the rankings, but will most likely not fall out of the Top 10.
The LSU Tigers will probably see a bump back into the Top 5 of the USA Today and AP Polls. They control their own destiny and are back in the national-championship discussion. Next up is the No. 22-ranked Texas A&M Aggies.
Their Nov. 3 matchup with Alabama is likely the biggest in their mind, though. That game will determine not only the SEC West division champion, but will also likely produce the SEC's representative in the national-title game.