Did the Florida Gators forget to get off the bus?
Did they forget to get some rest after the big victory last weekend over LSU?
The team that beat down the Tigers just seven days ago couldn't be the same club that knocked off Vanderbilt this week by a score of 31-17.
Look, I know traveling to Vanderbilt is no easy task, as the Commodores nearly upset South Carolina in Week 1 and beat an underrated Missouri team a week ago. But this is still Vanderbilt, a program that hasn't won a bowl game since 2008 and finished with an overall losing record the last three seasons.
This is also a Florida Gators team that skyrocketed into the Top Five of the latest AP Poll after defeating the national-championship runner-ups from a season ago. According to Pat Forde of Yahoo! Sports, the computers behind the BCS rankings love this football team, as we head toward the most important part of the college-football season.
Well, things better change quickly if this team is truly going to take that next step.
The South Carolina Gamecocks are coming to town next week, and word around town is that Steve Spurrier has a hell of a ballclub this year.
Although a win is something everybody in Gator-land can be proud of, it wasn't a national-championship-caliber performance. Florida finished the game 2-of-11 on third-down attempts; quarterback Jeff Driskel was a monster on the ground, but only produced 77 passing yards through the air.
The defense that was terrific last weekend against LSU allowed 237 passing yards to Jordan Rodgers, which was the most for the senior quarterback all year.
And what was even more painful to watch is the fact that Florida finished the game with 10 penalties, which seems to be a trend, as the Gators came into this game ranked 13th in the SEC in penalty yards per game.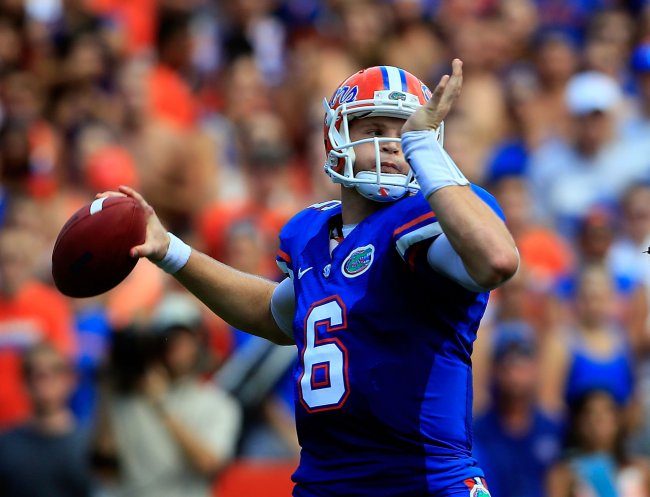 Sam Greenwood/Getty Images
The passing game desperately needs work, as Driskel is still making great reads with the football, but isn't a threat for many big plays with his arm. In the last two games combined, the sophomore quarterback has 138 passing yards.
Sure, he uses his legs well, but you would think with his threat to run, he would be able to find open receivers and make more plays than he does throwing the football.
Not being able to pick up third downs has also been a problem all season, as Florida came into the game ranked eighth in the SEC in third-down conversions. This is the fourth time in six games that the Gators have converted less than 32 percent of their third-down attempts.
Will Florida beat South Carolina next week?
The Gators simply need to execute much better on the offensive side of the ball and become a disciplined football team that stops shooting itself in the foot.
This was against a Vanderbilt squad that has lost 47 straight games against Top Five teams. A blowout over the Commodores is what should have happened this weekend; instead, Gator fans were witness to a subpar performance that didn't guarantee the victory until late in the fourth quarter.
You could say that this was a trap game, considering Vanderbilt was placed right in the middle of the LSU and South Carolina matchups. But great teams that are chasing an SEC title don't fall for traps, and the Gators nearly were the victim of one tonight.
That intensity and passion that the Gators played with against LSU is the same way this team needs to play every game, even against a program such as Vanderbilt. If not, there is a great chance this team will hit a few bumps in the next few weeks and show everybody across college football that the Gators aren't quite back yet.
South Carolina comes to town next week, and Florida has a lot of work to do.