College Football: Power Rankings All 124 Teams
Frederick Breedon/Getty Images
Seems like the season just got underway but for most teams, they are already at the halfway point of the season.
This past week, the year's first BCS rankings came out and it is interesting to see both Florida and Notre Dame back in the running, along with Alabama, Oregon and Kansas State.
With conference title races and the hunt for the national title heating up, here is a look at this week's power rankings.
No. 124- No. 85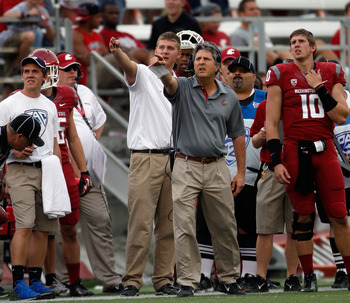 William Mancebo/Getty Images
No. 124: Massachusetts
No. 123: Eastern Michigan
No. 122: Southern Miss
No. 121: Army
No. 120: FIU
No. 119: Akron
No. 118: Colorado State
No. 117: Idaho
No. 116: UTEP
No. 115: UAB
No. 114: Boston College
No. 113: Memphis
No. 112: Buffalo
No. 111: Wyoming
No. 110: UNLV
No. 109: Hawaii
No. 108: Kansas
No. 107: New Mexico State
No. 106: Florida Atlantic
No. 105: South Alabama
No. 104: Colorado
No. 103: Central Michigan
No. 102: Tulane
No. 101: SMU
No. 100: Rice
No. 99: Kentucky
No. 98: Auburn
No. 97: Pittsburgh
No. 96: Illinois
No. 95: Virginia
No. 94: Indiana
No. 93: South Florida
No. 92: Marshall
No. 91: North Texas
No. 90: Vanderbilt
No. 89: Washington State
No. 88: Utah
No. 87: Texas State
No. 86: Western Michigan
No. 85: Troy
No. 84- No. 51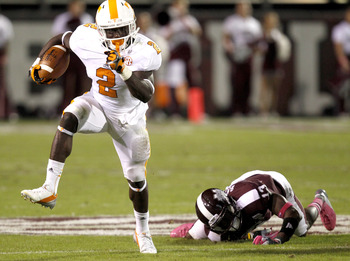 Butch Dill/Getty Images
No. 84: Miami (OH)
No. 83: Syracuse
No. 82: Air Force
No. 81: Georgia Tech
No. 80: Purdue
No. 79: Navy
No. 78: Connecticut
No. 77: Cal
No. 76: Houston
No. 75: Arkansas
No. 74: Bowling Green
No. 73: Temple
No. 72: Arizona
No. 71: San Diego State
No. 70: Fresno State
No. 69: ECU
No. 68: San Jose State
No. 67: Arkansas State
No. 66: Ball State
No. 65: UTSA
No. 64: Louisiana-Lafayette
No. 63: Middle Tennessee
No. 62:BYU
No. 61: Tennessee
No. 60: New Mexico
No. 59: Missouri
No. 58: Ole Miss
No. 57: Wake Forest
No. 56: Baylor
No. 55: Michigan State
No. 54: UCF
No. 53: Minnesota
No. 52: Maryland
No. 51: Iowa
No. 50: Miami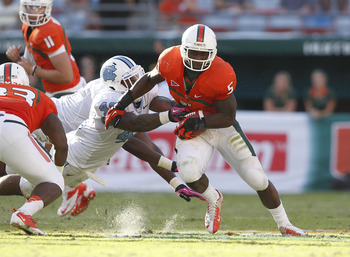 Joel Auerbach/Getty Images
Now with two straight losses, Miami has to start playing desperate or a promising start to the season will have been wasted. With the loss to North Carolina, the Hurricanes now drop to 4-3.
This coming week the Hurricanes have a home game against Florida State and then follow it up with a game against Virginia Tech. If they are unable to bring their best, the Hurricanes could easily slip under .500 when these two games are through.
No. 49: Kent State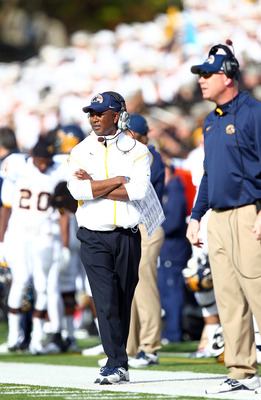 Danny Wild-US PRESSWIRE
Very quietly Kent State has gotten off to a 5-1 start in the MAC. While the schedule has not been all that challenging, the Golden Flashes continue to win the games that are put in front of them.
As we enter the second half of the season, Kent State still has games against Rutgers and Ohio, which will go a long way in telling people how far this program has come.
No. 48: Duke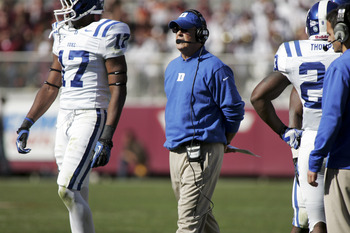 Peter Casey-US PRESSWIRE
No need to adjust your screen, Duke is next up and the Blue Devils are a shocking 5-2 so far this year. So far this year the Duke offense has done well and has helped this team jump up the rankings.
We will learn more about the Blue Devils as they still have yet to face Florida State, Clemson, Georgia Tech and Miami.
No. 47: Virginia Tech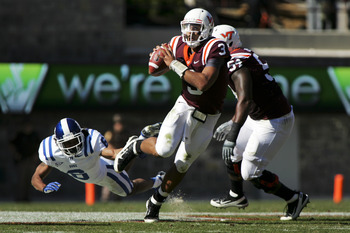 Peter Casey-US PRESSWIRE
Virginia Tech brought their two game losing streak to an end this past week with a win over Duke. The win pushed the Hokies to 4-3 and kept their hopes alive in the ACC.
The Hokies now must turn their attention to Clemson as the Tigers beat them twice last year and the Hokies will be heading on the road for this year's game.
No. 46: Utah State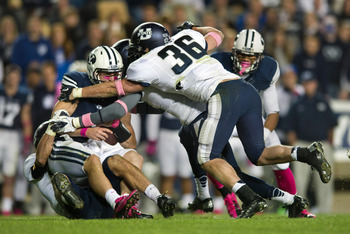 Douglas C. Pizac-US PRESSWIRE
After only posting three points against BYU, the Utah State offense woke up in a big way, scoring 49 points on the road against San Jose State.
With the win, the Aggies moved to 5-2 and with a very manageable schedule down the stretch, the Aggies are looking at putting together a great season for their program.
No. 45: Washington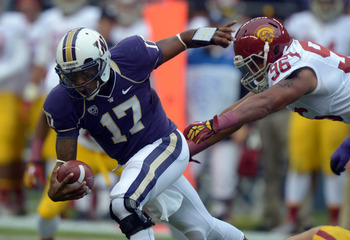 Kirby Lee-US PRESSWIRE
After playing the Pac-12's best the past two weeks, Washington has come tumbling back down to Earth and are now 3-3 on the season.
This year, the Huskies defense has looked better at times but still is a sore spot on this team. On top of the defense's struggles, the offense is not as electric as it was at times last year and has really let the Huskies down.
No. 44: Toledo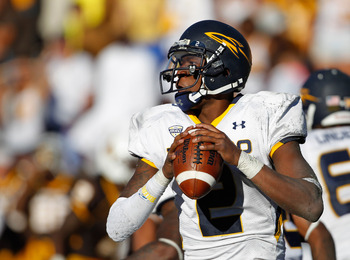 Troy Babbitt-US PRESSWIRE
With six straight wins, the Toledo Rockets now sit at 6-1 with their biggest test of the year coming up as they play Cincinnati this week.
Toledo has done a great job of keeping their offense on track and putting up points. If they have hopes of taking down the Bearcats, then Toledo must do something about their defense that just gave up 47 points to Eastern Michigan.
No. 43: Louisiana-Monroe
John Reed-US PRESSWIRE
After getting a great warm up for their conference schedule, the Warhawks are sailing along in the Sun Belt conference as they are 4-2 overall and undefeated in the conference.
This upcoming week, Louisiana Monroe goes back to being tested as they take on a surprisingly strong Western Kentucky team on the road.
No. 42: Northern Illinois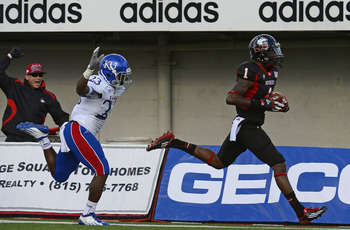 Mike DiNovo-US PRESSWIRE
In the first week of the season, Northern Illinois suffered a one point loss to Iowa. Since that game, the Huskies have rattled off five straight wins and the offense has looked great.
This week Northern Illinois heads on the road to face Akron and should likely return home with a 6-1 record under their belts.
No. 41: Iowa State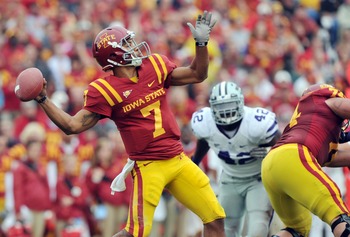 Peter G. Aiken-US PRESSWIRE
Despite a rough stretch of schedule, Iowa State is 4-2 and much more competitive than people may have expected.
This past week the Cyclones pushed Kansas State but came up short, losing 27-21. Coming up, the Cyclones have a game at Oklahoma State and will need the same kind of effort if they hope to win.
No. 40: Penn State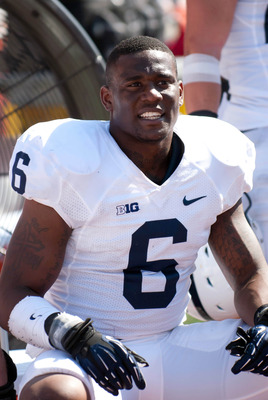 Bradley Leeb-US PRESSWIRE
After starting the year 0-2, the Penn State Nittany Lions have ripped off four straight wins and have done so very quietly. The four straight wins included two conference games, which has them in a great position in the Big Ten.
Up next is Iowa, and it will be interesting to see if the lack of depth starts to become an issue as the season goes longer and longer.
No. 39: Western Kentucky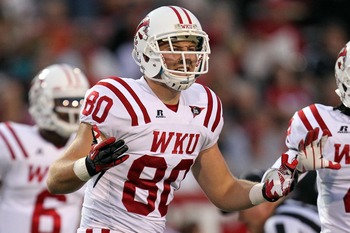 Nelson Chenault-US PRESSWIRE
Now off to a 5-1 start, Western Kentucky is starting to turn some heads and earn some credit. Currently they are undefeated in the Sun Belt conference but that will be tested this week.
Coming up on Saturday they welcome in Louisiana Monroe and this will be a tremendous conference game in the Sun Belt conference.
No. 38: Oklahoma State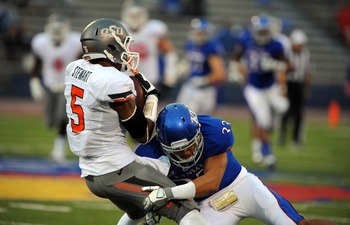 John Rieger-US PRESSWIRE
The Cowboys earned a win this past week, but beating Kansas by six points to go 3-2 is not exactly a strong point on the Cowboys resume.
This week starts a brutal stretch for Oklahoma State as they take on Iowa State, TCU, Kansas State, West Virginia, Texas Tech and Oklahoma, all of which are currently in the top 25.
No. 37: Nevada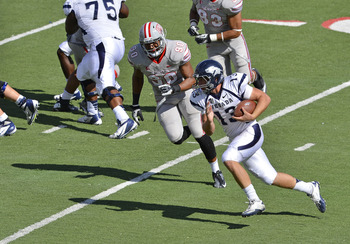 Ron Chenoy-US PRESSWIRE
At 6-1, Nevada is ripping through the Mountain West Conference and looking like they did a couple of years ago. This past week the Wolf Pack took down UNLV on the road and now turn their attention to San Diego State.
If the defense can turn things up and play with some consistency, the Wolf Pack could be looking at another special season out West.
No. 36: Tulsa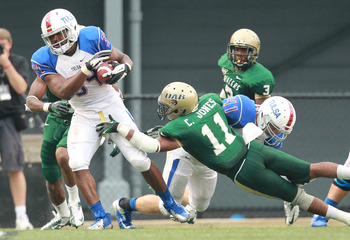 Marvin Gentry-US PRESSWIRE
After losing their season opener to Iowa State, Tulsa has turned things around with six straight wins and find themselves on top of the Conference USA rankings.
Along with earning a win over UTEP, the Golden Hurricanes also saw their defense right themselves, and if that continues, this will be a very dangerous team to play.
No. 35: North Carolina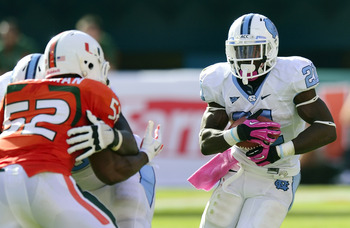 Steve Mitchell-US PRESSWIRE
Larry Fedora has done a great job of turning things around at North Carolina and has the Tar Heels at 5-2.
So far this year both the offense and defense have done better than expected and if they can continue to play at this level, the schedule sets up nicely for them to make a run at the ACC title.
No. 34: Wisconsin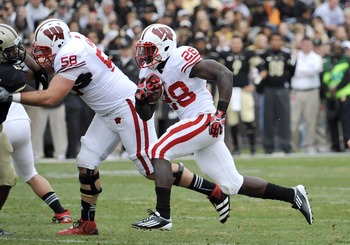 Sandra Dukes-US PRESSWIRE
Despite the rocky start to the season, the Badgers seemed to have stabilized things over the past two weeks with two straight wins in the Big Ten.
Currently the Badgers sit at 5-2, and if they can continue to improve and get better, the schedule is not too difficult and could allow them to get back into the Big Ten race.
No. 33: NC State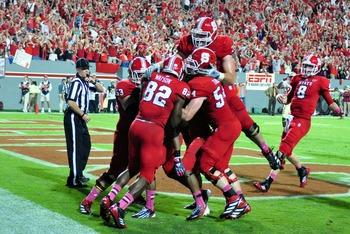 US PRESSWIRE
After a huge win over Florida State, the Wolfpack had this past week off and a chance to get healthy. This coming week they are taking on Maryland in a game they should win.
With the ACC being relatively wide open right now, NC State could be a team that takes advantage.
No. 32: UCLA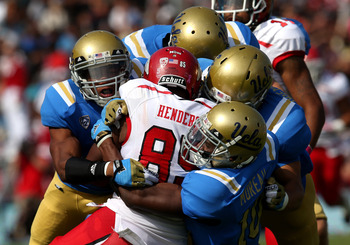 Stephen Dunn/Getty Images
After dropping two out of three games, the Bruins got back on track with a big conference win over Utah. The win pushed UCLA to 5-2 and keeps them in the hunt in the Pac-12 South.
While the start to this year has been impressive, the Bruins have a difficult second half schedule and a lot will be learned about this team as the second half comes to a close.
No. 31: Nebraska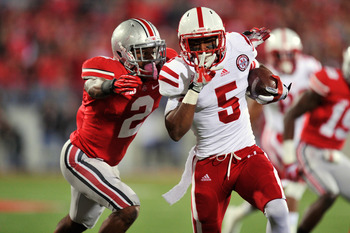 Jamie Sabau/Getty Images
After getting roughed up by Ohio State two weeks ago, Nebraska had this past week off and had a chance to regroup and prepare for their upcoming game against Northwestern.
While on paper this may not have looked like a tough game, the Wildcats are 6-1 and are surprising teams every week.
If Nebraska hopes to get back into the Big Ten race, they must shake off the Ohio State loss and get back on track against Northwestern.
No. 30: Michigan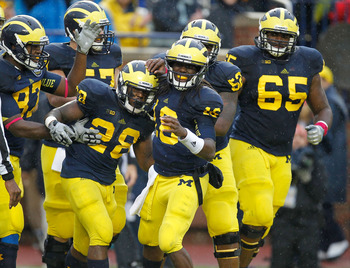 Gregory Shamus/Getty Images
After a slow start to the season, Michigan has won two straight games in the Big Ten and are now 4-2 on the season.
This past week the Wolverines took care of Illinois with a convincing 45-0 win. The win was an outstanding balance between offense and defense.
While the two straight wins are nice, it will be interesting to see what the Wolverines do when they face another top 25 team.
No. 29: Northwestern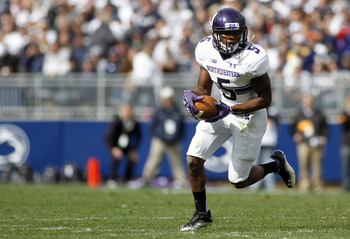 Justin K. Aller/Getty Images
Not many would have thought that the Wildcats would have hit six wins through seven games, but with a 6-1 record, that is exactly where they are at so far this year.
While the start is impressive, the Wildcats still have games against Nebraska, Michigan and Michigan State. How they handle the second half of the season will go a long way to showing if this team is for real.
No. 28: Louisiana Tech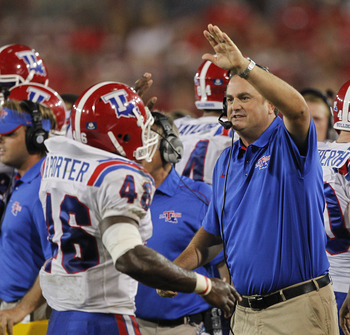 Bob Levey/Getty Images
Going up against Texas A&M, the Bulldogs knew that they would have their hands full, and unfortunately they fell two points short on a failed two point conversion.
While the offense is doing more then enough to win games on a consistent basis, the Bulldogs defense gave up 59 points to the Aggies.
If Louisiana Tech hopes to get back on track this year, they will need their defense to show up all game long.
No. 27: Boise State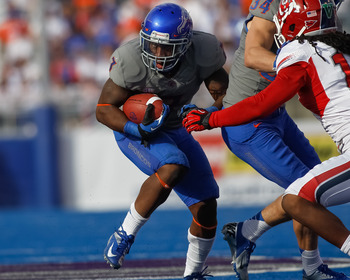 Otto Kitsinger III/Getty Images
The Boise State defense continues to shine as they shut down Fresno State this week during their 20-10 win at home.
Going forward this season, the Broncos must find a way to improve on offense because the defense will not be able to hold teams down all year long. If the offense can get on track, this team could begin to rise right back up the rankings.
No. 26: TCU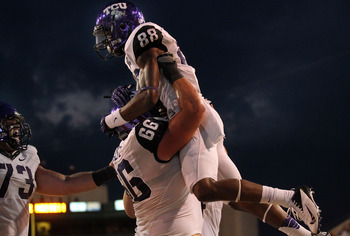 Layne Murdoch/Getty Images
Two weeks ago the Horned Frogs suffered a tough home loss to Iowa State. This past week, they headed out on the road and took care of business against Baylor, winning 49-21.
The win moves the Horned Frogs to 5-1, but with lingering games against West Virginia, Kansas State, Texas and Oklahoma, TCU still has a lot to prove this season.
No. 25: Ohio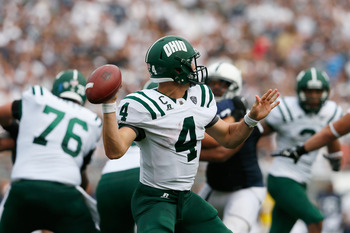 Rob Carr/Getty Images
Ohio keeps on rolling as the Bobcats are now 7-0 and are heading to a bye week. With an undefeated season still in tact, the Bobcats know they have the ability to have a special season but will need to use the bye week to their advantage.
So far this year the offense has been running along smoothly but if the Bobcats hope to stay perfect, the defense needs to step things up, because they have kept the pressure on their offense to score more than 30 points a game.
No. 24: Texas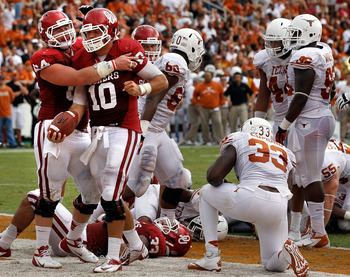 Tom Pennington/Getty Images
Texas finally ran into some issues this week as the Longhorns were ran over by rival Oklahoma. After the Red River Shootout was all over, the Longhorns were on the losing side of a 63-21 scoreboard.
While the offense appeared to be on track, Oklahoma showed that good teams can contain this team and that they still have some work to do.
No. 23: Stanford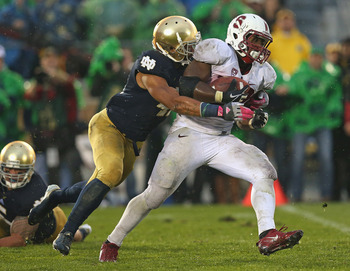 Jonathan Daniel/Getty Images
After dropping a game to Washington, Stanford had a chance to get back into the national eye against Notre Dame. Once the game went to overtime, Stanford made things interesting but came up inches short of continuing the game.
With two losses, all Stanford can do is try to focus on winning out in conference and hoping that Oregon opens the door for them.
No. 22: Arizona State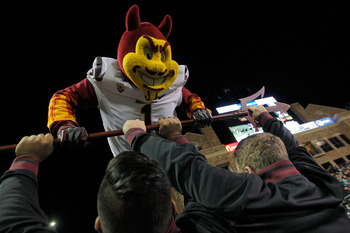 Doug Pensinger/Getty Images
After a slow start against Colorado, the Sun Devils shook off the rust and got to business in the second half. Arizona State ran away with a victory and moved to 5-1 this year.
Coming up this week, the Sun Devils have Oregon at home on a Thursday night and couldn't ask for more as the atmosphere should be electric.
If the Sun Devils can find a way to take down the Ducks, it would completely energize this program.
No. 21: Cincinnati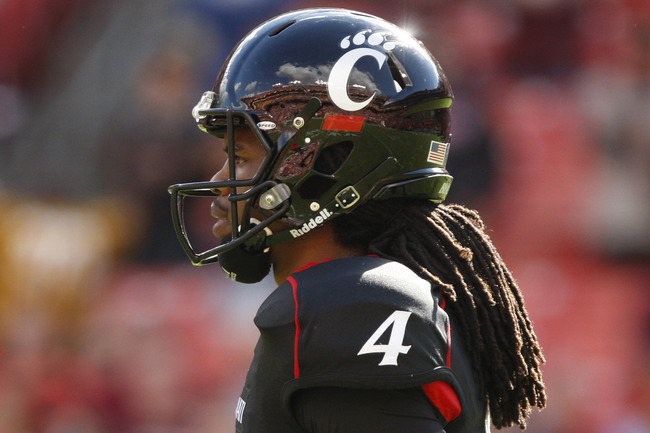 Jonathan Ernst/Getty Images
Cincinnati may be one of the quietest undefeated teams at this point, but they are looking strong and are looking at trying to earn another Big East title.
After Fordham, the Bearcats have a game against Toledo and then Louisville, two key games for their season.
No. 20: Texas A&M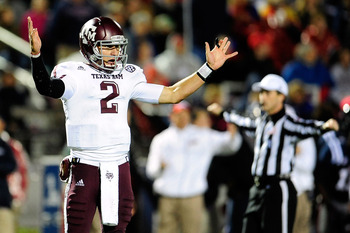 Stacy Revere/Getty Images
It is a good thing that Texas A&M's offense was on point this past week because the 59 points put up by the offense was almost not enough to secure a win.
This past week the Aggies beat Louisiana Tech 59-57 and moved to 5-1. While having an explosive offense is nice, the Aggies must find a way to be more effective as a defense and not allow teams to score at will the way the Bulldogs did.
No. 19: Rutgers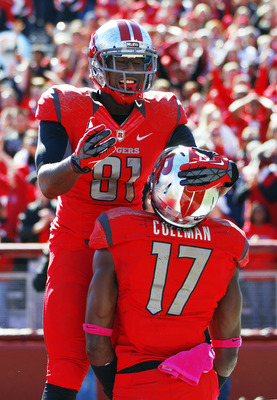 Rich Schultz/Getty Images
One of the most surprising teams in the nation is the undefeated Scarlet Knights—who are now 6-0 due to their victory over Syracuse this past week.
With the win, Rutgers kept pace with Louisville and could be setting up a great race as we come down the stretch in the Big East season.
If the defense can continue to play as well as they have, Rutgers will continue to turn heads around the nation.
No. 18: West Virginia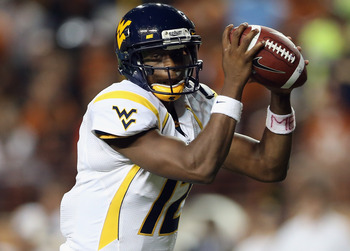 Ronald Martinez/Getty Images
The quarterback receiving all of the hype coming into this game was Geno Smith, but you wouldn't know it based on the game between West Virginia and Texas Tech.
In this past week's game, the Mountaineers got beat all game long as Seth Doege threw for six touchdowns. They must now figure out how to respond to this adversity and move on to their next opponent.
No. 17: Texas Tech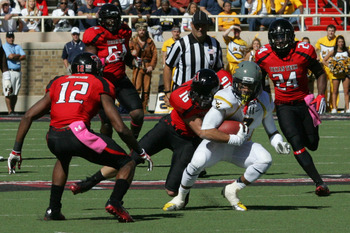 Michael C. Johnson-US PRESSWIRE
The surprise of the weekend had to have been Texas Tech destroying West Virginia and containing their offense—only allowing the Mountaineers to score 14 points.
With the win, Texas Tech moved to 5-1 and gained the attention of the entire nation. If the offense can continue to play as well as they did and get consistent play out of the defense, the Red Raiders will be a tough team to deal with in the Big 12 and nationally.
No. 16: Mississippi State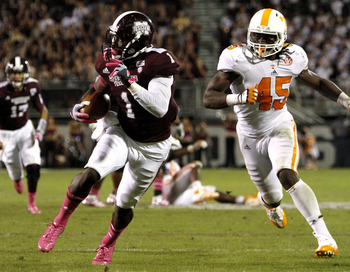 Butch Dill/Getty Images
Nobody is talking about it, but the Bulldogs are 6-0 and playing some good football. This past week Mississippi State earned a big win in conference by taking down Tennessee.
Going forward, the Bulldogs are playing Middle Tennessee but head on the road the following week to take on the Crimson Tide.
While Mississippi State should beat Middle Tennessee, the focus must be there or trouble could be around the corner.
No. 15: Louisville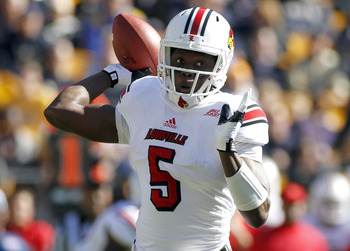 Justin K. Aller/Getty Images
The front-runner in the Big East took another step this week by taking down Pittsburgh. The Big East has seen teams like Louisville before but they have often stumbled and proven to not be worth the hype.
Louisville is a team that has shown consistency through the first half of the season, and if they can continue to do so, people will have no issue with them being in a BCS bowl game.
No. 14: USC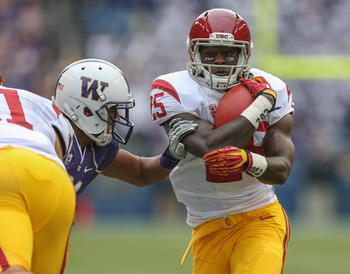 Otto Greule Jr/Getty Images
Now at 5-1, the Trojans are continuing to pick up wins, and hopefully momentum, as they go into their November showdown with the Ducks.
Despite the early season loss, the Trojans still have a ton to play for, including a Pac-12 title and also an outside chance at the national title.
With two games in between now and the Oregon visit, the Trojans must remain focused and ensure it gets to that game with a record of 7-1.
No. 13: Georgia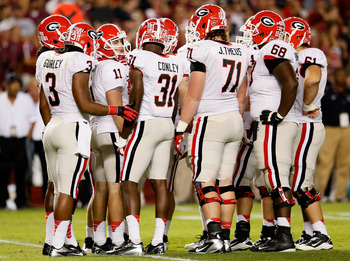 Kevin C. Cox/Getty Images
Georgia had a bye week this past week and now face a couple of big games over the next few weeks. This coming week, the Bulldogs face South Carolina and then two weeks later they take on an underrated Ole Miss team.
With one loss already in the conference, Georgia must be sharp and earn a win over Florida if they have aspirations of heading back to the SEC title game.
No. 12: Clemson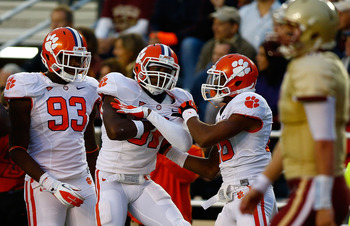 Jared Wickerham/Getty Images
At 5-1, the Tigers are not out of the ACC race, especially with Florida State losing two weeks ago. With their bye week behind them, Clemson prepares for a home battle with Virginia Tech.
Last year the Tigers and Hokies met twice and the Tigers won both games by a wide margin. If they hope to pace the Seminoles in the standings, the Tigers must keep winning and hope for some help.
No. 11: Oregon State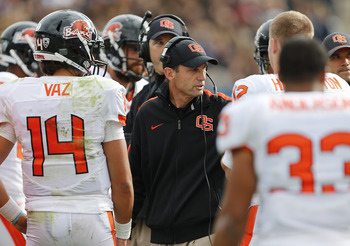 George Frey/Getty Images
Somehow, someway, the Beavers continue to win game after game, and this past week's win was over BYU.
Despite the lack of talent that Mike Riley is dealing with he is still getting the most out of his team. The Beavers next game is against Utah, and it will be interesting to see how long there are two undefeated teams in the state of Oregon.
No. 10: Florida State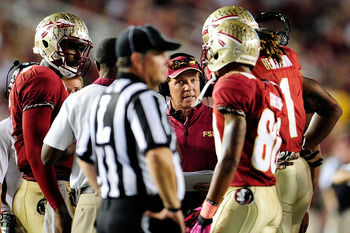 Stacy Revere/Getty Images
After a stunning loss a couple of weeks ago, the Seminoles got back to action and put up a 51-7 win over Boston College.
While the loss may have sidetracked the Seminoles from a run at the national title, the ACC title is well within their grasp and if they can win in dominating fashion, the Seminoles will appear to be one of the stronger one loss teams in the nation.
No. 9: Oklahoma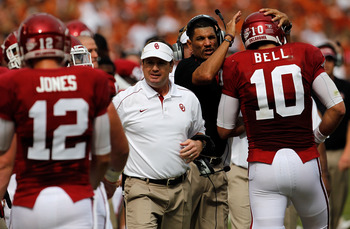 Tom Pennington/Getty Images
The Oklahoma Sooners offense showed up in a big way this past week and managed to put up 63 points against rival Texas.
With the win, the Sooners are now 4-1 and can begin to climb back up the national rankings. If the Sooners can run the table and finish the season with only one loss, they will continue to put the pressure on Kansas State for the Big 12 title.
No. 8: Ohio State
Andy Lyons/Getty Images
This past week's game was a bit of good news, bad news for the Buckeyes. The good news is that the offense looked incredible as they put up 52 points on the Indiana Hoosiers.
On the other hand, the Buckeyes had some bad news. During the game with the Hoosiers, the Buckeyes defense gave up 49 points. While a win is a win, the Buckeyes must get things right on the defensive side of the ball.
No. 7: South Carolina
Ronald Martinez/Getty Images
South Carolina did a great job of rising up the rankings, but a night game in Death Valley proved to be too much for them to handle.
Now at 6-1, the Gamecocks must shake off this game and refocus because they have Florida next on the schedule.
If South Carolina can find a way to run the table going forward, they will head to the SEC title game with a lot on the line.
No. 6: LSU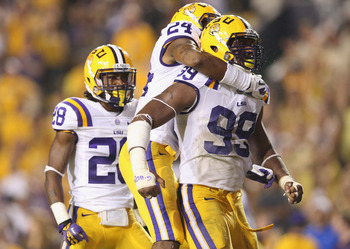 Ronald Martinez/Getty Images
It would have been easy to write off the Tigers after their loss to Florida. Instead, the team responded to adversity and won a big game at home against the Gamecocks.
With the win, the Tigers are now 6-1 and still have a huge game coming up in November against the Crimson Tide. If the Tigers can avenge their National Title loss by taking down Alabama at home, they could jump right back into the national title talks.
No. 5: Notre Dame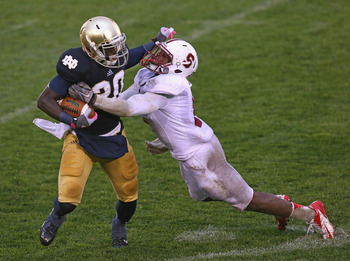 Jonathan Daniel/Getty Images
The hype machine picked up more steam this past week as the Irish earned another win, this time over Stanford in overtime.
So far this year the Irish defense has done an outstanding job of keeping them in games and putting the offense in positions to win. If they can continue to carry the mail, the Irish could make some late season noise.
No. 4: Kansas State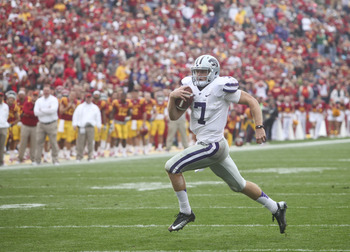 Matthew Holst/Getty Images
Kansas State was challenged this week on the road and passed the test with a 27-21 win over Iowa State. The win allowed the Kansas State defense to shine and showed that they can handle being in a tight road game.
With the West Virginia loss, Kansas State could be looking at having a special season in the Big 12.
No. 3: Florida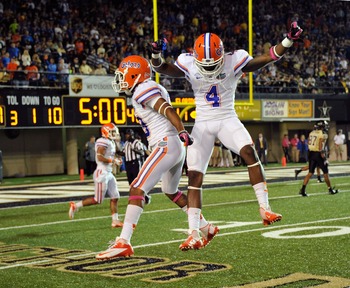 Frederick Breedon/Getty Images
With a win over Vanderbilt, the Gators remained undefeated and now it will truly be tested in the coming week. After the game with Vanderbilt was over, the Gators now face back-to-back games against South Carolina and Georgia.
Two games of this magnitude will not only test the Gators but will prove if they are truly back and worthy of all the hype. If they can get through these two weeks undefeated, the Gators could be on their way to a SEC title game.
No. 2: Oregon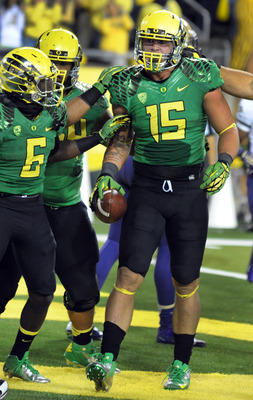 Steve Dykes/Getty Images
The Ducks had this past week off and now are preparing for their road test against Arizona State. The Ducks offense is hitting their stride and the defense has been rock solid all year long.
This week the Ducks must be focused because the Sun Devils have the offense to keep up with Oregon. If the Ducks get through this game with a win, they will likely be heading to USC with an undefeated record.
No. 1: Alabama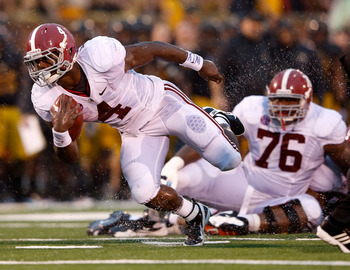 Jamie Squire/Getty Images
Another week and another win for the Crimson Tide. This week, Alabama went on the road and took down Missouri.
When looking at the Crimson Tide, they appear to be on track for their meeting at LSU at the start of November and should be undefeated. If they can continue to play this way, the Tide will be tough to beat and should earn another win over LSU.
Keep Reading