Big Ten Football Power Rankings Featuring Conway Twitty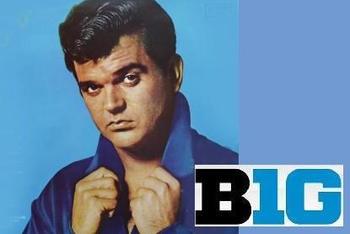 Courtesy last.fm
Returning from a one-week hiatus (nobody told me that keeping score in the OSU-Indiana game would take all week), the B1G Power Rankings are back after two fairly interesting weekends of Big Ten football.
With these additional results on the books, the list of undefeated teams has been trimmed once more thanks to Northwestern not finishing the job in State College. But Northwestern still remains the only team with one loss, as every other team outside Columbus now has two or more defeats. Speaking of the Buckeyes, Ohio State remains the last undefeated hope, although many questions remain following two weak defensive showings against Nebraska and Indiana.
Big Ten conference play has brought out the best of the traditional powers that may run the league if the recruiting rankings continue to pan out like 2012. Michigan and Ohio State have now each knocked off one of the top contenders from the opposite division (Purdue and Nebraska, respectively). That could set up a huge game in the annual rivalry at the end of the season.
However, that game is still five weeks away, so there is plenty to look forward to before that game. Thankfully, the schedule is much improved from last weekend, when we were treated to a "headliner" of Purdue and Wisconsin duking it out for third place and the lead in the clubhouse for the Leaders Division "championship." This weekend will provide some separation in the wide-open Legends Division race, with four of the top five competitors playing each other and Iowa playing the hottest team in the league at home (Penn State).
Before enjoying this week's slate of games, let's take a look at how the teams rank at about the halfway point in the season. Conway Twitty brings a bit of country soul to the themes this week: Thanks to "Buckeye Guy" for the suggestion.
12. Illinois (0-3, 2-5)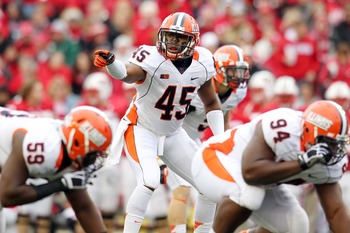 Brace Hemmelgarn-US PRESSWIRE
Theme Song – How Much More Can She Stand
Another week, another disappointment for the Illini. Two weeks ago, Leaders Division rival Wisconsin outlasted Illinois and ran away in the second half for a 17-point win. Last weekend, Illinois managed to get worse in a 45-0 whitewash at Ann Arbor.
While both of these teams are the current favorites to end up in Indianapolis for the Big Ten championship, these lapses are a sign of a team heading nowhere fast. How much more can these fans stand? We will find out after the bye week, as Illinois still faces three moderately winnable home games against the other three winless teams in conference play to date: Indiana, Minnesota and Purdue.
One good sign for Illinois is the healthy return of quarterback Nathan Scheelhaase, who passed for 178 yards and rushed for 84 more in the loss against Wisconsin. However, Scheelhaase cannot do it all by himself, even with his improving talents, as proven by the shut-down defense played by the Wolverines.
The most pressing issue is still the defense, which gave up 427 yards to a woeful and struggling Badgers offense, followed up by 527 to the more dynamic Wolverines. It was the same type of effort on defense that led to blowout losses against Penn State and Arizona State. Halfway through the season, while other teams look to be progressing, the Illinois defense looks about the same. Hence, the struggles continue for Tim Beckman in his first season.
Illinois gets a bye week at a great time, but it will be difficult to imagine the Illinois defense fixing all the problems needed before facing the Hoosiers and the Buckeyes, who just happen to have put up 101 points against each other this past weekend. Uh-oh Illini.
11. Purdue (0-2, 3-3)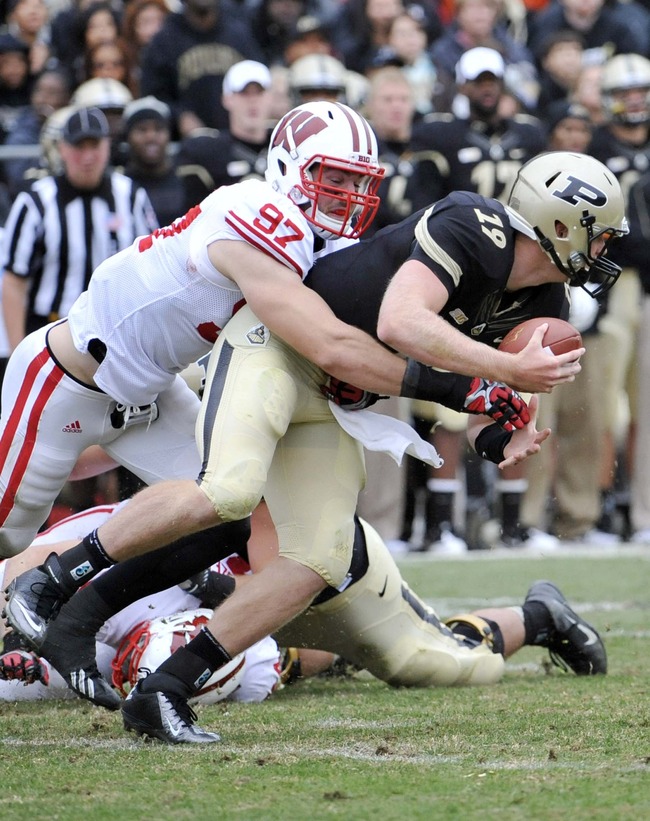 Sandra Dukes-US PRESSWIRE
Theme Song – Goodbye Time
Purdue, like Illinois, played Wisconsin and Michigan the past two weekends. It went about as well for Purdue as it did for Illinois. The most important stretch of the season has come and gone with a thud, as Michigan and Wisconsin both came into West Lafayette and blew away the Boilermakers.
All of a sudden, Purdue is one game behind a seemingly competent Wisconsin team in the loss column and will lose the all-important tiebreaker with the Badgers thanks to the loss this weekend. After stopping teams from running up the middle against Kawann Short and the defensive line, opposing offenses have adjusted and found a ton of running room on the edges. Michigan rolled up 304 yards on the ground and Wisconsin added 467 more, mostly by running around the solid Purdue defensive front.
That spells very bad news with a road game at Ohio State this weekend. Purdue has been a thorn for the Buckeyes over the past decade, but most of the close games have been in West Lafayette. With a dynamic offense led by a power rushing attack, Purdue will have to try and outscore the Buckeyes in this one. Not likely, unless Caleb TerBush becomes a lot more efficient passing and the Buckeyes continue to make tackling mistakes against short passes on the sidelines.
With a loss, the dreams of 2012 will need to say goodbye. A promising season and the best talent Purdue has had under Danny Hope will officially be squandered with an 0-3 start. The schedule does lighten up considerably after this weekend, but will it even matter anymore to fans?
10. Indiana (0-3, 2-4)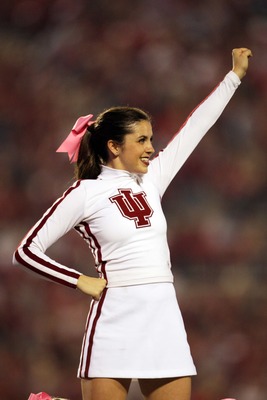 Pat Lovell-US PRESSWIRE
Theme Song – Slow Hand
In the words of Denny Green, "We let them off the hook!" That is exactly what the Hoosiers must be thinking after dominating Michigan State for three quarters only to see a double-digit lead go away in the final quarter of play. Then they had the same problem against Ohio State, as the Hoosiers mounted a huge comeback but got a bad bounce on a second onside kick that prevented them an opportunity to take the lead.
Kevin Wilson is forced to have a slow hand in rebuilding this program, and games like the last two weekends prove that progress is being made, but there remains a long road to climb for the Hoosiers.
Although the defense put forth a good effort against Michigan State, the flaws for the Hoosiers were exposed once again by Ohio State. Even when the offense puts up a historically good performance, the game is still out of reach when you surrender 52 points. However, having now seen this group of players in person, what looks different about the Hoosiers in 2012 is the team speed and effort—both of which seemed to match anything the mighty Ohio State program could throw at them Saturday night.
That is a great sign for the future, especially with the Purdue and Illinois programs muddled in a rut. The Hoosiers still have some tough games, but there is an outside shot at a bowl if Indiana takes care of business against the likes of Navy this weekend. The Midshipmen have no business keeping up with this Hoosier offense, as long as Indiana plays as well as they have the past two weeks.
Brighter times are ahead in Bloomington, and that puts Indiana a slot higher in these rankings, despite an 0-3 start to conference play.
9. Minnesota (0-2, 4-2)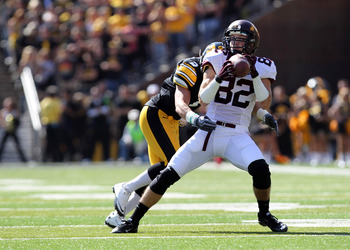 Reese Strickland-US PRESSWIRE
Theme Song – That's My Job
Starting quarterback MarQueis Gray came back in a limited role last weekend after a month away and he looks ready to reclaim his job in short order. Although Max Shortell threw for more yards (103) than Gray (66), Gray did lead the team in rushing against Northwestern. That seems to indicate that his legs are healed up just fine, a critical threat to have in the Gophers offense.
Minnesota let this game against the Wildcats slip away with early miscues that gave up 14 first-quarter points and three turnovers. After winning defensive struggles against UNLV and Syracuse, the Gophers have struggled to put up points against a couple of underrated defenses in Iowa and Northwestern. The going should be a little easier with Gray back in the mix and worse defenses coming up in Wisconsin and Purdue.
Although Iowa found some openings before the bye week against the Minnesota defense, Northwestern was held in check for most of the game. Despite only getting 275 yards, the Wildcats won. In other words, Minnesota is built for success with a seemingly solid defense, but the offense has to do much better. With winnable games left against Purdue and Illinois, Minnesota cannot afford to have a collapse that would ruin the great start.
A bowl season is a step in the right direction in Minneapolis. At this point, that still seems to be on the table. A win in the game for Paul Bunyan's Axe this weekend would be huge, although it seems unlikely with Wisconsin's resurgence.
8. Michigan State (1-2, 4-3)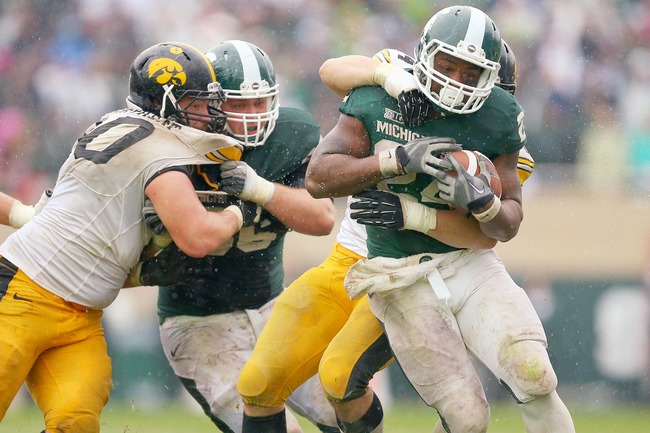 Mike Carter-US PRESSWIRE
Theme Song – We Had It All
Apparently, all the experts were just plain wrong about Michigan State this season. An opening win against Boise State appeared to validate the Spartans being considered as the favorite to win the Big Ten after two 11-win seasons. Even with the loss of Kirk Cousins and most of the starting receivers from a season ago, all the Spartans needed was Andrew Maxwell to be a game manager behind a rock-solid defense.
Three home losses later, it has been proven that the defense alone is not enough. Ohio State and Iowa both made just enough plays to win in East Lansing, a place where the Spartans had been nearly invincible in 2010 and 2011. Even Indiana had Michigan State dead-to-rights for three quarters before blowing a ten-point lead late in the game.
This week will be the critical turning point in the season with rival Michigan hosting the Spartans. Michigan State has won four straight in this series, and a fifth straight victory has never happened against the Wolverines. Unless Andrew Maxwell and Le'Veon Bell can capitalize on more scoring opportunities against Michigan, that winning streak will come to an end.
Of course, Michigan State could follow the Alabama and Notre Dame formula for breaking Michigan by turning over Denard Robinson multiple times. However, this is the one team Robinson has yet to defeat and that has to be a huge motivating factor, even beyond the rivalry. If a loss happens this weekend, Michigan State will be out of the conference championship race and may struggle to become bowl eligible.
The Spartans had it all in 2010 and 2011, but not this year.
7. Iowa (2-0, 4-2)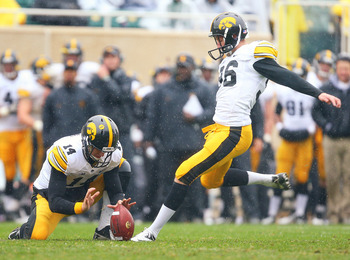 Mike Carter-US PRESSWIRE
Theme Song – Don't Call Him A Cowboy
The biggest story from Iowa's off week two weeks ago? Quarterback James Vandenberg nabbed another piece of big game to add to his hunting legacy, this time a 22-point buck. Therefore, one might say Vandenberg is the most prolific hunter in the Midwest this month, with a bronze pig (Floyd of Rosedale) and a big buck added to his collection.
With a surprising 2-0 start to conference play following the shocking home loss to Central Michigan, perhaps things will be alright in Iowa City this season. Minnesota and Michigan State have two of the better defenses in the conference, but James Vandenberg and Mark Weisman were able to generate points when it mattered most. Weisman finally ran afoul of the AIRBHG this week and likely will not play against Penn State.
That brings Jordan Canzeri back into the mix, which is surprising considering he tore his ACL only last spring. But apparently, he is ready to take the starting role that looked to be his in the spring while Weisman is on the mend. As long as Canzeri is healthy, Iowa should be able to keep close with Penn State. The Iowa defense must continue to play well against the pass though, as Matt McGloin is a big threat in the pocket this season.
If Iowa can knock Penn State from the rank of the undefeated conference teams, then the schedule opens up nicely with road games at Northwestern and Indiana before a home game with Purdue. At worst, Iowa should be 5-1 heading into the most important games of the season in the final two against Michigan and Nebraska. Hard to believe after the 2-2 start, but Iowa is right in the mix and Michigan State is not.
6. Northwestern (2-1, 6-1)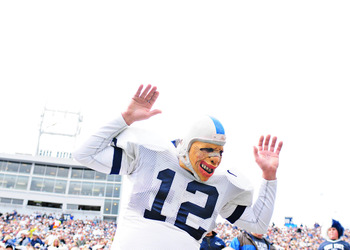 This guy happened upon your undefeated record...and...
Evan Habeeb-US PRESSWIRE
Theme Song – It's Only Make Believe
Northwestern took an unblemished record east to Pennsylvania and hoped to steal a road win followed by a win against Minnesota to go 7-0. But it was not meant to be, even though the Wildcats entered the fourth quarter with an 11-point lead. However, Northwestern did recover and won an ugly game in Minneapolis to become the first Big Ten team that is bowl eligible.
With that out of the way, Northwestern can now focus on taking the next step. Two weeks ago, it was feasible that Purdue and Northwestern could shock the world and end up in Indianapolis playing for a conference championship. The shine on the Boilermakers may be long gone, but Northwestern still has a chance despite the loss to Penn State. The next three games are the critical stretch, as all of the other serious competitors for the Legends Division play Northwestern in the next four weeks.
First up are two home games against Nebraska and Iowa. Northwestern upset the Huskers in Lincoln last year, so the Wildcats have proven they can stop this Nebraska offense. The Cornhuskers have also struggled mightily on defense, so it will be interesting to see if some of those problems have been solved by the bye week. Look for Northwestern to try and establish the tempo with RB Venric Mark and then salt the game away with a couple big plays on defense.
The road game after that against Michigan could be the deciding game in the division if Northwestern takes care of the next two games. But the Wildcats must not look ahead, as each of these teams is plenty capable of beating them. It's time to see if Northwestern is for real, or if this start has been nothing but make-believe in another mediocre season.
5. Wisconsin (2-1, 5-2)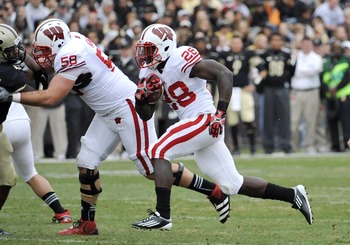 Sandra Dukes-US PRESSWIRE
Theme Song – Next In Line
Nothing quells a struggling team like a visit from Illinois, and that's just what the doctor ordered for the Badgers following the big come-from-ahead loss in Lincoln. Then Wisconsin took it to another level against Purdue, blowing out the Boilermakers at Ross-Ade Stadium. 645 yards of offense and 247 rushing yards from Montee Ball means the Badgers could very well be back after a rough start.
Before everyone gets too excited though, Illinois and Purdue are now ranked at the bottom of these power rankings. Wisconsin toyed with the basement a few weeks ago, but the effort has clearly been different in Big Ten play. It looks like Wisconsin brings a confidence to these games after dominating the league in 2010 and 2011. Wisconsin is one road win at Indiana away from pretty much clinching this division, although many have crowned the Badgers already.
Even if that championship comes with an asterisk of finishing behind Penn State or Ohio State, Wisconsin will not care as long as the next team in line in the standings is them. That seems highly likely at this point. The remainder of the regular season should be spent preparing for the Big Ten Championship game. Montee Ball needs to stay on track and get back to being the Heisman candidate he was a season ago.
In addition, the defense needs to continue improving. Wisconsin has only given up 18.4 points per game and those numbers should improve with struggling Minnesota and Michigan State up next on the schedule. The games against Indiana and Ohio State will be a better barometer if the Badgers have improved from getting gashed by Taylor Martinez and Nebraska in the conference opener. If so, then Michigan and Nebraska may be beatable in the championship game (assuming those are the teams that could be in Indianapolis).
4. Nebraska (1-1, 4-2)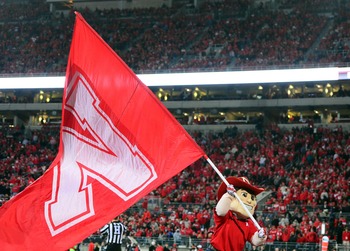 Andrew Weber-US PRESSWIRE
Theme Song – Fifteen Years Ago
It was only fifteen years ago that Nebraska was a dominant national power heading to a third national championship in four years under legendary coach Tom Osborne. Many coaches later, Osborne is now finishing up his days as athletic director and Nebraska is trying to regain national power status under Bo Pelini. Unfortunately, another crushing defeat on the road leaves Cornhusker fans wondering when this team will take a step up from the 5-3 conference seasons.
Perhaps that will still happen this year. The road will continue to be tough though, as Northwestern and Iowa do not look like easy assignments this year. Michigan State has struggled at home, but that may not be an easy game either. Add in home games against Michigan and Penn State, and Nebraska has the toughest remaining schedule by far of any of the competing teams in the Legends Division.
Avenging last year's shocking home loss to the Wildcats will be step one coming out of the bye. Northwestern will prefer to get into a defensive battle with Nebraska, but that is not likely to happen with the dynamic Nebraska offense. Nebraska must take advantage of having better talent in Ameer Abdullah and Rex Burkhead than any of the Northwestern defenders.
Even in losses to UCLA and Ohio State, the Cornhuskers scored 30 or more points. If that happens again this week, Kain Colter and Trevor Siemian may not be able to keep up the pace.
Nebraska would love to send Tom Osborne out in his last year as athletic director with some more conference hardware. That would be a fitting end to a fantastic coaching and administrative career at the university.
3. Penn State (2-0, 4-2)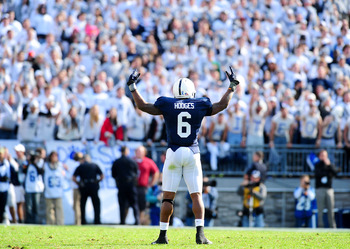 Evan Habeeb-US PRESSWIRE
Theme Song – Don't Take It Away
With one final sick statement and sentencing finished in the Jerry Sandusky saga, Penn State can continue moving on. It makes it much easier to move on when the loaded senior class of Penn State continues to get better as the season rolls along. Northwestern gave the sternest test of the past month, but again, the Nittany Lions prevailed when it mattered most in the fourth quarter. Given the dark days ahead, Penn State fans don't want the NCAA to take away this good feeling quite yet.
This past week then brought a midseason bye. Now the Nittany Lions will see if the momentum built over the last four weeks can continue against the top teams in the conference standings. A road game at Iowa is followed by the huge night game at home against Ohio State. Wins in both of these games would likely put Penn State at the head of the class in the Big Ten and back into the AP national rankings.
Iowa matches up well with Penn State because both teams rely on efficient passing quarterbacks and strong defenses. It will not match the 6-4 slog of a few years ago, but there should not be a lot of offense this week in Iowa City.
The bright, Saturday-night lights will be on Penn State the next two weeks. Can Bill O'Brien make this into a magical season with two huge wins? Time will tell how good this senior class really is.
2. Michigan (2-0, 4-2)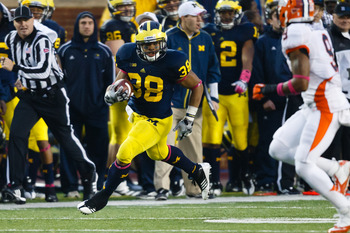 Rick Osentoski-US PRESSWIRE
Theme Song – Whole Lot of Shaking Going On
Perhaps it was the bye week, perhaps it was the tough tests in non-conference play, but Michigan came into conference play with a big statement to make. Purdue was in the way of that message and got rolled over by Denard Robinson and Fitzgerald Toussaint like a freight train. Then Illinois proved to be no test for the Wolverines either in a 45-0 drubbing that was expected, but still impressive.
If Michigan continues the level of effort shown in West Lafayette and Ann Arbor over the next six weeks, then the Wolverines might make Brady Hoke happy this year with a Big Ten championship. Although this weekend's game against rival Michigan State was circled at the beginning of the year, games against Nebraska, Iowa and Northwestern may loom larger in the conference title race. However, this hurdle must be crossed to keep Michigan's rebuilding on the right track.
Denard Robinson has thrown for 1101 yards and run for 804 more, putting him right up there with Taylor Martinez and Braxton Miller among the conference leaders. Robinson does have some trouble with accuracy still, and he can afford no problems against a strong Spartans defense. On the other hand, the improved Wolverines defense should completely shut down Le'Veon Bell and the Spartans offense.
Barring a down day, Michigan should finally overcome the other rival that had a big winning streak against the Wolverines (the OSU streak ended last year). With a win this weekend, Michigan might just shake the rankings up enough to go back to the top.
1. Ohio State (3-0, 7-0)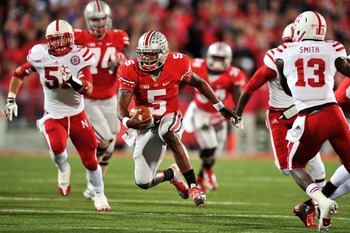 With Miller, all things are possible
Jamie Sabau/Getty Images
Theme Song – Saturday Night Special
The football was astounding on Saturday night over a week ago in Columbus, but the halftime show was perhaps more astounding. If you have not seen it, the Ohio State marching band did a rousing tribute to video games that included one of the best formation movements seen in a long time during the Zelda tribute. Braxton Miller capped that halftime with a dominating second half against a lost Cornhuskers defense to win 63-38.
The Buckeyes then followed that performance up with another beautiful offensive outburst against Indiana in a 52-49 victory. The top topic of discussion this week in Buckeye Country is the defense, or the lack thereof against two of the better offenses in the conference. The Buckeyes continue to have problems making the basic tackles and pursuit plays necessary to avoid giving up big plays. This is a different type of defense and the lack of depth at linebacker may eventually catch up to Ohio State.
This week should bring a nice breather against a struggling Purdue team at home. Purdue has created problems for Ohio State in recent seasons, but those problems have been exacerbated by an offense that could not score as effectively in 2009 and 2011 as it does in 2012. Even if Purdue finds the same success and scores 24-30 points, that will likely not be enough to win in Columbus this year.
The Buckeyes will be tested again next week on the road against Penn State, so this would be a good week to tune up the defense. Purdue should follow the formula of short passes at the boundaries to force Ohio State into open-field tackling situations. Eventually Ohio State will shut down that weakness, which is bad news for the teams at the end of the schedule.
The Buckeyes barely hold onto the perfect record and the top spot in the power rankings. Another effort like this at home and Michigan will take over. That's something no Buckeye could want. Thankfully these teams still get to settle it all on the field in week 13. Until then, the debate will rage on.
------
Thanks for reading! Please follow David on Twitter, and keep the discussion going there and below!
Keep Reading