SEC Football: Who's the Better QB, AJ McCarron or Aaron Murray?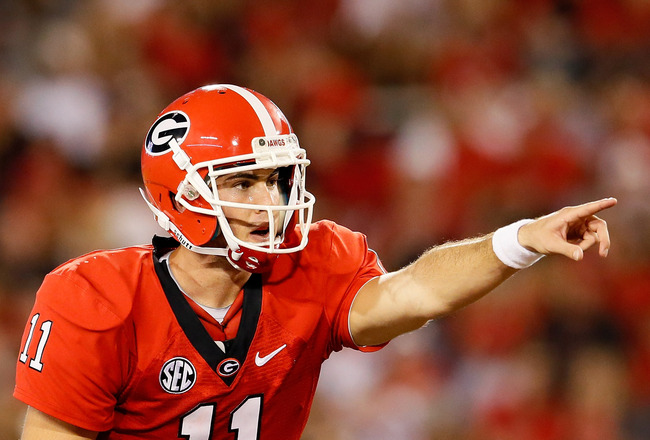 Murray is now in his third season as the starter for Georgia.
Kevin C. Cox/Getty Images
When you're discussing SEC football, usually the first thing to come up is defense. However, two of the best signal-callers in the nation also reside in the powerhouse conference. With that said, is Aaron Murray better than AJ McCarron, or vice versa?
The one thing you can't argue about these two is that their respective teams are headed in different directions at this point in the season.
Alabama is coming off a bye week, as it heads to Missouri looking to move to 6-0 and maintain its No. 1 ranking. Crimson Tide fans still have November 3 circled on their calendars—the date that Alabama travels to LSU for a rematch of last year's BCS National Championship Game.
Georgia, on the other hand, is coming off a crushing 35-7 defeat to South Carolina, in a game that many thought would be the highlight of the weekend. The Bulldogs have their open date this week, as they prepare for the two conference road games to follow.
Coming up, we're going to examine a few reasons why Georgia's QB is better than the Tide's, even if their records might not indicate it.
1. Murray Has Better Passing Mechanics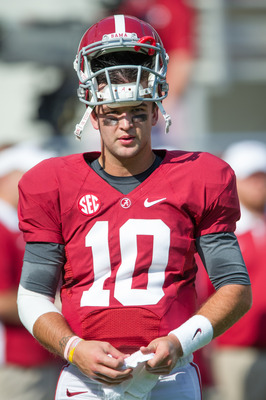 McCarron is sick of being called a "game-manager."
Michael Chang/Getty Images
Before we start to analyze both Murray and McCarron, we need to realize how different their situations are.
Mark Richt is a much more aggressive play-caller and game-planner than Nick Saban. This means that Murray is given an opportunity to shine, whereas McCarron is simply asked to not make mistakes.
Regardless of who's playing in what system, Aaron Murray has better mechanics than AJ McCarron.
According to Alex Brown of OptimumScouting.com, it's one of Murray's best traits:
With respect to his throwing mechanics, the Georgia signal-caller sports a quickened, sudden, rapid release, with an ideal over-the-top delivery. His feet and hands separate simultaneously to begin the motion, and there isn't any wasted motion throughout his mechanics—a quick, snapping action, Murray's throwing mechanics are exactly where they need to be.
Compare that to McCarron, whose release point is very low. That's something he's going to need to rectify if he hopes to make it to the next level.
2. The Georgia QB Has a Better Chance of Succeeding in the NFL
Murray's numbers over the last two years are as good as anyone's in the nation.
Ed Zurga/Getty Images
When it comes to winning and losing, it's no contest between these two.
McCarron has already won a national championship. Not to mention that he and the Tide seem poised to do it again this year.
In contrast, Murray has still only beaten two ranked teams in his three-year tenure as the starter. He remains the only QB in the Mark Richt era to have never beaten a top-10 team.
However, when it comes down to draft day, NFL teams are more concerned with pure talent than they are with how many wins and losses a QB had in college. Does won-loss record matter? It does to a certain extent.
But that doesn't mean that McCarron is going to be considered a better pro prospect simply based on his record. In fact, the only real knock on Murray at this point is that he's only 6'1".
As of right now, per CBSSports.com, Murray is the No. 3 rated QB, while McCarron is No. 6 in a list of prospects for the 2014 draft (both are juniors).
3. He's Shown the Ability to Win Games by Himself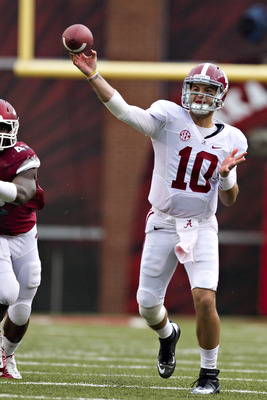 McCarron doesn't play in a system than requires him to carry his team.
Wesley Hitt/Getty Images
Numbers in college can sometimes be as overblown as wins and losses when it comes to evaluating a QB. Murray had 35 TDs last year compared to McCarron's 16.
Does that mean that automatically makes Murray better? Not necessarily.
Alabama fans will argue that if McCarron ran a more pass-oriented offense, the numbers would be the same. Bulldog fans would counter that by saying Murray's record would be better if he had the No. 1 rated defense in the nation, like McCarron has had over the last two years.
One thing they can agree on, though, is the fact that Murray has shown he can carry his team to a victory with his arm. However, he's also been guilty of making mistakes at crucial points in a game.
When a team lives and dies by its QB play as much as Georgia does, there's bound to be slip-ups.
McCarron, on the other hand, has yet to be put in a situation where all the pressure is on him to win the game. Until he shows he has the capability to carry a team down the stretch, Aaron Murray will continue to be a better QB.
Keep Reading