SEC Football: Top 10 Surprising Storylines Through Week 6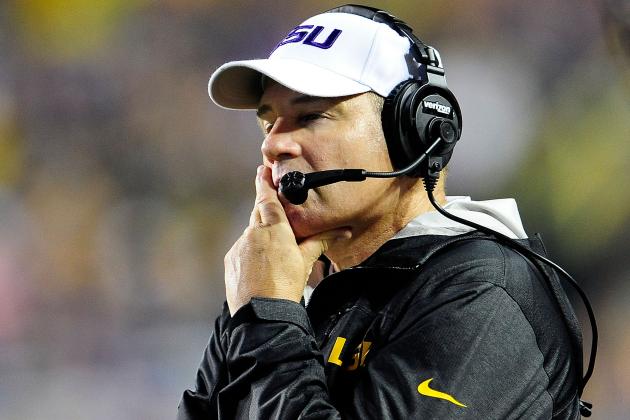 Stacy Revere/Getty Images

The SEC in 2012 has been as predictable as a Christopher Nolan movie thus far.
Seriously, who wrote this book? Looking at you, Big Man upstairs. You sir, not only have a great sense of humor, but you have an elegant taste for drama.
Because as good as the action has been on the field this year in the SEC, it's the drama that's stolen the headlines. Drama such as Arkansas' John L. Smith and the collapse of Arkansas football, or Auburn's Gene Chizik being on the hot seat.
But which story has been the most surprising this season?
Let's take a gander, shall we?
Begin Slideshow

»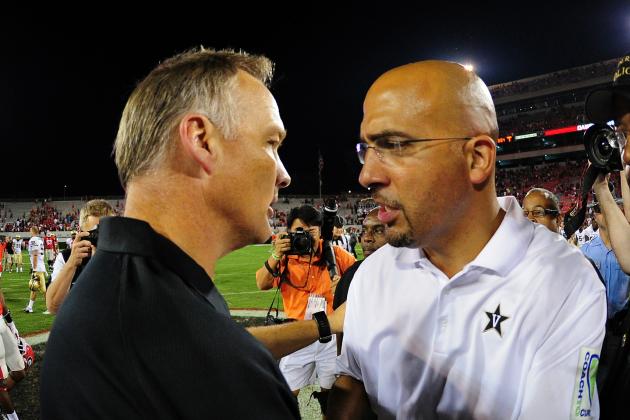 Scott Cunningham/Getty Images

Perhaps making Vanderbilt a contender is just a wee bit harder than what was originally thought.
Look, we all know this is Vanderbilt, and it will never become an Alabama, LSU or Florida—but by golly, James Franklin started to change the culture in just his first season at Vanderbilt.
He didn't make it a powerhouse by any means, but this team went out and competed and earned respect for its tenacity.
So far in 2012, this team hasn't really done the same.
Vanderbilt is just 2-3 and suffered a 48-3 loss to Georgia. It's crystal clear now that Franklin has a lot of work ahead of him just to make Vanderbilt respectable.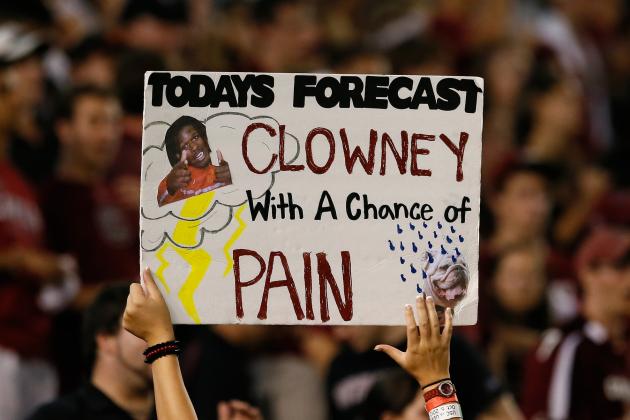 Kevin C. Cox/Getty Images

In a game that was supposed to be closely contested, South Carolina asserted its dominance immediately and defeated Georgia 35-7.
Who saw this coming? Georgia came into the game with a red-hot offense, but this Carolina defense shut it down and held it to 224 total yards. The Gamecocks also forced Aaron Murray to complete just 35 percent of his passes, throw for 109 yards and throw an interception.
Sorry for ever doubting you and thinking this game would be respectable, South Carolina.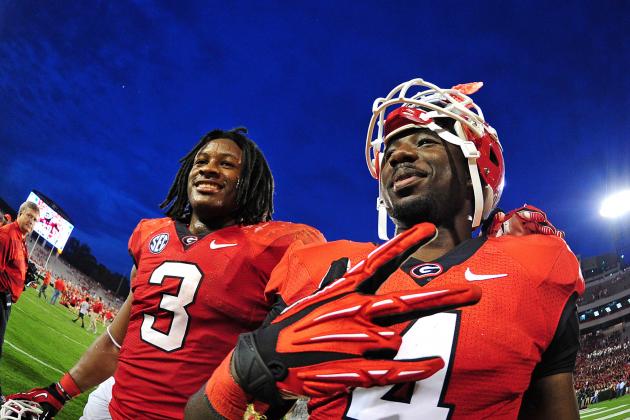 Scott Cunningham/Getty Images

That's what a sign read down in Athens, Ga., and if you're a fan of stellar running backs, you ought to be a "Gurley Man" as well.
Even though Todd Gurley and Keith Marshall combined for just 76 yards against South Carolina, these two are having spectacular seasons.
Even with those poor statistics against the Gamecocks, Gurley has 7.1 yards per carry, 575 rushing yards and nine touchdowns, while Marshall has 7.3 yards per carry, 465 yards and five rushing touchdowns. We knew these kids were good, but we had no idea they were going have this kind of immediate impact.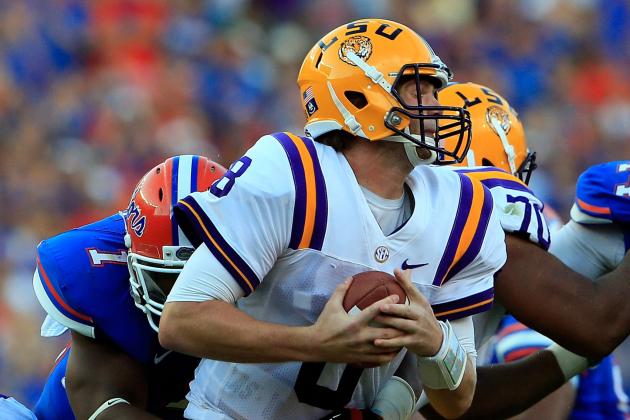 Sam Greenwood/Getty Images

Oh LSU, quarterback play is a forgotten art down in the bayou, ay?
It's still somewhat early in the season, but Zach Mettenberger is considered to be a bust. Plain and simple, the guy isn't as good as fans around the conference thought he would be.
Mettenberger's thrown for 1,174 yards, six touchdowns and only three interceptions this season, but it's not the numbers that are worrisome to Tiger fans.
The lack of awareness in the pocket and inaccuracy are discouraging. Remind you of anyone?
Though the injuries on the offensive line have had an impact on Mettenberger's performance this season, he has greatly underachieved, and the Tigers now have one loss on the season because of it.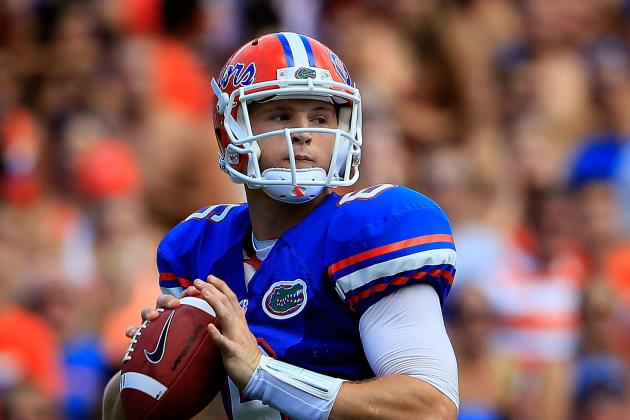 Sam Greenwood/Getty Images

Choot em! Somebody call Troy Landry, because the Florida Gators are loose and wreaking havoc in the SEC.
Will Muschamp has his Gators playing smash-mouth football, and they're 5-0 because of it. More impressively, they beat LSU at its own game to improve to that record.
In the Gators' 14-6 victory, they played dominant defense and were able to produce a strong running game in the second half.
No Urban Meyer and no Tim Tebow? No problem. Florida has something cooking in The Swamp.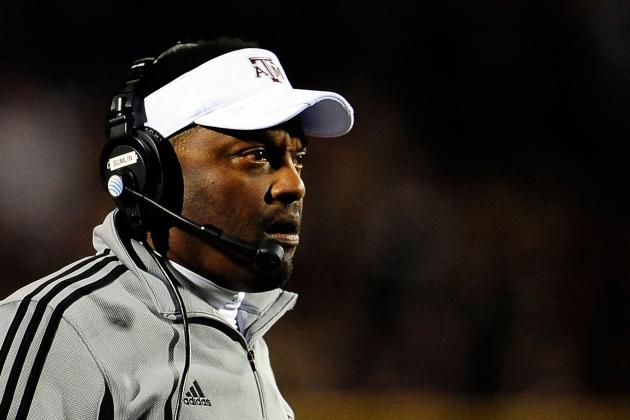 Stacy Revere/Getty Images

"Now, both teams will struggle, but Missouri will compete right away."
How wrong were those presumptions heading into the season? Then again, the resurgence of the SEC East could have a lot to do with it.
Nevertheless, Missouri is 3-3 (0-3 in conference) and coming off a loss to Vanderbilt, while Texas A&M is 4-1 (2-1 in conference) and boasts a Top 25 ranking in both polls.
Another large reason for that is the emergence of one of the SEC's brightest, youngest stars...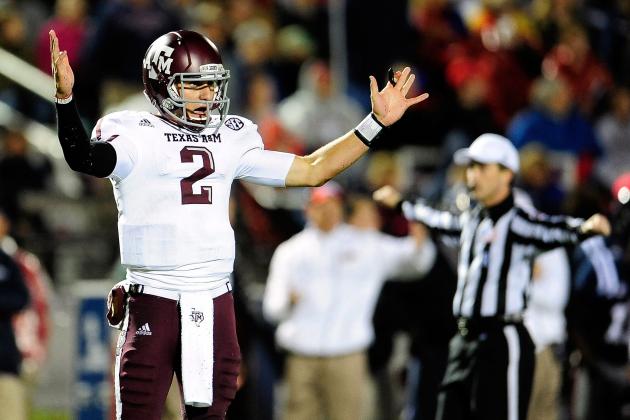 Stacy Revere/Getty Images

It's scary that Johnny Manziel is this good as a freshman.
Manziel is slick in the pocket with his elusive moves, and he's an accurate passer.
It's skills like those that have allowed Manziel to have 1,285 passing yards and 495 rushing yards, while posting 18 total touchdowns with two interceptions through five games.
Having both of those qualities make him a true, dual threat in this league, and if he can maintain this level of production, the possibilities are endless for Manziel and the Aggies.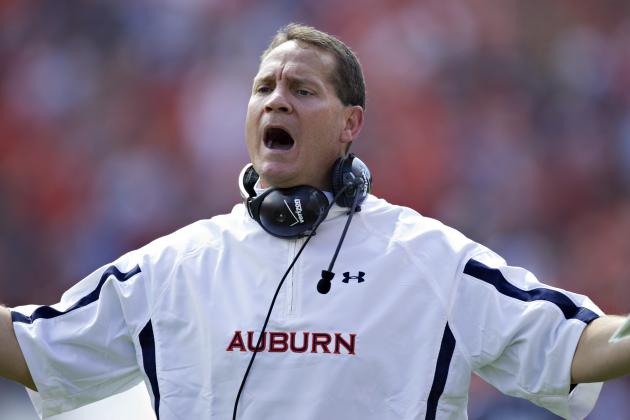 Wesley Hitt/Getty Images

Gene Chizik might be the most unpopular person in the state of Alabama right about now. His Auburn Tigers are now 1-4 on the season, and even worse, they just dropped a game to a dysfunctional Arkansas club at home.
Is it getting warm in here?
Only in the SEC can you win a national championship and be on the hot seat two years later, but that's the culture we've created in the South.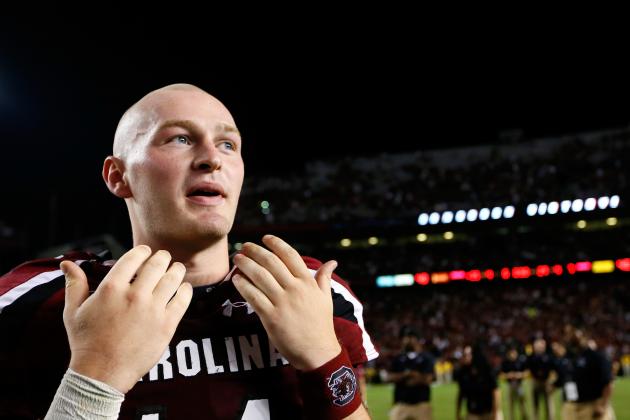 Kevin C. Cox/Getty Images

Well, folks, there's no hiding it any longer—the SEC East is deeper and more talented than the SEC West this season.
It's funny how things change so quickly. Before this season, the SEC West was looked upon as an unbeatable giant with Alabama, LSU and Arkansas all perceived to be top teams in the country.
They earned that, especially after all three schools beat up every team and suffered losses only to each other last year. But that might as well be a distant memory right now.
With Florida defeating LSU 14-6 and South Carolina rolling over teams, including a stout Georgia team, how can you not say the SEC East isn't the better division?
But can they provide a team in the SEC Championship Game good enough to beat an Alabama squad?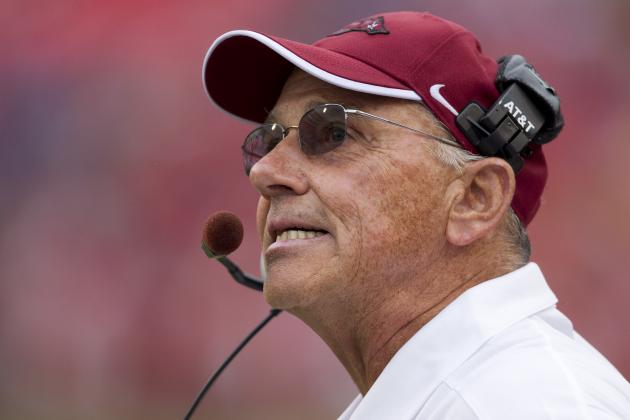 Wesley Hitt/Getty Images

John L. Smith might as well be Satan in Arkansas.
He's so unpopular that Arkansas fans are clamoring for a Bobby Petrino return. You can hear it now, "We don't care what you did Bobby, we just want you back!"
What's wrong with scoring in the offseason, right? Woo Pig Sooie!
In all seriousness, you have to feel terrible for the Arkansas players, and Tyler Wilson most specifically.
Here's a guy who could be playing in the NFL right now, but instead he's fighting an uphill battle at Arkansas with his national championship-caliber team sporting a 2-4 record. Many believed Arkansas would struggle, but no one predicted they'd be 2-4 at some point.