What I Loved and Hated in College Football Week 6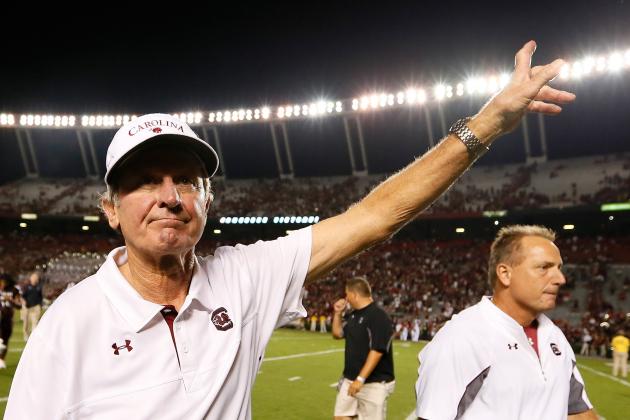 Kevin C. Cox/Getty Images

It was billed as one of the biggest, if not the biggest, weeks of the college football season, and it did not disappoint. Well, I suppose that depends on what your mascot of choice might be and where your allegiance lies.
Florida State added another chapter to the narrative, LSU's offensive woes finally did it in and I'm not sure Mark Richt's group received the memo that there was indeed a game this week. Oh, and Geno Smith continued to do Geno Smith-like things on the road in front of 100,000 fans, which might be the least surprising happening all weekend.
As for the items you might have missed—and there were some fascinating and strange events that unfolded—here is what I loved and hated in Week 6.
Begin Slideshow

»
Where to begin…
I suppose, if your team is set to upset one of the nation's finest squads, the first thing you should do is rip off your shirt and grab the nearest pole. Then you swing your shirt, of course, because why else would you rip your shirt off?
My favorite part of this video—well, besides the gentleman being totally amazing—is the timid security guard not wanting any part of this. You can tell he's uncomfortable about the whole thing, and he might have even said "get down," but that's the about the extent of his involvement.
His work here is done, and this should be strongly considered for the cover of the So You Want to Upset a Top Five Team handbook.
If Lee Corso sees an opportunity to involve a live mascot with his College GameDay pick, chances are he'll gladly take it. With South Carolina taking on Georgia, Corso saw an opening. For the record, we're always up for the inclusion of live animals.
Yes, a rooster made its way onto the GameDay set, and Kirk Herbstreit was absolutely terrified. I have a very similar smile when terrifying situations present themselves, and it's clear that he was not prepared for this concluding event.
Also, the rooster drank some wine, apparently, although we doubt he actually had a sip. Actually, you know what, it's the SEC. All bets are off.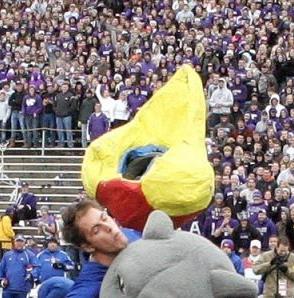 Image Via Bryan Fischer
Just give this photo all of the awards—all of 'em, even the ones that don't involve mascot tackles. Although the context of this photo is still being uncovered, I believe the picture itself tells the story.
That's the Kansas State mascot completing a magnificent form-tackle on someone wearing a Jayhawk head. Scratch that. He was wearing his headgear until he ran into that furry-faced wall.
I love that he didn't lead with his head. In fact, he'll likely be starting for Kansas State at weak-side linebacker next week. There are few things more beautiful than mascots tackling one another, and this photo caught this perfect moment at the perfect time.
Nathan Scheelhaase was the first one to find the end zone in the Illinois-Wisconsin tussle, and he thought this was the perfect time to celebrate this moment with an official.
Sure, why not?
Unfortunately, however, the official wasn't feeling Scheelhaase's high five and instead tried to avoid this interaction altogether. In the process, he nearly fell down head over heels, which could have possibly pushed this already excellent video over the top.
Scheelhaase still went for it, though, and despite his being denied, we give him credit for trying. As for the ref, well, while we understand your rejection, we hope that next time you'll consider answering this magnificent gesture with one of your own.
The officials were awfully busy in the Nebraska-Ohio State game, and a pseudo West Virginia game broke out in the Horseshoe.
On this big Nebraska play, the sideline official was unaware that some field-goal prankster (it was probably an accident, but go with it) positioned the kicking net on the sideline so he would run right into it.
While he was motoring on the sideline, that exact event transpired as he was unaware of the surroundings in front of him. I, for one, admire your dedication, sir, and I appreciate your "run through the wall" (well, net) mentality.
College football needs more refs like you.
When defensive tackles end up intercepting passes, what happens next is a great mystery. They've gotten over the biggest obstacle, which is getting those big bear paws to actually catch the ball, and now the fun has begun.
Will they advance the ball? Will they complete one of the sport's greatest moments and find the end zone? OR…will they fumble?
Unfortunately for Oklahoma's Jamarkus McFarland, that's exactly how this particular FAT-GUY INTERCEPTION ended up. His large body made a move, only to lose the ball moments later. You can just feel the disappoint through him as he pounds the ground with his fist once the ball ends up back with Texas Tech.
Chin up, big fella.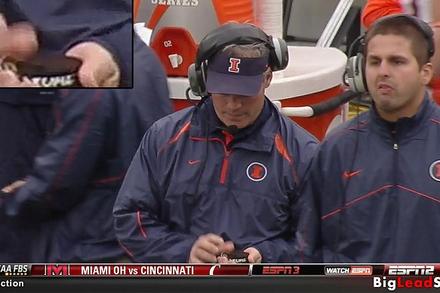 Image Via Big Lead Sports
Oh, the stresses of being a college football head coach.
Tim Beckman knows these stresses well in his first year with Illinois, and he needed some way to take the edge off against Wisconsin. So, he threw in a dip.
No big deal—you've probably dabbled with it on occasion. Unfortunately, however, this is indeed an NCAA violation, which means Beckman will likely hear from the NCAA's Tobacco Committee—because such a thing has to exist. Beckman has already apologized.
I hope this doesn't become a bigger deal than it needs to be. However, if I could provide a few brief suggestions to Coach Beckman:
1. Skoal? Really, bro? You're making good money. You can upgrade to a better cut.
2. Perhaps golf is your future profession of choice. Dipping and smoking cigarettes aren't just allowed, they're encouraged.
Before we get to the bad, let's start with the good.
Matt Elam had a tremendous game against LSU. He forced a huge fumble late, he was everywhere and he was a key reason why Florida won this game. This is the good, and it was very good.
The bad, well, was strange and somewhat unexpected Gator violence. Florida's Loucheiz Purifoy made a superb tackle on a punt return and was greeted by Elam…in the form of a tackle—and a pretty substantial tackle.
This is probably better tackling than we saw throughout the Texas-West Virginia game, and it came between two teammates. That's actually rather impressive. Or sad. Or maybe both.