Georgia vs. South Carolina: Ranking Top Eligible NFL Talent in SEC Showdown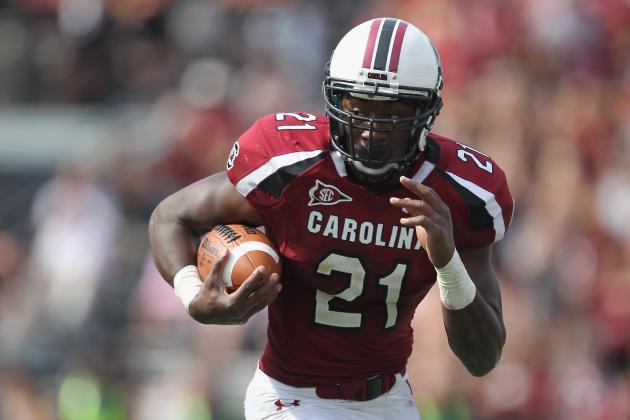 Streeter Lecka/Getty Images

Nothing like great SEC showdowns between two Top 10 teams that will help clear up the national championship picture. But while you are watching to see which team wins the South Carolina-Georgia matchup, you should also keep your eye on future NFL stars.
And yes, there are many players in this game that will be playing on Sundays.
These squads are not highly ranked because there are a bunch of scrubs on the roster. Both teams are considered the cream of the crop in the SEC because many of these players will eventually land a spot at the next level.
Even players such as Jadeveon Clowney and Todd Gurley could eventually suit up for an NFL team, but both of those players have a couple years before becoming eligible for the draft.
Let's take a look at the top eligible players in this game that could make an NFL roster as early as next season.
Begin Slideshow

»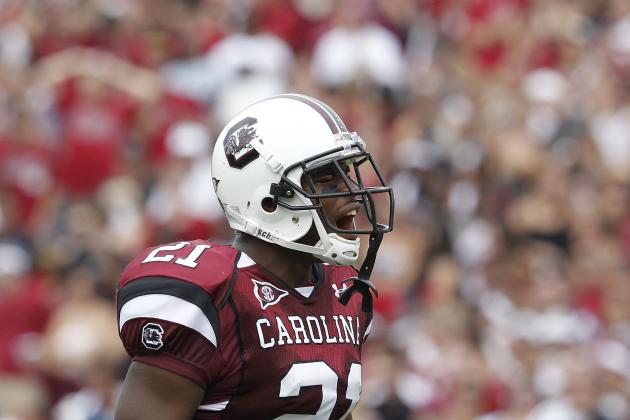 Mike Zarrilli/Getty Images

DeVonte Holloman, LB, South Carolina
Abry Jones, DT, Georgia
D.J. Swearinger, S, South Carolina
Shawn Williams, S, Georgia
Devin Taylor, DE, South Carolina
Cornelius Washington, LB, Georgia
Branden Smith, CB, Georgia
Shaq Wilson, LB, South Carolina
Tavarres King, WR, Georgia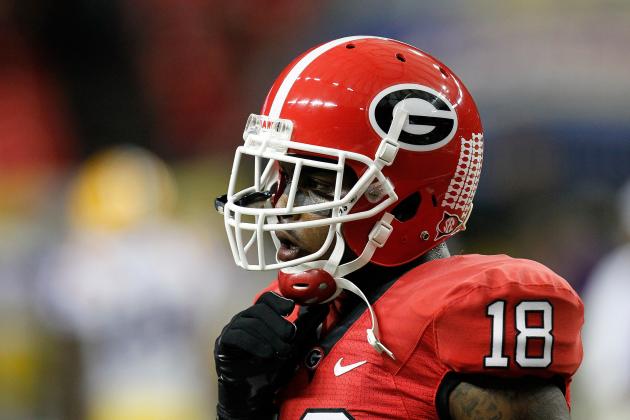 Kevin C. Cox/Getty Images

In a draft class that should be absolutely loaded at the safety position, Baccari Rambo is certainly one of the best there is to offer. Luckily we will all get a chance to watch him play this weekend, as he recently made his season debut last week after being suspended for the first few games.
Due to the suspension, Rambo may have hurt his draft stock a little, but with big SEC schools on the schedule such as South Carolina, Florida and Auburn, the senior will have a chance to shine once again.
There is a lot of talk out there that Rambo isn't exactly the most consistent player, as he appears to take plays off at times. However, he is about as hard of a hitter you are going to find and is solid in pass coverage, particularly in the vertical passing game.
With a safety this athletic and with this much upside, expect the first-team All-American to go somewhere in the third- or fourth-round next year.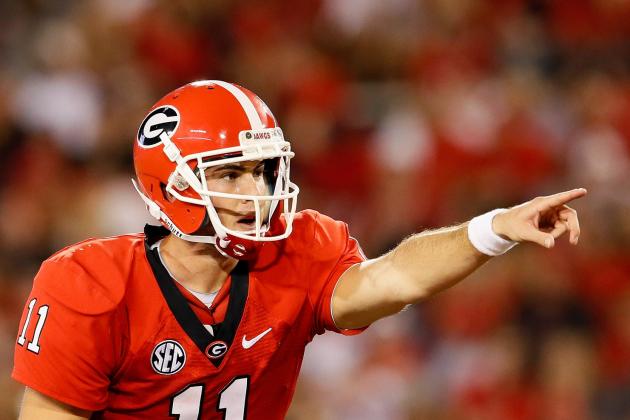 Kevin C. Cox/Getty Images

Aaron Murray could end up leaving Athens a year early if he decides that he has improved his draft stock enough. And with the horrible play of the Arkansas Razorbacks and Tyler Wilson, it is now Aaron Murray that looks like the best quarterback in the SEC.
Murray is an athletic quarterback, who has the strong arm and great delivery. His mechanics are solid, and although he isn't much of a runner, he moves around the pocket well and is capable of picking up a first down with his legs. The knock on him will be his height at 6'1'', but I think the same exact thing was said about Russell Wilson and Drew Brees.
Murray could leave now and possibly end up in the second round, or he could return and become one of the elite quarterbacks in the 2014 draft.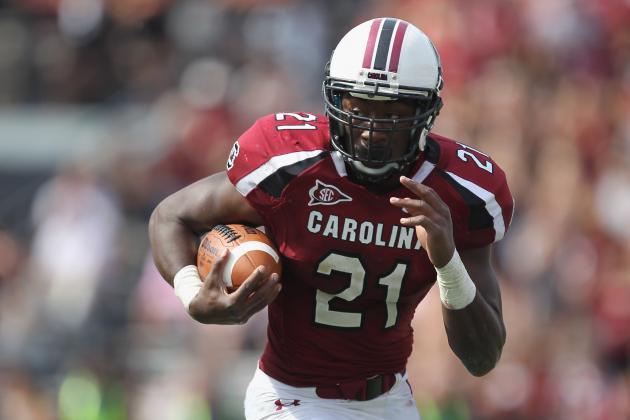 Streeter Lecka/Getty Images

Marcus Lattimore has been arguably the best running back in college football the last couple of years and may have earned that title again this season.
He isn't the bulkiest back at 6'0", 220 pounds, but he plays much bigger than he actually is. He is consistent in pass protection, runs with a physical and aggressive style and is also an underrated receiver, as he has 64 receptions in his time at South Carolina.
Lattimore has a lot of upside and could become a solid starting running back for an NFL team. The downside is that he is still recovering from an ACL injury that may shy some teams away from picking him.
As he continues to recover and produce at a high level, expect him to go no later than the second round. However, he does still have a year of eligibility remaining, which he may exercise if he feels his draft stock took a big enough hit.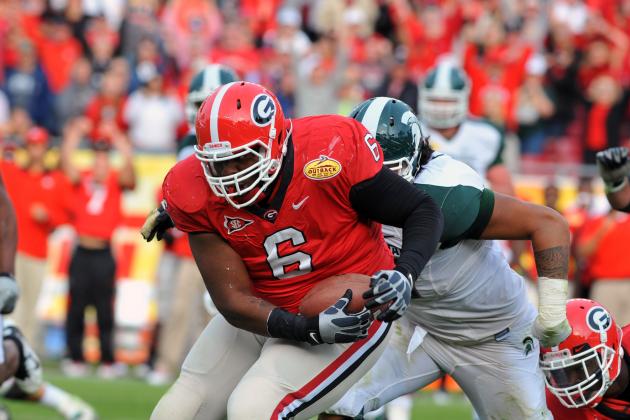 Al Messerschmidt/Getty Images

While you hear a lot about defensive linemen from teams such as LSU and Alabama, do not sleep on John Jenkins from Georgia.
At 6'3", 358 pounds, there is simply no moving this guy in the middle of your defensive line. He clogs up running lanes, gets off the ball well and has terrific lateral movement for a guy as big as he is. Jenkins uses his hands well to interrupt passing lanes and is capable of chasing down quarterbacks despite being well over 300 pounds.
Jenkins is your perfect nose tackle for a 3-4 scheme, which are hard to find as they don't exactly grow on trees. I don't see this guy going anywhere but the first round when the season comes to an end in 2012.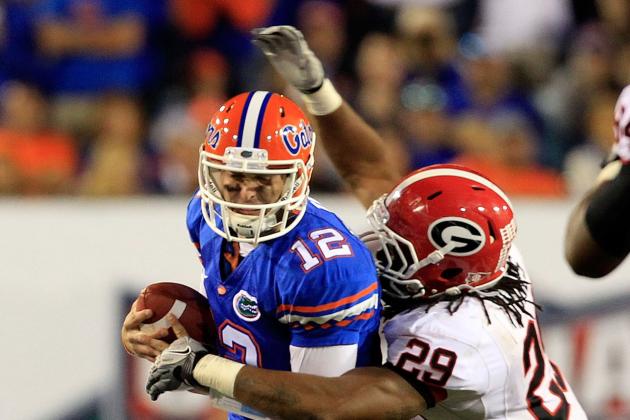 Sam Greenwood/Getty Images

I know many NFL teams that could use a pass-rusher, and many of those teams will have a top-five pick next season. If you would like a defensive player that can do it all, pressure the quarterback and make game-changing plays, Jarvis Jones is your guy.
Although only in his second year at Georgia, Jones has quickly made a name for himself as not only the best defensive player, but arguably the best player in college football at any position. He can play either the linebacker or defensive end position and has a knack for getting after the quarterback.
And while we have seen many defensive ends inconsistent in stopping the run, Jones is capable of shedding blocks and getting to the running back as well. He is a hustle player, has a ridiculous burst off the edge and is also solid in pass coverage.
Simply put, Jones is a complete football player that will be one of the first guys to hear his name called on draft day.