LSU vs. Florida: What Tigers Must Do to Avoid the Upset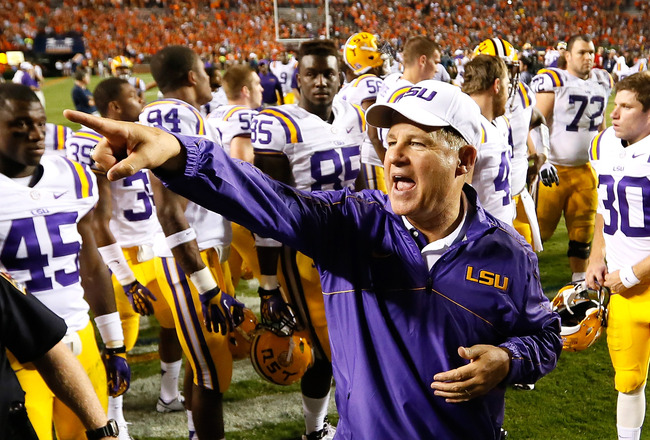 Kevin C. Cox/Getty Images
The SEC showdown that everybody will be paying attention to is the Georgia-South Carolina matchup, but the game between LSU and Florida is worth watching as well.
An undefeated LSU team will travel to Gainesville, Fla. to take on a Gators club that has found a way into the Top 10 of the AP Poll. LSU will be out to prove that this is still a championship caliber team, while Florida just wants to show everybody that it is still up there with the other SEC elite programs.
Due to the Tigers struggling in the first few games, many actually have the home team winning this game in a minor SEC upset. And with six of the last eight meetings being decided by less than 14 points, certainly anything can happen.
Here are five things the Tigers must do in order to avoid losing this weekend in Week 6.


Note: All stats come from cfbstats.com unless otherwise noted.
Take the Crowd out Early
You can talk about Death Valley all you would like, but Florida has one of the best home atmospheres in the country as well. In fact, due to the playing surface being below ground level, the fans are on top of you, which provides a venue that is probably louder than where the Tigers play.
LSU had trouble a few weeks ago in Jordan–Hare Stadium because the crowd was able to get into the game, as a close contest gave Auburn fans something to cheer about. The longer the underdog remains in the game and the fans believe they can actually win, the louder and more difficult it will be for LSU to seal the victory.
The Tigers must come out strong and throw the first couple of punches to make a simple thing like thinking a little easier.
Get Mad and Angry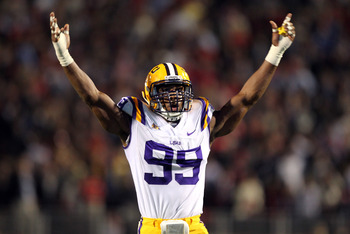 Joe Murphy/Getty Images
LSU has won the last two meetings against Florida, including a 30-point blowout that happened last season back in Baton Rouge, La. The problem is that neither team looks the same from a year ago, as Florida seems to be on the rise, while LSU has appeared to have taken a step backwards.
LSU hasn't really played anybody yet that matches up with them from a talent standpoint until now. And while the Tigers may still be the favorite, those feisty Gators are overdosing on confidence heading into this matchup.
Just listen to what defensive end Lerentee McCray had to say, according to Zach Abolverdi of gatorsports.com.
'We just didn't really play well [in 2011]' McCray said. 'They scored 41 points, so I guess everything just went wrong. That ain't gonna happen this year. If we come ready to play, they're not gonna do nothing.'
Oh no he didn't. Now I know you aren't going to let those Gators talk to you like that.
The team that the college football world saw last season played with a chip on its shoulder and had a certain type of swagger to its game. This year, it seems like that chip is gone, although losing in the national championship should have made it even bigger.
LSU needs to come out of the tunnel with that attitude we saw last season. Maybe McCray provided some of that motivation the Tigers needed to wake them up.
Get a Passing Game Going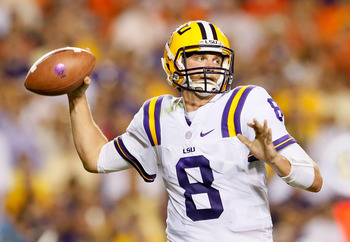 Kevin C. Cox/Getty Images
Have you seen Zach Mettenberger lately?
I heard about him all offseason but he has been a ghost all season long, as I'm not sure he is still the starting quarterback for the Tigers.
Seriously though, Mettenberger was supposed to be the guy that actually gave this team a passing game under head coach Les Miles. He had the size, arm strength and the head coach talked about him so much, you thought he would actually make a difference.
Everybody thought the Tigers would open up the playbook in 2012, but halfway through the season, LSU is ranked 12th in the SEC in passing yards. Mettenberger is completing a solid 65 percent of his passes, but his 23.8 attempts a game is ninth in the conference.
Easing the quarterback into the year is cool but this is conference play now.
Play time is over and you must have somewhat of a balanced attack if you are going to win many games. Players such as Jarrett Lee and Jordan Jefferson were able to make plays when they needed to; it is time for Mettenberger to do the same.
Stop Mike Gillislee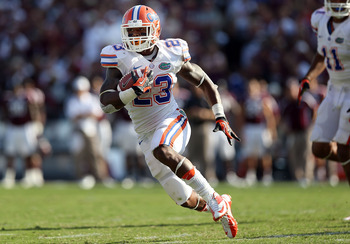 Ronald Martinez/Getty Images
You want to know what the Gators are going to do on the offensive side of the ball? They are going to hand it off to a senior running back named Mike Gillislee.
You're welcome.
The senior running back is averaging 100 yards on the ground a game, which is good for second in the SEC. He is also averaging a little over 17 carries, which is good for third in the conference. He is the workhorse for this team and has done a great job of leading a rushing attack that is ranked 20th in the country.
Gillislee has proven to be the playmaker that the Gators offense was desperately lacking last season and he has a solid combination of power and speed. Although LSU still has that dominate run defense (Allowing 83 yards, which is good for third in the SEC), the Tigers haven't really faced a running back as talented as Gillislee is.
LSU must do a great job of slowing down the running game and forcing quarterback Jeff Driskel to throw the football. If the Florida offense depends on the sophomore quarterback winning it with his arm, it will likely be a long day for the folks in Gainesville.
Play Better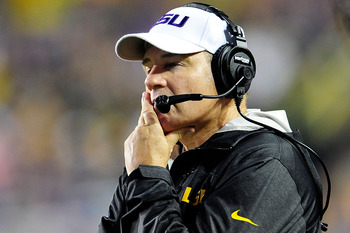 Stacy Revere/Getty Images
How much easier can it get right?
But while we know this LSU team has more talent than almost any team in the country, the Tigers are doing a great job of hurting themselves. For a team that turned the ball over 10 times all of last year, they have already coughed the ball up eight times in five games. The 8.4 penalties the team is averaging a game is ranked dead last in the SEC.
Even kicker Drew Alleman, who was automatic last season, has missed two kicks inside 40 yards.
LSU just simply needs to play the way it is capable of playing, as even Les Miles will tell you, according to the AP (via the Washington Post):
We need to play better. Miles said on Monday. We need to be consistent with our culture. We had uncharacteristic turnovers. I'm glad we're getting them out early. We can't afford them as we go forward.
Florida is a team that has forced five turnovers in the last two games. If the sloppy play continues for LSU this weekend, a loss will likely be the final result.
Keep Reading