College Football 2012: Ranking the Week 6 Tailgating Sites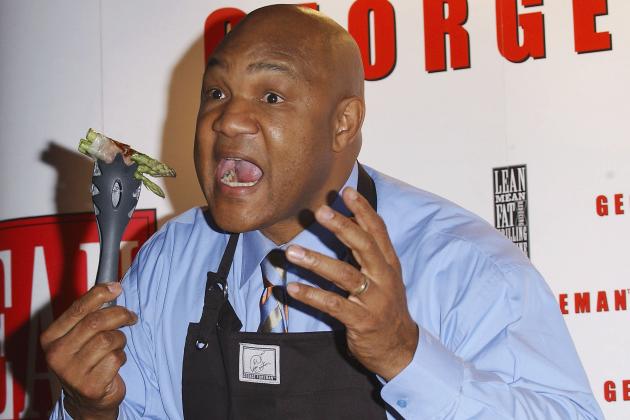 Steve Finn/Getty Images
The Ultimate Grillmaster.
Fans are one of the most dedicated aspects of sports programs. College football tailgates are one way to prove that.
Folks of all ages come to the stadium hours before kickoff to combine family, friends, food and football.
Every college football game has some form of pregame festivities surrounding the stadium. In this slideshow, I have chosen the 10 matchups that should yield the best tailgates in Week 6.
Let's fire up the grill.
Rankings appear as follows: Number in AP poll/USA Today poll. Rankings as of October 3.
Begin Slideshow

»
No. 7/8 Kansas State vs. Kansas
Kansas State and Kansas play every year in the Sunflower Showdown for the Governor's Cup.
Kansas has won nearly 60 percent of the meetings all-time—which date back to 1902—but the Jayhawks have not won since 2008. Kansas State is the heavy favorite to win in 2012 as well.
Heading into Week 6, the Wildcats are very much in the national championship discussion. Defending the home turf is essential to keeping that dream alive in Manhattan.
I expect the fans to create a wild atmosphere in this one, and that all starts during the tailgate.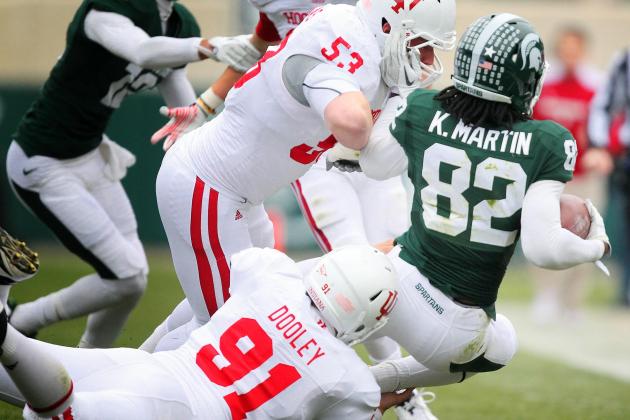 Mike Carter-US PRESSWIRE

Indiana vs. No. 29/30 Michigan State
Indiana and Michigan State have met 62 times since 1922. The Hoosiers and the Spartans have played for the Old Brass Spittoon 54 times since 1950.
Michigan State has won over 66 percent of the meetings all-time and has not lost since 2006. The Spartans are expected to take this one by two touchdowns.
Michigan State has already faced three of the Top 27 teams in the nation through Week 5 (Boise State, Notre Dame, Ohio State). The Spartans came away with only one win, which was by three points to Boise State.
Indiana has not played nearly as tough a schedule, but the Hoosiers are 0-2 since losing starting quarterback Tre Roberson for the season.
You might think the Spartans should win this game easily, but this is the first time they should be tested on the road. Also, any time a trophy is involved in a conference game in college football, predictions mean very little.
Indiana will want to put away Michigan State just like the fans will put away beers and sandwiches at the tailgate.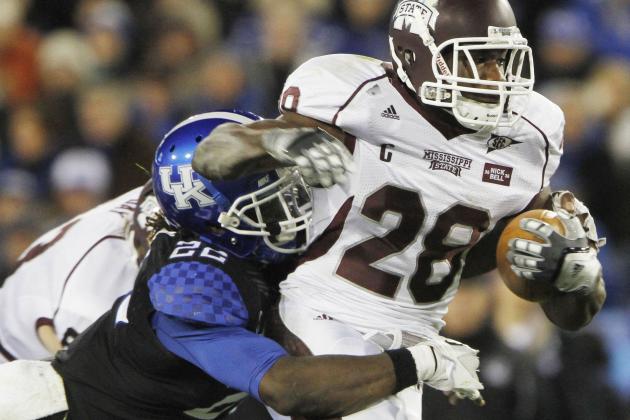 Mark Zerof-US PRESSWIRE

Kentucky vs. No. 20/19 Mississippi State
Kentucky and Mississippi State have met 39 times since 1914. The Wildcats lead the all-time series 20-19, but they have not won since 2008.
Like the Old Brass Spittoon rivalry does for Michigan State, this game looks like a slam-dunk victory for Mississippi State in 2012. Not so fast, though.
Kentucky is 1-4 on the season, but the Wildcats have played the second-strongest schedule in FBS through Week 5, according to sports-reference.com/cfb. With that said, expect the home team to be well prepared for this game.
Mississippi State has not been tested so far in 2012 from a strength of schedule standpoint, but the Bulldogs have not really dominated their opposition.
Mississippi State is only favored to win by 10 points. A projected close contest in the SEC between rivals really lends itself to a great tailgate.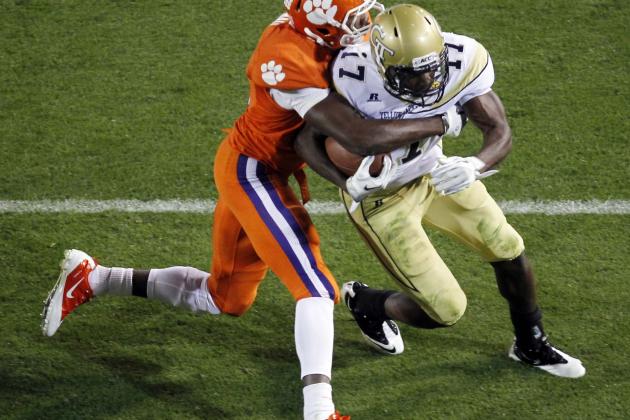 Josh D. Weiss-US PRESSWIRE

No. 15/15 Clemson vs. Georgia Tech
Clemson and Georgia Tech have met 77 times since 1898. The Yellow Jackets lead the all-time series 50-25-2.
Like the games discussed in the two previous slides, this game looks to be lopsided at first glance. Georgia Tech has one win in four tries against FBS programs in 2012, and Clemson is a Top 15 program heading into Week 6. The history of this rivalry, though, suggests the Tigers should not sleep on the Yellow Jackets.
Just last season, No. 6 Clemson lost to unranked Georgia Tech by two touchdowns. In fact, the Tigers have won one game in this series since 2007.
Fans will battle food and drink at the tailgate, and Clemson supporters ought to dispose of their "opponents" properly; otherwise, many insects will swarm them. The same goes for the football team.
No. 26/23 Cincinnati vs. Miami (OH)
Cincinnati and Miami (OH) have met for the Victory Bell 116 times since 1888. This is one of the oldest and most contested rivalries in college football.
The RedHawks lead the all-time series 59-50-7, but they have not won since 2005. Like all the games discussed in this slideshow thus far, there seems little reason to believe the favored team (Cincinnati) should lose in 2012. Indeed, the Bearcats are nearly three-touchdown favorites.
The age of this series has put it on this list over some more competitive games happening in Week 6. Also, these two schools are about a 50-minute drive away via U.S. Route 27.
There should be plenty of bad blood and good food on hand at this tailgate.
Eric Francis/Getty Images

No. 12/NR Ohio State vs. No. 21/20 Nebraska
Our first meeting of Top 25 teams in the AP poll brings us to the Horseshoe.
This season, thanks to a bowl ban, Ohio State is playing mostly for pride. Buckeyes Nation sure has a lot of that.
Ohio State fans finally get to see a ranked team visit, which should make the tailgate that much more intense. They should prepare for a real test from Nebraska. The Buckeyes come into this game undefeated, but they have not truly dominated an opponent since Miami (OH) came to Columbus in Week 1.
The Cornhuskers bring a prolific offense to the table. Nebraska ranks No. 10 in FBS in scoring offense through Week 5 (44.8 points per game) and has an average of 90 more rushing yards per game than passing yards.
The oddsmakers like the Buckeyes by only a field goal in this game.
Nebraska defeated Ohio State in 2011—the Cornhuskers' first season in the Big Ten. Though these two teams should not be considered rivals just yet, in time this series should get very heated.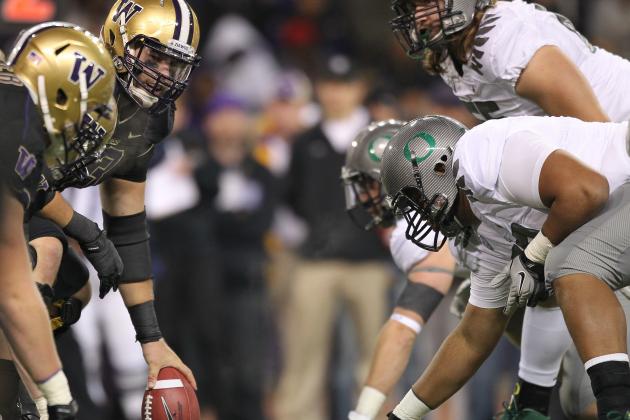 Otto Greule Jr/Getty Images

No. 2/2 Oregon vs. No. 23/26 Washington
Oregon and Washington have met in the Border War 104 times since 1900.
The Huskies lead the all-time series 58-41-5, but they have not won since 2003. Oregon is expected to win the 2012 meeting by over three touchdowns.
The Ducks have rolled through their opponents so far this season, but the Huskies should present the toughest test yet. Washington upset Stanford in Week 5 and looks to pull off another upset in Week 6.
With this game in Eugene, you will not find roasted duck on the tailgate menu.
No. 11/9 Texas vs. No. 8/7 West Virginia
The result of this game will shake up the Big 12 standings and the national championship discussion.
West Virginia will play its inaugural Big 12 conference road game, while Texas will want to assert its status as Big 12 royalty at home.
This game should bring plenty of surprises because these teams are so unfamiliar with each other. The fans will do their part in the stands and in the tailgate, but what will the Longhorns do on the field?
All of Big 12 country, if not the whole country, will be watching this contest.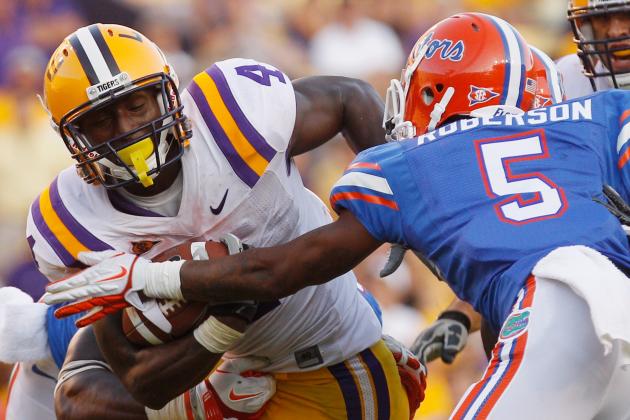 Chris Graythen/Getty Images

No. 10/11 Florida vs. No. 4/3 Louisiana State
Florida and Louisiana State have met 58 times since 1937.
The Gators lead the all-time series 30-25-3, but the Tigers have won the last two games.
This game always carries a lot of national significance, and 2012 is not different. The winner will have an easier road to a BCS bowl, while the loser will have to climb its way back up the SEC ladder.
LSU had a much more difficult time putting away FCS opponent Towson than expected in Week 5, while Florida finally dominated an opponent in 2012 (38-0 win vs. Kentucky) in its last game. Nevertheless, this contest will feature two elite college football programs.
I expect this game to come down to turnovers and penalties. You could say that for every college football game, but there is little margin for error in a game of this magnitude.
The college football world will have its eyes on this SEC battle.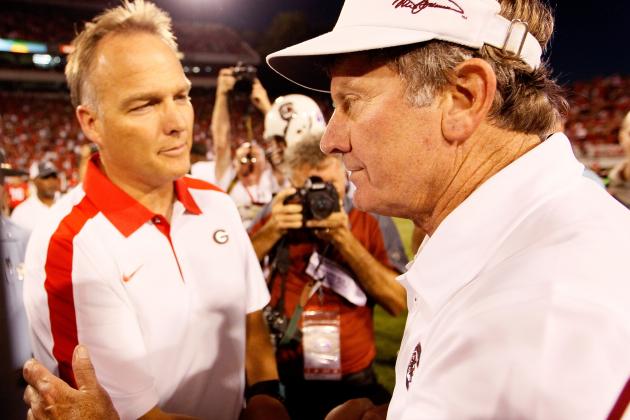 Kevin C. Cox/Getty Images

No. 6/6 South Carolina vs. No. 5/5 Georgia
South Carolina and Georgia have met 64 times since 1894.
The Bulldogs lead the all-time series 46-16-2, but the Gamecocks have won the last two games.
Like the games discussed in the two previous slides, the result of this one will shake up the national championship picture. The winner will also have the fast track to the SEC East championship after six weeks of the 2012 season.
South Carolina and Georgia are separated by three hours on the road and one spot in the polls.
ESPN's College GameDay will broadcast from Columbia, so "The Worldwide Leader in Sports" thinks this will be the best game in the country in Week 6. It is on the top of my list too.