Predicting All Top 25 Week 6 College Football Games Against the Spread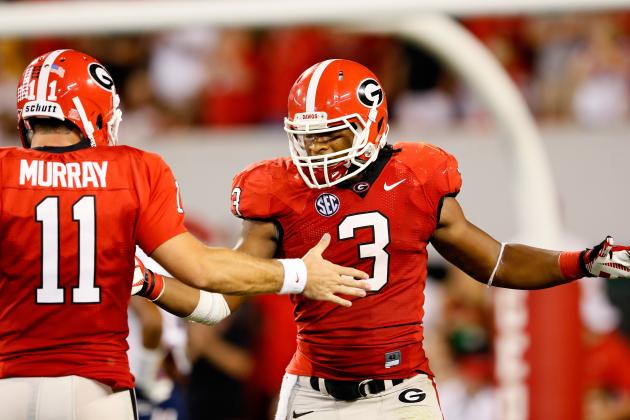 Kevin C. Cox/Getty Images

With conference play now hitting full stride, Week 6 of the college football season features some key league matchups that are the best we have seen all season.
The weekend slate offers 22 of the AP Top 25 in action, and five games with Top 25 teams playing one another. We have finally made it past the point where there are cupcake games with no odds to choose from.
Without question the most intriguing games of the week can be found in the SEC, as Georgia travels to South Carolina and LSU will be in Gainesville taking on Florida.
Among the other must-see games in Week 6 are West Virginia at Texas, Nebraska at Ohio State and Washington at Oregon.
Predicting the winner of a game is one thing, but choosing the winner against the spread is a completely different story. Here is an analysis and prediction of all the Top 25 college football matchups against the spread.
*All times Eastern; odds via Sportsbook.ag
Begin Slideshow

»
Harry How/Getty Images

When: Thursday, Oct. 4 at 9:00 p.m.
Line: USC -14
USC is coming into this game off a bye week, but still stinging from the Week 3 loss to Stanford.
The Trojans did bounce back against Cal, but there are still a lot of questions to be answered, particularly along the offensive line. The skill positions, however, are a different story.
Utah is also coming off a bye, but it did not look impressive during their 37-7 loss at Arizona State September 22.
Losing quarterback Jordan Wynn is detrimental for the Utes, who may not have the level of talent to recover.
Pick: USC covers in what should be about a three-touchdown victory.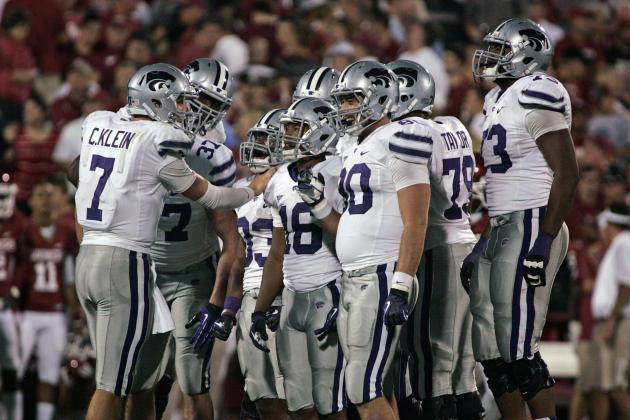 Brett Deering/Getty Images

When: Saturday, Oct 6 at noon
Line: Kansas State -24
Kansas State is fresh off one of its biggest wins in school history and has a legitimate shot to contend for a national championship.
Quarterback Collin Klein is one of the best in the country and continues to improve week to week. He is certainly the key to the Wildcats offense.
Kansas comes into the game losers of three straight and looking like a team that could go winless in the Big 12.
Dayne Crist has not been the answer for Kansas behind center, and the Jayhawks will struggle to score points in Manhattan. It is going to be a long rebuilding process for Charlie Weis.
Pick: Kansas State covers and wins this game rather easily.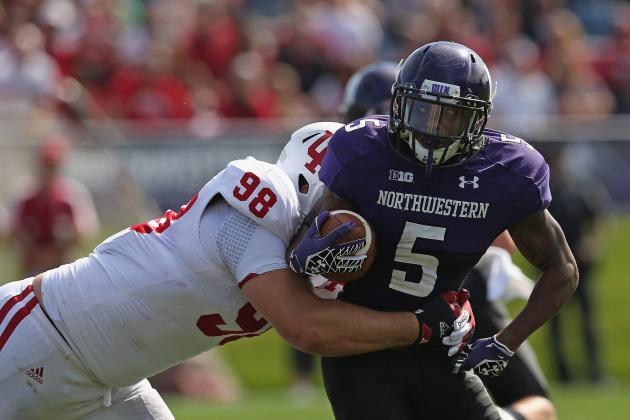 Jonathan Daniel/Getty Images

When: Saturday, Oct. 6 at noon
Line: Penn State -3
It is rare that an undefeated team like Northwestern would be a three-point underdog against a team like Penn State, but that is the case for the 5-0 Wildcats.
The Wildcats have been one of the biggest surprises in the Big Ten, and even though they are on the road, they will have far too much on offense for the Nittany Lions to hang.
Penn State has also performed above expectations, but it has only played one team above .500. That was a loss at home to Ohio.
Still, at 3-2, the Nittany Lions continue to turn heads and appear to have a decent shot at finishing with six or seven wins.
Pick: This one is going to be close for a while, but Northwestern will just have too much in the end. The visiting Wildcats win by a touchdown and cover the spread in the process.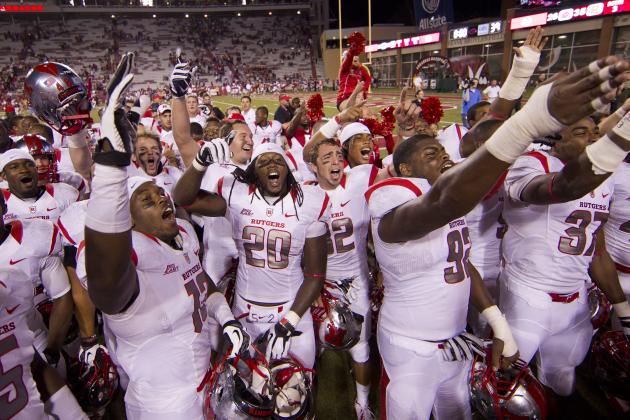 Wesley Hitt/Getty Images

When: Saturday, Oct. 4 at noon
Line: Rutgers -9
Another one of the early surprises of the season, Rutgers does it with a stingy defense that is only allowing 12.8 points a game. That is good for 10th in the nation.
Running back Jawan Jamison has been carrying the load with 491 yards in four games. The Scarlet Knights are serious contenders in the Big East.
Connecticut has been up and down, but it also has a defense that ranks in the top 25 in points against. The offense, however, leaves a lot to be desired.
The Huskies are 3-2, and Rutgers will be their biggest test to date. Connecticut was able to hang with North Carolina State, but Rutgers is on another level.
Pick: Even though Rutgers has not played a single team with a winning record, a nine-point spread at home against Connecticut will be easy an enough cover. Look for the Scarlet Knights to win by 17-plus.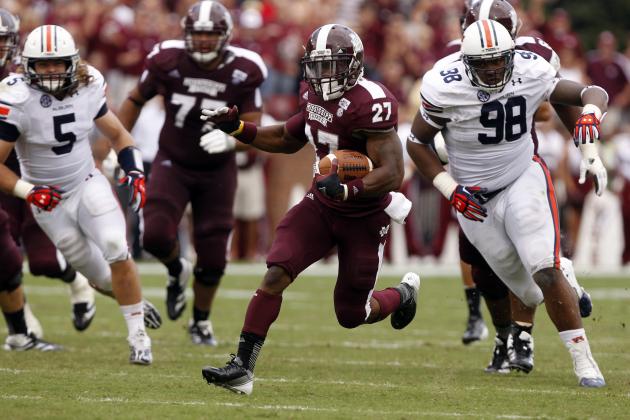 Butch Dill/Getty Images

When: Saturday, Oct 4 at 12:21 p.m.
Line: Mississippi State -10.5
Mississippi State is another of the surprise teams this year, and due to an easy conference schedule it has a chance to win nine or 10 games.
The Bulldogs struggled on the road against Troy a few weeks back, and that might be an indicator of things to come when they travel to Lexington.
Kentucky is easily the worst team in the SEC, as it's allowing over 30 points a game. There are certainly plenty of question marks on both sides of the ball, though.
One of the biggest questions comes from the quarterback position due to the injury to starter Maxwell Smith. Kentucky did show improvements against South Carolina over the weekend.
Pick: The Wildcats will be able to hang with a slightly overrated Mississippi State team and cover the spread. Take Kentucky and the points.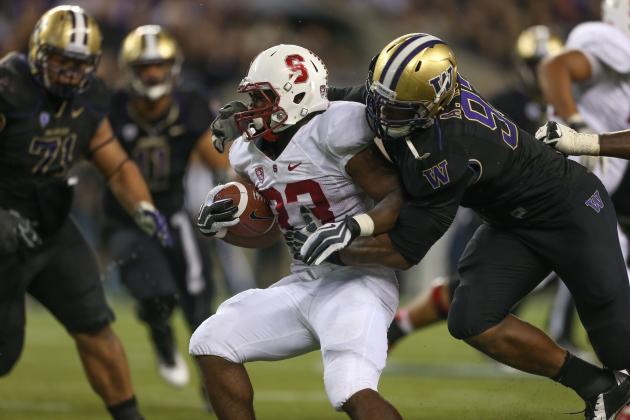 Otto Greule Jr/Getty Images

When: Saturday, Oct. 4 at 3:00 p.m.
Line: Stanford -9.5
The Cardinal are not going to be happy campers after losing to Washington last Thursday. That is not good news for Arizona State.
Stanford goes as running back Stepfan Taylor goes. Look for him to get a bulk of the carries and the Cardinal to concentrate heavily on the run.
Arizona suffered a disappointing loss to Oregon State over the weekend and has a lot of questions to answer, particularly on the defensive side of the ball.
The Stanford defense will be able to slow down the high-flying attack of Rich Rodriguez and company, much like Oregon did.
Pick: Seeing this game with a single-digit margin of victory would be surprising. The Cardinal are going to win the battle up front and come out with a three-touchdown victory.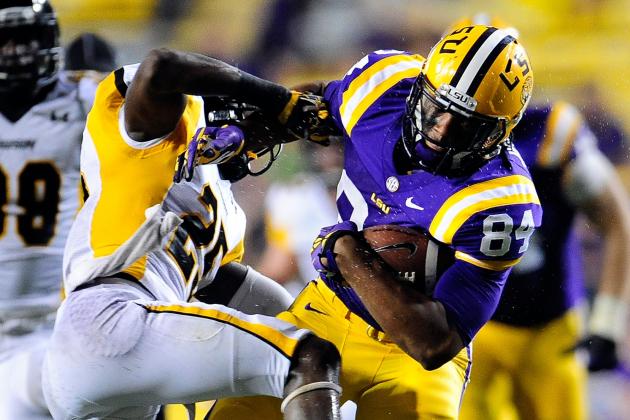 Stacy Revere/Getty Images

When; Saturday, Oct. 4 at 3:30 p.m.
Line: LSU -2.5
Defense is the name of the game for LSU, but to win at Florida, the Tigers are going to need a little help from quarterback Zach Mettenberger.
The running game will not be a problem, but Mettenberger will need to avoid turnovers in what is going to be a close game.
Florida has been a pleasant surprise in the SEC East and helped the revival of the division. With the talent on the Florida defense, LSU is going to have a hard time putting points on the board in this one.
Perhaps the key to the game will be how the Gator offense fares against that Tiger defense.
Pick: Something tells me LSU is going to come up big on the road in this one and leave Gainesville with a two-score victory. Take LSU and give up the 2.5 points.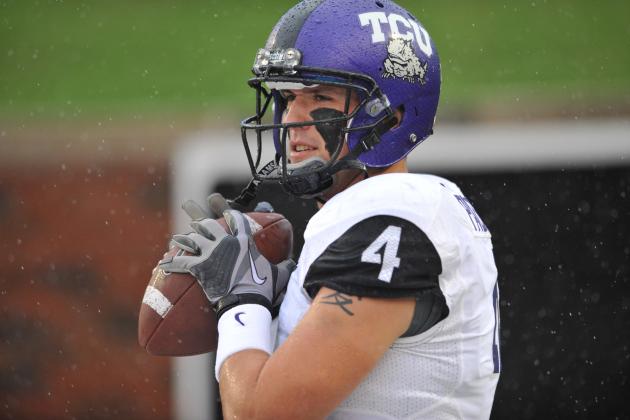 Cooper Neill/Getty Images

Update (Thursday, 10/4, 10:30 AM ET)
Sportsbooks have allegedly begun pulling down the TCU-Iowa State point spread after Casey Pachall's reported DWI arrest, per Bleacher Report's Adam Kramer.
-- End of Update --
When: Saturday, Oct. 4 at 3:30 p.m.
Line: TCU -11
TCU has a defense that ranks No. 2 in the country, allowing only 7.3 points per game. Every team the Horned Frogs have played, however, has a losing record.
This will be the first real challenge for TCU, and it should be a good test for quarterback Casey Pachall.
Iowa State had Texas Tech on the ropes this past weekend, and it comes in 3-1.
The Red Raiders are likely to finish near the bottom of the Big 12, but they are going to want to welcome TCU to the league in an unfriendly manner. The Cyclones also have a stingy defense of their own, allowing only 14 points a game.
Pick: Eleven points seems like an awful lot for TCU to cover. I can't see the Horned Frogs winning by more than a touchdown and a field goal. Take the Cyclones and the points in this one.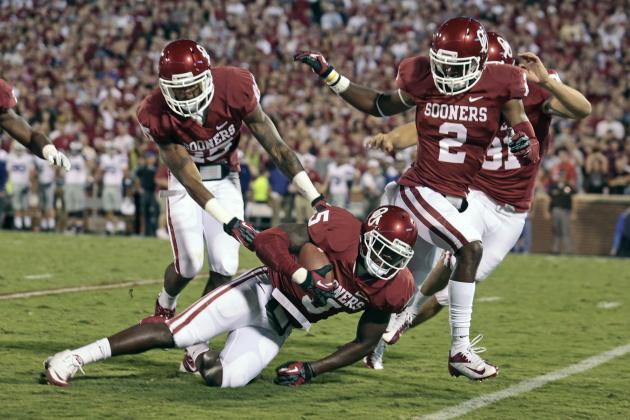 Brett Deering/Getty Images

When: Saturday, Oct. 4 at 3:30 p.m.
Line: Oklahoma -5
It is very rare to see a team like Oklahoma as only a five-point favorite against Texas Tech, but that is the case this weekend.
The Sooners have had an extra week to think over their loss to Kansas State, but they will need more out of quarterback Landry Jones to win in the Big 12.
Texas Tech has put up some gaudy stats so far this season, ranking 11th in the country in points scored and fifth in points allowed.
Its only test so far was a hard-fought victory over Iowa State. This will be a whole new animal, but the Red Raiders will be able to hang on at least for a while.
Pick: It is hard not to take Oklahoma with such a low spread, particularly since they are coming off a loss. Go with the Sooners on the road.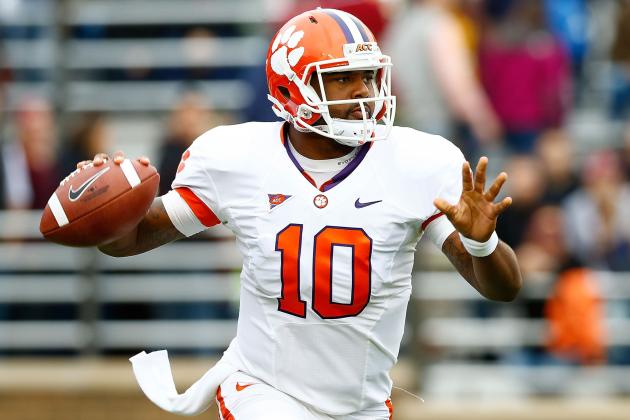 Jared Wickerham/Getty Images

When: Saturday, Oct. 4 at 3:30 p.m.
Line: Clemson -10
Even though Clemson did not look particularly good last weekend at Boston College, the Tigers have as much talent on the offensive side of the ball as any in the ACC.
The defense, however, has a lot of questions that will need to be answered. The good thing for that group is the Yellow Jackets are coming to town.
Georgia Tech is coming off a devastating 49-28 loss to Middle Tennessee, and the Yellow Jackets are 2-3, with two overtime losses.
Defense has been a huge problem for Georgia Tech as well, and that does not bode well with the firepower of the Clemson offense.
Pick: This feels like one of the easier picks of the week. Clemson will have no trouble covering the 10 points.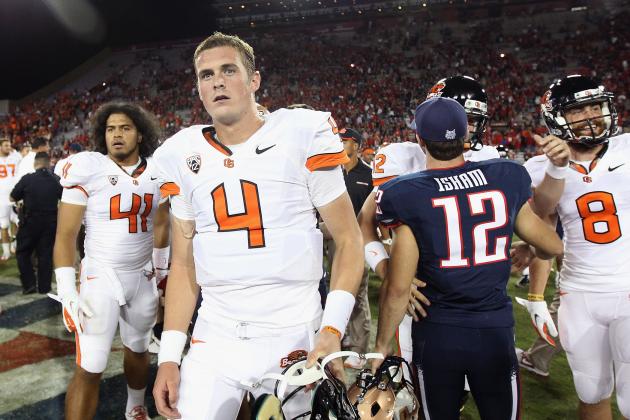 Christian Petersen/Getty Images

When: Saturday, Oct. 4 at 6:00 p.m.
Line: Oregon State -15.5
Oregon State is coming off a dramatic come-from-behind 38-35 victory at Arizona and has already defeated Wisconsin, UCLA and Arizona so far this season.
The Beavers are led by sophomore quarterback Sean Mannion and freshman running back Storm Woods on the offensive side of the ball.
Washington State hung with Oregon for the first couple quarters Saturday before being overwhelmed in the second half.
Mike Leach is going to have something up his sleeve once again. This has all the makings of being closer than the 15.5-point spread.
Pick: This spread seems a little too much to overcome for the Beavers. They will have no problem winning, but I don't see them covering a spread this large.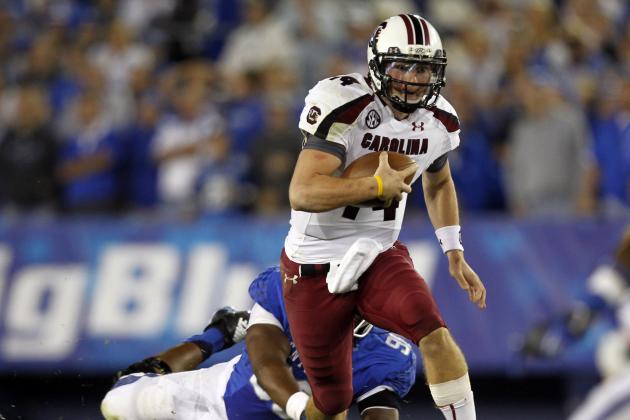 John Sommers II/Getty Images

When: Saturday, Oct. 4 at 7:00 p.m.
Line: South Carolina -2
The Georgia Bulldogs have looked like the best team in the country one game and just a decent SEC team in the next.
The defense struggled last weekend against Tennessee, but some weapons are emerging on offense, including two talented true freshmen running backs in Todd Gurley and Keith Marshall.
South Carolina has had a similar path as Georgia. The Gamecocks have been extremely impressive in some games, but they did struggle against Vanderbilt in the season opener.
Running back Marcus Lattimore will be a key in this one. If he can go over 100 yards and help control the game, South Carolina will likely come out on top.
Pick: There is no question that this is the marquee game of the week, and I see this one coming down to the wire with Georgia pulling it out by a late field goal. Take the Bulldogs and the points.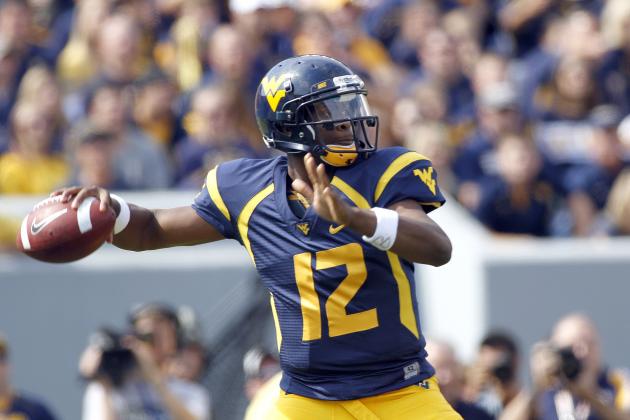 Justin K. Aller/Getty Images

When: Saturday, Oct. 4 at 7:00 p.m.
Line: Texas -6.5
The Mountaineers are averaging 53 points a game, good for third in the nation, but there is no question West Virginia has the best offense in the country.
The defense has a lot of questions that need to be answered, but Geno Smith is as good as it gets and so far has been able to overcome the West Virginia D.
Texas was thought to have a solid defense coming into the season, but it has struggled so far, allowing 21 points a game.
The key for the Longhorns will be slowing down the Mountaineers enough to hold them to field goals instead of touchdowns. That's easier said than done, however.
Pick: Even though West Virginia is on the road, they are the better team and will not only cover but come out on top with a touchdown victory.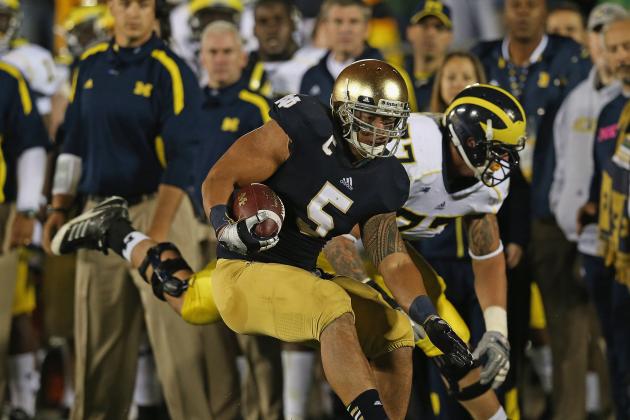 Jonathan Daniel/Getty Images

When: Saturday, Oct. 4 at 7:30 p.m.
Line: Notre Dame -13
Notre Dame has been impressive all season, particularly on the defensive side of the ball, and the Fighting Irish have their sights set on a national championship.
There are still questions surrounding this team, particularly at the quarterback position, and if Brian Kelly can get that straightened out, the sky is the limit.
Miami has looked good in spurts early on, with its only loss coming at Kansas State. The Hurricanes are 4-1 with some close ACC victories the past few weeks.
Another step up in competition, the 'Canes defense will need to come up big for Miami's chances.
Pick: A 13-point spread is a large one. The Miami offense will be able to put enough points on the board to cover this—even if a 10-point loss may be in store for the Hurricanes.
Al Messerschmidt/Getty Images

When: Saturday, Oct. 4 at 8:00 p.m.
Line: Florida State -14.5
Florida State avoided a letdown during a 30-17 victory over in-state rival South Florida on Saturday. Statistically speaking, the Seminoles might just be the best team in the country.
The Seminoles are sixth in the nation on offense, averaging 51 points a game, and rank seventh on defense, allowing just over 11 points a contest.
North Carolina State has been a bit of a disappointment this season, but the Wolfpack will have a chance to make up for it at home against the Seminoles.
Mike Glennon, though, has six interceptions to his name already, which does not speak well for N.C. State's chances against the Florida State defense.
Pick: Florida State seems to fall victim to an upset nearly every year, but this may be the Seminoles' season. Take Florida State and give the points.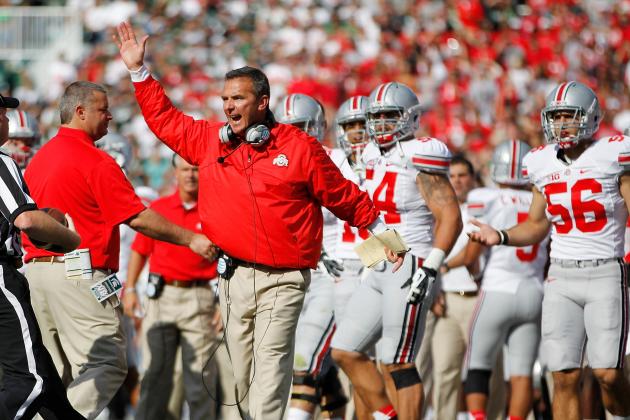 Gregory Shamus/Getty Images

When: Saturday, Oct. 4 at 8:00 p.m.
Line: Ohio State -3.5
For Ohio State, one of the keys to the game will be running back Carlos Hyde, as starter Jordan Hall appears to be out with a partially torn PCL.
A road victory over Michigan State was a good way to start Big Ten play for Ohio State, and the defense appears to be improving week to week.
Nebraska showed a lot in a come-from-behind victory against Wisconsin. Still, that was at home; it will be a whole new ballgame this go-round, as was evidenced in the Huskers' only road game so far this season.
A road loss at UCLA is the only blemish on Nebraska's record, and the continued development of Taylor Martinez has been a key, as the junior has passed for 11 touchdowns against only one interception.
Pick: A night game at home in Columbus warrants more than 3.5 points for Nebraska, but that is all the Cornhuskers will be getting. That is not nearly enough—take the Buckeyes at home here.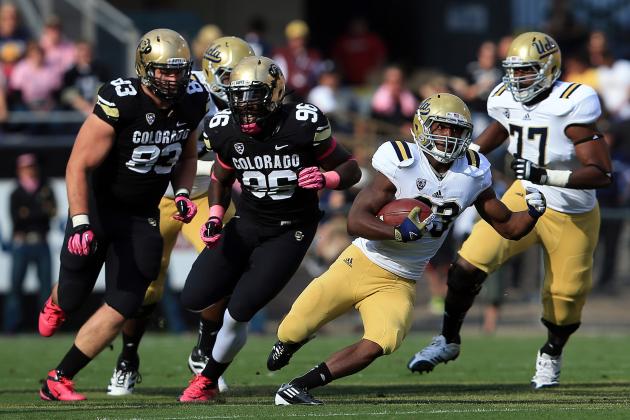 Doug Pensinger/Getty Images

When: Saturday, Oct. 4 at 10:00 p.m.
Line: UCLA -3
UCLA has been a huge surprise this season. The only setback has been a seven-point loss at home against Oregon State.
The Bruins are led by running back Johnathan Franklin, who has rushed for nearly 700 yards in the first five games. Freshman quarterback Brett Hundley will be key in this road contest.
Do not let the 1-4 record of California fool anybody, as two of the losses stem from relatively close contests against Ohio State and SC.
A 10-point loss against Arizona State left some questions, but the Bears are due for a big win and could get enough pressure on Brett Hundley to wreak some havoc on the UCLA offense.
Pick: It seems likely that this game is going to be extremely close and could come down to the turnover battle. Something is telling me Cal not only covers but also wins the game by a field goal.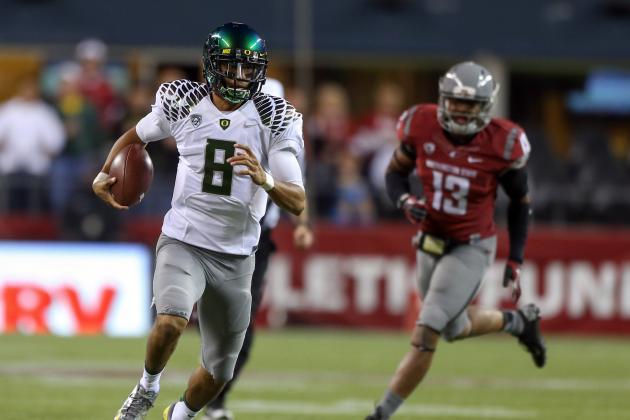 Otto Greule Jr/Getty Images

When: Saturday, Oct. 4 at 10:30 p.m.
Line: Oregon -24
If West Virginia does not have the best offense in the country, then that distinction might belong to Oregon. The Ducks have the perfect balance of the run and pass, making them so explosive.
The running back tandem of Kenjon Barner and De'Anthony Thomas has totaled over 900 yards on the ground and 14 touchdowns in the first five games.
With the exception of the LSU game, Washington has looked like most people thought it would heading into the season.
At 3-1, the Huskies are in the midst of a brutal three-game stretch featuring Stanford, Oregon and USC. Stopping Oregon will be the big issue for Washington in this one.
Pick: A 24-point spread against a Top 25 team may seem like a lot to overcome, but not for Oregon. Take the Ducks big once again.