Oklahoma State Football: Winners and Losers from the Team's First Month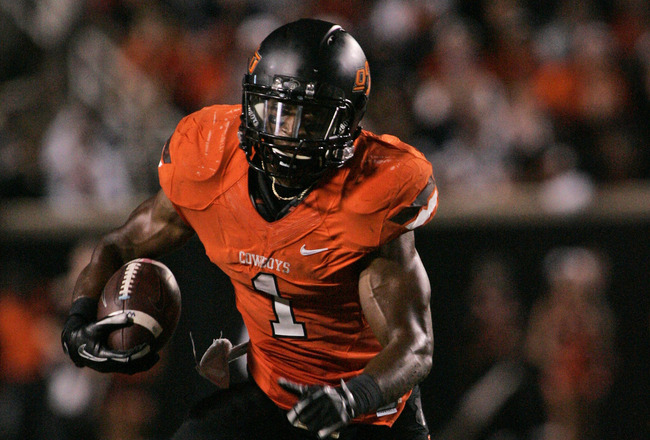 Brett Deering/Getty Images
The Oklahoma State Cowboys have had a worse-than-expected start to the 2012 season, but that doesn't mean they've played too terribly during any stretch.
Sure, they're sitting at 2-2 after the first month, but they've kept both losses fairly close and have been able to put up points on everybody. It's the defense that's letting the team down because they haven't been able to force any turnovers.
There have been quite a few winners and losers throughout the season, but the ones that follow are the most prominent of the bunch.
Winner: J.W. Walsh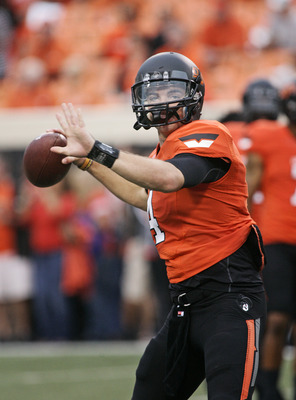 Brett Deering/Getty Images
Through the first four games of the season, J.W. Walsh has seen himself shoot up to the top of the depth chart after a terrible injury to fellow freshman Wes Lunt.
Now, I'm of the opinion that Lunt is the better overall QB, but you can't deny that Walsh has impressed in his time under center. He destroyed an inferior Louisiana-Layfayette team and played an overall good game against a tough Texas Longhorns defense.
Obviously, I think that Lunt is the quarterback of the future and fully expect to see him take over as soon as he's healthy. However, Walsh has used his dual-threat ability to show us that the Cowboys are in good hands regardless of who lines up in the backfield.
Losers: Justin Gilbert and Broderick Brown
Mark D. Smith-US PRESSWIRE
When you come into the season as two of the most talked about corners in the Big 12, and in some cases the nation, you've got to expect to put up better games than these two have so far.
Neither of them has produced an interception on the year, and both were out of position multiple times during the team's biggest game of the young season against Texas. To be fair, they've both stepped up to make plays in the run game, but they're cornerbacks for a reason: to stop quarterbacks.
These two were absolutely electric in 2011, but they've yet to play up to that level in 2012.
Winner: Daytawion Lowe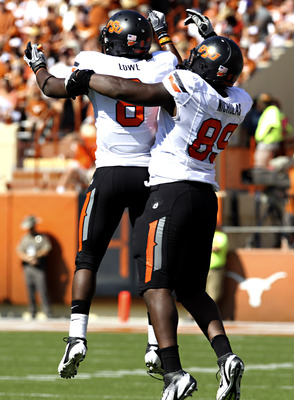 Kevin Jairaj-US PRESSWIRE
Daytawion Lowe really impressed me last year while playing beside Cowboys fan favorite Markelle Martin.
Lowe wasn't considered as much as of a hard-hitter last year due to playing beside Martin, but he's more than proved that he's able to step in the box and rock opponents.
His hits set the tone for the defense, and it looks as if he's taken that next step into becoming the fearless leader Martin was for this defense last year.
Loser: Isaiah Anderson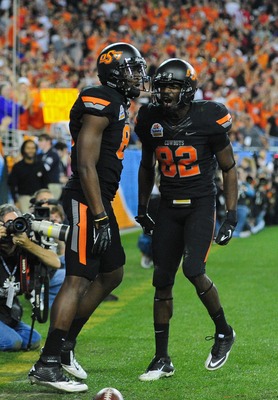 Matt Kartozian-US PRESSWIRE
Isaiah Anderson has been teasing Oklahoma State fans with tantalizing catches that make it seem like he has the skill set to become the next big thing. However, he soon after falls off the map and becomes a non-factor for two or more weeks.
Many, myself included, thought this might finally be the year he takes the step towards superstardom. He's got all the physical tools to be the great Cowboy wide receiver, but he just can't put it together on a consistent basis.
Fortunately for OSU fans, there are other guys on the team stepping up in his place.
Winners: Every Other Receiver
Matt Kartozian-US PRESSWIRE
Tracy Moore, the team's newest big-time receiver, has 17 catches for 221 yards and four TDs.
Josh Stewart, Oklahoma State's version of Wes Welker, has 24 catches for 289 yards and three TDs.
Blake Jackson, a guy that reminds you of Brandon Pettigrew, has 13 catches for 243 yards and a score.
Obviously, the Cowboys aren't hurting for guys to catch the ball, regardless of Isaiah Anderson's early struggles.
Loser: Wes Lunt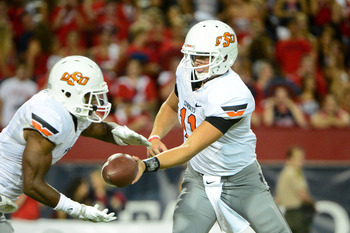 Matt Kartozian-US PRESSWIRE
This slide isn't going to say that Wes Lunt hasn't played solid football in his first few games as a college signal-caller.
I mean, sure, he only has four touchdowns to three interceptions, but I have to give him the benefit of the doubt in his game against the Arizona Wildcats, as it was his first road game ever against a pretty good team.
The reason he's a "loser" is because J.W. Walsh has shown that he can play in the Big 12 and Lunt hasn't had that chance. As I've said, I like Lunt more, but you can't deny that he's unproven, while J.W. Walsh just almost led the Cowboys to a win over the 12th-ranked team in the nation.
Winners: Desmond Roland and Jeremy Smith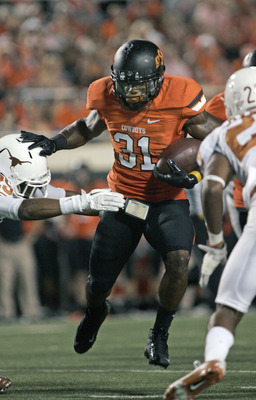 Brett Deering/Getty Images
We'll get to Joseph Randle and his beast mode start to the season in a minute, but first, let's talk about his lesser-known friends at the running back position.
Both Desmond Roland and Jeremy Smith have over 170 yards on just 25-30 carries. Add to that the fact that they each have four touchdowns rushing, and you have two of the best backups in the nation.
It's scary to think how good this committee of backs could be if blue-chip recruit Herschel Sims hadn't been forced to leave the team prior to the season. However, it's safe to say that the Cowboys are in good hands with or without him.
Loser: The Big 12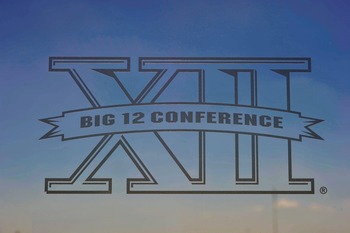 Jerome Miron-US PRESSWIRE
This is all due to the fact that Oklahoma State dropped a disappointing game against the Arizona Wildcats.
Arizona has a good team, but everyone in the nation expected them to fall to the Cowboys, even if Oklahoma State was starting a freshman quarterback in his first road game.
The Big 12 didn't have too many marquee matchups against non-conference opponents early in the season, so this one was a big loss for the conference as a whole. You'd like to see the defending Big 12 champs be able to beat a middle-tier Pac-12 team, but sadly, it didn't happen, which hurts the conference as a whole.
Winner: Shaun Lewis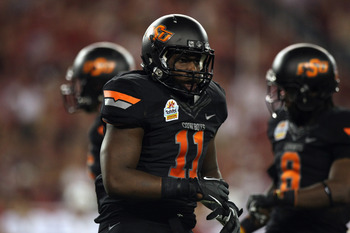 Donald Miralle/Getty Images
Shaun Lewis didn't do anything in either of Oklahoma State's cupcake games early in the season, and that skews his stats a little bit, but he has produced when the Cowboys needed him to.
He had a good showing against the Arizona Wildcats, but it was against the Texas Longhorns that he really showed his skills. Ten tackles, 1.5 sacks and 2.5 tackles for loss made for a huge day for the Cowboys.
He's going to have to continue to dominate from his position as they move forward because this team needs a leader on offense after losing quite a few key players from 2011.
Loser: Bill Young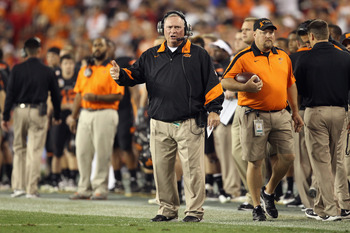 Christian Petersen/Getty Images
Defensive coordinator Bill Young was one of the most popular guys in Stillwater during 2011 because the Oklahoma State Cowboys finally had a good defense.
True, they gave up tons of yards, but they made big plays and forced turnovers like it was their job. In 2012, that's a whole different story.
The yards are still being given to opponents, but those takeaways are virtually nonexistent after 2012's outburst. Obviously, Young lost a few key guys, especially along the defensive line, but people really expected to see this team leading the nation in turnovers yet again.
To say that hasn't happened is a huge understatement.
Winner: Joseph Randle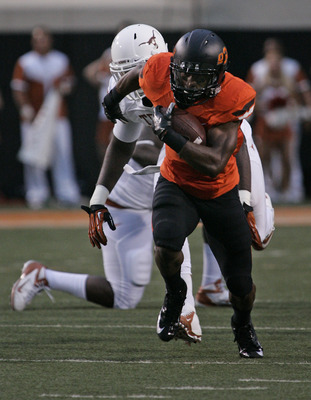 Brett Deering/Getty Images
600-plus total yards, 6 rushing touchdowns, 7.1 yards per carry.
Those are Joseph Randle's stats after essentially two games and three quarters. He dropped 107 yards and two TDs in a quarter against Savannah State in Week 1. He showed his dual-threat skills against Arizona with 123 yards rushing and 70 passing. He absolutely dominated Texas with 199 yards and two huge touchdowns.
Needless to say, Joseph Randle has arrived in the public conscious. He was buried by the elite play of Brandon Weeden and Justin Blackmon last year, but now, this offense is his and he's showing why he's one of the best backs in the nation.
Keep Reading

Oklahoma State Football: Like this team?