SEC Football 2012: MVPs, Strengths and Weaknesses of Each Team
Kevin C. Cox/Getty Images
SEC teams are beginning to find their identities heading into the sixth week of the season.
Since four of the five SEC teams ranked in the Top 10 will play against each other this Saturday, fans are wondering which weaknesses will be exploited and which strengths will help teams prevail.
Well, look no further.
Heck, why stop with LSU, Florida, Georgia and South Carolina?
Let's break down every team in the SEC and also throw in each team's MVP up to this point.
Alabama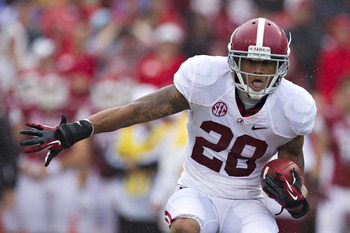 Wesley Hitt/Getty Images
Strength: Offensive Line
Don't fret, big boys—your greatness hasn't gone unnoticed.
Want the secret ingredient behind Alabama's success besides its overpowering defense?
Just take a peak at this offensive line. Players such as Barrett Jones, Chance Warmack and D.J. Fluker have been clearing paths for years, and 2012 hasn't been any different.
Weakness: Experience at WR
To be honest, it's hard to find a weakness on this team. The Tide are that good.
But if a weakness had to be chosen, it would be their youth and inexperience at the wide receiver position. Still, that seems to not matter, as freshman Amari Cooper leads the Crimson Tide in receiving.
MVP: Dee Milliner, DB
As tempting as it is to give the MVP to AJ McCarron, Dee Milliner deserves it just a little bit more right now.
Milliner has been the heartbeat of this defense, and he's tied for fourth in the conference in interceptions with two. Furthermore, he may challenge Jonathan Banks as the best DB in the conference.
Arkansas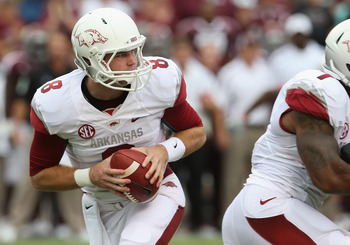 Ronald Martinez/Getty Images
Strength: Tyler Wilson, QB

Tyler Wilson is the lifeline of this university right now.
He's one of the most talented quarterbacks in the country, but unfortunately, not even he can dig Arkansas out of this hot mess of a season.
Weakness: Defense
This defense is atrocious.
As basic as tackling the player with the football may be, the Hogs seem to make it look as complicated as Looper's time travel. The Razorbacks are last in the league in total defense, giving up an average of 510 yards of total offense per game. Yikes.
MVP: Tyler Wilson, QB

Wilson is Arkansas' MVP not because of his 1,355 passing yards this season, but because of his leadership off of the field.
If anyone has a reason to throw his hands up and complain, it's Wilson. And, for the most part, he hasn't.
Hang in there, Tyler; you'll be playing on Sundays soon enough.
Auburn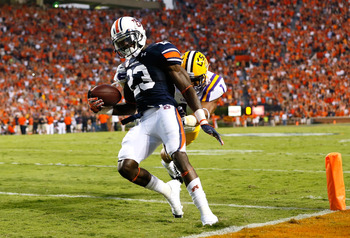 Kevin C. Cox/Getty Images
Strength: Defensive Line
Corey Lemonier has lived up to the hype, friends.
This guy is a pass-rushing fiend. He ranks third in the conference in sacks this season with five, which is more than LSU's Sam Montgomery and Barkevious Mingo combined.
Weakness: Kiehl Frazier, QB

Kiehl Frazier hasn't exactly panned out the way Auburn fans thought he would.
Really, that's putting it nicely.
Though he has a capable skill set and strong upside, Frazier only has two touchdowns this season and seven interceptions. That's not going to get it done in the SEC.
MVP: Onterio McCalebb, RB

If it's one thing Auburn fans can count on, it's Onterio McCalebb's speed-producing big plays.
McCalebb has a kickoff return for a touchdown this season as well as 238 rushing yards and two touchdowns.
Florida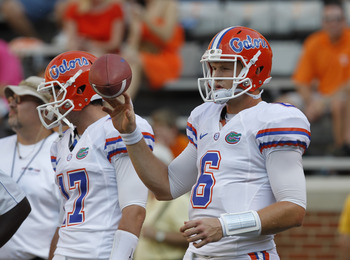 John Sommers II/Getty Images
Strength: Defense
Defense is key in the SEC, which means Florida has a chance to beat anybody this season, including LSU this Saturday.
Yeah, that's right, we have an upset brewing in The Swamp. But that's the future.
As of right now, Florida ranks fourth in the SEC in total defense. You can credit Will Muschamp's schemes and Florida's great athletes for that.
Weakness: QB Jeff Driskel's Youth and Inexperience
Florida's biggest weakness could prove to be its greatest strength.
Yeah, Jeff Driskel is pretty good, but this is still his first full season as a starter in this league.
MVP: Jeff Driskel, QB

And that's why he's this team's MVP.
Driskel only has one interception to his name, and he's managed to throw for 698 yards and four touchdowns.
But will his lack of experience show against elite defenses in the league? We'll find out Saturday.
Georgia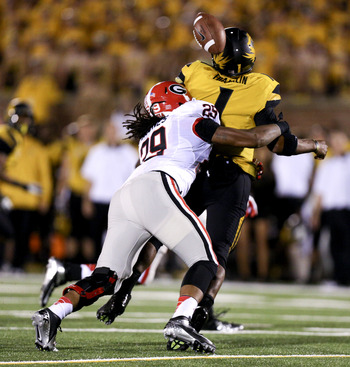 Ed Zurga/Getty Images
Strength: Running Backs
Holy freshmen running backs, Batman! Youth in the backfield—it might as well be a way of life down in Georgia.
Georgia's Todd Gurley and Keith Marshall are not only vastly entertaining but they also are remarkably productive. The two freshmen running backs have combined for 964 yards, 14 rushing touchdowns and average eight yards per carry.
Weakness: Turnovers
The Bulldogs' greatest weakness has to be beating themselves.
More specifically, they have to take better care of the football.
Georgia had Tennessee on the ropes last Saturday, but allowed it to get back into the game with three turnovers. The Bulldogs' athleticism helped them escape those mental mistakes, but are they good enough to overcome those same types of mistakes against South Carolina Saturday?
MVP: Jarvis Jones, LB

Does Aaron Murray deserve this award? You betcha he does.
However, the MVP goes to Jarvis Jones mainly because of his performance against Missouri. The Bulldogs were neck-and-neck with the Tigers for the majority of the game, and then Jones took over. His sack, forced fumble and pick-six powered Georgia past Missouri.
Kentucky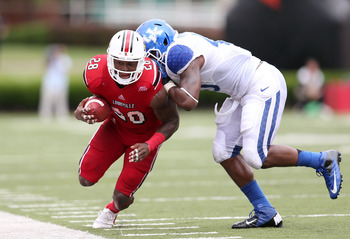 Andy Lyons/Getty Images
Strength: Skill Players
Believe it or not, Kentucky has some players who can ball.
More specifically, its running backs and wide receivers have some talent to their names.
Led by La'Rod King and Raymond Sanders, these Wildcats are capable of taking it to an SEC defense.
Well, for a half at least.
Weakness: Quarterback
In the words of Loki from The Avengers, "How desperate are you?"
The Wildcats were so desperate at the quarterback position that they went to their third-string freshman quarterback Jalen Whitlow against South Carolina.
Oh Maxwell Smith and Morgan Newton, you have made your coaching staff very desperate.
MVP: Avery Williamson, LB

You know what's sad?
Avery Williamson leads the SEC in total tackles, and yet most fans in the SEC have never heard of him. You shouldn't be surprised, though; Kentucky always finds a way to have one of the best tackling linebackers in the league.
Danny Trevathan ring any bells?
LSU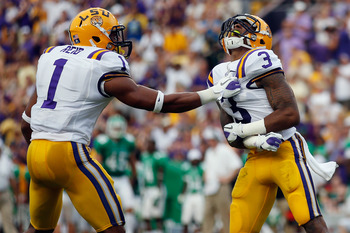 Chris Graythen/Getty Images
Strength: Defensive Line
Though many questions surround LSU's passing game, absolutely none surround its ability to rush opposing passers.
LSU's defensive line is eight-deep, and the second-string guys are just as good as the first-stringers.
Heck, maybe better if you take into account that Anthony Johnson comes off the bench.
Weakness: Left Tackle
Zach Mettenberger is the scapegoat of this offense, but the biggest problem this unit has right now is the void at left tackle. Starting left tackle Chris Faulk was injured and is lost for the season, and Josh Dworaczyk has not been able to fill in smoothly.
LSU starting right tackle Alex Hurst might have to make a permanent move to left tackle to try protecting Mettenberger's blind side. Every time LSU has made the adjustment, it's like night and day with this offense.
It would make the most sense to move Hurst to left tackle and have freshman Vadal Alexander start at right tackle, but hey, I'm no coach.
MVP: J.C. Copeland, FB

Want to watch a real fullback? Watch LSU's J.C. Copeland.
Unfortunately, because he injured his leg in the Tigers' game against Towson, it might be a while before Copeland sees the field again. However, in the first five games, Copeland bulldozed linebackers and even had three rushing touchdowns.
Mississippi State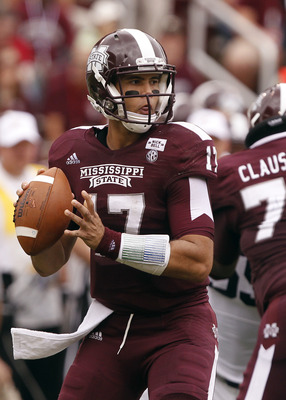 Butch Dill/Getty Images
Strength: Secondary
Could the Bulldogs have the best secondary in the SEC? With stellar secondaries such as Alabama and LSU in the same conference, that could be a stretch.
Then again, these guys are pretty darn good.
In fact, the Bulldogs are tied with Alabama and Tennessee for most interceptions in the league with nine. Led by Jonathan Banks and Corey Broomfield, Mississippi State's secondary is for real, folks.
Weakness: Defensive Line
While their cornerbacks and safeties might be outstanding, the Bulldogs defensive line is lacking.
It's hard to replace players such as Fletcher Cox, and because of that, the production of this defensive line has been down.
To back up that point, Mississippi State ranks 13th in the league in sacks.
MVP: Tyler Russell, QB

An argument could be made for Banks as MVP, but come on, Tyler Russell has earned it.
The Bulldogs always have had a strong defense, but what separates this team from teams in the past is the consistency at quarterback. Russell's play so far this season has been astounding, and though he has eight touchdowns, his one interception is by far his most impressive stat.
Missouri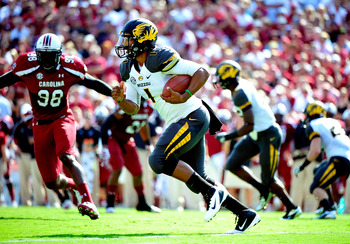 Grant Halverson/Getty Images
Strength: James Franklin, QB

Has James Franklin struggled this season? Absolutely, but he's still the Missouri Tigers' most dangerous weapon.
Once Franklin gets fully healthy again, Gary Pinkel and his staff should find a way to put him in a position to succeed again this season.
But then again, perhaps "grown man football" is just too much for Missouri.
Weakness: Offensive Line
Most of the blame for this offense's lackluster start in the SEC falls on the offensive line.
Though it's a young group, the O-line has allowed 13 sacks this season, which ranks near the bottom of the conference.
MVP: Marcus Lucas, WR

I'm sorry, wasn't it Dorial Green-Beckham who received the most hype entering this season for Missouri?
Wait, no, T.J. Moe was the one who was thought to be worthy of All-SEC nominations.
Well, neither wide receiver leads this team in receiving. Nope, that's Marcus Lucas, who has 255 yards and two touchdowns. Outperforming hyped-up teammates deserves an MVP in my book.
Ole Miss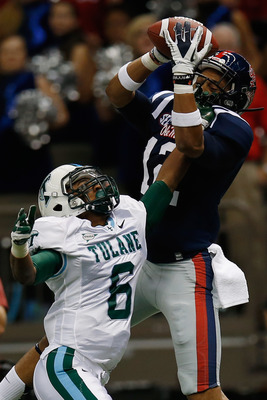 Chris Graythen/Getty Images
Strength: Outside Playmakers
Ole Miss has some playmakers on the outside, but the problem is getting them the football.
When you have a gifted athlete such as Donte Moncrief on the outside, it's essential to get him as involved in the game plan as possible.
But, once again, that involves getting him the football...
Weakness: Quarterback
Bo Wallace quickly needs to develop into a more efficient passer.
Wallace has six interceptions with the Rebels, and Frazier is the only quarterback in the SEC with more. What good is having playmakers on the outside when your quarterback throws it to the other team?
MVP: Donte Moncrief, WR

Take a nice glimpse at Moncrief, because you're going to be seeing a lot of him in the NFL.
Whichever team drafts him, they'll be inheriting a guy who's recorded 380 receiving yards and four touchdowns through five games. Impressive, to say the least.
South Carolina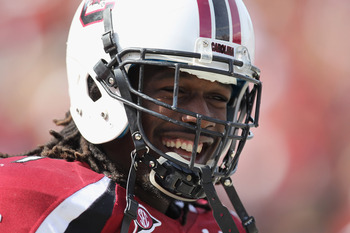 Streeter Lecka/Getty Images
Strength: Smart-Minded Quarterback
Connor Shaw is the answer to Steve Spurrier's prayers. Unlike the quarterback before him (Stephen Garcia), Shaw makes smart decisions and takes good care of the football.
But he's not classified as a game manager. Oh no, this guy can hurt you with his arm and his feet. Shaw has 571 passing yards, 203 rushing yards and five touchdowns with only one interception this season.
Weakness: Wide Receivers
Okay, so far so good. The loss of Alshon Jeffery hasn't hurt South Carolina yet because Damiere Byrd and Ace Sanders have played great this season.
But it's imperative to emphasize the word "yet" in that last sentence. There's going to come a time when the Gamecocks will need a tall, physical receiver near the goal line, and when that time comes, who will the Gamecocks look to?
It could come as early as this Saturday against Georgia.
MVP—Jadeveon Clowney, DE

It's always great to see a player live up to the preseason hype, and Jadeveon Clowney has done exactly that.
Many have said this will be his breakout season, and he's proving them right. Clowney is second in the SEC in sacks with 5.5 on the year.
Tennessee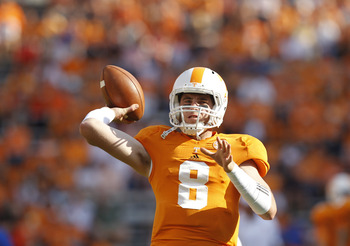 John Sommers II/Getty Images
Strength: Passing Attack
You live by the sword, you die by the sword.
Though Tyler Bray gets a little reckless at times, his gun-slinging mentality is what makes Tennessee so difficult to defend. When Bray's on and he's hooking up with Cordarrelle Patterson and Justin Hunter on the outside, even Alabama will struggle to stop this offense.
Weakness: Defense
The missing link in Tennessee's game is its defense.
Only Arkansas has a worse defense statistics-wise in the conference, and to be honest, I think we could find some high school teams that play better defense than the Hogs.
Don't mean to pour salt on the wounds, Arkansas fans. Hang in there, we've all been there before.
As for the Vols, allowing 425 yards per game just isn't going to cut it, even with Bray as quarterback.
MVP: Tyler Bray, QB

Speak of the devil.
Bray is one of the most exciting players to watch in the SEC because of the way he takes shots down the field. Most of the time they pay off, and it's helped him garner 316 yards per game and 14 touchdowns this year.
Texas A&M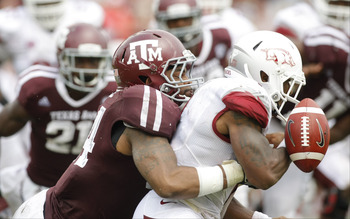 Brett Davis-US PRESSWIRE
Strength: Offensive Line
Can Texas A&M's offensive line get a little love here?
Jake Matthews and Luke Joeckel lead a talented bunch each and every Saturday, and because of these hog-mollies upfront, the Aggies lead the SEC in total scoring offense with 48.3 points.
Weakness: Secondary
Texas A&M ranks near the bottom of the conference in just about every pass-defense category.
Most notably, the Aggies are 11th in the league in passing yards allowed per game with 232.5.
MVP: Johnny Manziel, QB

Look, I really, really wanted to give the MVP to Damontre Moore for leading the conference in sacks, but I'm simply too mesmerized by Johnny Manziel's play.
Is this guy really a freshman? Manziel has 1,094 yards passing, 10 touchdowns and no interceptions—not to mention he has 366 rushing yards and six rushing touchdowns.
Manziel certainly doesn't play like a freshman.
Vanderbilt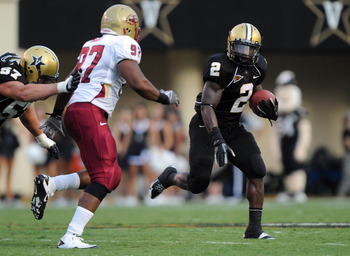 Don McPeak-US PRESSWIRE
Strength: Running Back
This year has been a disaster for Vanderbilt.
Just when you thought the Commodores could change the perception of the program, they lose three of their first four games.
But hey, at least Zac Stacy is having another productive year, right?
Glass half-full? Anybody?
Weakness: Defensive Line
It's no secret that this defensive line for Vanderbilt is undersized and outmanned in the SEC. While Vanderbilt's pass defense is the third best statistically in the SEC, its rush defense is the 11th best.
Chalk that up to the defensive line.
MVP: Zac Stacy, RB

Zac Stacy, right?
Despite Vanderbilt's struggles this season, Stacy has maintained his status as one of the best running backs in the league. He's rushed for 341 yards and a touchdown this season, and he gets the MVP for rising above his team's vulnerability in the conference.
Keep Reading