Oklahoma State Football: Grading All 22 Starters from the Texas Longhorns Game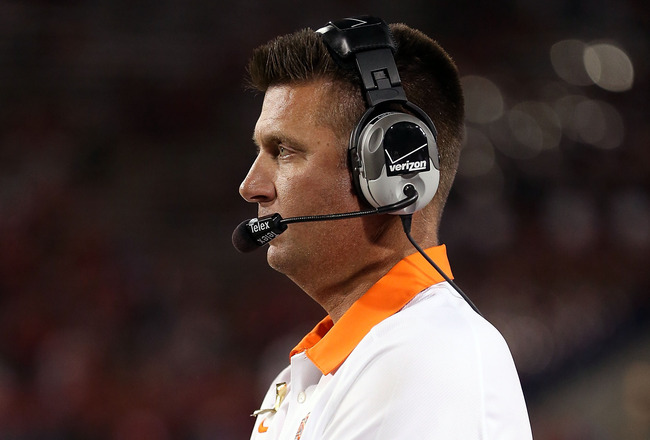 Christian Petersen/Getty Images
The Oklahoma State Cowboys were able to put together a solid game at home against the Texas Longhorns this past Saturday, but in the end, their effort just wasn't enough.
This was a tough game to grade because so many players did many things well, but there was quite a few glaring errors made at almost every position for the Pokes.
That said, a few players stood out (for good or bad) when looking back over the tape of this thriller in Stillwater.
J.W. Walsh, QB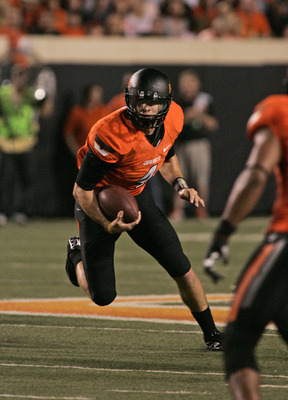 Brett Deering/Getty Images
Final Grade: B+
This is the one grade I went back and forth with the most. After all, Walsh looked like the man of the future at some points, and like a lost freshman at others.
There was his terrible interception in the first quarter, which he followed with a huge TD soon afterwards to keep OSU in it. Then we had a throw should have been easily picked in the third quarter, followed by an absolute strike to Josh Goodlett for a 20-yard TD.
In the end, he got a B for his throwing and I bumped him up to a B+ because of the play that saw him embrace his inner Mike Vick and run for 50 yards.
Joseph Randle, RB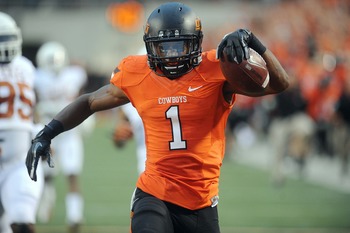 Mark D. Smith-US PRESSWIRE
Final Grade: A+++++++++
I may have gone a little overboard on the pluses for Randle, but the man was a beast against Texas.
He had 199 yards rushing and two TDs, completely dominating the Longhorns highly praised front seven for most of the game.
The only criticism I could give is that he wasn't breaking as many big runs in the second half, but that's more due to his line, than his actual play.
For kicks, here are my notes on Randle from the game:
"Big TD run. Routinely breaking 8-12 yard runs. Too big, too strong, too good. He cannot be denied. Somebody get this man a contract. Thurman Thomas who?"
Isaiah Anderson, WR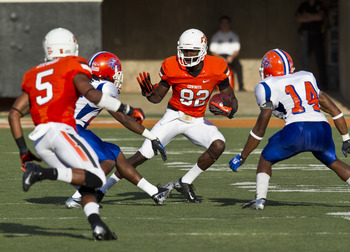 Richard Rowe-US PRESSWIRE
Final Grade: D+
I'll be honest, I checked the depth chart multiple times during this game because Anderson hardly ever had his number called and hasn't recorded a catch in either of the last two games.
As far as I know, he doesn't appear to have an injury, so I have to assume that his play has just been lackluster of late. Luckily, the Cowboys have a plethora of guys to throw to, but that means Anderson could lose his starting spot very soon if his play doesn't pick up.
All that said, he did provide a huge block to spring J.W. Walsh on his 50-yard carry.
Tracy Moore, WR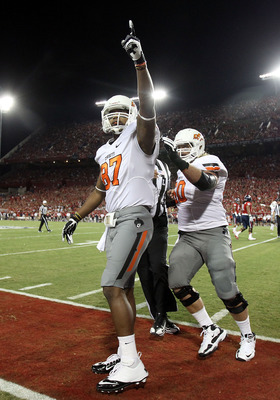 Christian Petersen/Getty Images
Final Grade: B+
Here are my notes on Tracy Moore's game:
"Dropped a big catch. Very next play had a 23-yard catch. Starts third quarter on a tear. Can this guy be stopped?"
That shows me that Moore really played throw some adversity early in the game and became Walsh's go-to target. You'd like to of seen him get in the end zone though, as he's supposed to be OKST's big-play wideout.
Josh Stewart, WR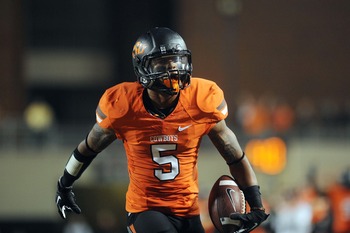 Mark D. Smith-US PRESSWIRE
Final Grade: A
Josh Stewart showed his ability to rack up yards after the catch in this game. He was able to stay on his feet for a touchdown run in the first quarter after getting blasted by a DB, and then continued to show his speed and elusiveness as the game continued.
This would be an A+ grade if J.W. Walsh had seen him wide open in the end zone, because he ran a superb route. However, Walsh missed the read and threw a dangerous pass that no one was able to come down with.
Parker Graham, OT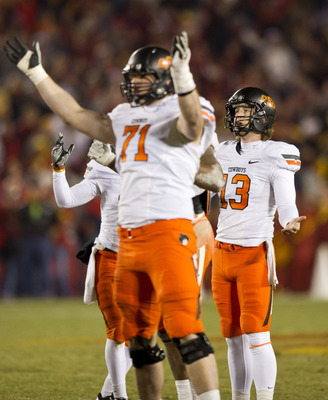 US PRESSWIRE
Final Grade: C+
This is a tough grade to hand out, given the size of the holes Graham was opening for the running game in the first half.
Unfortunately, those holes closed considerably during the second half and Graham had two big plays that killed OSU drives.
The first was a costly false start early in the game, while the second one was giving up a big sack that killed the Cowboys momentum for a time late in the game.
Jonathan Rush, OG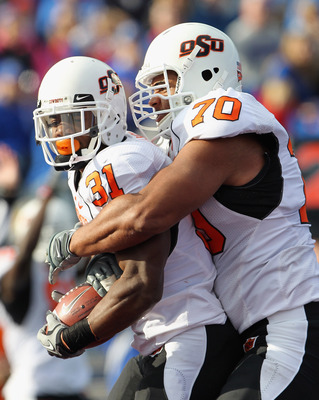 Jamie Squire/Getty Images
Final Grade: B+
This is probably the same grade Parker Graham gets if he doesn't give up the false start and sack that really hurt the team.
The left side of the line was where Joseph Randle's biggest holes were coming, so you have to give credit to Graham and Rush.
They both were consistently beating their men in the run game, and Rush had the added benefit of mostly dominating the passing game as well.
Evan Epstein, C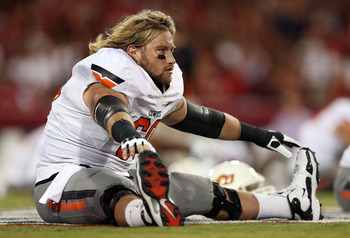 Christian Petersen/Getty Images
Final Grade: B-
Epstein, much like Lane Taylor, didn't really do anything too extraordinary against Texas.
He helped open up holes for Randle in the run game and didn't make many mistakes against the Longhorns pass-rush, but he wasn't quite the beast Jonathan Rush was.
I'm giving him a little above an average grade due to his solid, but not excellent, play this weekend.
Lane Taylor, OG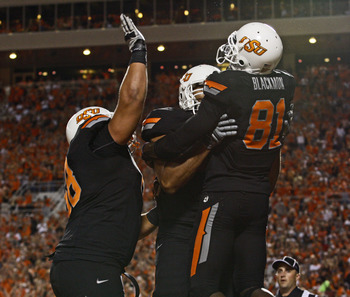 Brett Deering/Getty Images
Final Grade: B-
So I'm not wasting your time, just copy and paste pretty much everything I said about Evan Epstein to Lane Taylor's slide.
Daniel Koenig, OT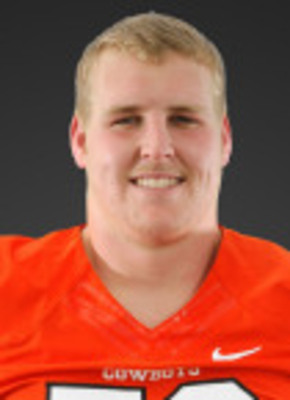 Final Grade: C-
Koenig gave up the first sack against the Cowboys this year. Other than that, his play was a lot like Lane Taylor and Evan Epstein's; solid, but nothing to write articles about.
That sack dropped his grade a little, but he basically played at the same level as his co-lineman on the right side.
Cooper Bassett, DE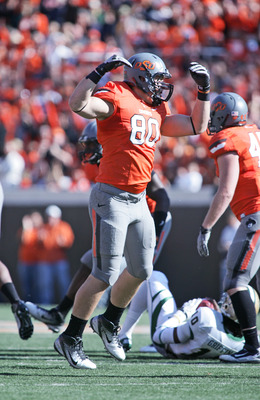 Brett Deering/Getty Images
Final Grade: C+
Bassett struggled at times against the Longhorns. He wasn't able to get much of a pass rush on David Ash and I saw him give up the edge a few too many times on outside running plays.
That said, he was active throughout the game, showcasing his high motor. He may not have had tons of production, but he was almost always around the ball.
Calvin Barnett, DT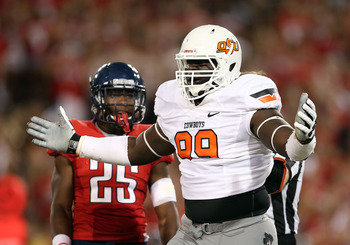 Christian Petersen/Getty Images
Final Grade: C
Barnett started the second half with a big tackle for loss and stifled the Texas rushing attack for much of the first half.
However, his play deteriorated as the game went on and Texas began to enforce their will on the Cowboys defensive line during the third and fourth quarters.
James Castleman, DT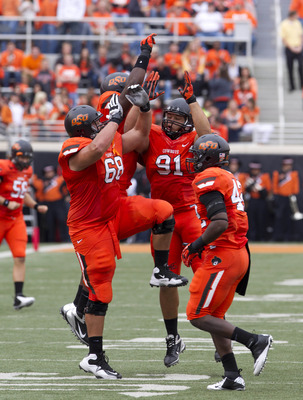 Richard Rowe-US PRESSWIRE
Final Grade: B-
Much like Calvin Barnett, Castleman's play fell off a little bit in the second half.
That said, he had five tackles on the game, including a tackle for loss. That tells me that he was making plays in the running game and keeping plays from breaking more often than he did.
He didn't post a career day, but he was more than serviceable.
Tyler Johnson, DE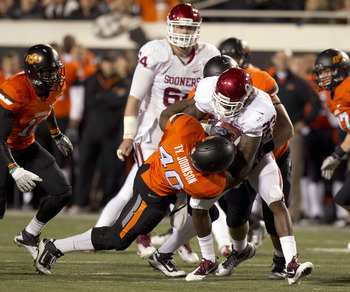 Richard Rowe-US PRESSWIRE
Final Grade: B+
To be fair, Ryan Robinson is listed as the starter at defensive end, but I decided I'd rather talk about a guy who made a big impact on the game, Tyler Johnson.
He helped Shaun Lewis drop David Ash for a big sack early in the game, but his most important play was his interception in the third quarter.
The Pokes needed to get back on track as defense, which means more turnovers. They didn't get enough in this game (although many will argue that they should have gotten a big fumble on the goal line that would have sealed the game), but it's nice to see them at least get one pick against a quality opponent.
Shaun Lewis, LB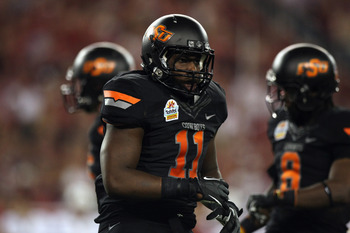 Donald Miralle/Getty Images
Final Grade: A+
Shaun Lewis was everything for the defense that Joseph Randle was for the offense. He flew to the ball and made big plays all over the field.
Lewis had 10 total tackles, 2.5 tackles for loss and 1.5 sacks to go along with a forced fumble and a big QB hit that forced a drive ending grounded pass.
He was the quintessential playmaker for a team that desperately needed someone to step up. If he can continue to play at this level throughout the season, the Cowboys could have an All-American on their hands.
Caleb Lavey, LB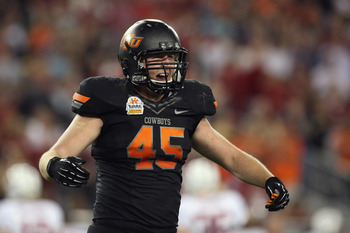 Donald Miralle/Getty Images
Final Grade: C
Lavey never really made his presence known in this game. That isn't to say that he actively played badly, but he also didn't do anything special.
He did have four tackles, but that's not exactly noteworthy. He's got the skills, but he wasn't any better than average this weekend.
Alex Elkins, LB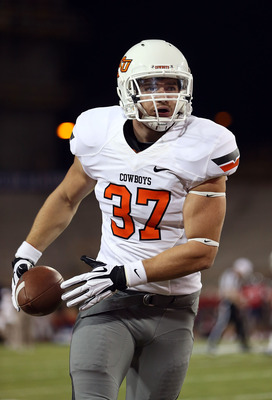 Christian Petersen/Getty Images
Final Grade: C+
Elkins had about the same output as his fellow linebacker Caleb Lavey. However, his biggest impact on the game might have been the injury he suffered late in the game.
From my perspective, the Pokes did a solid job of bottling up the Longhorn's running backs early in the game, but the Cowboys were getting gashed for big runs late.
The turning point seemed to be Elkins injury. The injury wasn't severe enough to keep him off the field, but it looked like he had lost a step and wasn't getting to ball carriers as quickly in the fourth quarter.
Broderick Brown, CB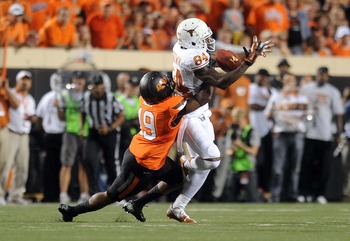 Mark D. Smith-US PRESSWIRE
Final Grade: D+
Two plays stuck out to me when looking back at Brown's overall play.
The first was his blown coverage on Texas's second touchdown, which saw him completely out of place, allowing Jaxon Shipley to get wide open in the end zone.
The second was a play where Brown gotten beaten deep and would've given up another wide open touchdown if not for an under-thrown ball from David Ash. However, he still got hit with a costly pass interference and that saw his overall grade drop even further.
Justin Gilbert, CB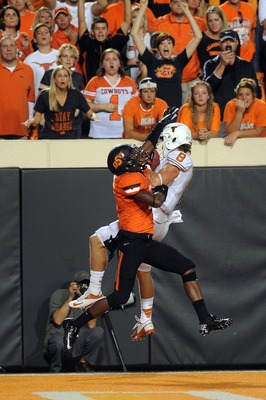 Mark D. Smith-US PRESSWIRE
Final Grade: C+
Gilbert looked great in the return game, almost breaking off a kickoff for a score right after Texas scored with a return of their own. He also helped quite a bit in run support, as he recorded eight solo tackles on the night.
However, he gave up a costly pass interference to Marqui Goodwin and was beaten by Mike Davis for the play that basically decided the game in the end. True, he was in great position on the play, but when you're supposed to be the team's premiere DB, you have to make that play and win the game for your squad.
Shamiel Gary, FS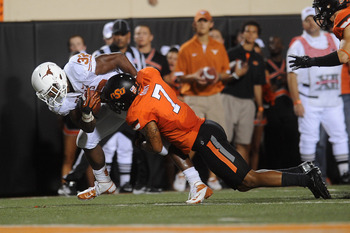 Mark D. Smith-US PRESSWIRE
Final Grade: B-
I was impressed with Gary's overall play against Texas. The young man made tons of plays in the run game and his name was being called all night by the announcers for his above average play.
That said, he had a terrible blown coverage on the Longhorn's second TD. He was completely out of place and looked visibly confused after the play. It's only one play out of dozens, but better play there could've changed the game early.
Daytawion Lowe, SS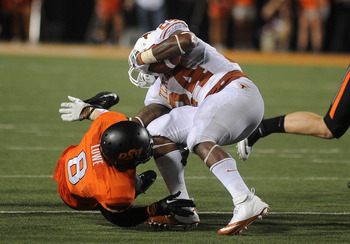 Mark D. Smith-US PRESSWIRE
Final Grade: B
As usual, Lowe was a force in run defense. He's an old school safety who isn't afraid to come up and lay the hammer on someone. His nine tackles more than show that.
Sadly, his rating has to be dropped a bit because he simply gave up too much space to Jaxon Shipley on the first touchdown. He wasn't completely out of position like Shamiel Gary and Broderick Brown on the second score, but his coverage was lacking on the play.
Quinn Sharp, K/P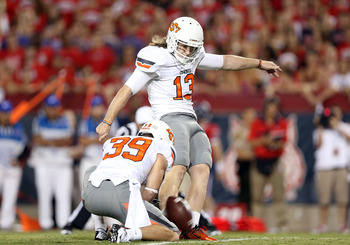 Christian Petersen/Getty Images
Final Grade: A
It would appear Mr. Sharp is a mortal.
All kidding aside, anyone who reads my articles knows I have a massive crush on Quinn Sharp. He's the best special teams player in the nation and proved it this week when he kicked a 26-yard punt with the wrong foot.
No one does that. He's disgustingly good at his craft and is going to make a franchise very happy when he's playing on Sundays.
Keep Reading

Oklahoma State Football: Like this team?