The 10 Best College Football Performances from Week 5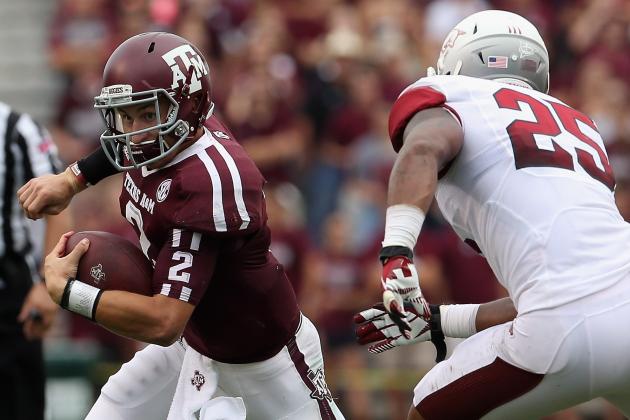 Ronald Martinez/Getty Images

There was a common theme of Week 5: "Quarterbacks putting up record-setting numbers."
From Texas A&M's Johnny Manziel to West Virginia's Geno Smith, quarterbacks were putting up astronomical numbers throughout the afternoon and evening. It seemed as if defenses took the week off, as teams were putting up touchdown, after touchdown, after touchdown.
There were many winners last week, however, there could only be 10 that made this list.
Here are the 10 best college performances from Week 5.
Begin Slideshow

»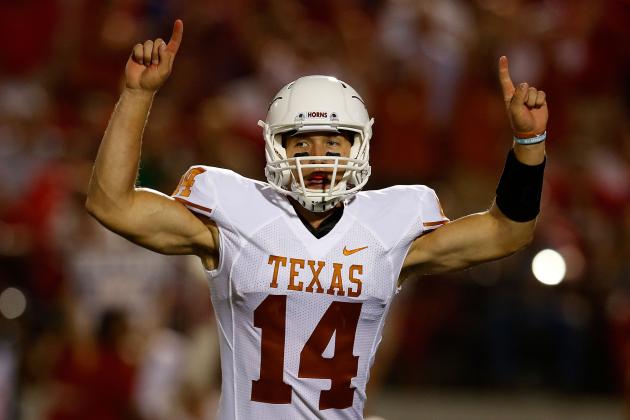 Scott Halleran/Getty Images

Week 5 Stat Line: 30-37, 307 Yards, Three Touchdowns
Ash's performance on Saturday night wasn't the inflated stat-sheet game as some of the other quarterbacks that are going to be on this list had. However, this game from Ash was more about a confidence builder for the player, the team and its fanbase.
Ash led the Longhorns down the field on an eight-play, 75-yard drive, scoring with only 29 seconds remaining in the game.
Ash stepped up and delivered a monumental performance for this young Longhorn team.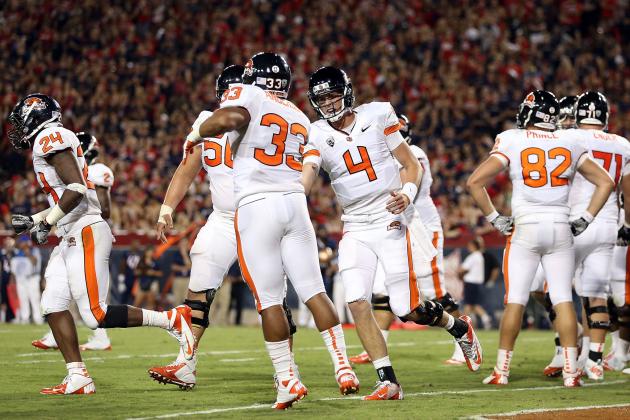 Christian Petersen/Getty Images

Week 5 Stat Line: 29-45, 433 Yards, Three Touchdowns
Mannion is setting himself apart from his fellow Pac-12 quarterbacks as one of the best in the conference. This week against Arizona he followed up his 379-yard, two-touchdown performance against a ranked UCLA team.
If it wasn't for some of the other quarterbacks astronomical numbers in their games, then Mannion would have gotten a lot more buzz for the Heisman.
However, if Mannion can keep this Oregon State team winning ball games, while putting up these stats, he will move ahead of fellow Pac-12 quarterback, USC's Matt Barkley, as the conference's top quarterback.
Kevin Liles-US PRESSWIRE

Week 5 Stat Line: 27 Carries, 217 Yards, Five Touchdowns
Georgia Tech is on a free-fall, as they are on a two-game losing streak after getting blown out by Cunningham and Middle Tennessee.
Cunningham's day started slow, as he didn't have a touchdown in the first quarter. However, he had two scores in the second, one in the third and then two more touchdowns to put the nail in the Georgia Tech coffin.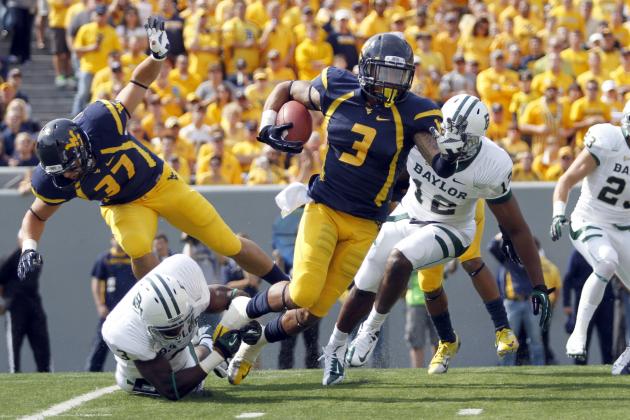 Justin K. Aller/Getty Images

Week 5 Stat Line: 13 Receptions, 303 Yards, Five Touchdowns
You would think after two or three touchdowns and 200 receiving yards Baylor's defense would have found a way to stop the talented West Virginia receiver. Instead, Bailey found more room in the Bears' secondary catching 87 and 39-yard touchdown passes in the fourth quarter.
Bailey may not have games like this every week for the Mountaineers. However, with Smith as his quarterback, he should have no problems putting up 100-yard games for the remainder of WVU's schedule.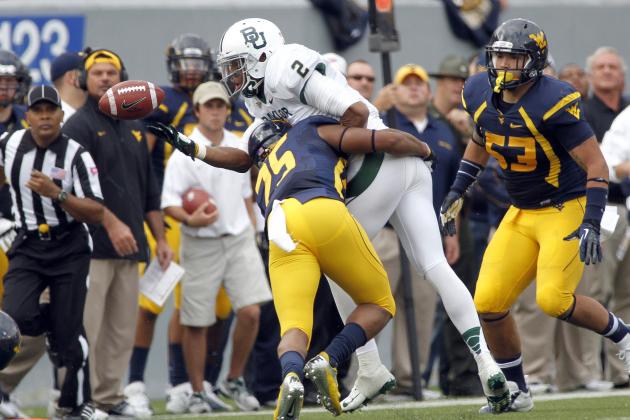 Justin K. Aller/Getty Images

Week 5 Stat Line: 17 Receptions, 314 Yards, Three Touchdowns
Just like in the Oklahoma State-Texas game, if Geno Smith and Stedman Bailey did not go off against a horrible Baylor defense, we would be talking more about the record-setting day from Williams and not what WVU did.
Williams was a focal point in the Bears' offense trying to keep up with the Mountaineers on Saturday. It seemed as if every time Baylor had the ball, somehow Reese was finding a way to get open in West Virginia's secondary.
However, the Bears couldn't keep up enough with WVU, despite the huge numbers that Williams put up on Saturday.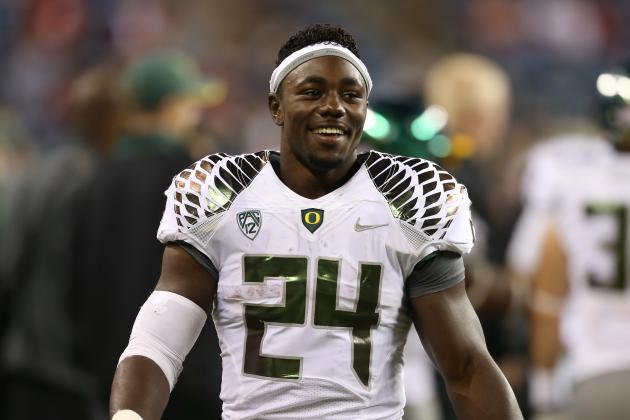 Otto Greule Jr/Getty Images

Week 5 Stat Line: 20 Carries, 195 Yards, Three Touchdowns
Oregon's win over Washington State wasn't something that was as shocking as Middle Tennessee over Georgia Tech, but if they would have lost it would have fallen on the winged shoulders of Barner.
Barner helped the Ducks race out to an early lead after a 22-yard touchdown run. He then added a second first-quarter touchdown, as he caught a 30-yard pass from quarterback Marcus Mariota.
Barner then added an exclamation point on his day, as he scored a third time in the fourth quarter as he broke off a 80-yard touchdown run.
Geno Smith may have set the Heisman bar high, but Barner is doing his best to keep up with the WVU quarterback.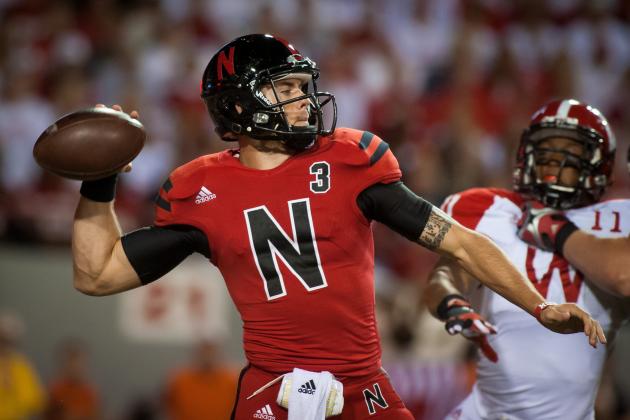 Eric Francis/Getty Images

Week 5 Stat Line: 17-29, 181 Yards, Two Touchdowns, 13 Carries, 107 Yards, One Touchdown
Martinez may not have had the passing day of 400 yards, or the rushing day of 200 yards. However, Martinez single handily carried the Cornhuskers back into its game against Wisconsin and to a victory.
Down 27-10, and their season on the line, Martinez orchestrated four straight scoring drives. Because of Martinez, Nebraska scored 20 straight points and survived a scare against Wisconsin.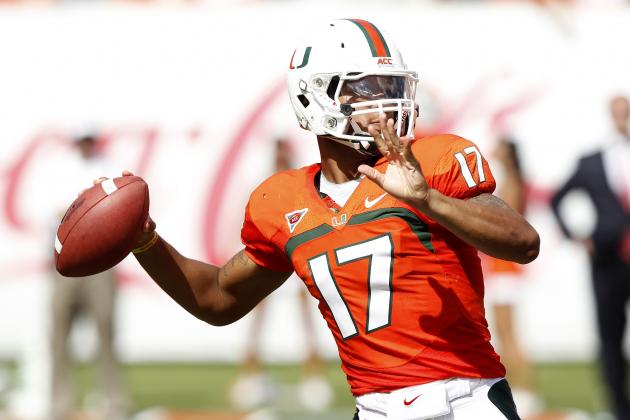 Joel Auerbach/Getty Images

Week 5 State Line: 26-49, 566 Yards, Five Touchdowns
For the fans that braved the heat at Sun Life Stadium in Miami, they were treated to one heck of a show from Morris.
Like some of the other quarterbacks on this list, Morris' 566 yard day against North Carolina State set a number of conference or team records.
However, his most impressive touchdown came in the final seconds of the game. Morris somehow found Hurricanes wide receiver Phillip Dorsett on a 62-yard touchdown pass to give the Hurricanes the 44-37 victory.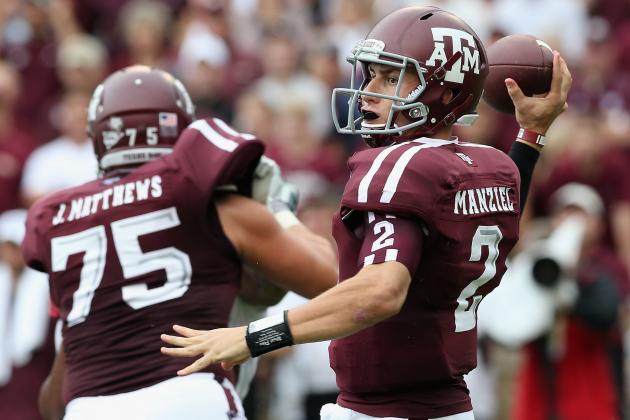 Ronald Martinez/Getty Images

Week 5 Stat Line: 29-38, 453 Yards, Three Touchdowns, 14 Carries, 104 Yards, One Touchdown
Manziel impressed Texas A&M fans in the Aggies' first SEC game against Florida. It was going to be tough to make the A&M fans like him even more, but after his record-setting game against the Razorbacks, I think you could start to build him a statue in College Station.
It's going to be hard for Manziel to improve on top of this game.
But, with the way that he plays, it wouldn't be surprising if he has another type of game like this before the 2012 season is over.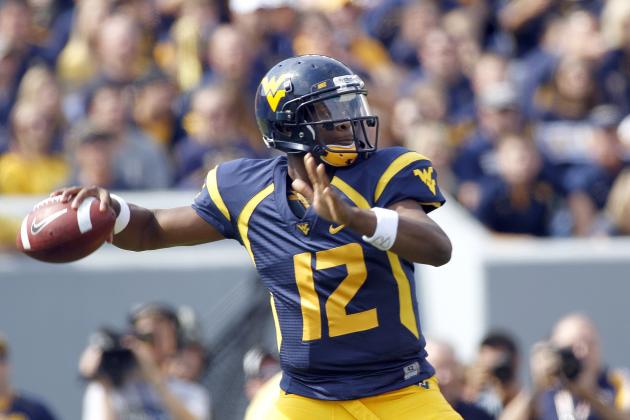 Justin K. Aller/Getty Images

Week 5 Stat Line: 45-51, 656 Yards, Eight Touchdowns
First off, Smith had the best week among anyone, not only in college football, but on this list as well. What's funny is that Smith's monumental day didn't set any conference records. But, Smith did break multiple school records after destroying Baylor's defense.
After his game on Saturday against Baylor, Smith set himself apart from the other Heisman contenders.
In fact, his game helped two of his wide receivers, Stedman Bailey and Tavon Austin, creep into Heisman consideration after being beneficiaries of Smith's ability.
It is going to be exciting to see how Smith can outdo himself during WVU's remaining games.