Florida State vs. South Florida: Complete Game Preview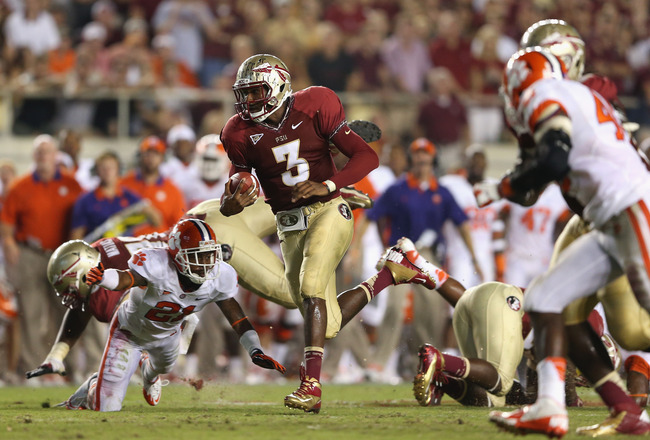 After a Tiger maulin, the 'Noles wish to avenge a 2009 USF loss.
Streeter Lecka/Getty Images
Bobby Bowden stood on the sidelines, unaware that this would be his last season at Florida State.
History was about to be written.
Despite the annual hiccup to Miami and a concerning performance against Jacksonville State, the Seminoles had destroyed a top-10 Brigham Young team in Provo.
The state of the Tribe was cautiously optimistic.
Despite having E.J. Manuel, then just a heralded recruit from Virginia Beach, taking his first start at quarterback, FSU was expected to compete—and beat—the upstart South Florida Bulls football program.
Hopes of national relevance were dashed as the Seminoles lost 17-7 at home.
Not only did Manuel lose his debut, but the loss proved a turning point in Seminoles' history. The team barely made a bowl game, and Bowden was let go.
Needless to say, Florida State has plenty to motivate them going in to Tampa.
But how will they handle success? Will their first road trip all season derail their national championship aspirations?
Gameday Information

Bowden's loss to USF should feed the team motivation.

Who: Florida State at USF
When: Saturday, 6:00 PM EST
Where: Tampa, Fla.
Stadium: Raymond James Stadium
TV: ESPN
Radio: Sirius XM (among others)
Locally: Check out Seminoles.com's listing to the left
Internet Stream: Not applicable
Depth Chart for Florida State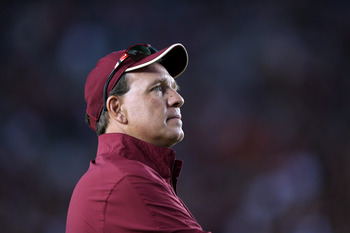 Saturday's game will be Jimbo's first against USF.
Streeter Lecka/Getty Images
The Seminoles have a similar set-up as usual for the USF game.
According to orlandosentinel.com, freshmen defensive end Chris Casher is left out this game, but the roster seems mostly intact.
Depth Chart for South Florida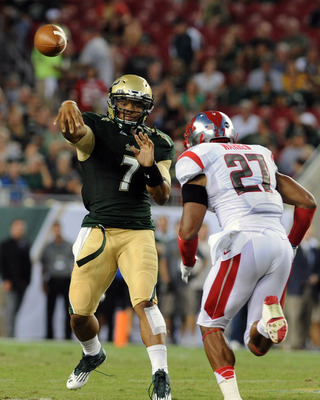 B.J. Daniels looks to fashion an upset in his senior season.
Al Messerschmidt/Getty Images
What Happened to the Seminoles Last Week

Florida State rejected Clemson's national title hopes.

In case you missed Saturday's prime-time matchup, here's what happened to Florida State last week.
The Seminoles hosted 10th-ranked Clemson, and both teams featured high-octane offenses. FSU rallied from a 28-14 deficit to win 49-37. In all honesty, had E.J. Manuel decided to run in a touchdown as time expired, the score would have really been 55-37.
Quarterback E.J. Manuel threw for 380 yards and two touchdowns while he passed the century mark on the ground in his best performance as a collegiate player. He's even being mentioned as a Heisman Trophy candidate.
What Happened to South Florida Last Week

USF head coach speaks to the media after the Ball State loss.

USF continued its descent into mediocrity with a loss to MAC team Ball State. The 31-27 loss at least occurred on the road. Daniels threw for three scores, but the two interceptions are concerning.
It is fair to say that Skip Holtz is on the hot seat. The Bulls missed a bowl game last year and currently sit at 2-2.
What It Means to Both Teams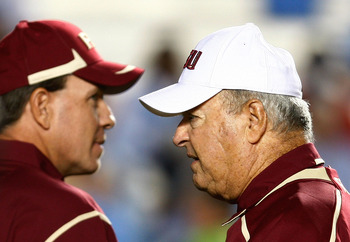 Jimbo Fisher can avenge Bobby Bowden's loss to USF.
Scott Halleran/Getty Images
Florida State needs to win this football game, and not only for obvious reasons. Yes, the Seminoles need to stay alive in the national championship race, but it's also a psychological game.
After spending their first four games warming up to the competition in cozy Doak Campbell Stadium, the Seminoles are on the road for the first time. Many people are saying the Seminoles are legitimately back after the team destroyed Clemson last weekend. Can Florida State handle the success?
They must. After Oregon's shellacking of Arizona, the shutout that the Ducks gave the Wildcats put Oregon (for now) firmly ahead of Florida State to play the LSU/Alabama winner for the national championship.
For the Bulls, bowl hopes are on the line. If USF loses its third game in a row (at home, no less) a repeat of the 1-7 stumble to end the 2011 season looks like a legitimate possibility. Skip Holtz would likely lose his job, and with B.J. Daniels gone, this very new football program might end up in mediocrity for years to come.
Key Player for Florida State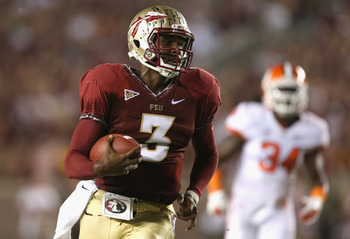 E.J. Manuel's performance on football's biggest stage was enviable.
Streeter Lecka/Getty Images
E.J. Manuel continues to set the tempo through the air. While Chris Thompson slices through defenses on the ground, it is Manuel's improved play-action ability (along with his scrambling skills) that make Florida State a dual threat on offense.
Manuel, who has a tendency to get nervous, will need to relax and focus on this road game. Last week's performance (as of right now) can either be a career highlight or the start to incredible performances week-in and week-out.
Thompson can bail FSU out against the Bulls pretty easily, but he shouldn't have to. Manuel's road confidence must be established before the 'Noles visit N.C. State next Saturday.
Key Player for South Florida

B.J. Daniels led the Bulls to a narrow victory over Nevada.

B.J. Daniels is the unquestioned leader on offense. It was Daniels who threw a 56-yard pass to Andre Davis that catapulted the Bulls to victory over Nevada 32-31.
Daniels threw two picks on the road at Ball State, costing the Bulls the much-needed victory. Maybe at home he can rile his teammates to bring their A-game and upset the Seminoles.
Florida State Will Win If...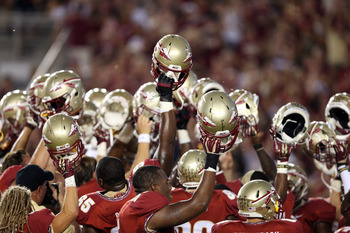 FSU wants to go 5-0 for the first time since 2005.
Streeter Lecka/Getty Images
1. E.J. Manuel avoids costly interceptions.
2. Chris Thompson gets the ball.
3. They don't rely on special teams—they were weak last week, and FSU should not have to resort to special teams alone to win this game.
South Florida Will Win If...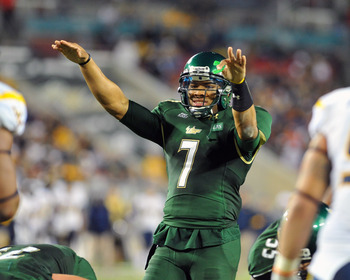 B.J. Daniels has a chance to shock the world.
Al Messerschmidt/Getty Images
1. B.J. Daniels turns into Geno Smith.
2. The Bulls defense forces turnovers any way possible.
3. They play field position the entire game.
Prediction
Chief Osceola will be cheering for the fifth week in a row.
Streeter Lecka/Getty Images
Florida State 59, South Florida 13
Florida State has plenty of motivation, and the defense should limit the opposition to a touchdown and two mere field goals as it recovers from Clemson's attack on the Seminoles' defensive stats.
Florida State might struggle in the first half on the road, but the backups should finish slaying the Bulls early into the third quarter.
Keep Reading

Florida State Football: Like this team?