Places We Want to Tailgate: College Football Edition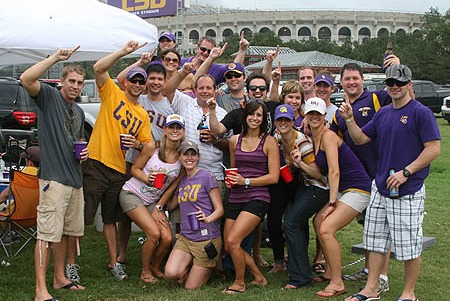 Image via ILoveToTailgate.com
College football was invented so man would have a reason to tailgate. True story.
There's nothing better than getting up early, claiming a spot, setting everything up and having a drink in your folding chair knowing that you've got a great tailgate ahead of you, followed by some great college football.
So for all you tailgate connoisseurs out there, these are the places you need to go if you really want to experience college tailgating the way it was meant to be experienced.
Begin Slideshow

»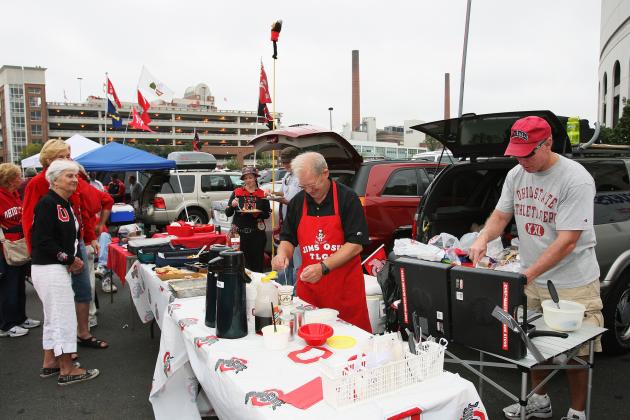 Jamie Sabau/Getty Images

Braxton Miller might be the BMOC at the Ohio State University these days, but there are other reasons to be excited in Columbus on game day. That's right—we're talking the OSU tailgate scene.
Since the Buckeyes' games tend to start around noon, you get an interesting assortment of food. Everything from breakfast to brunch to the customary dogs and burgers. Don't forget the hot wings and marinara-dipped sausages.
When the weather is cold, which is for most of the football season, expect to see some chili and cider pots. Most students choose to tailgate in the parking lots, but one can expect to see buses, RVs and rickshaws all parked nearby.
With thousands of folks filling the lots, one thing that's for sure is the Big Ten knows how to party.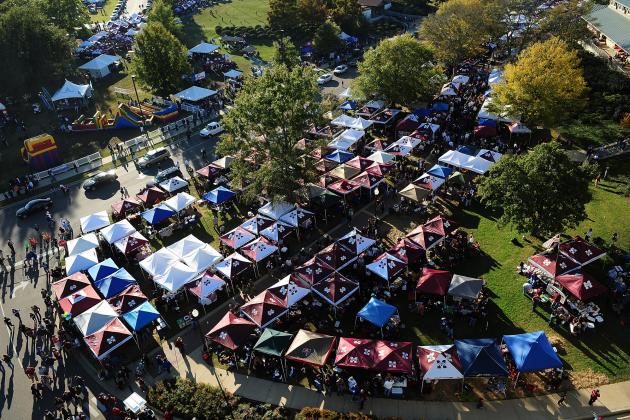 Rick Dole/Getty Images

In Tallahassee, you better grab your war paint and feathers, because FSU fans are not messing around.
The official "Fear the Spear" tailgate has a Port-a-Pit BBQ, unlimited drinks, live music, games—really anything you could want from a tailgate.
With Florida State better than ever on the field this season, you know the fans are stepping up their tailgate game right along with them.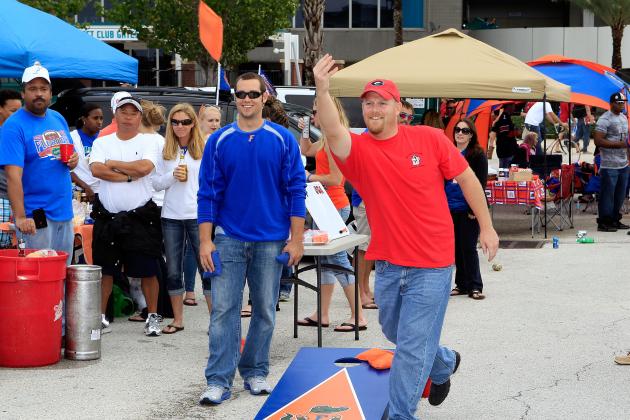 Sam Greenwood/Getty Images

Once ranked the biggest party school in the country, Florida has a reputation to uphold when it comes to tailgating. They Gators take it very seriously. You can park anywhere on campus to tailgate if you get there early enough, and the sight on game day is absolutely unreal.
You will see people frying up actual gator in Gainsville, but if that's too extreme for your tastes, they also have plenty of other, more traditional kinds of meat cooking on their grills.
One of the best places to hang out is Ginnie Springs, where you can drink as you float on a tube down the Santa Fe River. Bring your sunscreen.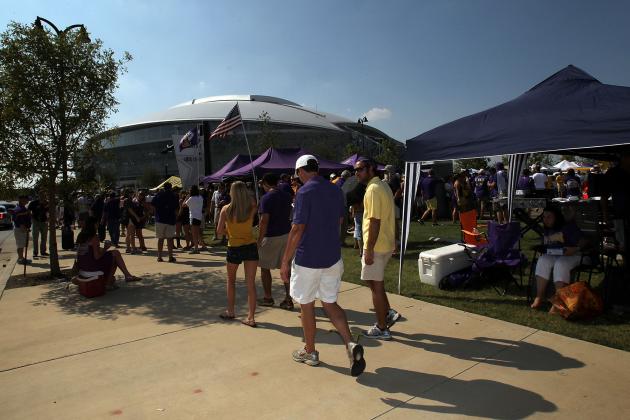 Ronald Martinez/Getty Images

If you plan on tailgating in Baton Rouge, you better start planning ahead of just game day. I'm talking Wednesday, which is when Tigers fans start showing up.
And if you're looking for amazing food, you've come to the right place. Louisiana, as you surely know, is home to some of the most amazing, succulent Cajun cooking the world has ever seen.
According to ESPN's Jim Caple, "They serve up such offerings as jambalaya, duck and oyster gumbo, stuffed quail, deer sauce picante, wild duck, cochon deli, Cajun sausage, crawfish etouffete, rabbit, alligator stew and marinated pork tenderloin. It was like reading the menu at Emeril's."
If that's not enough, LSU recognizes a tailgater of the game. So if you come prepared, you could walk away with some sweet prizes.
Image via DrunkenTailgate.com
When you think of cities known for partying, Las Vegas has to top that list. So if you've ever wondered if folks in Vegas know how to tailgate, the answer is "yes."
Forget about the food; you come to a tailgate in Las Vegas, you come for the entertainment. UNLV routinely has different DJs all around their tailgates as well as dancers and even magicians from time to time. It's the Vegas experience on a college level.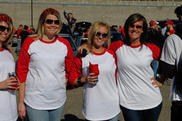 Image via Flickr.com
If you're going to be at a Cincinnati game in the future, you need to stop by and check out the Bearcat Tailgaters group.
Named the 2009 Tailgaters of the Year by Tailgater Monthly (and, honestly, who would know better?), these guys feature their own beer tap featuring local favorite Hudy Delight, plasma TV, wine fridge, microwave and a big-daddy grill with all the meat you could eat.
Even if you can't find those guys, you'd still be set pretty much anywhere on the Cincinnati campus. As long as you're bundled up and wearing black and red, at least.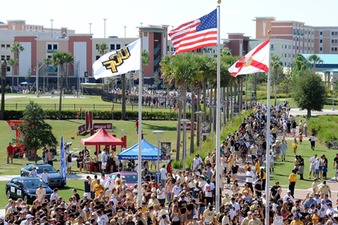 Image via MissFantatic.com
Orlando is a place where all of your wildest dreams come true. I'm not talking about nearby Disney World, though. I'm talking about the tailgate scene at Central Florida.
The weather is great, the women are beautiful, the meat is fall-off-the-bone good and the beer is cold. Knights fans have it made.
Head over to Memory Mall, the grassy area that is UCF tailgate central. In addition to your usual live music they also have a tug-of-war, slip-and-slides and soap wrestling. So, yeah, bring your bathing suit.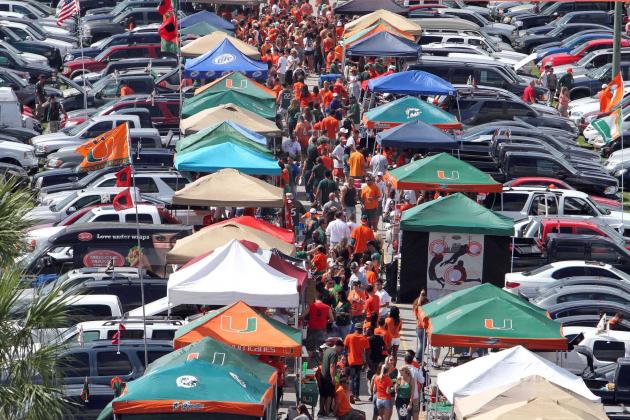 Robert Mayer-US PRESSWIRE

You better prepare yourself when you come to tailgate in Miami. The fans of The U are a passionate group, and they care just as much about their tailgating as they do their beloved Canes.
It's a nonstop party in Will Smith's favorite city. As long as you know how to make a U with your hands, you can get some food and drinks from just about any group setting up outside of Sun Life Stadium.
While most tailgaters cook up a variety of meats, Miami fans love them some breakfast food as you see all sorts of sausage, bacon, hash browns and even eggs getting cooked up on grills up and down the parking lot.