What I Loved and Hated in College Football Week 5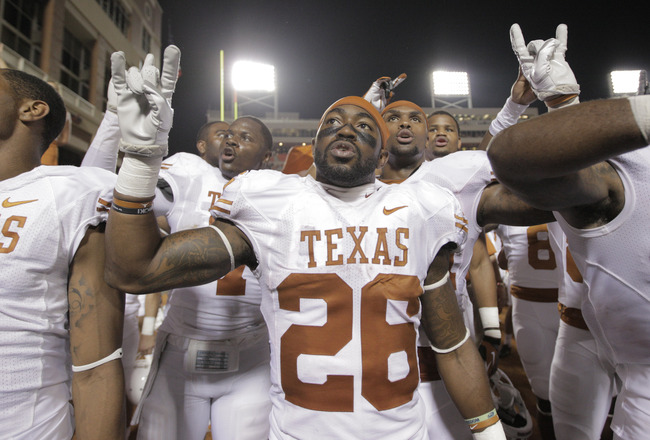 Brett Deering/Getty Images
The gentleman who brings the "D" with a coinciding picture of a fence to college football games had a horrible weekend. I'm not sure if these folks still bring such signage out in public—they do, and bless 'em for it—but they will likely think twice about encouraging defense to be played after what took place this weekend.
In fact, hundreds of these signs are currently sitting at the bottom of a ditch, covered in empty Busch Light cans and unthinkable body fluids. Oh, and shame.
Outside of a few locations, there were touchdowns galore in Week 5. Although it didn't set to be the most intriguing week on paper, we were served an $8 steak that came with surprising flavor.
Compliments to the chef.
A glorious slate of games is on deck, but before we officially turn the page on Geno Smith's Wild Ride, let's examine what we loved and hated in Week 5.
LOVED: Anthony Amos and His Ridiculous One-Handed Catch
This ball was going to Middle Tennessee State wide receiver Anthony Amos or probably to some unassuming fan's face situated behind the end zone. It never got there, though, which is good news because noses could have been mangled.
Amos came up with the catch of the weekend—although J.D. Woods might argue with us—in the team's game against Georgia Tech. You've done this in the pool before with a Nerf Vortex, so basically you and Amos are very similar.
Congratulations. Keep up the good work.
HATED (Again): Miami's Home Crowd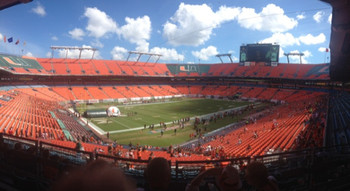 Image Via Michael Casagrande
Now THAT is how you do an orange-out. I'm not a huge fan of these stadium coordination efforts, but Miami did it right in its thrilling win against NC State.
Oh, no. Wait. Those are seats, and this was taken just before the game began. Scratch that. Well, the beach must be packed.
This video gives you an idea how the stadium "filled up" during the game, and really I'm not sure that's an accurate way to describe it. Miami fans clearly have better things to do, although they are missing out on some fantastic football watchin'.
I know they won't read this because they're too busy NOT DOING FOOTBALL THINGS, but they should really do more local football things.
LOVED: Travis Coons' Left-Footed Punt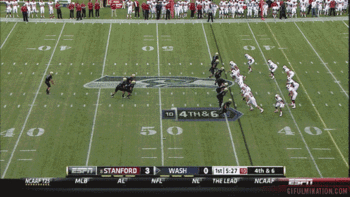 GIF Via @BubbaProg
As you are well aware, sometimes things don't always go as planned. If you're a punter and things don't go as planned, typically someone twice your size smothers you while you attempt to do your job.
Travis Coons was almost featured on that slow-motion destruction replay, but Washington's punter (and kicker) instead pulled one of the great Houdini acts of 2012.
The snap was bad, but Coons quickly retreated and manage to fire off an impressive left-footed punt that traveled a great distance. If you were wondering, Coons is indeed a righty and if I tried to do this with large men zeroing in, well, I would probably just run out the back of the end zone in tears and run all the way home.
HATED: To See Poor Doc Holliday Get Roughed Up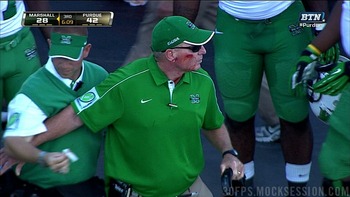 Image Via @BubbaProg
Marshall head coach Doc Holliday saw his team battle against Purdue, although in the end it came up 10 points short. Adding injury to insult, ol' Doc got clobbered by a bigger official and went down hard in the process.
The result is a cheek that looks like it was on the wrong end of a bear attack and a coach that has had better days overall. For a better look, it looked a lot like a scene from Terminator 2 in his postgame chat.
This is the part where I tell you what a dangerous game football is—and it is—even if you're simply wearing a headset on the sideline, trying not to get steamrolled by a bigger zebra on the run.
LOVED: AL Golden's Elaborate Chalk Talk
WARNING: S-WORD INCLUDED IN VIDEO, WHICH YOU'VE NEVER HEARD BEFORE AND I CAN'T BELIEVE I JUST TYPED "S-WORD." (Move to the 1:18 mark.)
Yes, Miami gets two mentions in this week's Love and Hate, and this one is lots and lots of love. The Hurricanes edged NC State in dramatic fashion thanks to this 62-yard bomb from Stephen Morris, and Al Golden was excited.
He was REALLY excited, and when he was tasked to describe the play, he unleashed the exact same thing everyone across America said while watching this game.
HATED: This "Interesting" Spot in the Alabama-Ole Miss Game
"You know what, Alabama could really use a few breaks," said absolutely no one other than Alabama fans, and even they wouldn't take unfair advantages at this point.
Why are you laughing?
Alabama wideout DeAndrew White was very close to getting a first down, and, well, the official decided to give him a little extra "bump." I'm not quite sure what this lovely official was thinking, why a replacement ref snuck his way into this game or if there were "outside intentions" here, but this is not a good look.
Unless you're an Alabama fan. Then it's a great look.
LOVED: Ice Luge Uga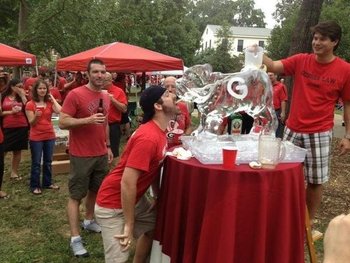 Image Via @AJ_Sanson
From the conference that brought you R2-D2 in keg form comes an ice luge in the shape of Georgia's mascot.
It would appear that you pour the alcohol of choice in Uga's uga, and it comes out on the other side. The craftsmanship is magnificent, the presentation is top-notch and the idea of drinking out of the same frozen dog statue as 500 frat bros screaming "chug" sort of makes me cringe violently.
I'm getting old, apparently, or just not SEC enough. Still, however, I love this…from a comfortable distance.
HATED: That We Missed Out on an All-Time "Bad Beat"
The game was over, but for some "invested" onlookers out there, this meaningless play in the Florida State-South Florida game was much, much more.
You see, the point spread for this game was right around 16 points. South Florida was down 30-17, very much covering this Vegas handicap. As Florida State tried to wind down the clock, running back Chris Thompson broke off a big run and looked like he was heading for the end zone.
Instead of looking for the end zone, however, Thompson went down in the middle of the field while thousands of "GO, GO, GOs" and "GET HIM, GET HIM, GET HIMs" were yelled around the world. You can hear the remnants of expletives and tickets being torn to shreds days later.
Keep Reading