5 Coaches Who Should Be on TV After They're Fired This Season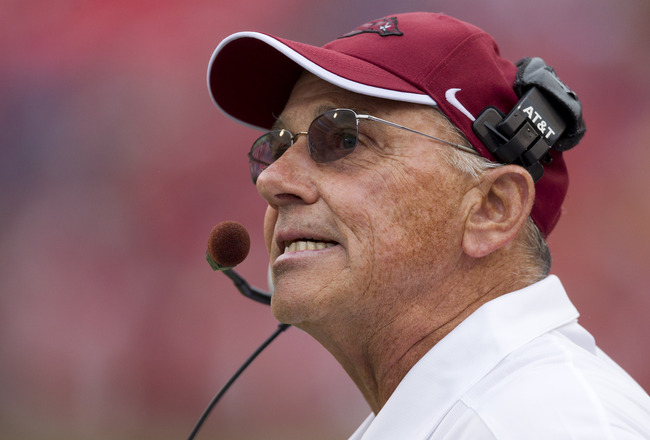 Wesley Hitt/Getty Images
Every season we see coaches get fired and many of them move on to another program that has an opening on the coaching staff. But nowadays, there are more opportunities for coaches than ever before, as many are moving into the broadcasting business or becoming analysts.
Many do this as a way to take a break from coaching for a while, as Rich Rodriguez and Urban Meyer recently returned to the field after taking television jobs. And some actually quit coaching for the new gig, as this has become extremely popular for retired NFL coaches.
Regardless, some may be due for a break or will make better analysts than coaches at the moment.
Here are five current college football coaches who would make for great television.
Jeff Tedford, Cal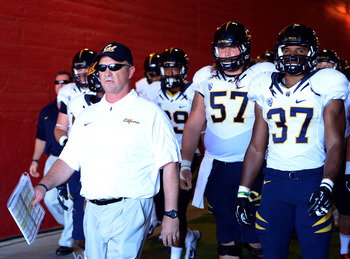 Harry How/Getty Images
Reason he will be fired: Cal was supposed to be one of the surprise teams in the country this season. The Golden Bears returned a majority of their starters, had a 1,000-yard rusher returning, an experienced quarterback and one of the top wide receivers in Keenan Allen. Instead, the program has gotten off to a 1-3 start, which includes a loss to Nevada.
Reason he will make for great television: Tedford could really provide some insight to the quarterback position kind of how Trent Dilfer does for ESPN. The current Cal coach actually coached Dilfer back at Fresno State and also helped groom Aaron Rodgers before he became an NFL MVP. It would be great to be able to pick his brain on one of the most glamorized positions.
Gene Chizik, Auburn
Butch Dill/Getty Images
Reason he will be fired: Is Chizik on the hot seat or isn't he? He did win a national championship in 2010, which has to count for something, but he also has gotten off to a horrible start and hasn't done much in his career without Cam Newton. A tough SEC schedule ahead will really tell us what the future looks like for the sixth year head coach.
Reason he will make for great television: Chizik is one of the bigger names that has been on the hot seat for a long time, and just off of his name alone, companies will begin calling to see if he is interested. And because of his reputation, you will tune in to hear what he has to say. He could provide us with some great insight to the SEC, which has become everyone's favorite conference to either love or hate.
Robb Akey, Idaho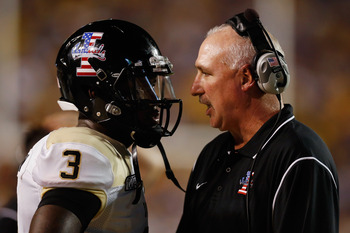 Chris Graythen/Getty Images
Reason he will be fired: Akey is a combined 19-47 in his six years at Idaho. Since 2011, the head coach is a combined 2-14, which includes a 0-4 start to this season. The scoring offense is ranked 117th in the country, while the scoring defense is ranked 106th. Sorry, but even a team in the WAC has its limits.
Reason he will make for great television: Despite many horrible seasons under Akey, in 2009, he did lead the Vandels to their first bowl game since 1998. He put a little pep in this programs step just a few years ago, which if you are able to do that, you have to be decent at what you do. He also seems like a nice man who will be careful with his choice of words and television companies love that.
Randy Edsall, Maryland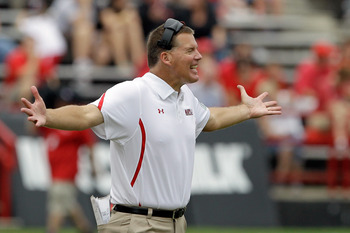 Rob Carr/Getty Images
Reason he will be fired: Edsall is making $2 million a season to set this Maryland program back a couple of years. Ralph Friedgen was fired for Edsall, who is now 4-12 in one and a half seasons. Maryland barely beat William & Mary this season and lost to teams such as Boston College and Wake Forest last year.
Reason he will make for great television: Maybe Edsall isn't built for bigger programs such as an ACC team, but he is great at recruiting players. He was able to lead Connecticut into the AP Poll several times, including four straight bowl games and a BCS bowl in 2010. And despite a horrible showing in 2011, he still managed to land top recruits from the 2012 class such as Stefon Diggs and Wes Brown.
With more and more people paying attention to recruiting than ever before, Edsall could provide some great insight to players and how things work in the recruiting process.
John L. Smith, Arkansas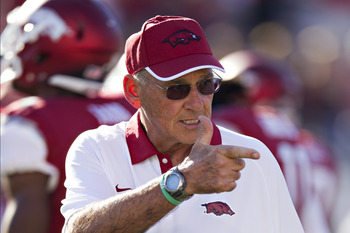 Wesley Hitt/Getty Images
Reason he will be fired: Is there any question John L. Smith is going to be fired after this season? Arkansas was a team that had possible national championship on their mind before the season started. Instead, the Razorbacks are 1-3, which includes upsets to Louisiana-Monroe and Rutgers, and a 52-0 loss to Alabama at home. Not to mention he is in debt over his ears (Via ESPN), which can't be good publicity for the program overall.
Reason he will make for great television: Some considered it creepy, others thought it was bizarre, many thought it was humorous, regardless, everyone seemed to have an opinion on the coach's recent press conference. That is what makes great television and is why you will tune in just to see what he does and says next.
Keep Reading