Ranking the Top 15 RBs in College Football So Far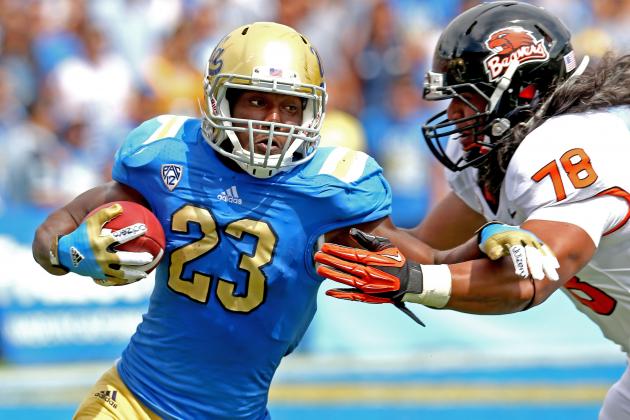 Stephen Dunn/Getty Images
Johnathan Franklin has rushed for 586 yards this year.
College football has a new king at running back and his name isn't Montee Ball. With scores of running backs across the nation vying for the top honor, one player has set himself above the rest.
Most will look to Nevada's Stefphon Jefferson and his 11 touchdowns or Air Force Academy's Cody Getz with his 7.9 yards per rush as the likely candidates. That assumption is wrong, although they're still in the rankings.
Some are clamoring for their name to go ahead and be mentioned. But where would be the fun in that?
Here's a look at the top 15 running backs so far in college football
Begin Slideshow

»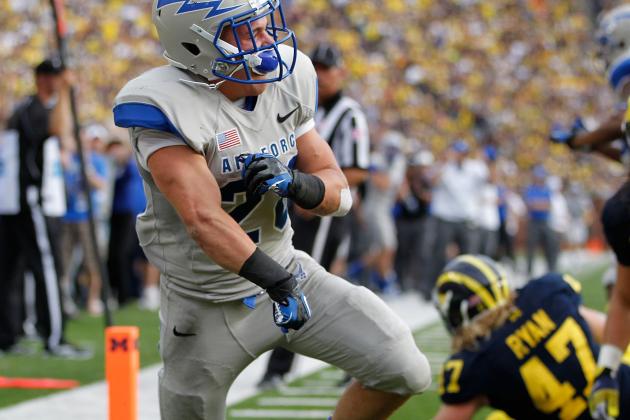 Gregory Shamus/Getty Images
Cody Getz has 461 yards rushing for Air Force this year.
While he's more a product of the system, Air Force Academy running back Cody Getz is having a great year.
With 461 yards on 15 rushes, Getz is one of the nation's leaders in yards per rush.
Getz started out the season with 216 yards rushing and three touchdowns against Idaho State. He followed that up with a 130-yard, three touchdown performance against Michigan.
It looks like his stats will only go up with Colorado State, Navy and Wyoming next up for the Falcons.
While Getz won't go on to a career in the NFL, he can take satisfaction in that he'll be in the top 10 in rushing throughout the year.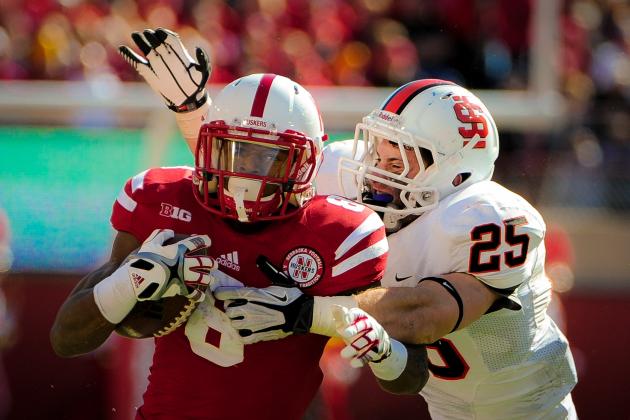 Eric Francis/Getty Images
Ameer Abdullah has 416 yards rushing this year.
Ameer Abdullah may only be a sophomore, but he's the leader in the backfield for the Nebraska Cornhuskers.
Abdullah currently has 416 yards on 60 carries with another 78 yards receiving.
While Nebraska goes through quarterback Taylor Martinez, Abdullah provides a nice relief for Martinez. Abdullah will never be credited with much, but his abilities in the backfield keep defenses honest against Nebraska.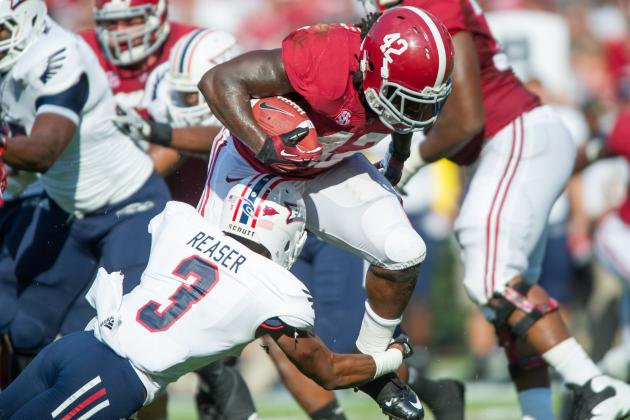 Michael Chang/Getty Images
Eddie Lacy has four rushing touchdowns in limited playing time this year.
Just because you're the best running back on the best team in the nation, doesn't mean you're the best running back in the nation.
Some Alabama Crimson Tide fans will argue Eddie Lacy is the best running back in the nation. Head coach Nick Saban won't let us find out since he likes to use two running backs.
Lacy has rushed for 232 yards on 45 carries and four touchdowns. The stats do seem low for Lacy, but also consider Alabama has been blowing out its opponents all year. There's been no reason for Lacy to be on the field in the fourth quarter.
While only a junior, Lacy will continue to develop into one of the best backs in the country. By this time next year, he may not be a Heisman candidate, but he'll be considered the top running back in the nation.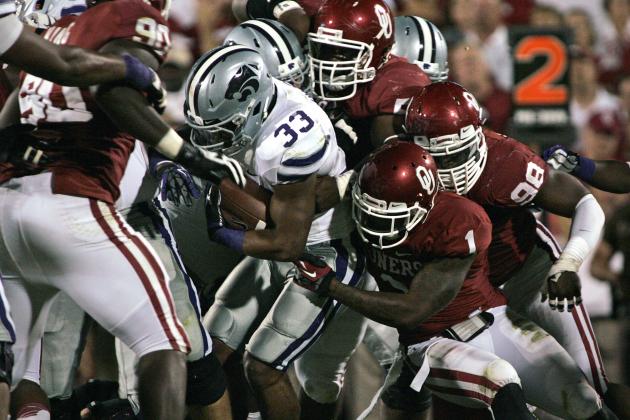 Brett Deering/Getty Images
John Hubert helped lead Kansas State to an upset over Oklahoma last week.
Outside of a Sept. 15 game against North Texas, John Hubert has been consistent thus far.
And, that's what the Kansas State Wildcats need him to be.
With 426 rushing yards and four touchdowns, Hubert is well on his way to bettering the 970 yards he rushed in 2011.
In games against Oklahoma and Miami, Hubert rushed for more than 100 yards each time. With Kansas and Iowa State up next, most expect him to be close to 700 yards by the time the Wildcats travel to West Virginia.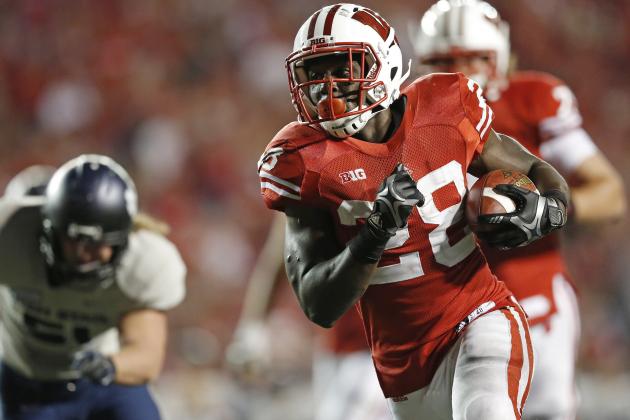 Tom Lynn/Getty Images
Although a great pro prospect, Montee Ball has struggled to get things going this year.
Montee Ball came into the season as a preseason All-American and a Heisman candidate.
Since then, Ball has largely disappointed with 360 yards rushing on 93 carries, which is worse than what he put up his freshman year.
The Wisconsin Badgers expect more out of their All-American. They have to get more out of him.
While 100-yard games against Northern Iowa and Utah State are nice, the Badgers need more than 40 yards against Big Ten teams. Unlike UTEP, Big Ten teams won't be as forgiving.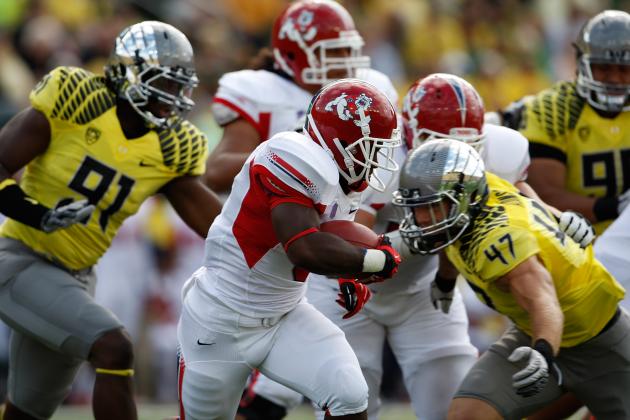 Kevin Casey/Getty Images
Robbie Rouse has rushed for 517 yards this year.
Robbie Rouse is fourth in the NCAA with 517 yards rushing and six touchdowns. And, it's not like this is a fluke for him.
Rouse has put on a rushing display the last two years for the Fresno State Bulldogs. Last year, he rushed for 1,549 and 13 touchdowns, while 2010 saw him rush for 1,129 yards and eight touchdowns.
Simply put, Rouse knows how to find holes and the end zone.
Rouse will never receive the recognition he deserves because isn't going to blow you away with its schedule. The only argument that can be made is that he put up 115 yards on the ground against No. 2 Oregon.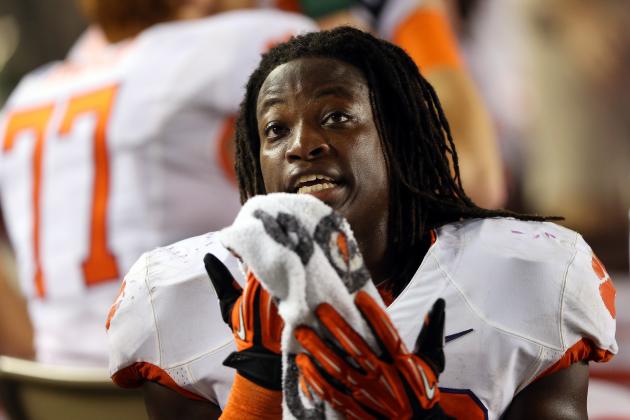 Streeter Lecka/Getty Images
Andre Ellington has 383 rushing yards for Clemson.
Andre Ellington is just one part of the three-headed monster for the Clemson Tigers.
With 383 yards on 67 carries, Ellington has struggled as of late after starting off the season with a bang. Opening the season with Auburn, Ellington had 228 rushing yards to lead Clemson to victory.
Since then, he's failed to break 100 yards, but that's due to 15 or less carries in each of the last three games.
Ellington has the ability to be the workhorse for Clemson. The key is if head coach Dabo Swinney will give him the rock more than 15 times like he did against Auburn.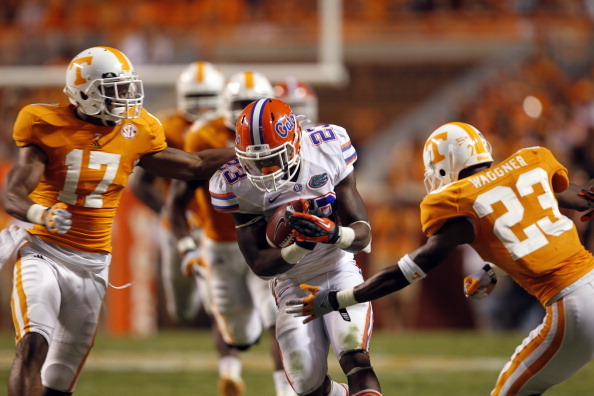 John Sommers II/Getty Images
Mike Gillislee has 402 yards rushing this year.
Mike Gillislee may be the one guy you've never heard of on this list.
A guy who just goes out and does his job, Gillislee has 402 yards and five touchdowns on the ground.
While the Florida Gators try to figure out everything going on at the quarterback position, Gillislee is a guy the team can depend on. If the Gators use him better than they used Jeff Demps, then they'll give quarterback Jeff Driskel a little relief.
If not, Gillislee could go down as the best back in the nation who doesn't get used properly by his team.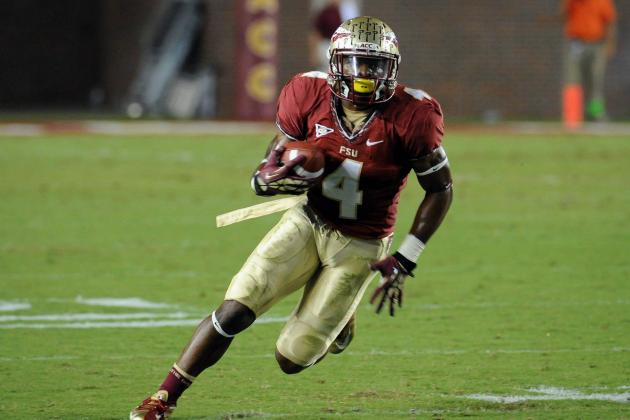 Melina Vastola-US PRESSWIRE
Chris Thompson is averaging 10.8 yards per rush.
Just give Chris Thompson the ball and he might break one for the Florida State Seminoles.
With 357 yards and five touchdowns rushing, Thompson is also dangerous as a receiver. In four games, he has 11 receptions for 119 yards.
Thompson showed just how good he is against Clemson last week. In total, Thompson had 182 yards and two touchdowns.
His 10.8 average yards per carry is second in the nation, while his ability to make plays is a breath of fresh air in Tallahassee (Fla.).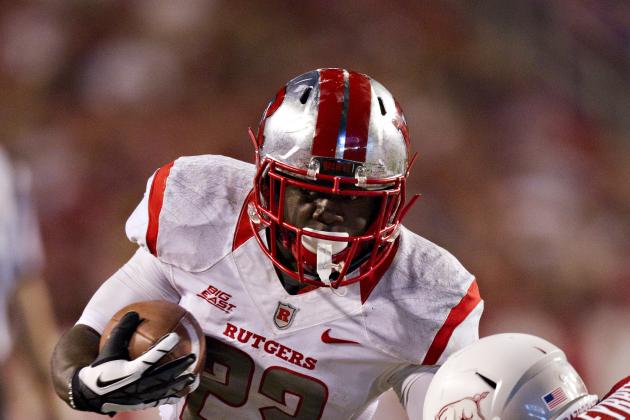 Wesley Hitt/Getty Images
Jawan Jamison had 118 yards rushing in Rutgers win over Arkansas.
If you didn't know about Jawan Jamison last year, then you surely know about him this year.
Jamison, who plays for the Rutgers Scarlet Knights, has 491 rushing yards this year. Last year, he rushed for 891 yards and eight touchdowns.
In four games this year, Jamison has gone over the 100-yard mark in each game, although he's had 74 total carries in the last two games.
Jamison will continue to be the workhorse for Rutgers this year. There's no doubt he'll reach 1,000 yards by seasons end.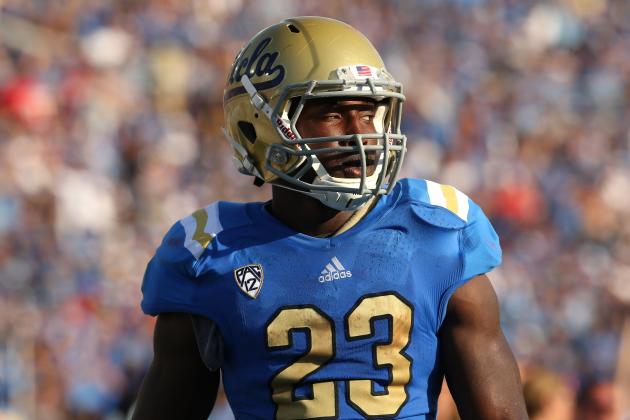 Stephen Dunn/Getty Images
Johnathan Franklin is currently third in the nation in rushing yards.
Johnathan Franklin currently sits third in the nation with 586 rushing yards for the UCLA Bruins.
With two 200-yard games to start the season, Franklin is showing he wants to be considered the best in the nation.
Franklin will have the ability to pad his stats over the next few games as UCLA will travel to Colorado and California next. In fact, the Bruins shouldn't have any trouble running the football until games 11 and 12 against USC and Stanford.
Until then, Franklin could earn his spot in New York, if things go his way.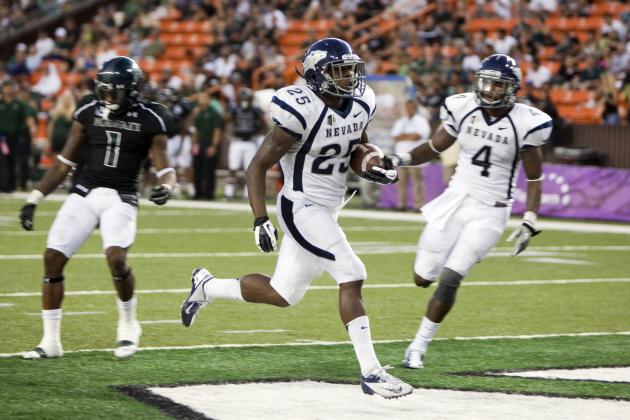 MARCO GARCIA-US PRESSWIRE
Stefphon Jefferson leads the nation with 699 yards rushing.
Stefphon Jefferson leads the nation with 699 yards rushing and 11 touchdowns.
No team has been able to touch Jefferson as he's rushed for no less than 135 yards in each game for Nevada. In fact, his biggest game came two weeks ago against Northwestern State with 247 yards on the ground.
Jefferson is another one of those players who won't gain much respect because of the conference he plays in. However, if he can dominate in rushing yards all year, it will be hard to ignore him next year.
Still, it would be nice to see Jefferson playing in a BCS conference where we could see how he does against better defenses.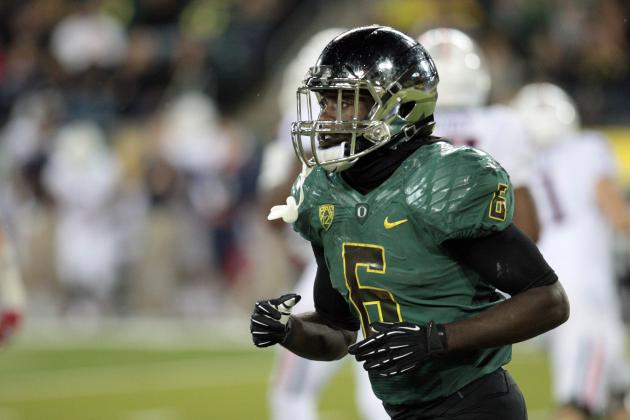 Scott Olmos-US PRESSWIRE
De'Anthony Thomas is one of the most explosive players in all of college.
De'Anthony Thomas could easily get lost in the shuffle at Oregon and its high-powered offense.
However, when you have the fastest wheels any side of the Mississippi, you'll never get lost in the shuffle. Thomas has 276 yards rushing and 165 yards receiving this season, showing no signs of slowing down.
Thomas is one of the reasons the Ducks are as high-powered as they are. His abilities keep opposing defenses honest.
While many would argue Thomas should be No. 1, it must be noted that he's more of an athlete than running back.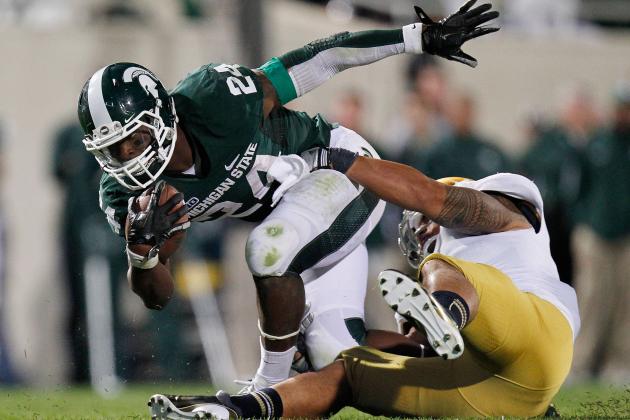 Gregory Shamus/Getty Images
Le'Veon Bell is second in the nation with 610 rushing yards.
Le'Veon Bell is second in the NCAA with 610 yards rushing and five touchdowns.
The Michigan State running back has two 200-yard rushing games this year. His only struggles came against Notre Dame, which is understandable given the Spartans lack of a great passing attack.
Bell has slowly taken over the title as the best running back in the Big Ten from Ball. While Ball won't relinquish the title quietly, Bell still has a lot more in him.
The running back has a huge opportunity this week at home against Ohio State. If he has a good game, he'll enter himself into possible first-team all-conference talks.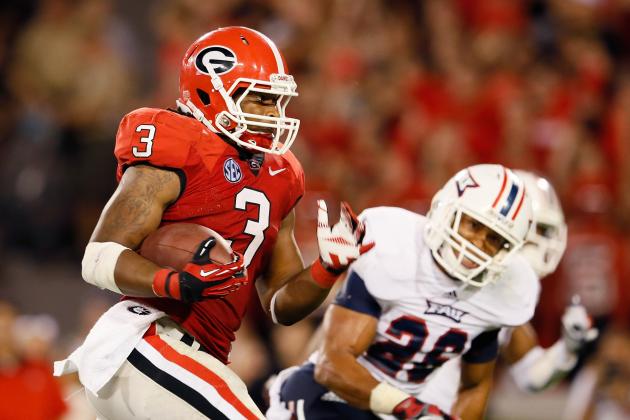 Kevin C. Cox/Getty Images
Todd Gurley currently has 406 rushing yards on the year.
For those who have not watched the Georgia Bulldogs play this year, you're missing the best freshman in the country.
Todd Gurley impresses many with his ability to find holes and break away from defenses.
Gurley currently sits at 406 yards on 44 carries with six touchdowns. He also has a kick return for a touchdown to his credit.
In each of his first four college games, Gurley has at least one touchdown and has reached 100 yards or more in three of those games. Defenses try to tackle him, but they can't bring him down.
Gurley's 9.2 yards per carry rank sixth in the nation. However, he also has more carries than the five players above him.
Easily the SEC Freshman of the Year, Gurley might find himself as an All-American before the season is out.