Big 12 Football: 10 Best Freshmen of 2012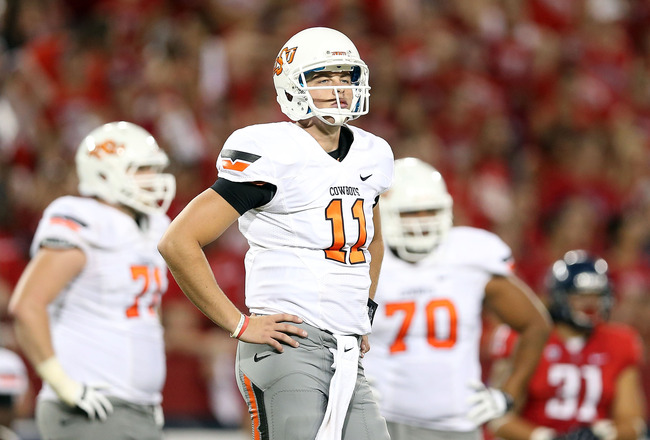 Christian Petersen/Getty Images
The Big 12 lays claim to a plethora of talented young men who help their teams to victory each and every week.
Some of these young bucks are currently standing head-and-shoulders above their peers, looking like juniors and seniors instead of lowly freshmen out on the playing field.
Keep in mind that this is a list of how well the players have performed, not their level of potential. Also, realize that this list is constantly changing as we figure out which of the new crop of players will become tomorrow's All-Americans.
With that said, make sure to let me know of any guys I missed in the comments section.
10. Johnathan Gray: RB, Texas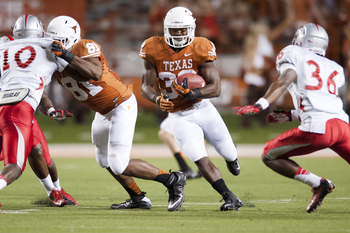 Cooper Neill/Getty Images
Season Stats: 89 yards, 4.2 yards per carry
Gray is one of the more highly touted players in the nation after posting an otherworldly high school campaign.
However, he also has two big-time players in front of him at the running back position. Malcolm Brown and Joe Bergeron demand the football, but that doesn't mean Gray isn't going to get his touches.
Expect Gray to get somewhere around 100-150 touches on the season, as the Longhorns groom him as their running back of the future.
One quick note: DT Malcom Brown (not to be confused with Texas' running back) is surely going to be a stud player but has yet to really put his mark on the game.
9. Daje Johnson: RB, Texas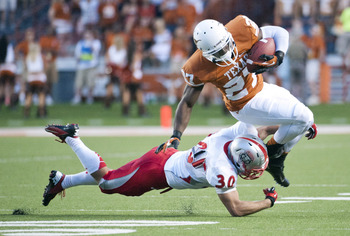 Brendan Maloney-US PRESSWIRE
Season Stats: 5 catches, 81 yards, 1 TD
Don't be fooled by his position, Johnson is a do-everything player that's going to see playing time all over the field.
He may have had a bit of trouble with his attitude early in the year, but this guy is the real deal. He's an electric player who's going to make plays all over the field.
Look for him to continue to be a factor in the passing game as Texas already has three other quality running backs on the depth chart (including fellow freshman Johnathan Gray).
8. LaDarius Brown: WR, TCU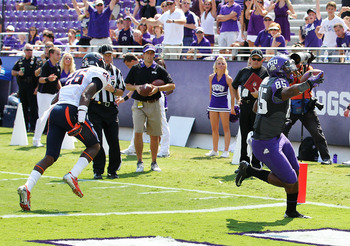 Kevin Jairaj-US PRESSWIRE
Season Stats: 7 catches, 96 yards, 1 TD.
Brown has yet to really have a breakout performance, but he put together solid back-to-back games after not seeing the field against Grambling State.
His touchdown against Virginia was big, but I'd argue that his 70 yards receiving against Kansas was more impressive. That showed his consistent ability to make plays.
If he can continue to do so, he's going to be a great third receiver for the Horned Frogs and could become much more moving forward.
7. Isaiah Bruce: LB, West Virginia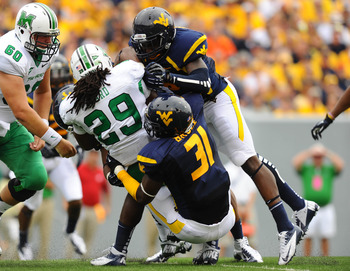 James Lang-US PRESSWIRE
Season Stats: 30 tackles, 0.5 sacks.
Prior to the season, Bruce must have visited Bobby Boucher and gotten himself some "tacklin' fuel."
Bruce has been all over the field through the first three games of the season. He started out on fire against Marshall with 16 total tackles.
Since then, he's cooled off a little bit, but he's still put up solid numbers for the Mountaineers.
Karl Joseph is another WVU freshman who has been playing lights out on defense over the season's first three games.
6. Trey Metoyer: WR, Oklahoma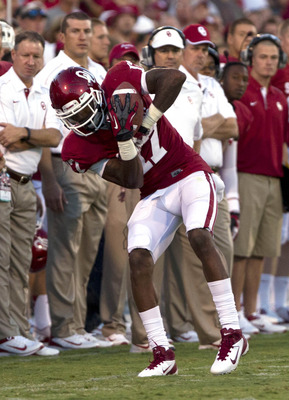 Richard Rowe-US PRESSWIRE
Season Stats: 10 catches, 90 yards, 1 TD
Metoyer, along with fellow freshman Sterling Shepard, joins a Sooner receiving corps that's trying to replace one of last year's best players, Ryan Broyles.
Metoyer hasn't blown up quite yet, but you can see the skills the young man possesses when the ball does come his way.
Look for him to continue to grow, especially if Landry Jones can settle himself down and realize his full potential.
5. Wes Lunt: QB, Oklahoma State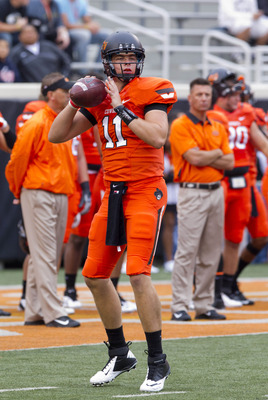 Richard Rowe-US PRESSWIRE
Season Stats: 588 yards passing, 68 percent completion rate, 4 TDs, 3 INTs
To be fair, we only have one quarter of action against a severely inferior Savannah State team and a disappointing loss to the Arizona Wildcats on which to judge Lunt.
That said, he looked like a star-in-the-making for the most part. Sure, he played subpar football against Arizona, but you have to remember this was his first game ever on the road against a solid Wildcat team.
Obviously his knee injury hurts his stock, but you can't deny the kid has talent. He's the first true freshman to start for the Cowboys in a long time for a reason. If he can learn to deal with road pressure, Oklahoma State is going to be set at the position for a long while.
4. Le'Raven Clark: OL, Texas Tech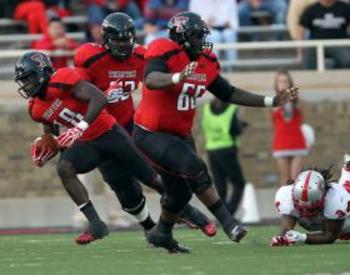 Season Stats: 0 sacks for Seth Doege
Last season, Texas Tech quarterback Seth Doege was planted on the turf 19 times. That isn't a huge number, but it's more than you'd like to see.
So far this season, Doege has yet to be sacked, and that's part of the reason the team is sitting pretty at 3-0 (along with that cupcake schedule).
Le'Raven Clark has been a huge boost to the Red Raiders offensive line and looks like he could help anchor that attack for years. He may not be the sexiest name on this list, but he's one of the most efficient.
3. Sterling Shepard: WR, Oklahoma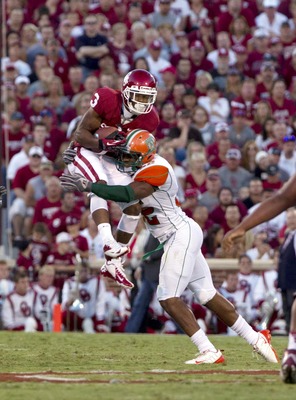 Richard Rowe-US PRESSWIRE
Season Stats: 10 catches, 156 yards, 1 TD
In 2011, I had the opportunity to go watch an Oklahoma high school game that involved a powerhouse Heritage Hall team. Now, for any of you that follow Oklahoma HS football, you know that's the school Barry Sanders Jr. attends, which is the very reason I decided to attend this game.
When the final whistle sounded, it wasn't the son of an NFL legend I walked away most impressed by—it was Sterling Shepard.
The young man has all the tools to be a dangerous slot receiver with amazing hands and great yards after catch ability.
He waited until the third game of the reason to break out, but break out he did. He was one of the few bright spots for the Sooners in their loss to Kansas State, nabbing seven catches for 108 yards and a touchdown.
2. DeVonte Fields: DE, TCU
Kevin Jairaj-US PRESSWIRE
Season Stats: 6 tackles, 2.5 sacks, 1 pass defended
DeVonte Fields has been everything the Horned Frogs hoped for and more.
Coming into the season as one of the highest-rated recruits in TCU history, Fields was met with high expectations. On top of that, the squad's defensive line saw a string of injuries that forced him to step up immediately during training camp.
Step up he did. He's already gotten the quarterback 2.5 times, and it doesn't look like he plans on stopping anytime soon.
Look for him to continue to lead a vicious Horned Frogs pass rush, just like head coach Gary Paterson planned.
1. J.W. Walsh: QB, Oklahoma State
Richard Rowe-US PRESSWIRE
Season Stats: 588 yards passing, 66.7 percent completion rate, 7 total TDs, 1 INT
Fact: Walsh lost his starting job to true freshman Wes Lunt in camp.
Fact: Walsh only got to see the field during garbage time until Lunt with down with injury.
Fact: This Walsh kid is good.
So far, it really looks like head coach Mike Gundy could go either way when Lunt gets back from injury. Walsh has people remembering times with Zach Robinson used to lineup under center.
He's dynamic with the football, can run and pass equally well, and, most importantly, doesn't turn the ball over.
Lunt is a little more like Brandon Weeden. He's not going to beat you with his legs, but man, oh man, can that kid throw.
Gundy's going to have quite the decision on his hands within the next few weeks, but for now Walsh is on top of the depth chart and on top of this list.
Keep Reading