Top 10 Flops of the 2012 College Football Season so Far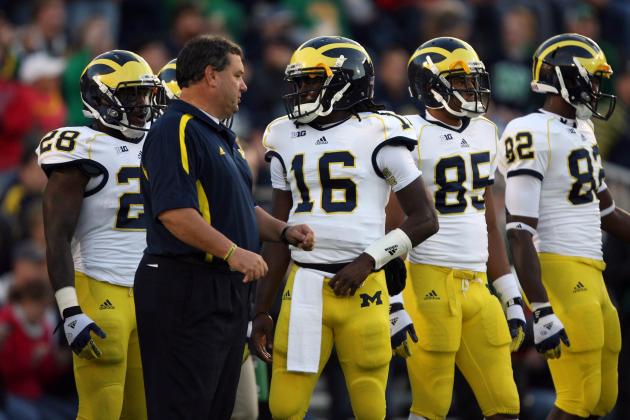 Brian Spurlock-US PRESSWIRE

We are four weeks into the 2012 college football season, and while we are only marginally closer to crowning a national champion, we are far enough along to see that there are a number of teams, players and even conferences that have failed miserably in living up to their preseason expectations.
What follows here is a list of the top 10 flops of the 2012 college football season. We understand that the term 'flops' is a strong word to put on a student-athlete after four weeks and there is still plenty of time for them to turn things around, but if that is to happen, this terrible 10 had better start soon.
Begin Slideshow

»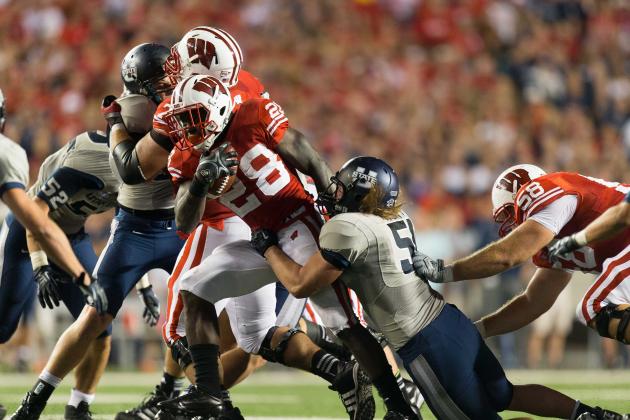 Jeff Hanisch-US PRESSWIRE

Prominently featured on most preseason All-American lists, Montee Ball is in danger of supplanting former Michigan tailback Mike Hart as the conference's leading example how you can hurt yourself by not making the leap to the NFL when the chance comes.
Appropriately lauded for his decision to return to Madison in 2012, Ball missed a good chunk of preseason time after being an assault victim near the Wisconsin campus on August 1. But the senior tailback has yet to show the form that made him a likely NFL draft choice a year a ago, rushing for 360 yards and three scores in four games.
The yardage numbers might not raise any red flags, but the fact that Ball has carried the ball 93 times should. His yardage total is seventh in the conference but his yards-per-carry average of 3.8 is 28th among the 30 leading rushers in the Big Ten and is the worst of his college career.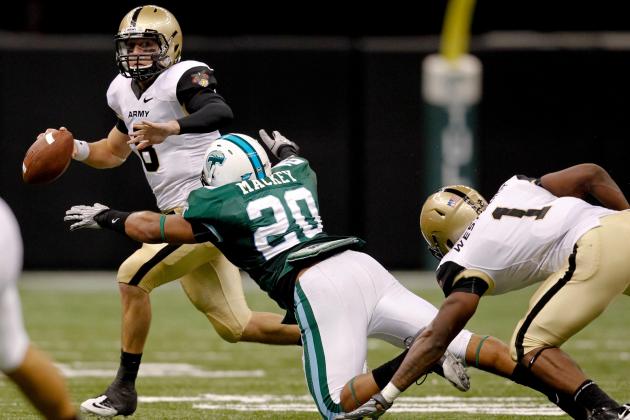 Derick E. Hingle-US PRESSWIRE

Sometimes when you are dealing with college students, the flops come off the field as well as on. So it has been for Preseason Conference USA Defensive Player of the Year Trent Mackey.
Mackey was suspended after his arrest in a robbery that took place July 12. His arrest in the incident came August 17 and he was immediately suspended by Tulane University.
Mackey was chosen as the conference's preseason DPOTY after a 2011 season that saw him make 145 tackled, 4.5 sacks and 14 tackles for loss.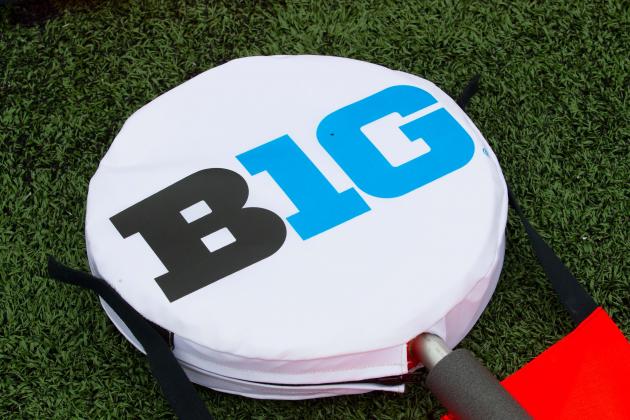 Jeff Hanisch-US PRESSWIRE

The Big Ten had a number of question marks entering the 2012 campaign, but four weeks of competition have shown that those questions are easily being answered by their opponents.
Paper-thin Ohio State is the highest-ranked team in this week's Associated Press poll at No. 14 while No. 20 Michigan State and No. 22 Nebraska are the only other conference squads to appear on the list. The Big Ten is 1-5 against ranked foes with the lone win coming courtesy of MSU's 17-13 win over a rebuilding Boise State team.
With losses on the slate to schools such as Ohio, Central Michigan, Louisiana Tech and Iowa State, the Big Ten did nothing to help its flagging credibility in the first month of the season.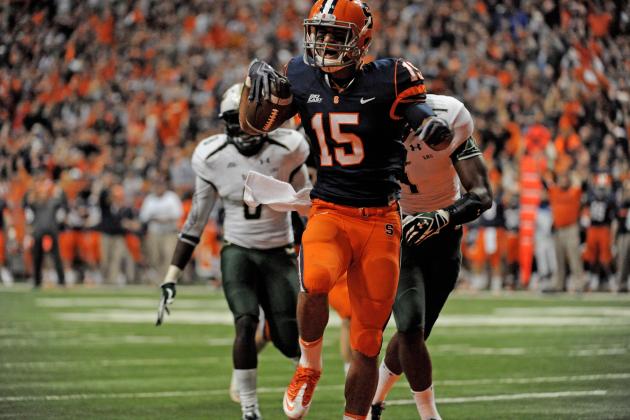 Richard Mackson-US PRESSWIRE

Coming off a junior season that saw him snare a Syracuse-record 68 passes, Alec Lemon battled leg issues throughout preseason camp, and only Saturday showed the flashes that made him an All-Big East preseason first-team choice.
Expected to be the big gun in quarterback Ryan Nassib's aerial attack, Lemon missed the opening-day shootout against Northwestern, then caught just seven passes through the next two games. The senior wideout got back to form Saturday with a nine-catch, 108-yard outing against Minnesota but is still looking for his first touchdown catch from a quarterback that has already thrown for 10 scores in 2012.
Teammate Marcus Sales currently leads the conference in receptions and receiving yards, while Lemon is tied with running back Prince-Tyson Gulley for third in receptions on the Orange roster.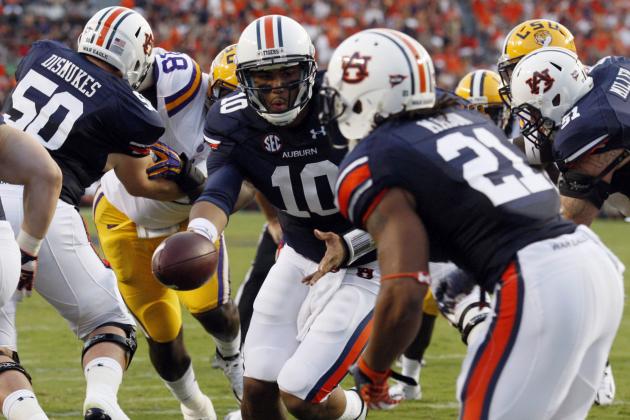 John Reed-US PRESSWIRE

Breaking in new offensive AND defensive coordinators in the same year is a tough chore for any program, let alone one in the SEC, but that is the task lain before Auburn University head coach Gene Chizik this season.
The departures of Gus Malzahn and Ted Roof forced Auburn to enter the season with a pair of new coordinators and Chizik's Tigers appear to be having trouble adapting in the first month of the year.
A 1-3 start marks the first time in school history that Auburn has lost three games before October 1, and the lone win came in an overtime struggle with a surprisingly tough Louisiana-Monroe squad. The Tigers are 119th in the nation in passing, 114th in scoring and are already -8 in turnover margin.
Sophomore quarterback Kiehl Frazier has thrown just two scoring passes against seven interceptions, tossing at least one pick in each of the first four games. The defense is giving up 5.3 yards per play but showed signs of life Saturday by battling LSU hard in a 12-10 defeat.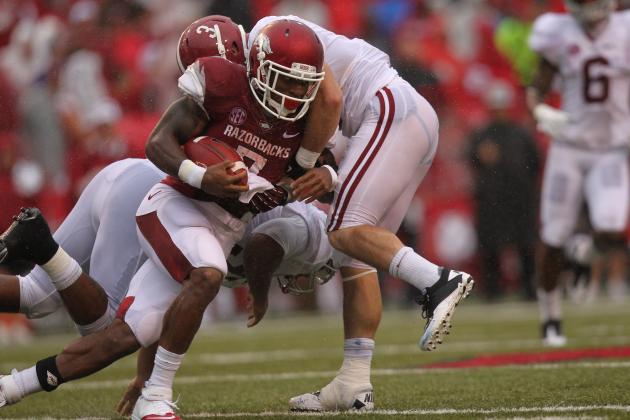 Nelson Chenault-US PRESSWIRE

Preseason All-SEC first-team running back Knile Davis fostered some of his own hype when he told ESPN.com's Edward Aschoff back in July that he was still the best running back in the SEC.
But the junior that was expected to be the bell cow of the Arkansas Razorback backfield has been more of a plow in the early part of 2012. Davis has gained just 208 yards on 64 carries through four games, for a 3.3 per-carry average that is last among the top 40 rushers in the conference. His two touchdowns have each come from within the five-yard line, and he is yet to snap off a 20-yard play from scrimmage.
His best game of the year came in the opener against Jacksonville State where he rushed for 70 yards in 18 carries. This weekend, Eastern Kentucky's Matt Denham gashed that same JSU defense for 218 yards on 24 totes.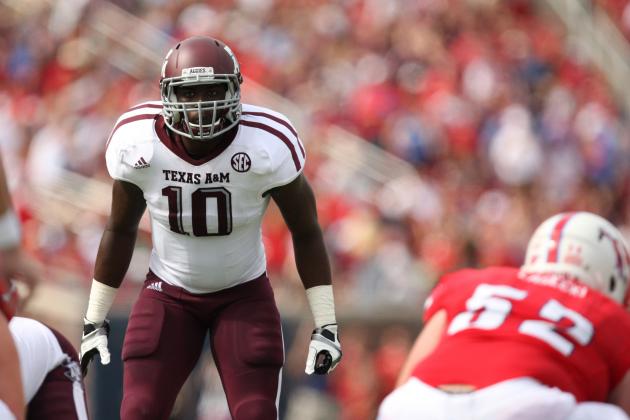 Thomas Campbell-US PRESSWIRE

Changing the position of an established all-conference player prior to has senior season is a risky proposition at best, but when Kevin Sumlin moved Sean Porter from outside linebacker to a spot on the inside of the Texas A&M front seven, it wasn't seen as that much of a risk.
An All-SEC preseason choice by the media and the coaches, Porter came off a 2011 season that saw him earn 9.5 sacks in helping the Aggies to a bowl win over Northwestern. This year he has scored just a half-sack and has just eight solo tackles (13 total) through three games including just a single tackles in Saturday's blowout over South Carolina State.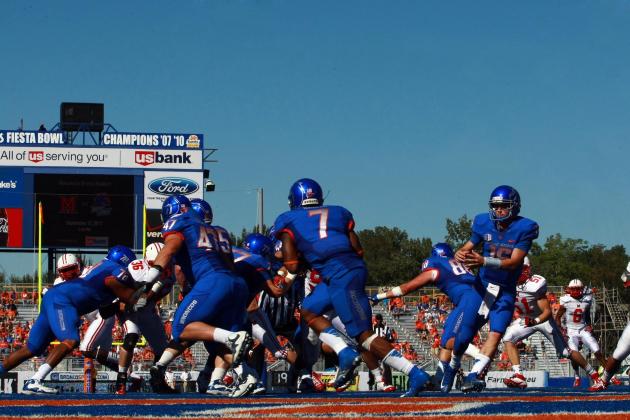 Brian Losness-US PRESSWIRE

It is understandable for a program to take a step back when you lose offensive talents like Kellen Moore and Doug Martin but the 2012 Boise State offense appears to have taken four steps back, turned around and sat down to watch a movie.
After averaging at least 37 points a game in each of the last five seasons, the 24th-ranked Broncos are scoring just 19.5 points per game, and if you take away the 21-point third quarter hung up against Miami of Ohio, BSU has scored less than two touchdowns per contest this year. In last weekend's 7-6 win over visiting Brigham Young, Boise State was held scoreless in the first half for the first time in head coach Chris Petersen's seven years in the Idaho capital.
Joe Southwick beat out highly-regarded freshman Nick Patti to win the starting quarterback job, but the normally high-flying Broncos are deep in the bottom half of the NCAA in every offensive category including sitting in a tie for 108th in first downs.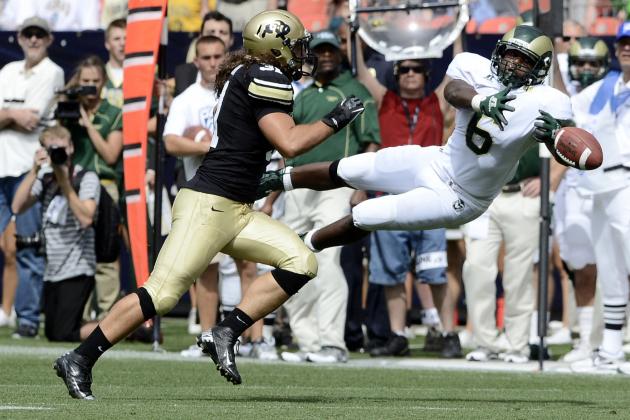 Ron Chenoy-US PRESSWIRE

Chris Nwoke has gotten off to a slow start for Colorado State in 2012 as injuries have held the All-Mountain West preseason first-team choice to just 64 yards rushing through the first month of the season.
Nwoke missed the second and third weeks after suffering an ankle injury in the season opener against rival Colorado, keeping the junior from showing the skills that earned him 1,130 rushing yards for the Rams a season ago.
The 6'1", 213-pound back has been limited to just 17 carries through four games with a paltry 3.8 yards-per-carry average. He returned to duty Saturday against a tough Utah State defense, carrying the ball six times for 17 yards.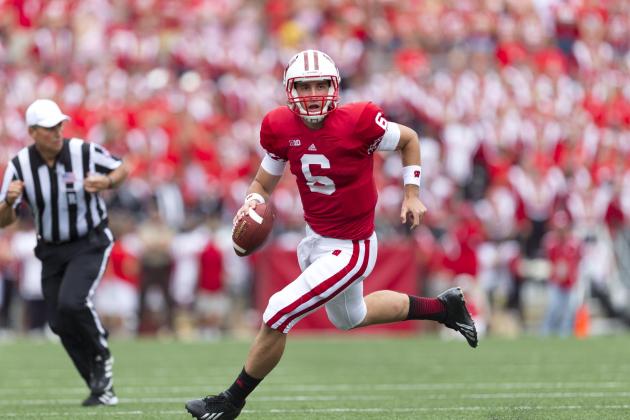 Jeff Hanisch-US PRESSWIRE

Perhaps more was expected from Maryland transfer Danny O'Brien in Madison this year because of the astounding success Russell Wilson had in a similar situation last year, but the former Terrapin signal-caller lasted just 10 quarters as the Badgers' starting quarterback before being replaced by freshman Joel Stave.
O'Brien threw the same number of scoring passes (three) as he had turnovers in his first three games with Wisconsin, leading head coach Bret Bielema to bench the transfer QB at halftime of a win over Utah State.
"I think Danny, I told him on Sunday that the No. 1 reason he got the job to begin with was because of the way he took care of the football," Bielema told the Milwaukee Journal-Sentinel.
Turnovers weren't the only problem for O'Brien as he completed just 25-of-48 passes after an opening-week rout of Northern Iowa, with a long of just 26 yards.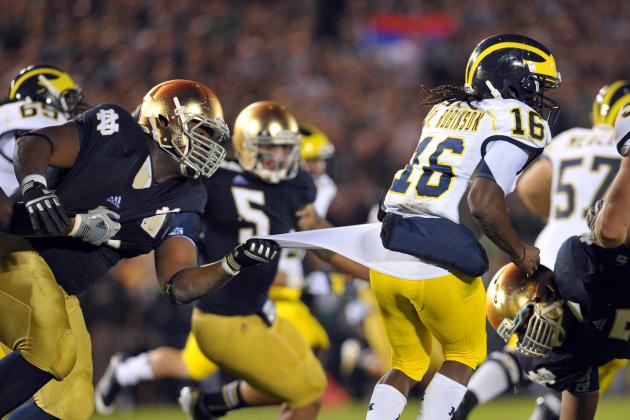 Matt Cashore-US PRESSWIRE

Mentioned at the start of the year as a possible Heisman Trophy candidate, Michigan quarterback Denard Robinson has been little more than ordinary in the Wolverines' biggest games of the early season.
Robinson has thrown an interception in each of his four starts this year and has more picks (eight) than touchdown passes (six). His 54.5 completion percentage is the lowest of his career and the lowest among Big Ten starters, and while he has made some plays with his feet this year, it is worth mentioning that he has averaged 10 yards per carry against Air Force and Massachusetts while logging just 3.25 per run against Alabama and Notre Dame.