Big Ten Football: 10 Best Freshmen of 2012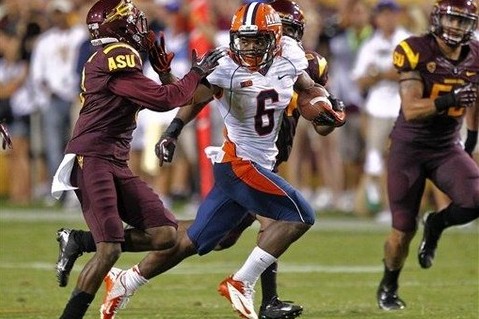 It's no secret that the Big Ten conference is having a down year—only three teams escaped non-conference play unbeaten—but it has a number of freshmen already making a significant impact on their respective teams.
Some squads are younger than others, and it has showed on the field thus far this season. Illinois and Penn State have the most freshmen contributing early on, and while this bodes well for the future, the Fighting Illini and Nittany Lions already have two defeats apiece.
Based on playing time received, statistics accumulated and future potential, I've compiled the ten best freshmen of 2012 in the Big Ten. Let's take a look at the list.
Begin Slideshow

»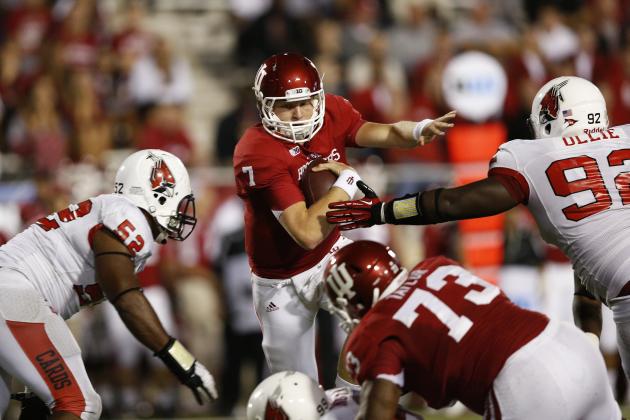 Joe Robbins/Getty Images

The Indiana Hoosiers have plenty of youth at quarterback, and that includes the Week 3 Freshman of the Week, Nate Sudfeld.
Sudfeld came on during the fourth quarter against Ball State when starter Cameron Coffman went down with a hip injury. With Indiana down 38-25 with 14:42 to play, all Sudfeld did was go 13-of-20 for 172 yards and throw two touchdowns to put the Hoosiers up 39-38 with under a minute to play.
While Indiana wound up losing the game, Sudfeld revitalized the Hoosier offense in the second half after Coffman struggled to do much of anything. Coffman will start again against Northwestern this week, but Sudfeld, just the third true freshman to ever play QB for the Hoosiers, gave Indiana the confidence that he can step in if needed.
Unfortunately, Coffman and Tre Robinson (out for the season) are both sophomores and it will be tough for Sudfeld to leapfrog both of them in the coming years, but should Coffman slip up again in 2012, keep an eye out for No. 7.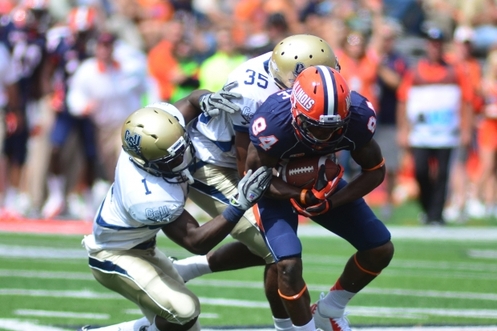 The second leading receiver in terms of yardage at Illinois, Justin Hardee is beginning to make a name for himself in Champaign.
Hardee has compiled 126 receiving yards on eight receptions so far in 2012. While Hardee didn't garner any statistics in the season opener against Western Michigan, Darius Millines went down with an injury. In Week 3, Hardee took advantage and caught five passes for 99 yards in a 44-0 thrashing of Charleston Southern.
Recruited mostly as a safety out of high school, the talented true freshman has proven he can be a playmaker at wide receiver.
Once Illinois begins to struggle through Big Ten play—it will likely duke it out with Indiana for last in the Leaders Division—Hardee should be given more chances to contribute in the passing game as the Fighting Illini continue to build for the future.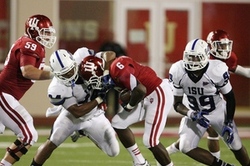 Indiana running back Tevin Coleman entered the season as the starter, but in each of the first three games the Hoosiers have played, a different running back has had a standout game.
For the true freshman, it came Week 2 against Massachusetts when he rushed 14 times for 86 yards in a winning effort. It's still difficult to gauge who will be the feature back moving forward, but so far, it's Coleman who has the best numbers with a 5.6 yards-per-carry average and 146 rushing yards overall.
Coleman hasn't busted out any big runs and still needs to work on running through contact, but this guy has the quickness and athleticism, as well as the size, to succeed at the FBS level.
Like Illinois, Indiana will likely scuffle through conference play and may give the No. 1 job to Coleman as a result, but for now, it's a three-way platoon in the Hoosier backfield.
Tom Lynn/Getty Images

Just like his doppelganger from "Remember the Titans," redshirt freshman Joel "Sunshine" Stave was the backup quarterback before eventually getting a crack at the No. 1 job.
With the Badgers offense unable to move the football against Utah State, Stave was inserted in place of incumbent Danny O'Brien. He did enough to receive a start the next week against UTEP, and while there were some shaky moments, Stave finished 12-of-17 for 210 yards, one touchdown and one interception.
It's been quite awhile since a freshman played significant minutes at quarterback for Wisconsin, but if Stave can limit his mistakes and manage the Badgers offense, he should be able to hold on to the starting gig.
At 6-foot-5, he's got the size and looks the part—we'll see if he can act it as the 2012 season rolls on.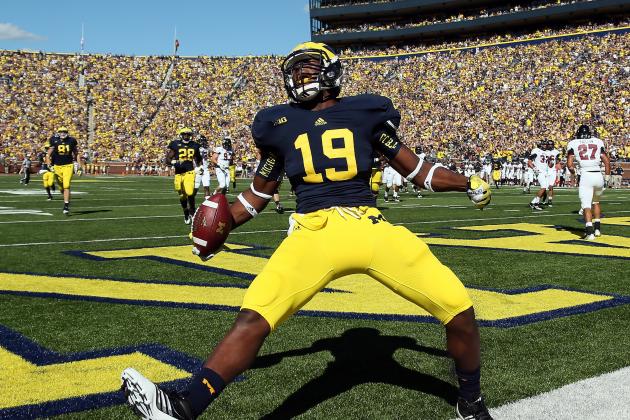 Dave Reginek/Getty Images

A true freshman from Farmington Hills, Mich., tight end Devin Funchess broke out Week 2 against Air Force with four receptions for 106 yards and a touchdown. Then Funchess made it back-to-back weeks with a score when he hauled in a touchdown against Massachusetts.
As it stands right now, Funchess is the Wolverines third leading receiver in terms of both receptions and yardage, and is second on the team in touchdown receptions.
Will he continue to play a prominent role heading into Big Ten play? Time will tell, but after failing to accumulate any stats against Alabama, Funchess has multiple receptions in his last three games. At 6-foot-5 and 229 pounds, size isn't the question—it's how he can use that size to his advantage.
Coming into college, he was leaner and built more like a wide receiver, but he's already added 15 pounds since his senior year of high school and could be an extremely dangerous threat moving forward in his career in Ann Arbor.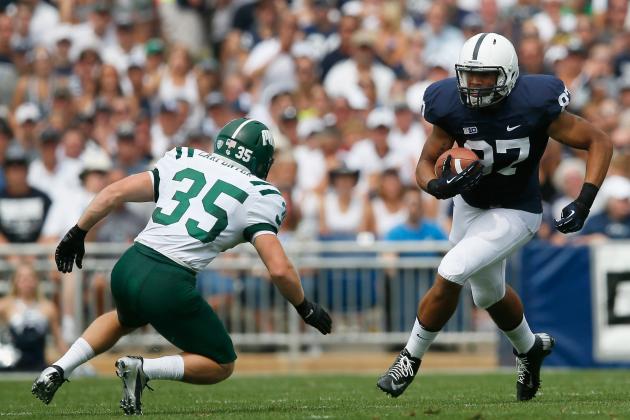 Rob Carr/Getty Images

The second tight end to emerge on the list, redshirt freshman Kyle Carter is the real deal. Already a viable threat in the Penn State passing game, Carter is the Nittany Lions second receiver behind sophomore phenom Allen Robinson.
So far this season, Carter has compiled 190 yards receiving on 16 receptions and a touchdown. He has already had at least 70 yards receiving on two different occasions this season—once in a losing effort against Ohio, and last week versus Temple.
Unlike Funchess, he already has legitimate tight end size (247 pounds), although he's not quite as tall, at 6-foot-3. Still, he's basically an every-down player at such an early stage in his career, and the future is bright for the Penn State passing attack with guys like Robinson and Carter having a significant and immediate impact.
Remember how Bill O'Brien used to coach guys like Rob Gronkowski and Aaron Hernandez? Just something to keep in mind.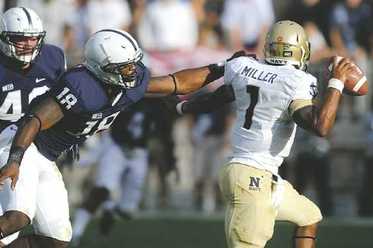 CDT photo/Christopher Weddle
The second Nittany Lion to crack the top five, and the first defender to earn top ten honors, Penn State defensive end Deion Barnes is already wreaking havoc in opponents backfields.
Like Carter, he redshirted in 2011 and is already having a major impact in Happy Valley. Barnes has accumulated three sacks and forced two fumbles in just four games. At one point, Barnes considered transferring to Temple amid all the offseason turmoil, but the education offered and a shot at the NFL by staying at Penn State was enough for him to stay put.
The Co-Big Ten Freshman of the Week after his performance against Navy, Carter has been an key component in a Nittany Lion defense ranking 24th in the nation in points allowed. Penn State hasn't allowed more than 24 points in a game all season.
There is a strong youth movement happening at Penn State, and Carter is right in the middle of it. Despite the NCAA sanctions, the Nittany Lions could be a national force once again within only a few years.
Tom Lynn/Getty Images

A redshirt freshman, Melvin Gordon actually saw some playing time last season, but a lingering groin injury allowed him to take a medical redshirt late in the season.
That gives Gordon three more years of eligibility following the 2012 season, and nobody is happier about that than Gordon and the Wisconsin Badgers.
When Montee Ball went out of Saturday's game with a head injury, Gordon was given more opportunities to contribute. The result was eight carries for 112 yards and a 26-yard touchdown scamper to seal the game. That gives Gordon 130 yards on just ten carries for the season, a staggering 13 yards-per-carry average.
Gordon might not have the numbers of some who cracked the list before him, but his explosiveness and potential earn him the three slot. His performance against UTEP should result in more touches moving forward into Big Ten play.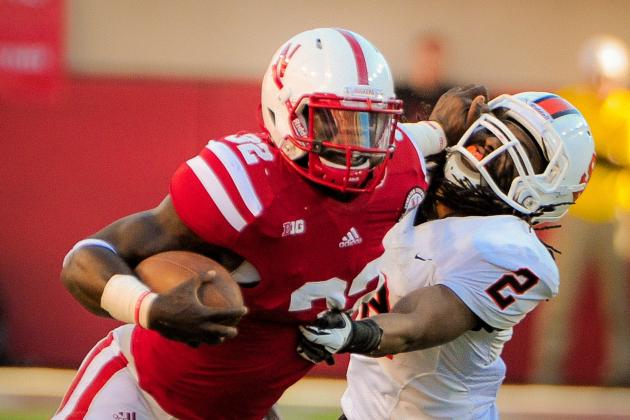 Eric Francis/Getty Images

The second best freshman in the Big Ten, running back Imani Cross has benefited from some lopsided games early on for Nebraska.
Originally committed to Tennessee, Cross didn't get any playing time against UCLA. But in the three blowouts he entered, Cross averaged over five yards a carry and broke the century mark on only 12 carries last week against Idaho State, earning him Big Ten Freshman of the Week honors.
So far in 2012, Cross has 30 carries for 228 yards and two touchdowns, the most yardage obtained by any freshman in the Big Ten.
With Rex Burkhead back from injury and Ameer Abdullah blocking him on the depth chart, Cross is technically the Cornhuskers' third-string running back, but when he's gotten a chance to carry the football, Cross has ran with it—literally.
Will we see much of the 6-foot-1, 225 pound true freshman during conference play? I don't know—although his size and strength could make him an interesting short yardage/goal line back. Following Burkhead's departure after the 2012 season, Cross could very well wind up as the feature back next year.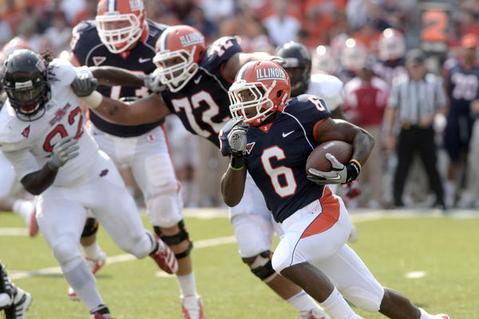 Courtesy of Illini Athletics
Redshirt freshman Josh Ferguson tops the list of Big Ten freshman because of his versatility out of the Illinois backfield.
Even though Ferguson has 17 fewer carries than fellow running back Donovann Young, he has seven more yards than Young, and overall has 32 carries for 166 yards to lead the Fighting Illini through the team's first four games.
Not only that, but Ferguson is Illinois third leading receiver with 14 catches for 106 yards. He is one of only two players (Akeem Hunt, Purdue) to generate over 100 rushing yards and 100 receiving yards among Big Ten players this season. Not bad for a freshman, especially considering how he missed Week 3 with a concussion.
His numbers are skewed as a result of a 51-yard dash earlier this season, but if anything, that just shows the ability Ferguson has in the open field. He's the most electrifying freshman in the conference.