Grading the Top 15 College Football Offenses Heading into Week 5
Stacy Revere/Getty Images
Surprisingly, you won't find Wisconsin, USC or Clemson on this list.
None of those teams quite made the cut, in spite of some high preseason expectations.
You will find a token Big Ten representative, some fresh faces from the Pac-12 and plenty of teams that have moved the ball and scored with regularity this season.
Each team is assigned a letter grade on four categories of the offense, quarterbacks, offensive line, wide receivers/tight ends and running backs, as well as an overall grade.
There aren't many low grades, as these are after all the best offensive units in the game, but feel free to leave your disagreements, suggestions or Internet memes after you are done perusing.
15. Louisiana-Monroe Warhawks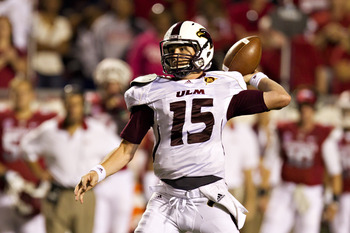 Wesley Hitt/Getty Images
Yes, the Warhawks cracked the rankings.
How many other teams have given us an upset of a top-10 team, two overtime games and two quarterbacks in the backfield at the same time?
Quarterback: A
In the Warhawks' upset over Arkansas, Kolton Browning rushed for one touchdown that won the game in overtime, but he also threw for 412 yards and three more scores. On the season, he has eight passing touchdowns and only two interceptions.
Offensive Line: B
The offense has given up seven sacks so far this season. However, this has been against a high level of competition. Overall, they have paved the way well for the rushing game and have done a solid job of protecting Browning.
Wide Receivers/Tight Ends: B
The Warhawks have scattered the ball around to 13 different receivers, with Brent Leonard leading the way. He is averaging over nine yards per catch. Tight end Harley Scioneaux has only made two catches, but both were for touchdowns.
Running Backs: C
The Warhawks are firmly entrenched at 74th in the nation in rushing yards, and no one on the team has gained more than 230 yards total on the season. The second leading rusher on the team is Browning.
Overall: B+
14. Alabama Crimson Tide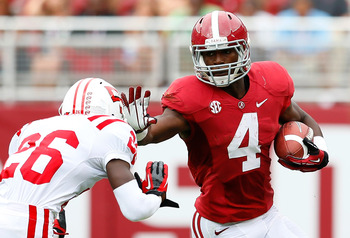 Kevin C. Cox/Getty Images
We don't often give the Tide credit for having a good offense, but as you can see, they deserve it.
The defense is the more dominant unit by far, but this offense is extremely effective in it's own right.
Quarterbacks: A+
A.J. McCarron has not been the most dominant quarterback in the nation, but he hasn't had to be. He's completed 63 percent of his attempts, averaging over 10 yards per pass and has thrown 10 TDs with no interceptions.
Offensive Line: B
The offensive line has been good, but not great. When rushing the ball, the line opens holes big enough to fit an elephant through, but they have allowed 10 sacks already this season. If they improve those sack numbers, this grade will get better.
Wide Receivers/Tight Ends: A
No complaints here. The Tide have so outclassed every team they have faced thus far, the passing game has not really been crucial. Even so, Kevin Norwood and Amari Cooper have been excellent and give Tide fans assurance that the passing game will be solid this season when needed.
Running Backs: A+
T.J. Yeldon and Eddie Lacy have been a force for the Tide, rolling up 486 yards and six touchdowns between them and averaging 5.8 yards per carry.
Overall: A
13. Texas Longhorns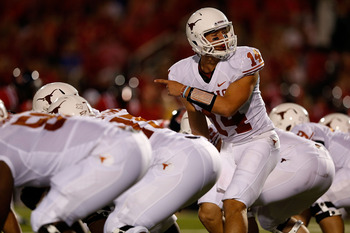 Scott Halleran/Getty Images
Even with David Ash at the helm, this offense is rolling.
They have yet to face anybody of note, but have been solid to this point. With conference play starting soon, this offense bears watching.
Quarterback: A
Ash has completed over 70 percent of his passes so far with seven touchdowns and no interceptions. Granted, it was against Wyoming, Ole Miss and New Mexico, but it's still the best we've ever seen out of Ash.
Offensive Line: A+
The offensive line has only allowed two sacks all season, and the team is averaging 258.7 yards on the ground. Impressive.
Wide Receivers/Tight Ends: B
Between Mike Davis, Jaxon Shipley and Marquise Goodwin, this group has been very good this season. I expect them to struggle when they face a pass defense rated in the top 100, but for the time being, they have done good work.
Running Backs: A+
The "Horns" have the most dangerous three-headed monster at running back that we have seen in some time. Joe Bergeron, Johnathan Gray and Malcolm Brown form a trio that has scored six touchdowns on the ground already this season and averages over five yards per carry.
Overall: A+
12. Georgia Tech Yellow Jackets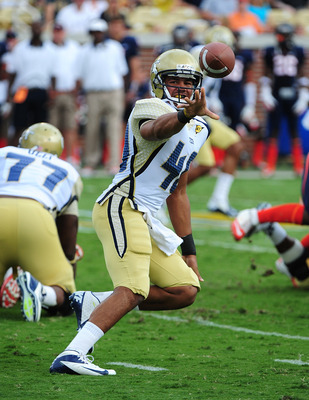 Scott Cunningham/Getty Images
When thinking of great offenses, Tech's does not often come to mind. Even so, this unit has been great for Paul Johnson so far in 2012.
Quarterbacks: B
Not to take anything away from Tevin Washington's ability to run the ball, but he's not a great passer. He has thrown three touchdowns and one interception this season while completing 61 percent of his passes. On the ground, he's phenomenal and has already gained 300 yards and has scored seven times with his feet.
Offensive Line: C
Sure, the line has only allowed five sacks, and the team is third in the nation in rush yards. The problem is that the Yellow Jackets have only attempted 50 passes. Five sacks on 50 attempts is not acceptable.
Wide Receivers/Tight Ends: A
While Tech doesn't necessarily make their hay by throwing the ball, when these receivers get an opportunity, they take advantage. Leading receiver Jeff Greene is averaging 27.5 yards per catch on six receptions.
Running Backs: A
This offense continues to amaze me. Everybody in the stadium knows they are going to run, and yet the running backs are averaging over eight yards per attempt.
Overall: B-
11. Nevada Wolf Pack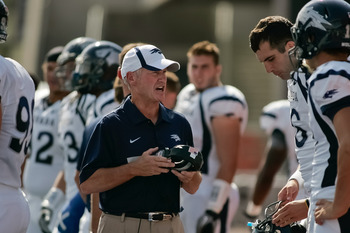 Otto Kitsinger III/Getty Images
Yep, Chris Ault is at it again, leading his innovative offense to great production on the field.
Quarterbacks: A+
Cody Fajardo has gained nearly 1,000 yards in the air, another 418 on the ground and has accounted for 10 TDs.
Offensive Line: A+
It's hard to knock this line. They have allowed only nine interceptions and pave the way for an offense that averages over 300 yards per game on the ground.
Wide Receivers/Tight Ends: B
Solid, solid, solid. This group has few drops and is productive when called upon for the Wolf Pack. Nine guys have made catches but have only scored four times.
Running Backs: A+
Stefphon Jefferson has been a workhorse for Nevada, gaining 699 yards already on the ground and has scored 11 times on the ground, leading the nation in both stats.
Overall: A+
10. Texas Tech Red Raiders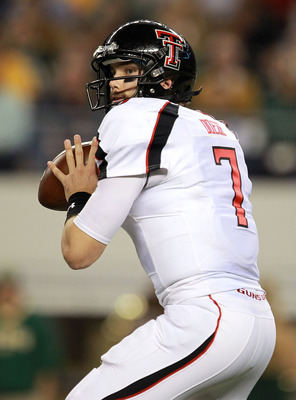 Ronald Martinez/Getty Images
Call it gimmicky or say the offense benefits from the system if you will, but this offense has been excellent.
Quarterbacks: A+
Seth Doege has always been efficient, and that hasn't slowed a bit this season. He's completed 74 percent of his attempts and has thrown 12 TDs with only one interception. He's the motor that keeps this offense running.
Offensive Line: A+
For all the passing they do, this offensive line has allowed only two sacks on the season and has been extremely effective when called upon in the run game. In spite of being 101st in the nation in rushing attempts per game, the Red Raiders are 23rd in rushing yards per contest.
Wide Receivers/Tight Ends: B
This group has scored 11 times and has gained over 1,000 yards as a group. However, given the offensive system, this group has not had the opportunity to make as many big plays as they could.
Running Backs: A
Kenny Williams and Eric Stephens have split carries, each one getting 34 this season. The duo has scored four times on the ground and averages seven yards per carry.
Overall: A
9. Baylor Bears
Cooper Neill/Getty Images
And we all thought this offense would slow down a bit after RG3 left. Not so much.
Quarterbacks: B
Nick Florence has been an above adequate replacement for RG3, completing 11 touchdown passes while throwing only four picks and is making plays with his legs as well. He has not been as accurate as we might hope but has still been very good for Art Briles' squad.
Offensive Line: A
The line has been giving Florence plenty of time and has done a solid job leading the way on the ground. There are concerns that they do break down at times, but overall, this group has done an excellent job.
Wide Receivers/Tight Ends: A+
Terrance Williams and Tevin Reese are already both over 300 yards receiving on the season, and Lanear Sampson is not far behind. This is one of the most explosive units in the game right now, and they do all the little things right.
Running Backs: B
The passing game is already the focal point of this offense, and it's pretty obvious. Jarred Salubi has been moderately effective but could use some improvement, especially if this offense is going to compete at a high level in the Big 12.
Overall: B
8. Louisiana Tech Bulldogs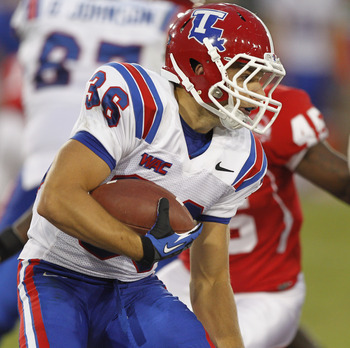 Bob Levey/Getty Images
Scoff all you want, but this team is fresh off of a 52-24 beatdown of a BCS conference team. At least, I think we are still calling the Big Ten a BCS conference.
Quarterback: A+
You really cannot ask for much more from a quarterback. Colby Cameron has completed over 68 percent of his passes, has thrown 11 TDs and has yet to throw a pick.
Offensive Line: C
Yeah, the line has been average. Cameron evades pressure well and has only gone down twice, so it has not been terrible, but the line has not gotten much push in the run game yet this season. Fortunately for them, they only have one more game this season against a team that can challenge the offensive line with any consistency.
Wide Receivers and Tight Ends: A
The dynamic duo of Quinton Patton and Myles White has been as advertised, and defenses are struggling to slow the duo. Patton is averaging almost 19 yards per reception.
Running Backs: A
At times, the running game moves well with Tevin King and his eight-yards-per-carry average leading the way. Other times, it sputters. This seems to be a product of an average offensive line rather than any failure on the part of the running back, so we will stick with a top grade here.
Overall: A
7. West Virginia Mountaineers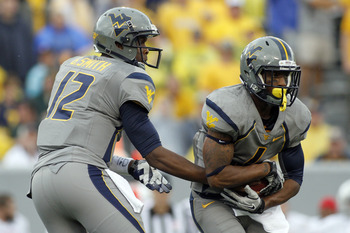 Justin K. Aller/Getty Images
The Mountaineers have not really played anyone of note yet, and it shows. Maryland gave them a scare, but with the potent duo of Geno Smith and Tavon Austin continuing to be a puzzle for defenses, this unit will continue to produce at a high level.
Quarterbacks: A+
If you are a hater, you call it the system. The reality is there, however, that Geno Smith is putting up some dazzling numbers. He has yet to throw an interception, has thrown 12 touchdowns, has rushed for another and has thrown for over 1,000 yards on the season.
Offensive Line: B
The offensive line has been excellent protecting Smith, allowing only two sacks. While they don't run as often as some, when Dana Holgorsen decides to put down the energy drink long enough to consider a run play, they are effective, leading the team to a 10.1 yards per carry average.
Wide Receivers/Tight Ends: A+
While USC's receivers get all the press, Stedman Bailey and Tavon Austin continue to light up scoreboards. The two have combined 10 ten touchdowns through the air and almost 700 combined receiving yards. The rest of the unit continues to take advantage of defenses that cheat in coverage, especially J.D. Woods.
Running Backs: B
As mentioned, these backs don't get to run all that often. They do a solid job, but when the defense is expecting pass three quarters of the time, you might expect more production. Andrew Buie does a great job of being involved in the passing game for the 'Eers, if you want to look for a positive.
Overall: A
6. Georgia Bulldogs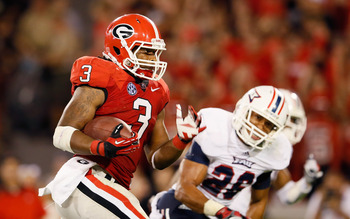 Kevin C. Cox/Getty Images
Hey, I did not expect this unit to be this solid. The offensive line has been better than advertised, and Todd Gurley is not a one-hit wonder.
Quarterbacks: A
Aaron Murray has been very good this season, throwing only two interceptions and putting up over 1,000 yards through the air. On an interesting side note, he has scored three times on the ground but has only one yard rushing.
Offensive Line: A+
It's surprising, but these guys really have stepped up their game so far this season. They have done an excellent job of keeping Murray off of his back and continue to be effective in the run game.
Wide Receivers: A
Some of us wondered who would step up at receiver to help out Tavarres King. Michael Bennett and Marlon Brown have adequately answered that question, racking up five scores and 539 yards between them.
Running Backs: A+
Todd Gurley is easily the current front runner for this position as a freshman All-American candidate. The guy continues to shred defenses, averaging a ridiculous 9.2 yards per carry.
Overall: A+
5. Nebraska Cornhuskers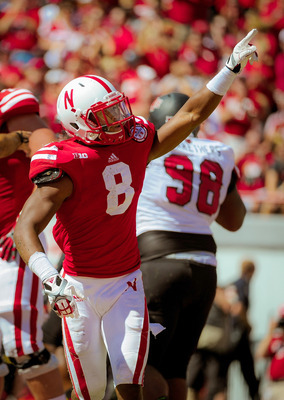 Eric Francis/Getty Images
Yes, the Big Ten has a representative on this list. It's a token rep, but anything is better than nothing. The team is currently eighth in the nation in scoring.
Quarterback: A
Taylor Martinez has been a pleasant surprise so far this year with his improved throwing motion and improved decision making. He still reverts to the Taylor we all know and love at times but has been very good thus far.
Offensive Line: A
Martinez has only been sacked twice, and the rushing game is garnering more than 317 yards per contest. This unit is doing something right.
Wide Receivers/Tight Ends: C
This is not to say that Kenny Bell and his mates at the position are not having a solid year; they have just been average thus far. It will be interesting to see whether the passing game continues to improve or regresses as we head into Big Ten play.
Running Backs: A+
Rex Burkhead, Imani Cross and Ameer Abdullah comprise of the best rushing trio in the conference, and more impressively, possibly the nation.
The three have the ability to pound defenses into submission, then run right past them with Abdullah's and Cross' speed. Burkhead figures to see his numbers go up in Big Ten play, but I think we can lay to rest all the "Burkhead for Heisman" campaigns at this point.
Overall: B
4. Oklahoma State Cowboys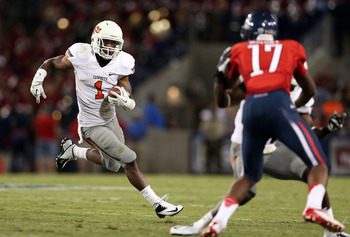 Christian Petersen/Getty Images
Yes, this offense looks different without Justin Blackmon and Brandon Weeden, but they continue to light up scoreboards with frightening regularity.
Quarterbacks: B
The Cowboys score a ton, and they like to throw the ball. Wes Lunt has been good, not great, with four touchdowns to three interceptions.
J.W. Walsh has thrown six to one, while Clint Chelf checks in with one pick and one score. They are not going to blow you away at this point but will improve more as the season moves along.
They are currently second in the nation in passing yards allowed, but that's expected when you play Savannah State and Louisiana-Lafaytte in two of your first three contests.
Offensive Line: A
The team averages over seven yards per carry, while this line has kept each of the quarterbacks upright the majority of the time. In spite of having to deal with inexperience at quarterback, this unit does a great job.
Wide Receivers/Tight Ends: A
This group of players feasts on this high-powered passing attack, and Blake Jackson, Josh Stewart and Tracy Moore have stepped up in a big way to fill the void left by Blackmon.
Running Backs: A
Joseph Randle is quietly racking up some big numbers again this season. He leads a rushing attack that is sixth in the country with 308.3 yards per game and has scored four times. For an offense that sometimes lives and dies by the passing game, this unit has found a way to contribute more than you might expect.
Overall: A
3. UCLA Bruins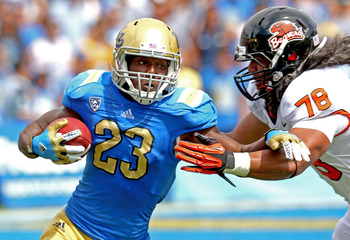 Stephen Dunn/Getty Images
No, you are not imagining things, the Bruins are executing on offense. At least they were until they ran into the buzzsaw that is Oregon State's physical unit this season. Still this squad is doing good things.
Quarterbacks: B
He's a freshman, so he has made some mistakes as evidenced by the three picks to nine touchdowns, but Brett Hundley has been much better than just about everybody anticipated. His passing yards of 1,199 yards already say so.
Offensive Line: A +
Running back Johnathan Franklin has been excellent, no doubt. But much of the credit belongs to the offensive line. This group has been opening holes for this guy that it would be impossible to miss.
Wide Receivers/Tight Ends: A
The team averages 13 yards per reception, and the ball gets spread around. Thirteen players have made receptions with Shaquelle Evans leading the way with his 225 yards.
Running Backs: A+
Johnathan Franklin is square in the thick of the Heisman race by virtue of his 586 yards gained on the ground already this season. He's a threat from the backfield either running or catching the ball and continues to make big plays.
Overall: A
2. Oregon Ducks
Jonathan Ferrey/Getty Images
No list about offense is complete without these "quackers." The Ducks continue to baffle teams and speed right by them, and likely will all season.
Quarterbacks: B+
Marcus Mariota has been better than excellent for the Ducks, and might turn into the best all-around threat they have had at the position in quite some time. He is effective on the ground and has thrown for ten scores. Two interceptions hold him back a grade, but he has been very solid to start the season.
Offensive Line: A
There is nothing bad to say about this group. They run, they are deep and they continue to open slivers of daylight for the Ducks' incredibly explosive skill players to exploit. Solid, if not spectacular.
Wide Receivers/Tight Ends: A
De'Anthony Thomas leads the team in receiving as a running back, but that is the nature of the beast that is Chip Kelly's offense. There are no big-time stars on this unit, but they don't make many mistakes and are far deeper than most receiving units you might find.
Running Backs: A++
Ah, the ever elusive A++. Kenjon Barner gets the majority of the carries and has gained over 400 yards on the season. De'Anthony Thomas continues to be ridiculous, speeding his way past defenses with startling regularity.
Overall: A+
1. Florida State Seminoles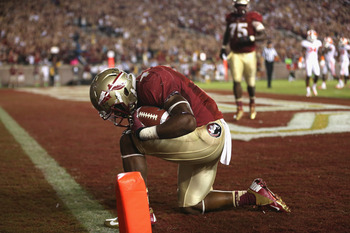 Streeter Lecka/Getty Images
There were questions about the Seminoles offense going into their meeting with Clemson, but I think those have been answered...emphatically. This offense is legit.
Quarterbacks: A
EJ Manuel has been more than just a game manager through the first portion of this season. He continues to show improvement in making reads and good throws and is a threat to do damage with his legs as well. While a Heisman is a little ambitious, he certainly has put himself on the map of best quarterbacks this season.
Offensive Line: A+
This offensive line has been superb. They are leading the way for a rushing attack that is currently averaging 280 yards per game. On top of that, they have allowed only one sack thus far this season.
Wide Receivers/Tight Ends: A+

Sixteen players have caught at least one pass for the Seminoles this season with five of them scoring at least one touchdown. Talented and deep, two hallmarks of an excellent unit.
Running Backs: A+
Chris Thompson has experienced a resurgence after missing last year with an injury and continues to excel running the ball. He has amassed 357 yards on the season and has scored five times on the ground.
Second back James Wilder averages seven yards per carry and has found paydirt six times. Together, they are as potent a pair as just about any backs in the nation.
Overall: A+

Keep Reading