Power Ranking the 15 Most Surprising College Football Teams After Week 4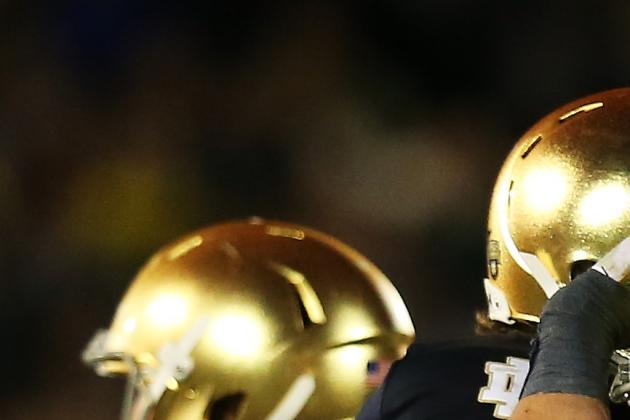 Jonathan Daniel/Getty Images

From incredible fourth quarter comebacks to outright melting down of high-ranked teams, the first four weeks of the 2012 college football season has been incredibly exciting.
Heading into week five, Here are the 15 most surprising teams of the 2012 college football season...enjoy.
@kevry88 on twitter
Begin Slideshow

»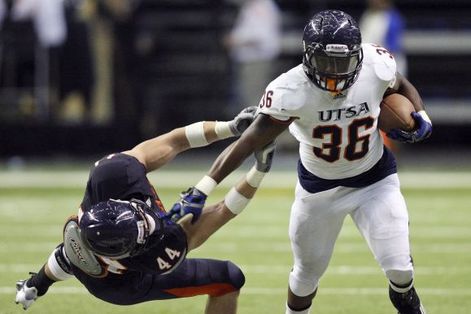 Evans Okotcha (right) looks for running room around Steven Kurfehs during the 2012 UTSA Football Fiesta Spring Game, Sunday, April 15, 2012 at the Alamodome. Photo: EDWARD A. ORNELAS, San Antonio Express-News / © SAN ANTONIO EXPRESS-NEWS (NFS)
Meet the University of Texas at San Antonio Roadrunners, led by former National Champion head coach Larry Coker.
UTSA is in it's first season at the FBS level and they've yet to lose a game.
While the head coach Larry Coker is well known for leading "The U" to a national title in 2001, his Roadrunners have been slamming their schedule including a recent 56-3 mopping of Northwestern Oklahoma State.
Though the Roadrunners' only FBS-level game was a two-point win at South Alabama, it will be interesting to see how Coker's squad handles playing other impressive teams like San Jose State and Louisiana Tech down the road.
2012 Results:
at South Alabama: 33-31 (W)
vs. Texas A&M-Commerce: 26-17 (W)
at Georgia State: 38-14 (W)
vs. Northwestern Oklahoma State: 56-3 (W)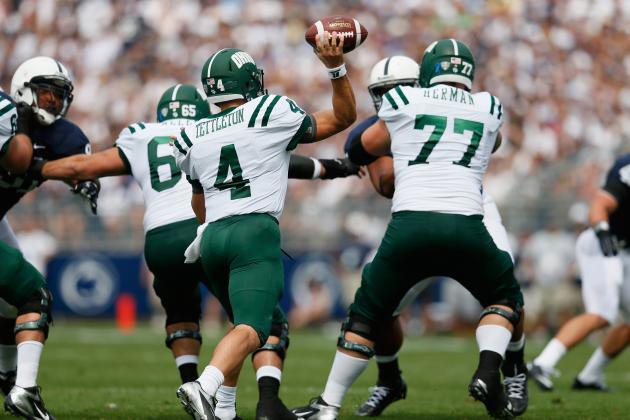 Rob Carr/Getty Images

Anyone else down with some MAC-tion?
The Ohio Bobcats are 4-0 in 2012 and after looking ahead at their remaining schedule, and it's safe to say that Ohio can potentially make a bowl appearance come December.
In fact it seems as if the Bobcats will be favored in its eight remaining games, which is an extremely bright note for Bobcat nation as campus action is usually dominated by the school's basketball squad.
With a 2011 Famous Idaho Potato Bowl win, the Bobcats have some solid recruiting tools to hopefully keep growing the program.
2012 Results:
at Penn State: 24-14 (W)
vs. New Mexico State: 51-24 (W)
at Marshall: 27-24 (W)
vs. Norfolk State: 44-9 (W)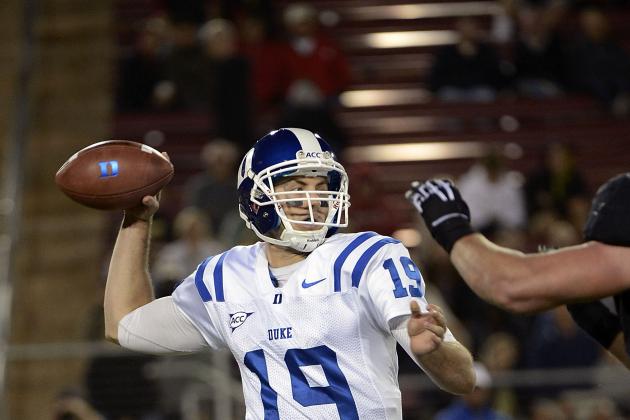 Thearon W. Henderson/Getty Images

Incredibly, Duke Blue Devil football is off to an exciting 3-1 start.
Duke's only loss came against the now No. 9 team in the nation in Stanford, however the three impressive wins are helping Duke football become more relevant.
The Blue Devils will take their 3-1 record into Wake Forest before hosting Virginia, North Carolina and the previously ranked No. 10 Clemson Tigers—all before traveling to Tallahassee to play the No. 4 ranked Florida State Seminoles.
While the schedule boasts an incredible disadvantage, it will be interesting to see how the Blue Devils will react and perhaps upset some of the ACC's best teams before basketball season begins.
2012 Results:
vs. Florida International: 46-26 (W)
at No. 25 Stanford: 13-50 (L)
vs. N.C. Central: 54-17 (W)
vs. Memphis: 38-14 (W)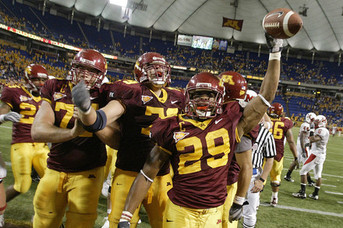 http://blog.lib.umn.edu/carls064/freealonzo/gophers.jpg
After a thrilling triple-overtime win over UNLV in week one, the Gophers have continued the on-field success all the way to a 4-0 record—shining a bright light on the rest of the season.
The Gophers have no easy task ahead as they face Iowa, Northwestern, Wisconsin, Purdue and Michigan in the next five weeks before traveling to Taylor Martinez's Nebraska Cornhuskers.
It's very possible for the Gophers to put together a magical run and shock the world, however this will be no easy task given their jam-packed Big 10 schedule.
2012 Results:
at UNLV (3 OT): 30-27 (W)
vs. New Hampshire: 44-7 (W)
vs. Western Michigan: 28-23 (W)
vs. Syracuse: 17-10 (W)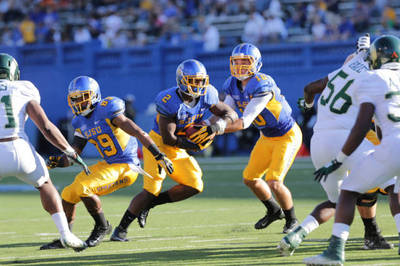 http://image.cdnllnwnl.xosnetwork.com/pics32/640/PY/PYMQQTAVGVBSZLI.20120916044054.jpg
Like the Duke Blue Devils, the San Jose State Spartans are 3-1 with their only loss coming against the No. 9 ranked Stanford Cardinal.
The Spartans are no stranger to the tough schedule as just two years ago they faced five top-five ranked teams in Alabama, Wisconsin, Utah, Boise State and Stanford.
While the Spartans squeaked out a 1-11 record in 2010, it seems as if the hard work is finally paying off for the program.
In week one, the Spartans nearly knocked off the Stanford Cardinal and suffered a heartbreaking 20-17 loss against a team who outplayed the No. 2 ranked USC Trojans.
The Spartans feature a powerful quarterback-running back combination in Minnesota transfer running back DeLeon Eskridge and junior college transfer David Fales, who is currently on pace to set single-season school records in touchdowns, completion percentage and yards per game—leading a local newspaper to believe he's a better quarterback than Bay Area signal callers Zach Maynard and Josh Nunes.
Fales, Eskridge and the Spartans will look to knock off other impressive teams like BYU, Louisiana Tech and UTSA en route to their first bowl appearance since 2006.
2012 Results:
at No. 21 Stanford: 17-20 (L)
vs. UC Davis: 45-13 (W)
vs. Colorado State: 40-20 (W)
at San Diego State: 38-34 (W)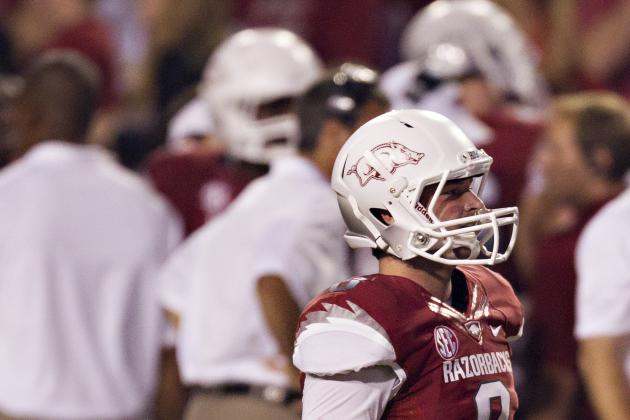 Wesley Hitt/Getty Images

Perhaps the losses are not surprising given the recent events on campus, however cancerous they may be to a locker room, but I don't think anyone expected Arkansas to implode in the way that they have.
Heading into 2012, seemingly every college football poll had Arkansas in the top ten as the Razorbacks are led by Heisman trophy candidate Knile Davis.
Despite Davis' impressive season in 2011, the Razorbacks have been the SEC's worst team through the first four weeks of the season with little positives to look at in the future.
2012 Results:
vs. Jacksonville State: 49-24 (W)
vs. ULM (OT): 31-34 (L)
vs. No. 1 Alabama: 0-52 (L)
at Rutgers: 26-35 (L)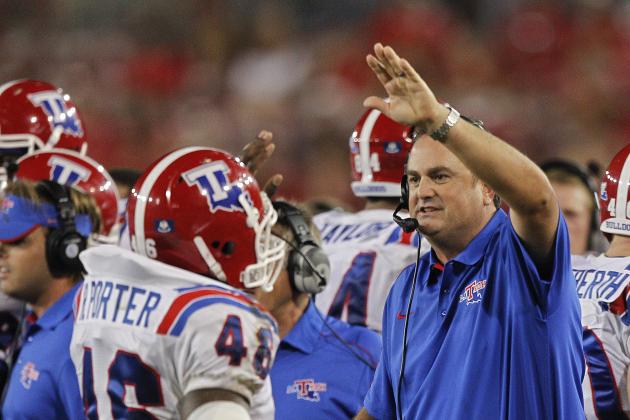 Bob Levey/Getty Images

After the week one matchup with Texas A&M was postponed due to Hurricane Issac, the Louisiana Tech Bulldogs began their 2012 campaign with three straight 50-point performances.
As the season rolls along, it seems as if the Bulldogs get better and better.
Last week LA Tech out-dueled Illinois 52-24 including a 31-7 difference in the second half.
While San Jose State has certainly been impressive in 2012, the LA Tech Bulldogs have emerged as a truly competitive team and favorites for the Western Athletic Conference Title.
2012 Results:
at Houston: 56-49 (W)
vs. Rice: 56-37 (W)
at Illinois: 52-24 (W)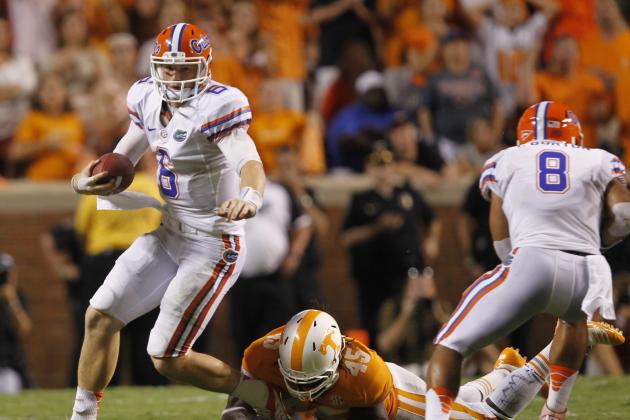 John Sommers II/Getty Images

The Florida Gators came into the 2012 season as the No. 23 ranked team in the nation and have since moved to No. 11 after four straight wins.
With quarterback Jeff Driskel and Heisman hopeful Mike Gillislee on the same page seemingly every down, the only question for Gator nation lies on their defense.
In the 38-point shutout against Kentucky, the defense forced Kentucky quarterbacks Morgan Newton and Jalen Whitlow to just a 29-percent completion rate with Newton committing three interceptions in total.
With the impressive defensive turnout and a week off this coming weekend, the Gators will be well prepared to knock off the No. 2 ranked LSU Tigers on October 6th.
2012 Results:
vs. BGSU: 24-17 (W)
at Texas A&M: 20-17 (W)
at No. 23 Tennessee: 37-20 (W)
vs. Kentucky: 38-0 (W)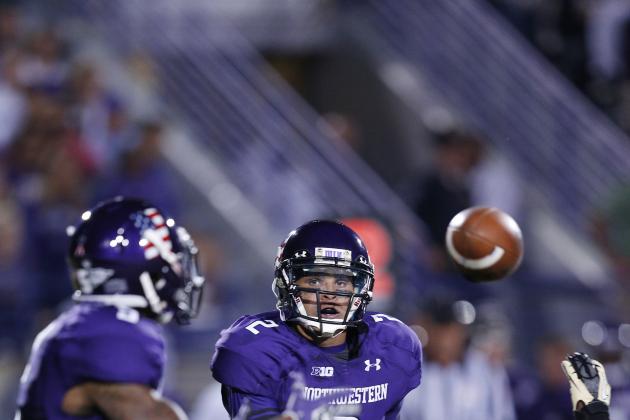 Joe Robbins/Getty Images

Northwestern began the 2012 season as one of the lower-ranked teams in the Big 10. After beginning with three straight victories over BCS teams, the nation began to take notice of the Wildcats' impressive season in the making.
Looking ahead to Indiana, Penn State and Minnesota, the Wildcats could possibly be undefeated heading into their first ranked matchup against the No. 23 Nebraska Cornhuskers.
The Big 10 has been a toss up this season after disappointing losses for Michigan, Michigan State, Nebraska and Wisconsin—leaving a perfect channel for the Wildcats to put Northwestern on the map.
2012 Results:
at Syracuse: 42-41 (W)
vs Vanderbilt: 23-12 (W)
vs Boston College: 22-13 (W)
vs Indiana: 38-7 (W)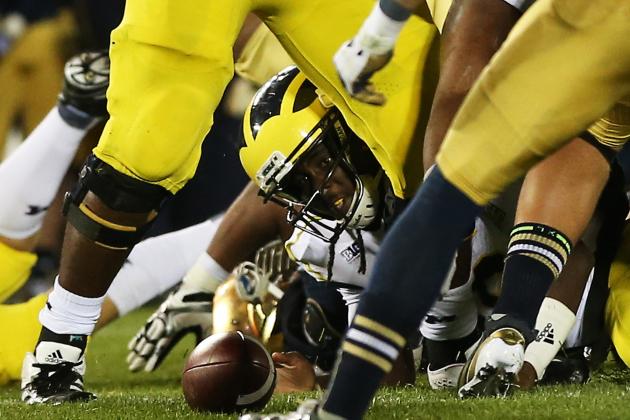 Jonathan Daniel/Getty Images

The Denard Robinson-dominated Michigan Wolverines were perhaps overrated heading into the week one season-opener against the now No. 1 ranked Alabama Crimson Tide.
Before the Cowboy Classic in the amazing Dallas Cowboys Stadium, Denard Robinson was expected to lead his Wolverines to a close, hard-fought match against Alabama's five defensive returning starters.
After getting slammed by 27-points, the rest of the nation was exposed to Michigan's greatest weakness—too much reliance on one player.
In the four games Michigan has played in, Denard Robinson has logged eight interceptions with just six passing touchdowns.
If the Blue continue to rely solely on their incredibly gifted quarterback, it will be difficult for the Wolverines to get back in the top 25 national rankings.
2012 Results:
vs. No. 2 Alabama: 14-41 (L)
vs. Air Force: 31-25 (W)
vs. Mass: 63-13 (W)
at No. 11 Notre Dame: 6-13 (L)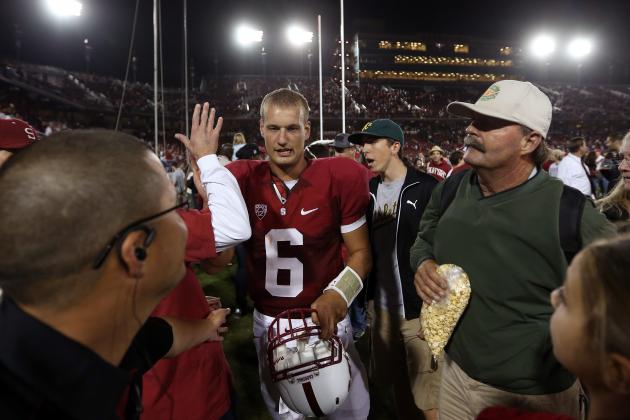 Ezra Shaw/Getty Images

Stanford has turned their program around this season like none other.
In week one, the Cardinal barely snuck by the San Jose State Spartans after being 25-point favorites, only to continue the miscommunication in the following week against Duke.
Miraculously in week three, the Cardinal upset the No. 2 ranked USC Trojans—defeating Heisman frontrunner Matt Barkley for the fourth consecutive year.
The Cardinal return after a week off to play Keith Price's Washington Huskies in a Thursday night prime-time matchup for their first road game of the season.
2012 Results:
vs San Jose State: 20-17 (W)
vs Duke: 50-13 (W)
vs. No. 2 USC: 21-14 (W)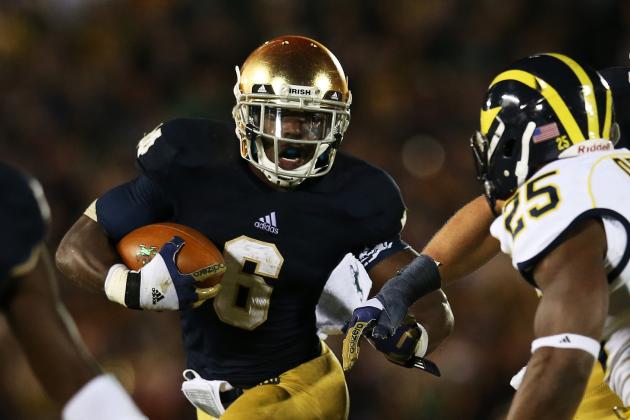 Jonathan Daniel/Getty Images

After creating disappointment throughout the State of Michigan, the undefeated Notre Dame Fighting Irish seem to be back to historical form.
Incredibly, it seems like the preseason backup quarterback Tommy Rees is primed and ready for more playing time as he propelled the Irish offense to a 13-6 victory over Denard Robinson's Michigan Wolverines last weekend.
The Irish will need to win six or seven of their eight remaining games to qualify for a BCS bowl—most notably against top-level talents like USC, Oklahoma and Stanford.
2012 Results:
vs Navy: 50-10 (W)
vs Purdue: 20-17 (W)
at No. 10 Michigan State: 20-3 (W)
at No. 18 Michigan: 13-6 (W)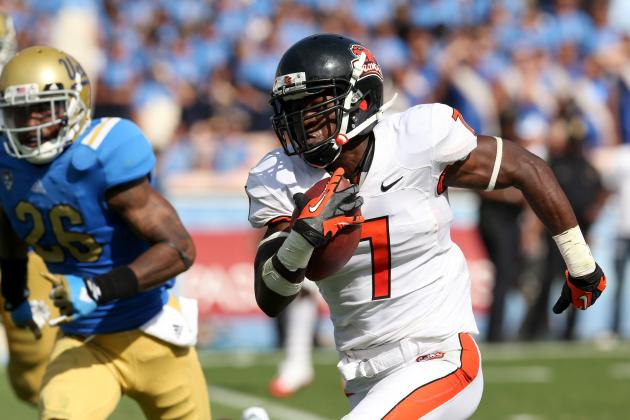 Stephen Dunn/Getty Images

After having to reschedule their week one matchup against Nicholls State due to Hurricane Issac, the Oregon State Beavers incredibly upset the No. 19 UCLA Bruins after knocking off No. 13 Wisconsin—propelling Oregon State into the top 25 for the first time in nearly two years.
The Beavers have one of the toughest schedules remaining, having to play at Arizona, BYU, Washington and Stanford before hosting the No. 2 ranked Oregon Ducks in the Civil War.
2012 Results:
vs. No. 13 Wisconsin: 10-7 (W)
at No. 19 UCLA: 27-20 (W)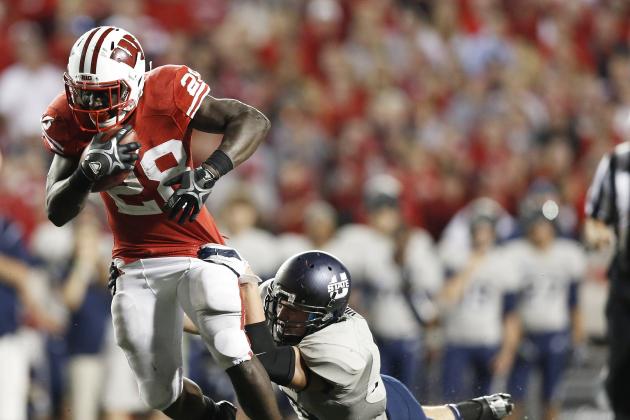 Tom Lynn/Getty Images

After Heisman hopeful Montee Ball shredded the 2011 schedule for 38 total touchdowns, many expected the No. 12 ranked Wisconsin Badgers to make a legitimate BCS bowl run in 2012.
However, after losing to unranked Oregon State on the road in week two, the Badgers have falled outside the top 25.
Looking ahead, the Badgers must make a statement against the No. 22 ranked Nebraska Cornhuskers this weekend to gain more positive national attention.
2012 Results:
vs Northern Iowa: 26-21 (W)
at Oregon State: 7-10 (L)
vs Utah State: 16-14 (W)
vs UTEP: 37-26 (W)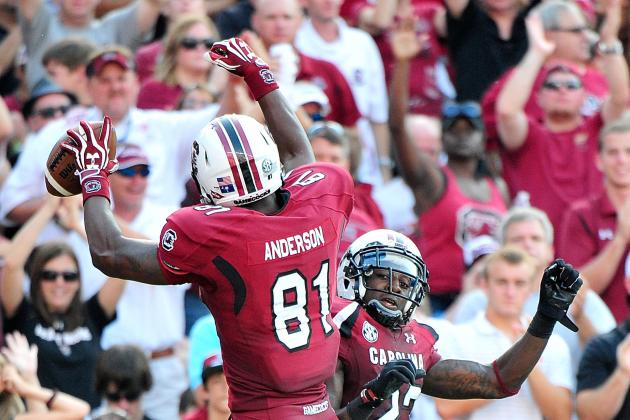 Grant Halverson/Getty Images

Though South Carolina has modestly moved from No. 9 to No. 6 after outscoring their opponents 145-39 in the first four weeks, what's incredibly surprising about the Gamecocks is that they have proven to be true contenders for their upcoming games against No. 5 Georgia and No. 3 LSU.
With an offensive attack led by their two top-level quarterbacks in Dylan Thompson and Connor Shaw and a Heisman hopeful at the running back position in Marcus Lattimore, the Gamecocks prove to be one of the nation's strongest teams.
This season, Thompson and Shaw combined for over 900 yards passing with eight touchdowns and just two interceptions.
After the 21-point favorite Gamecocks likely beat Kentucky this Saturday, the squad will host No. 5 Georgia in what should be the most exciting college football matchup to date.
2012 Results:
at Vanderbilt: 17-13 (W)
vs East Carolina: 48-10 (W)
vs UAB: 49-6 (W)
vs Missouri: 31-10 (W)