SEC Football: Winners and Losers from Week 4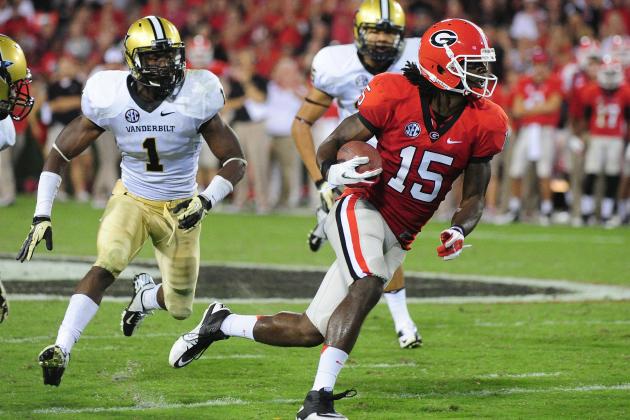 Scott Cunningham/Getty Images

All 14 SEC teams were in action over the weekend and the league as a whole was impressive once again, winning five of its six non-conference games.
While the majority of the league had a fair share of success, there were some teams and players that were not quite as productive over the weekend.
On a Saturday packed with action, the league also saw one of the best single-game performances in the history of the conference.
Here are the winners and losers from Week 4 of the SEC season.
Begin Slideshow

»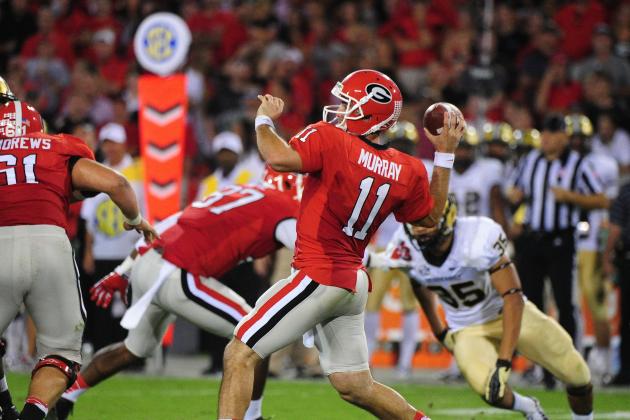 Scott Cunningham/Getty Images

Georgia looked awfully good on Saturday against Vanderbilt en route to a 48-3 demolition of the Commodores.
After struggling slightly in the season opener against Buffalo, the Bulldogs have really turned it up as of late.
The Bulldogs took control at the start and did not let up. Winning an SEC game is one thing, but winning by 45 points is something completely different.
On defense, Georgia held Vanderbilt to 337 total yards and only 106 on the ground, but the Bulldogs really excelled on offense, totaling 567 total yards.
Some may have thought the offense was going to be a problem, particularly with star running back Isaiah Crowell being dismissed from the team, but that has proven to be anything but the truth.
The two-headed monster of Todd Gurley and Keith Marshall has proven to be quite a combination at the running back position.
Both are true freshmen and the two combined for over 200 yards and four touchdowns against Vanderbilt.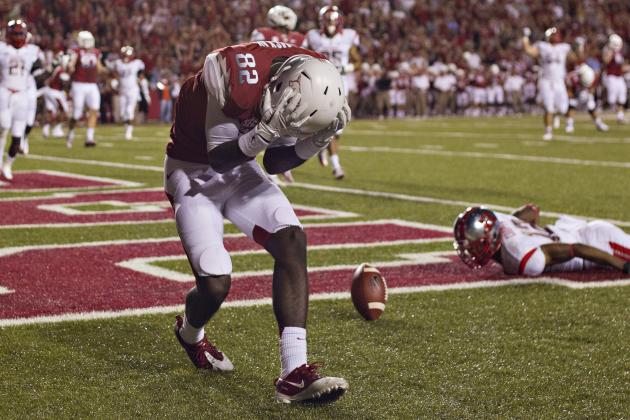 Wesley Hitt/Getty Images

There is no question that the biggest loser of the week in the SEC was the Arkansas Razorbacks.
They suffered their third loss of the season, this time against Rutgers from the Big East.
Coming into the season, even with what had happened in the offseason, John L. Smith still had a talented squad with BCS aspirations.
To say the wheels have come off would be a complete understatement.
Rutgers was in control of the game from start to finish, as Gary Nova threw for 397 yards and five touchdowns.
Defense is a growing problem for Arkansas so far this season.
The Razorbacks are in complete disarray.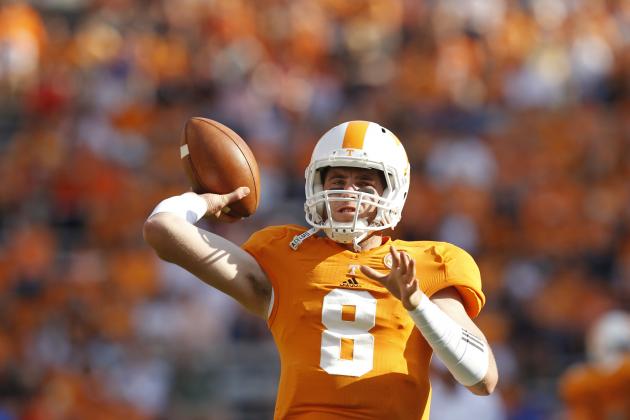 John Sommers II/Getty Images

There were not a lot of standouts when it came to individual performances in Week 4, but one player who was near the top of the list was Tyler Bray.
The quarterback threw for 401 yards with four touchdowns and an interception. He completed 27-of-43 passes and helped lead the Vols to a 47-26 win over Akron.
The competition will get much tougher in the coming weeks for Bray.
Even though Bray is only a junior, he is considered one of the top prospects for the 2013 NFL draft, and if he plays like he did on Saturday, there is no telling how high he could rise on the draft boards.
If he continues to play like he is, success will come for the Vols.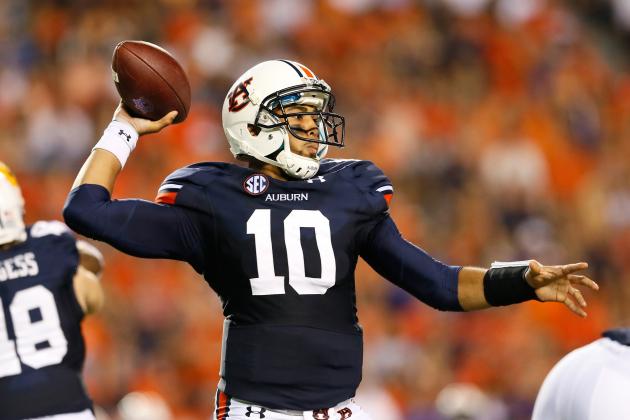 Kevin C. Cox/Getty Images

Kiehl Frazier continued his struggles as Auburn fell, 12-10, at home to LSU.
The troubles on offense for the Tigers started with Frazier, as he completed only 13-of-22 passes for 97 yards and two interceptions.
The LSU defense is obviously strong, but this was quite a pitiful performance from Frazier and his teammates.
Coming into the season, Frazier was entrenched in a quarterback battle with Clint Moseley.
He won the job, but has certainly not lived up to expectations so far, and a quarterback controversy could be coming soon.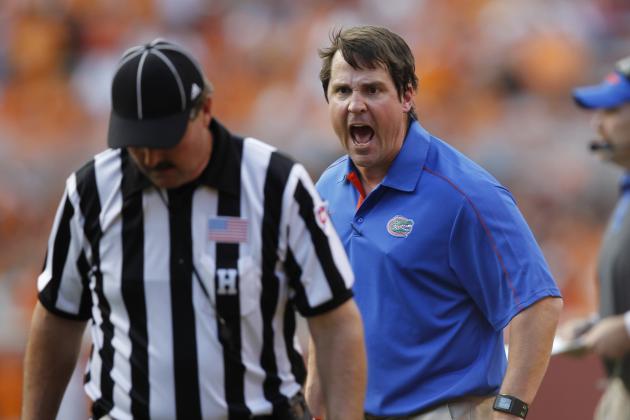 John Sommers II/Getty Images

For all of the struggles the Gators had last season, they are clearly making up for them this year.
Will Muschamp and the Gators picked up another conference win and dominated Kentucky from start to finish.
They held the Wildcats to only 219 yards and while Kentucky is horrible, Muschamp is doing everything right for Florida.
Last season, the Gators had a lot of trouble winning football games, due in large part to their struggles on the offensive side of the ball.
The young Gators from last year have started to grow up, and while there is still some work to be done on offense, it is looking like they are going to be solid for years to come.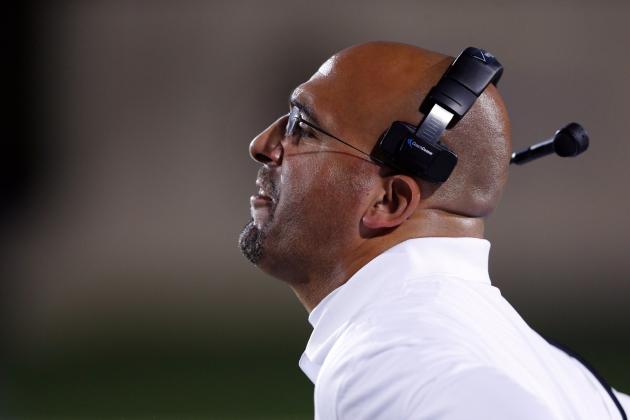 Joe Robbins/Getty Images

Vanderbilt was considered to be a team that would qualify for a bowl game again this year, but that prediction seems far-fetched, at least so far.
The Commodores were throttled by Georgia yesterday and have started the season 1-3.
Winning at Vanderbilt is not easy to do, but James Franklin proved last season that it is possible.
He will have his work cut out for him if the Commodores plan on getting back there this year.
Among the most winnable games remaining on the schedule tilts against UMass, along with road trips to Ole Miss and Wake Forest.
Vanderbilt is going to have to pull off an upset or two if it is to finish the season with six wins.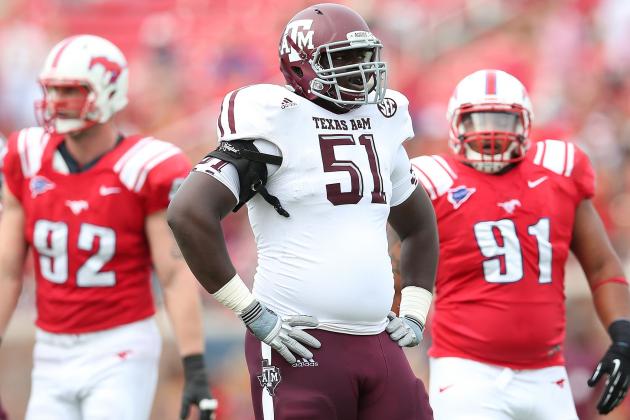 Ronald Martinez/Getty Images

Texas A&M did have the advantage of taking on South Carolina State, but it looked great all day long.
The Aggies came away with a 70-14 win and spread the ball around to just about everybody.
Seven different players carried the ball and nine caught passes. The Aggies defense held South Carolina State to 223 yards and appears to be ready to compete with the SEC.
Don't look now, but Texas A&M is 2-1 with its only loss coming by three to Florida.
The Aggies have the talent to be a sleeper in the SEC, particularly if redshirt freshman Johnny Manziel continues to develop.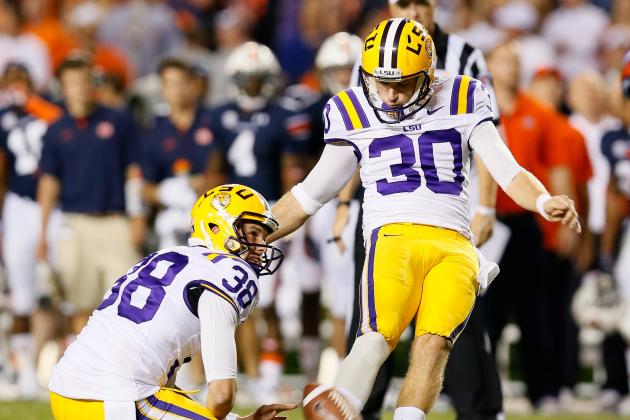 Kevin C. Cox/Getty Images

Even though LSU came out with a win, it was very fortunate to do so, and it left a lot of questions to be answered.
The biggest question mark for the Tigers is the offense as a whole. Quarterback Zach Mettenberger completed only 15-of-27 points for 169 yards. He continues to struggle in his first year as the starter.
The running attack was solid once again, but only rushed for 182 yards on 44 carries.
If LSU has any national title aspirations, it needs more production on the offensive side of the ball, particularly from the passing game.
The Tigers do not have a lot of options other than Mettenberger, and it will be up to him to executive the offense more effectively.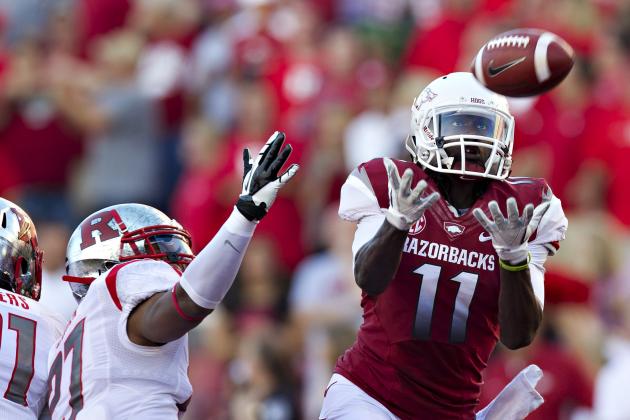 Wesley Hitt/Getty Images

Cobi Hamilton had the best game of any wide receiver in SEC history, totaling 303 yards and three touchdowns on 10 receptions.
His touchdown catches were for 57, 80 and 10 yards. Hamilton was able to single-handedly keep Arkansas in the game against Rutgers.
It is hard to imagine a better performance during this college football season than what Hamilton did on Saturday.
Even with the game he had, it was not nearly enough, as the Razorbacks fell victim to Rutgers in another disappointing Saturday for Arkansas.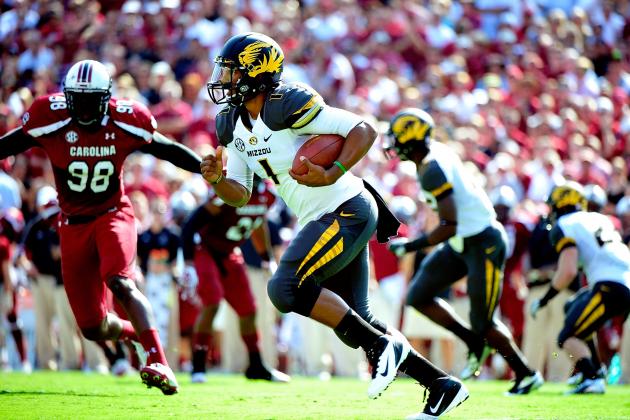 Grant Halverson/Getty Images

In fairness to James Franklin, he has been battling through injury this season and seems a shell of what he once was.
On Saturday at South Carolina, he was awful. Franklin completed only 11-of-18 passes for 92 yards. He also carried the ball 15 times for a grand total of six yards.
Not exactly a Heisman-worthy performance for Franklin.
It could be a long season for Missouri, particularly if Franklin has trouble staying on the field.
Welcome to the SEC.