AP College Football Poll 2012: Winners and Losers from Week 5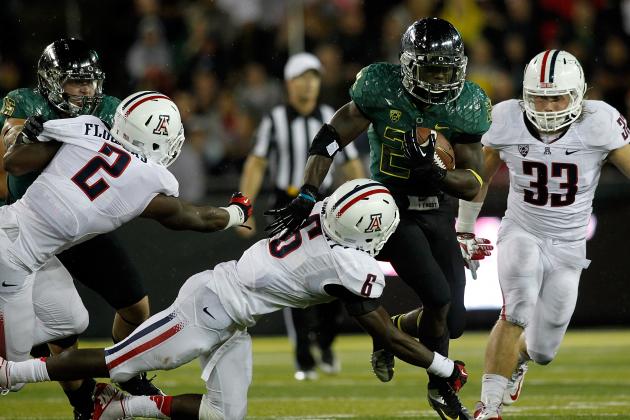 Jonathan Ferrey/Getty Images

The AP poll is hot off the presses, and as usual, there was some movement near the top of the polls, despite none of the top five teams losing.
There were plenty of winners and losers in the new poll, and with so many games pitting two ranked teams, some of college football's biggest names went down over the weekend.
Five teams in the Top 25 fell victim on Saturday, and three new teams hopped into the poll.
Plenty of teams dropped more than they should, while others rose a little too much in the rankings.
Here are the winners and losers from the newest AP Top 25.
Begin Slideshow

»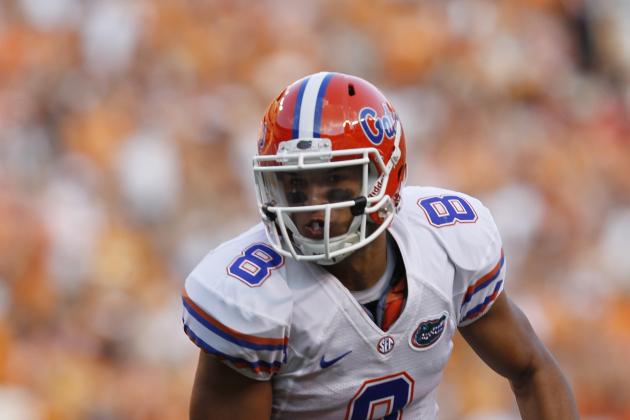 John Sommers II/Getty Images

Florida defeated Kentucky 38-0 and moved up three spots in the rankings from No. 14 to No.11.
They are on the brink of cracking the Top 10 and were able to jump Texas, which was idle over the weekend.
What is more surprising is the Gators somehow managed to overtake USC. The Trojans remained at No. 13 after knocking off California 27-9.
Florida is definitely a big winner in this week's AP poll.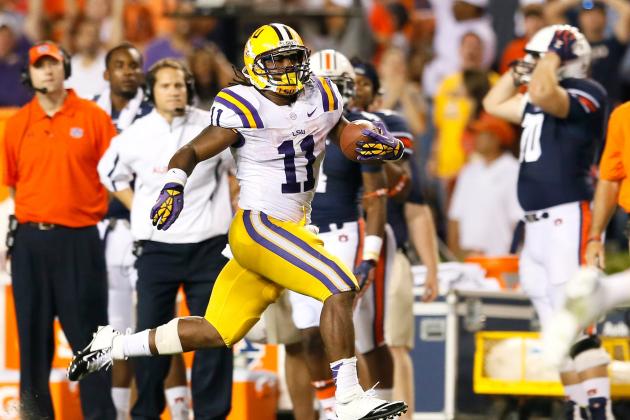 Kevin C. Cox/Getty Images

LSU is the latest No. 2 team to drop in the rankings after winning a game on the road.
The Tigers did struggle in a 12-10 win over Auburn but fell from No. 2 to No. 3 and nearly dropped all the way to No. 4.
Whatever happened to "a win is a win"?
LSU is a big loser in the poll this week.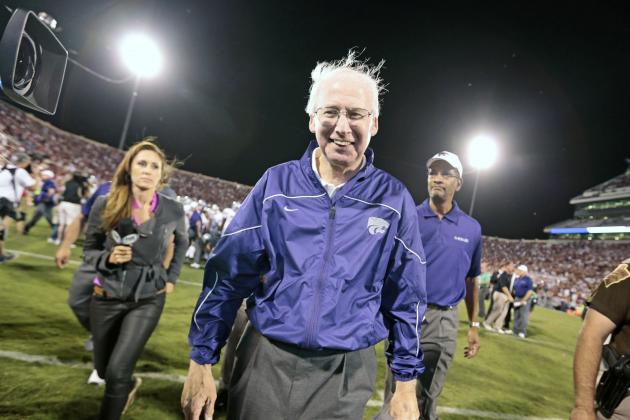 Brett Deering/Getty Images

Kansas State pulled off the upset in a road win over Oklahoma and saw the biggest rise of anybody in the rankings, moving up eight spots from No. 15 all the way to No. 7.
That seems like a rather large jump and one that's a little sudden, but the Wildcats were able to beat a Top 10 team on the road.
Still, a jump like that seems a little much. The voters seem to be basing too much on one game.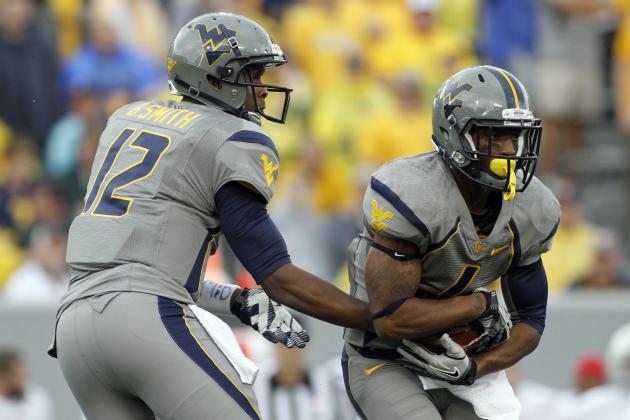 Justin K. Aller/Getty Images

West Virginia did not look all that impressive in a 31-21 win over Maryland, but dropping it a spot in the rankings seems a little unnecessary, particularly when Oklahoma—which was in front of it—lost.
Stanford, which had a bye, somehow jumped the Mountaineers in the rankings.
I know it was only a 10-point win, but that is not as bad as some make it out to be. West Virginia should have moved up at least a spot, maybe two, instead of taking a step back.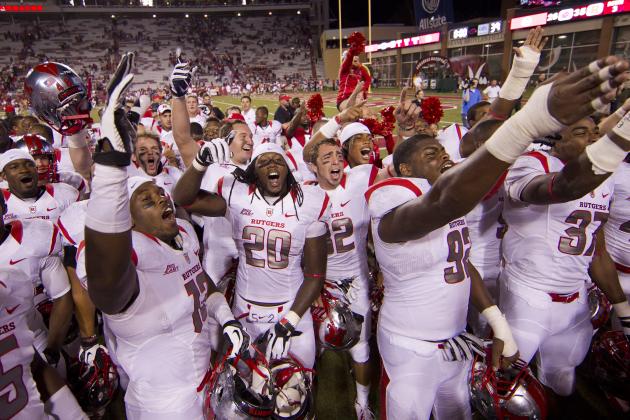 Wesley Hitt/Getty Images

Rutgers moved into the poll at No. 23 with a road victory over Arkansas. That was a jump of seven spots after defeating a team that didn't even receive a vote in the AP poll.
Arkansas is part of the SEC, but that does not make it any good, and a win over the Razorbacks is no better than beating another 1-3 team.
Great win for Rutgers, but not worthy of jumping four teams in front of it who won their games.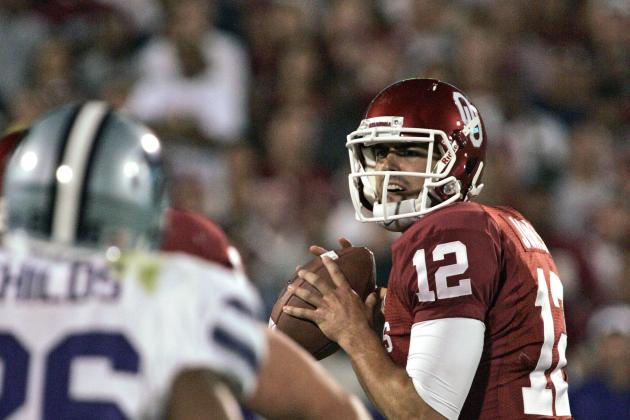 Brett Deering/Getty Images

Oklahoma was ranked No. 6 in the country heading into its showdown with Kansas State, and a five-point loss dropped it all the way to No. 16.
The Sooners certainly deserve to drop more than a few spots after losing at home, but 10 seems a little harsh to me.
Kansas State is no pushover, and according to the AP voters, it's a top-seven team. Losing to a team like that is not worthy of the drop the Sooners suffered.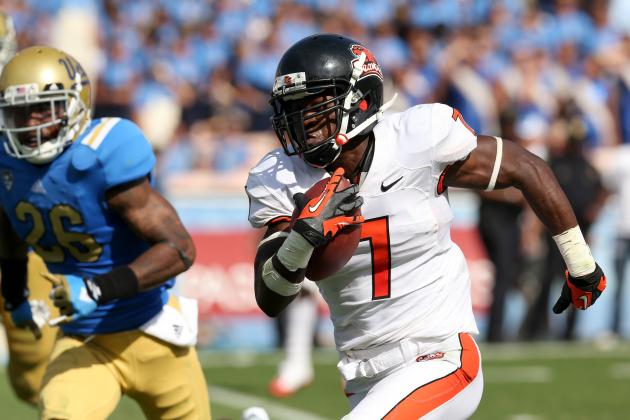 Stephen Dunn/Getty Images

Another team that was a big winner with the release of the AP poll was Oregon State.
The Beavers were not ranked last week, but on the brink at No. 26. They beat a solid UCLA team on the road and jumped up eight spots.
I could easily see them moving into the rankings and ahead of UCLA, but all the way up at No. 18 over a team like Louisville seems a little too much.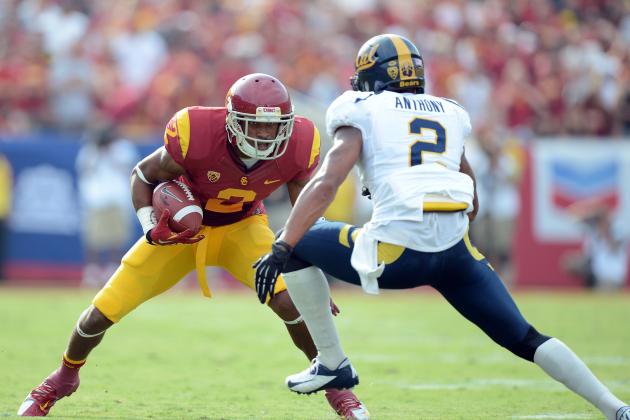 Harry How/Getty Images

USC did not look all that impressive in a 27-9 win over California, but did that performance really warrant two teams jumping the Trojans in the polls?
Florida did not deserve to move in front of USC, but it did, and that makes the Trojans one of the biggest losers in the poll this week.