Big Ten Football Power Rankings Featuring Prince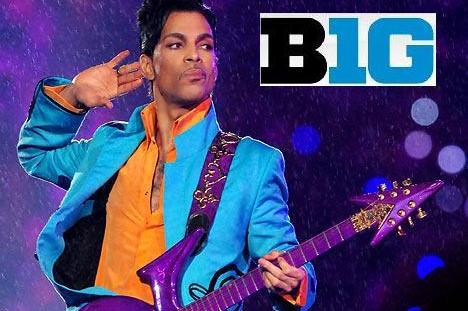 Hint...this isn't the only purple power this week! Courtesy thissongissick.com
Welcome back to another week at the disappointment ranch, where the best teams keep losing. Or alternatively, the best teams keep on winning in such an unimpressive fashion that the poll rankings drop in precipitous fashion. Yes, it is the Big Ten weekly power rankings for Week 3!
Although the day started off much better than a weekend ago with nine wins in the nine afternoon games, the rug was pulled out in a big way in the evening games. Indiana lost to Ball State once again, raising questions about the program's depth without Tre Roberson. Wisconsin needed Utah State to miss a chip-shot field goal at the end of the game to avoid losing at home.
And in the most important game of the day, another Michigan school (this time MSU) was crushed thoroughly on Saturday Night Football, this time by Notre Dame. With Notre Dame officially joining the ACC and vowing to protect all non-Big Ten rivalry games earlier in the week, this was the proverbial cherry on top of the sundae of awful.
After three weeks of non-conference play, the conference has been battered in most big games. Even the remaining undefeated teams have serious questions, led by Minnesota with another starting quarterback out to injury for multiple weeks. Michigan carried the banner in Week 1 and failed, Nebraska did the same in Week 2 and failed and Michigan State fell flat with the banner in Week 3.
Now there's a new standard-bearer...and Prince is proud to lead us to the surprising conclusion. Let's take a spin in the Little Red Corvette as we look forward to the least exciting week of non-conference play, the final one before the real interesting games begin.
Begin Slideshow

»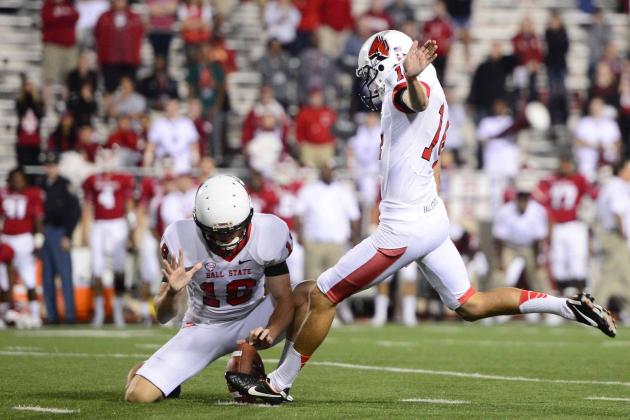 Andrew Weber-US PRESSWIRE
Ball State...best at kicking the Hoosiers when down
Theme Song—Why You Wanna Treat Me So Bad
It did not take long for the loss of starting quarterback Tre Roberson to have an impact on the Indiana Hoosiers. Indiana struggled to keep Ball State off the board throughout the game, allowing the Cardinals to race out to a 14-3 lead early and a 38-25 lead late.
However, it was heartening to see Indiana continue to rebound and grab the lead despite these deficits and defensive lapses. Cameron Coffman played about three quarters in his first collegiate start at quarterback before getting benched for true freshman Nate Sudfeld. Both quarterbacks had respectable debuts with two touchdown passes. Sudfeld, in particular, appeared to find coverage mismatches often during the last drive, leading to three pass interference penalties drawn.
But despite racking up 558 yards of offense and not turning the ball over, the offense left just a bit too much time on the clock. Ball State picked apart the Indiana secondary and prevented defense with only 49 seconds to go, setting up the game-winning field goal as time expired. Indiana continues to struggle to stop passes in critical plays, and that does not bode well for Big Ten play.
However, the defense did play well enough at times to give the offense enough time to come back time and time again. With a possible quarterback controversy brewing in Bloomington, now is likely a good time to have a bye week leading into a winnable opening conference game at Northwestern. The time off should be spent locking down the defense for some big challenges ahead.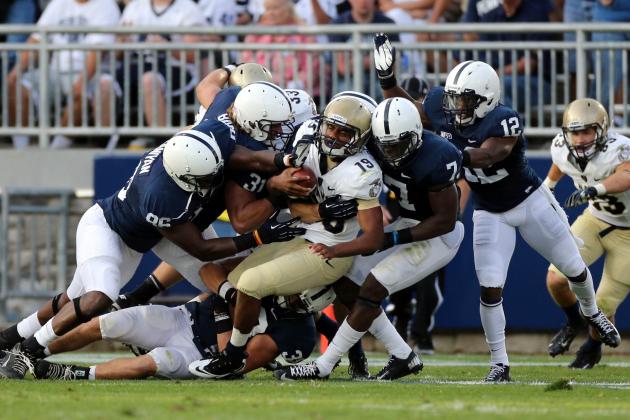 Rob Christy-US PRESSWIRE
Not fooled by the option attack, at all!
Theme Song—Scandalous! (too easy)

Penn State finally put together nearly a full game of strong effort in a blowout win over Navy, and the young players on both sides of the ball contributed in large ways. The star of the game was sophomore WR Allen Robinson, who finally broke 100 yards receiving (136) after flirting with that number in the first two games. Robinson also grabbed three touchdown passes and leads all receivers in the conference by nearly 100 yards in receiving after three games.
Robinson is one of the big reasons that senior QB Matt McGloin has found a resurgence in leading the Bill O'Brien-designed offense. McGloin has turned from a liability to an asset, with a shocking 8-1 ratio of touchdowns to interceptions through the first quarter of the season. If Penn State can find some additional consistency in the running game when Bill Belton gets healthy, the offense could keep the Nittany Lions in some games with stronger conference opponents.
The defense was not deterred by preparing for the strange option rushing attack of Navy. Contrarily, the defense largely stuffed the Navy offense until the fourth quarter. Although the Midshipmen ended up with 391 yards of offense, over half of these came in the fourth quarter when the game was out of reach.
The Nittany Lions also generated four turnovers, highlighted by LB Gerald Hodges grabbing his first interception of the season. Freshman DE Deion Barnes received more playing time and added to his conference lead with his fourth sack of the season. With Hodges back in form and the youth on the line playing well, the defense might be ready to take down tougher competition.
Temple this weekend will provide a nice test and a contrast to Navy's style. With another effort like the one this past Saturday, Penn State will pull back to .500 on the season and will leap up in these power rankings.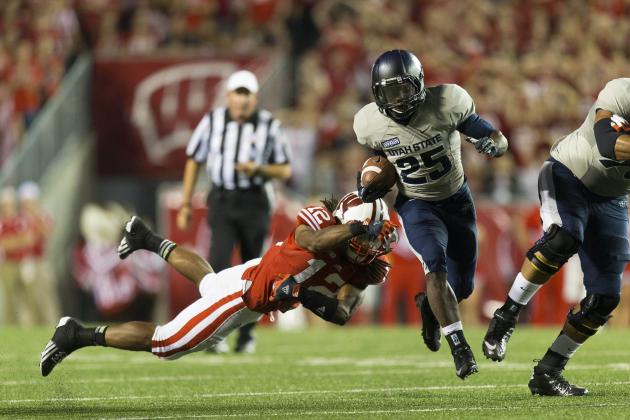 Jeff Hanisch-US PRESSWIRE
If Utah State can, perhaps anyone can
Theme Song—Fury
Apparently, firing the offensive line coach did not quite solve all that ails the Wisconsin offense. Returning home battered and bruised following a near shutout in Corvallis, the Badgers followed that performance up with another clunker on offense. An unstoppable force of sound and fury led by Montee Ball has now lost the fury, as the revamped offensive line fails to open holes and fails to protect whoever is playing quarterback.
And then there's that nagging issue of quarterback. Danny O'Brien managed only 63 yards of passing on 10 attempts in the first half before getting benched, and freshman Joel Stave took over in the second half. Nonetheless, Stave was not really used in the passing game as he only attempted six passes in the entire second half. Wisconsin kept pounding away at the Utah State defensive front with the running game, but found little success.
If not for a punt-return touchdown in the third quarter and a missed field goal by Utah State at the end of the game, Wisconsin would have lost once again. Unless something changes soon with this offense, Wisconsin will be embarrassed once league play begins and real offenses come to challenge the Badger defense. The improvement has to come on the line, as it will not matter who plays quarterback or how good Montee Ball is otherwise.
This week brings one final tune-up for conference play against the University of Texas at El Paso, another team struggling to start 2012. Perhaps this will be the week Wisconsin pulls it together against a lesser opponent, but it will be a long time before Wisconsin finds the top of the power rankings (even though it remains inexplicably ranked in the coaches poll...for shame).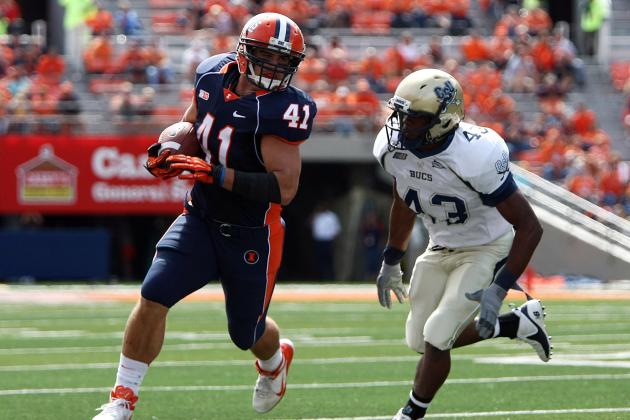 Ben Woloszyn-US PRESSWIRE
Well timed rebound FCS game, Illini...
Theme Song—Still Waiting

While a 44-0 win always looks good in the record, the value of last weekend's win against FCS Charleston Southern is difficult to gauge. Especially considering how awful Illinois played against Arizona State two weeks ago, it is hard to trust a big win against the Buccaneers, who were playing their first game against any Big Ten school.
Sophomore QB Reilly O'Toole threw for 333 yards and five touchdowns in relief of starter Nathan Scheelhaase, who should be back this weekend for the game against Louisiana Tech. Despite not getting much help in the running game, O'Toole was able to find many open receivers against a defensive backfield without much speed or coverage ability. Freshman running back Dami Ayoola had an impressive touchdown run on a 4th-and-1, but struggled to generate big plays the rest of the day.
Perhaps the future will be bright with these players, but we are still waiting for an indication of whether or not Illinois will be competitive in the Leaders Division this year. For Illinois to be competitive, it will need to get Scheelhaase and the other dinged up players healthy once again.
The Illini defense completely shut down the FCS school, surrendering 125 yards and stopping all 13 third down conversion attempts for CSU on the day. But this is the same unit that could not slow down the Sun Devils the week before, so not much can be taken from this other than the Buccaneers being outclassed. With a Louisiana Tech offense coming in that has generated 56 points per game, this will be a very enlightening week in indicating whether or not the Illini are a threat in 2012.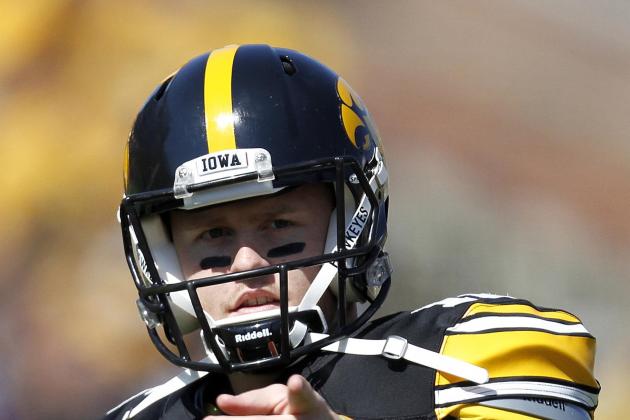 US PRESSWIRE
Vandenberg wants YOU to be the next Iowa running back
Theme Song—Black Sweat

The AIRBHG (Angry Iowa Running Back Hating God) was on full display once again as Iowa took on another rival, Northern Iowa. With only Damon Bullock and Greg Garmon dressing for the running back position, that made it only too easy for the plague upon Iowa to continue with injuries to both running backs in the second quarter.
This left FB Mark Weisman, who is a walk-on that has only come into playing time thanks to attrition of the entire running back corps in Iowa City. Weisman rushed for three touchdowns and almost had a fourth on a week following a game in which the Hawkeyes could not find the end zone at all.
Weisman racked up 113 yards and helped Iowa find the critical balance that has been lacking in the first two weeks. 228 yards passing and 201 yards rushing is a good mix to keep opposing defenses from bringing the house early and often against QB James Vandenberg. Vandenberg was not under as much duress as he was against Iowa State and Northern Illinois, and that will need to continue if Iowa is to play with the better teams in the conference.
Iowa surrendered 245 yards passing to the Panthers, but UNI stayed relatively one-dimensional all day. That allowed Iowa to keep a healthy lead after coming back from falling behind 7-0 and 10-7 early in the game. This week should result in an even more comfortable win against a truly bad Central Michigan squad. If Weisman gets injured though, who knows where Iowa will find students to run the ball under threat of the AIRBHG curse.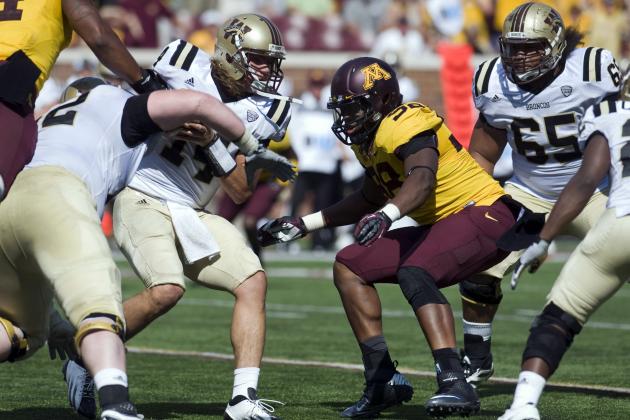 Marilyn Indahl-US PRESSWIRE
It helps when the other team falls over themselves
Theme Song—The Future

Another up-and-coming team from the cellar of the Big Ten, another starting quarterback with a major injury. Just like Tre Roberson at Indiana, Minnesota will need to adjust for life without starting QB MarQueis Gray for a month or so following a high ankle sprain. Unlike Indiana, Minnesota has a backup who saw significant playing time a season ago in Max Shortell.
This experience came in handy as Shortell came right into the game and led the Gophers on two scoring drives to retake the lead and open a healthy margin over Western Michigan. Shortell was 10/17 for 188 yards and three touchdowns, and he has come a long way from the wide-eyed freshman of a season ago. WR A.J. Barker had 101 receiving yards and three touchdowns of his own on only five receptions, which is good enough to put him third in the conference for receiving yards thus far.
Although the offense keeping the ball rolling without Gray is impressive, the effort of the Gophers defense is perhaps the main reason why Minnesota already has as many wins as the 2010 and 2011 teams did. The Minnesota secondary stepped up hugely against a high-quality gunslinger in Alex Carder, holding him to about 50% completions and only one touchdown.
This week brings another strong challenge with another great quarterback, Ryan Nassib from Syracuse coming to town to take on the Minnesota defense. Syracuse has two tough losses to Northwestern and USC and is slated to compete for the Big East title, so this will be a good watermark for determining if Minnesota will compete in the tough Legends Division this year. A win this weekend could mean bowl eligibility is on the table, which seemed so unlikely heading into 2012.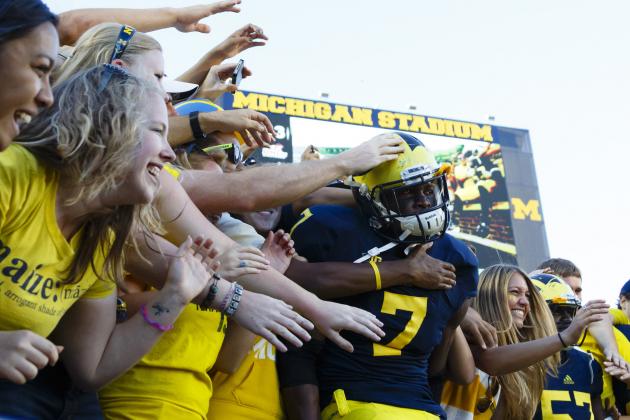 Rick Osentoski-US PRESSWIRE
Happy Days are back again
Theme Song—Let's Go Crazy

The split between the top six teams and the bottom six teams after a quarter of the season is a pretty definitive split, although Minnesota could bridge the gap with a win over Syracuse this weekend. Michigan will also have an opportunity to move back up in the power rankings with a huge game against Notre Dame, who is suddenly near the top 10 in national rankings following the crushing of Michigan State.
At this point, one would expect Denard Robinson to be perking up for the opportunity to blast through Notre Dame for the fourth straight season. Of course, he will need to have the offensive line play better than it did against Alabama and Air Force if Notre Dame is to be attacked at their weakness in the secondary. It is encouraging that Robinson threw for 291 yards and three touchdowns against Massachusetts, but Notre Dame will be a much tougher test against the Michigan receivers.
RB Fitzgerald Toussaint also finally got back into the mix with 85 yards rushing in his second game of the season. Robinson still led the team with 106 yards rushing, and this will have to change once Big Ten play begins. However, do not expect Robinson to hold back against a defense that has not stopped his heroics yet.
The Michigan defense held Massachusetts to 259 total yards, but these numbers are not all that impressive considering Indiana also knocked out the Minutemen a week earlier. This week, the defensive line will need to generate pressure against sophomore quarterback Everett Golson, which is not something that has happened so far this season in the first three games. Expect defensive coordinator Greg Mattison to dial up some blitzes this week to force Golson to beat the Wolverines downfield, which may be difficult to do.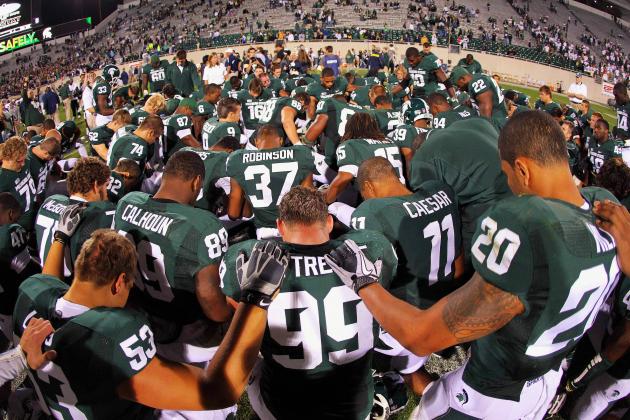 Mike Carter-US PRESSWIRE
Time to regroup
Theme Song—Let's Work

Just like Michigan and Nebraska before them, the Michigan State Spartans took the banner for the conference and the hopes for a national championship appearance and squandered them away in spectacular fashion against Notre Dame. The Irish scored the first touchdown allowed by the Spartans defense this season and never looked back, building a 14-0 lead that would not be threatened throughout the game. Now it is back to the drawing board for Michigan State before Big Ten play begins.
Michigan State was driven by the running game in the first two weekends, but Le'Veon Bell could only manage 77 yards on 19 carries this weekend. Bell still only trails Ameer Abdullah and Braxton Miller for the conference lead in rushing, but questions now linger as to whether the Spartans offensive line can keep him rolling as well as he did in the opener against Boise State. Meanwhile, Andrew Maxwell only completed 23 of 45 passes and was sacked four times after not being sacked all season before the Notre Dame game.
Perhaps the most damning statistic from this weekend is that Michigan State ran zero plays in the Notre Dame red zone. ZERO plays. It is difficult to keep up when you can't even put pressure on the defense to make a stop in negative territory. Notre Dame LB Manti Te'o may be a player who plays in the pros for many years, but there is no excuse for this many sacks and this many problems in the running game.
This week a truly miserable Eastern Michigan team comes to East Lansing for what will be a tough game against an angry Spartans squad. The key will be to avoid any injuries while generating better play on offense before another good team comes to town the following week in Ohio State.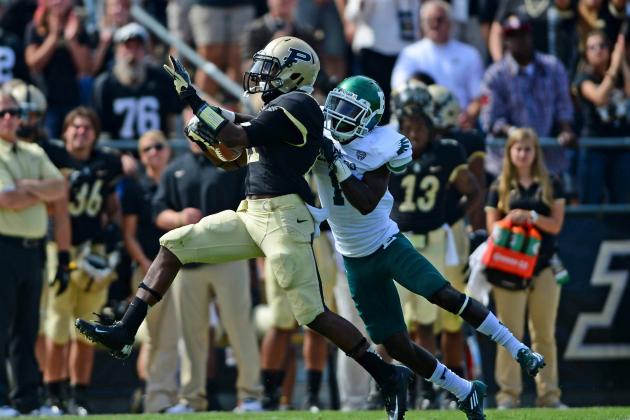 Andrew Weber-US PRESSWIRE
One of the better tackles for EMU on the day
Theme Song—U Got The Look

Speaking of that miserable Eastern Michigan team, that is also who Purdue got to beat up on following a tough loss to Notre Dame two weeks ago. Purdue racked up 576 yards of offense and did not surrender a touchdown on defense until the fourth quarter against the Eagles. That being said, Notre Dame dominating Michigan State was more enlightening on how good Purdue is than the win over EMU because Purdue played the Irish very closely all game in South Bend two weeks ago.
Just like that, Purdue has the look of a division title contender. If Wisconsin continues to struggle, Purdue could feast on the Badgers with a strong defensive effort from DT Kawann Short (three sacks in 2012) and the Purdue defensive line. The Boilermakers forced three turnovers and held the Eagles to 313 yards, which is a solid effort against a weak team. Of course, if Wisconsin does not improve dramatically in the next two weeks, Eastern Michigan may be a comparable test for the Purdue defense that the Badgers will present.
The Purdue offense hit stride as well, throwing for nearly 200 yards and rushing for 392. QB Caleb TerBush did throw an interception that was returned for a touchdown, but his decision-making was sound on the whole. Akeem Hunt had a huge day with 106 rushing and 50 yards receiving on a single catch. The Boilermakers go into a bye week healthy and happy, which means that some additional offensive play calling wrinkles should be introduced for Big Ten play.
Purdue has the aforementioned bye and then plays Marshall before welcoming Michigan and Wisconsin to West Lafayette. Those first two weeks of the conference season will be critical, but Purdue will likely hold steady at this spot or close to it in the power rankings until those games.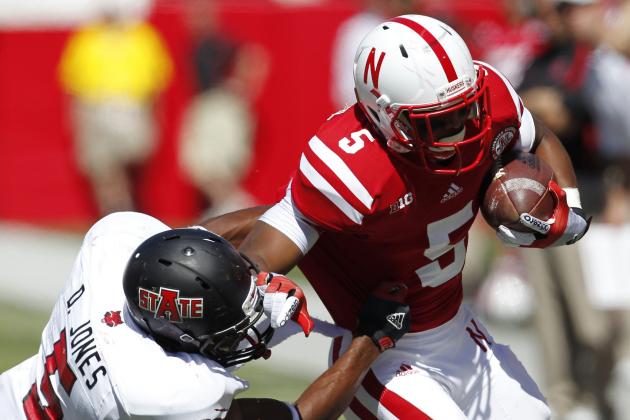 Bruce Thorson-US PRESSWIRE
Working hard in Burkhead's absence
Theme Song—Glam Slam

Following the defensive collapse in the Rose Bowl, serious questions started to crop up about the Nebraska Cornhuskers' Blackshirts defense. Despite this, Nebraska stepped up in a huge way at home by knocking out Arkansas State early and not ever allowing the Red Wolves to get into any sort of offensive groove. Although the home-field advantage makes a huge difference, holding an offense to 270 yards is still a solid effort against a FBS team.
The only drama left after the first half was whether coach Bo Pelini was OK, as he was taken to the hospital with flu-like symptoms. As it turns out, Pelini is just fine and was back to normal work before the end of the weekend. With that issue addressed, Nebraska can finish the preparations for conference play with one final non-conference game against Idaho State.
Nebraska was back up to the same old offensive tricks, led by the rushing game with over 300 yards in total. RB Ameer Abdullah ran 30 times for 167 yards and two touchdowns, which makes one wonder if Rex Burkhead is even missed. With Abdullah only 10 yards behind the conference leader in rushing, the offensive line is definitely holding up its end of the bargain for making Nebraska a title contender.
Will the defense continue this Jekyll and Hyde approach? If so, the good Blackshirts need to show up against teams like Ohio State and Michigan to avoid another season mired in mediocrity.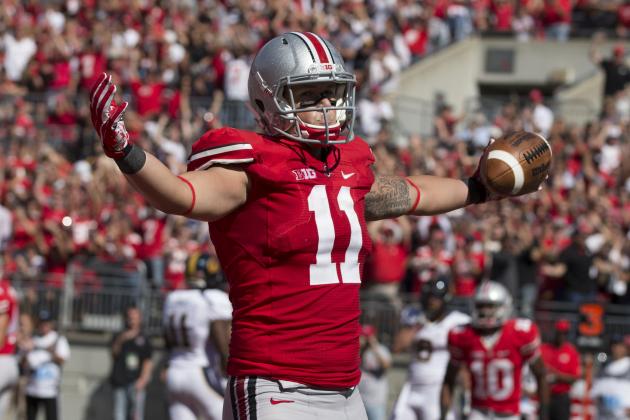 Greg Bartram-US PRESSWIRE
TE or WR, Stoneburner keeps getting the job done
Theme Song—Sign O' The Times

Perhaps it is a sign of the times in 2012 that a team coming back from a 6-7 campaign and NCAA sanctions would be one of the more impressive teams heading towards conference play.
While Ohio State's record looks pristine on paper, the results on the field have been anything but. Just like against Central Florida, a few busted defensive plays and some missed tackles allowed California to stay in the game and even hold a brief lead in the fourth quarter against the Buckeyes.
Once again, Braxton Miller came to the rescue with another big game.
Miller kept the conference lead in rushing despite only adding 75 yards to his total. That 75 yards was highlighted by another amazing long touchdown run, this time from 55 yards out. Miller also threw for 249 yards and four touchdowns, making the big plays when necessary. Miller took a page from the Urban Meyer and Tim Tebow playbook with a jump pass to Jake Stoneburner for a touchdown, and then continued to find young talent Devin Smith for a few big plays, including the 72-yard game-clinching touchdown.
RB Jordan Hall also returned and looked plenty healthy in rushing 17 times for 87 yards. As long as Hall or Carlos Hyde stay on the field consistently, Miller will not have to carry the entire burden of the offense all season.
The real story of this game was the failure of the Buckeye defense to put California away. Cal racked up over 500 yards of offense and 224 rushing, which ranks among the highest total outputs against Ohio State in Ohio Stadium over the past four seasons (Penn State also went over 200 yards in last year's game in Columbus).
The Buckeyes cannot afford to continue missing tackles and giving up big plays against the better teams that will not allow Braxton Miller and company to score 35 or more points every game.
Ohio State is not back quite yet, but it does appear to be the best team in the Leaders Division. Which is like being the prettiest girl at a drag queen contest, but I digress.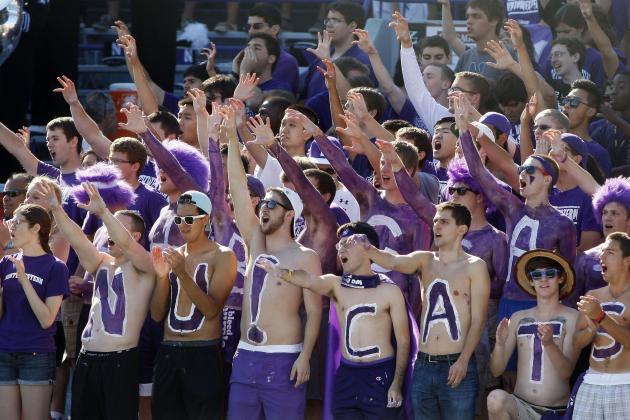 US PRESSWIRE
Welcome to the Top, Purple Power!
Theme Song—Purple Rain (Honestly, what else could it be?)

Following the opening-week shootout win against Syracuse, it was easy to write off this Northwestern team as another middling team in the Big Ten. Now, after three straight wins against BCS conference teams, no team has a better resume than Northwestern. So while it is true that the next four teams on this list probably have significantly better talent and longevity than Northwestern, right now the Wildcats have earned the right to paint the power rankings purple in honor of the 3-0 start.
Just like the game against Vanderbilt, the Northwestern defense stepped up and shut down another opposing offense against Boston College. Although the Eagles did throw for 291 yards, the Wildcats held strong in the running game and limited BC to 25 yards rushing for the entire game. That forced the Eagles into some unfavorable positions that Northwestern capitalized on for a multitude of field goals. DL Tyler Scott also added another sack to his total, making three on the season thus far.
Also, just like the previous week, the Northwestern offense squandered away many scoring opportunities before finally cashing in on a first touchdown with a couple of minutes to go, to ice the game. Both quarterbacks, Kain Colter and Trevor Siemian, threw for over 100 yards, and Northwestern churned out nearly 300 yards of rushing offense to go with those passing yards.
If anything, Northwestern should have won this week's game much more handily. There's plenty of room for improvement, even at the top this week.
Northwestern has a relative breather this week finally against South Dakota before welcoming Indiana to Evanston. There is a strong possibility that Northwestern could linger at or near the top of these rankings before road trips to State College and Minneapolis, which should tell us just how far Northwestern has come since that wacky opener.
For now, congratulations to Northwestern. Let's hope the top spot treats you better than it did Nebraska and Michigan State.
-----------------------------------------
Thanks for reading! Please follow David on Twitter, and keep the discussion going there and below!