College Football: Studs and Duds from Week 3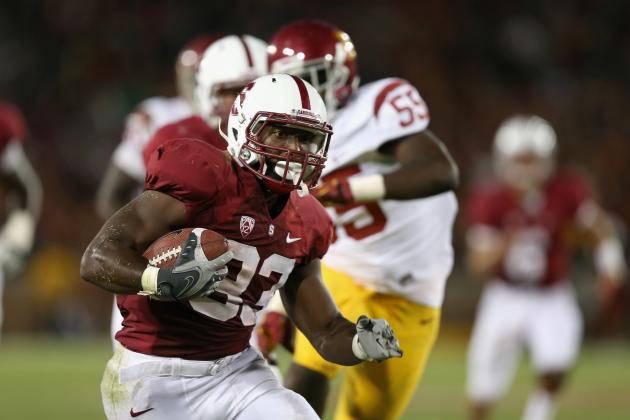 Ezra Shaw/Getty Images

When you peel back the layers of the big onion that is a weekend jam-packed with college football, you find the individual performances that sparked the bigger story of who won and who lost.
Yes, we know which squads reigned victorious in Week 3 and we know who suffered the agony of defeat, but what of the guys who made it all happen?
The following slideshow looks across the national landscape at the third stanza of the 2012 season and highlights 40 individuals who played a key role, good or bad, in the final scores that ran across the bottom of our screens this past Saturday.
It's studs, it's duds…it's heroes, it's flops, and ultimately, it's the tale of the conquerors vs. the vanquished.
Begin Slideshow

»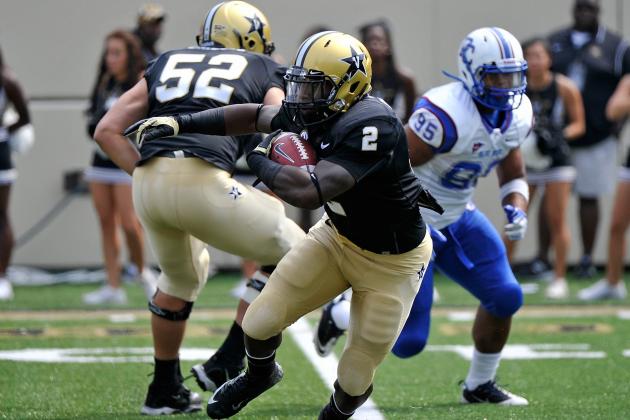 Frederick Breedon/Getty Images

Senior RB Zac Stacy reeled off 174 yards and one score on only eight carries in Vandy's 58-0 thumping of FCS Presbyterian this past Saturday.
Honorable-stud mention goes out to freshman RB Brian Kimbrow, who rushed for 137 yards and one score on 14 attempts, adding a healthy dose to the Commodores' 410 total yards of rushing.
Stacy's Week 3 performance amps up his 2012 total yardage to 258, putting him well on his way to eclipsing his 1,193 yard total as a junior in 2011.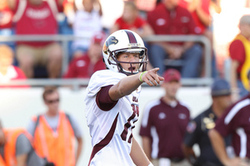 photo from teamspeedkills.com
Though it's admittedly rough to point any fingers at a Sun Belt team that took SEC West opponents to overtime two weeks in a row, ULM sophomore kicker Justin Manton's two missed kicks in Week 3 were devastating.
Manton was just 6-of-14 last season as a freshman, and his first field-goal attempt of the 2012 season was blocked in the third quarter vs. Auburn.
Then, he missed a 37-yard attempt in OT that cost ULM its second unthinkable upset bid.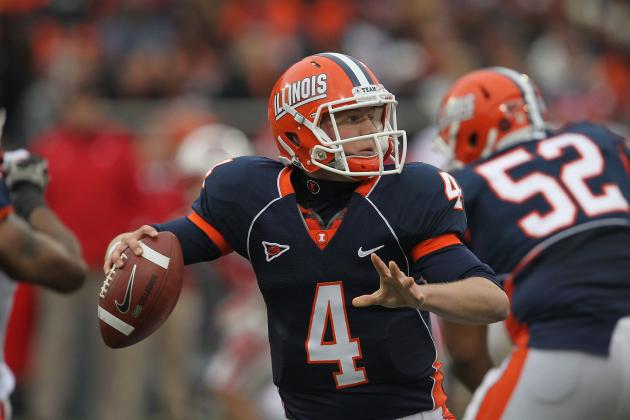 Jonathan Daniel/Getty Images

Even though you could easily argue that it was "only FCS Charleston Southern" whom Illinois played in Week 3, sophomore QB Reilly O'Toole's performance was still stellar.
O'Toole, who saw limited action in the first two games of the season, went 26-of-31 for 333 yards, 5 TD and one INT this past Saturday on the way to a 44-0 Illini victory.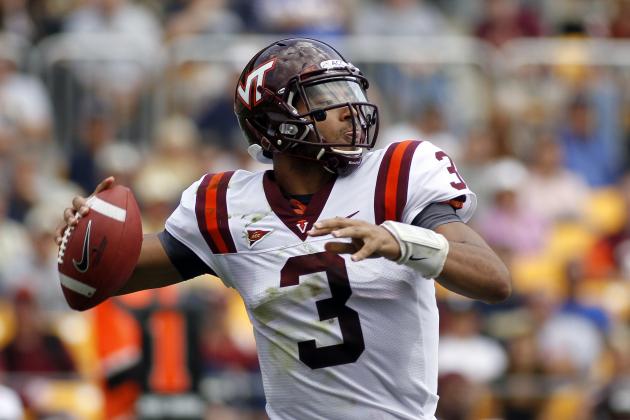 Justin K. Aller/Getty Images

Junior QB Logan Thomas tossed three picks on the way to Virginia Tech's shocking 35-17 upset loss to Pitt this past Saturday.
Thomas threw 10 INT in 2011 and had yet to throw the ball away this season until the first drive of Week 3's clash with the downtrodden Panthers.
Thomas' first pick came while the Hokies were driving at Pitt's 8-yard line. The second came at midfield and the third came at the Panther 30.
Add in a fumble and the fact that the Hokie D gave up a whopping 254 yards of rushing, and you've got a loss that will send you, at the very least, to the bottom of the Top 25.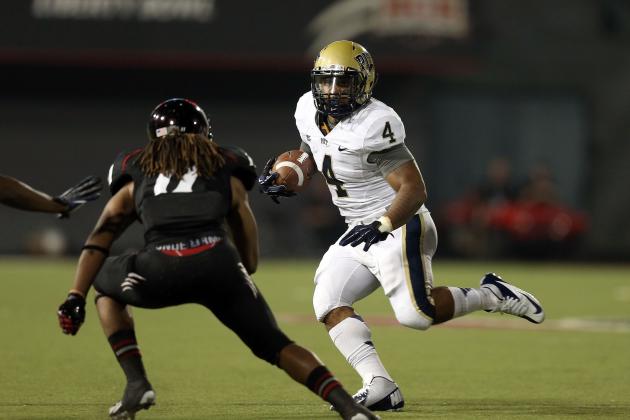 Andy Lyons/Getty Images

After rushing for a mere 31 yards in his college-football debut in Week 2 vs. Cincinnati, Pitt freshman RB Rushel Shell exploded for 157 yards in Week 3.
Shell's 157 yards led the way in the Panthers' 254-yard-rushing performance in Pitt's shocking 35-17 upset win over No. 13 Virginia Tech.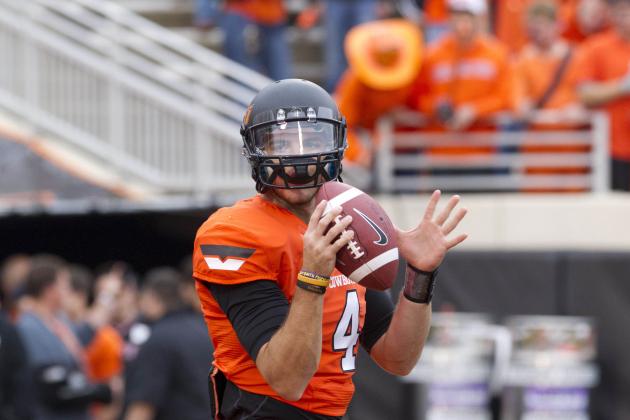 photo from drchighschoolblog.dentonrc.com
Oklahoma State freshman backup QB J.W. Walsh flat-out put his foot on the gas in relief of injured starter Wes Lunt this past Saturday vs. ULL.
Walsh was 21-of-30 for 347 yards, four TD and zero picks in the Cowboys' 65-24 beat-down of ULL. He added six carries for 73 rushing yards and another score to sweeten the pot.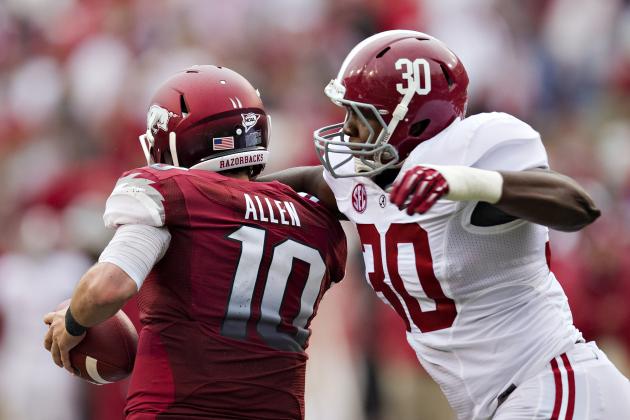 Wesley Hitt/Getty Images

Tyler Wilson or no Tyler Wilson, there wasn't much offense to see from the Hogs in Fayetteville on Saturday afternoon.
The top-ranked Crimson Tide held the once-explosive Arkansas offense to 137 total yards in Week 3—a number that included 79 yards passing, 58 rushing yards, three fumbles and two picks.
The shutout marks the first time the Razorback offense has been held pointless since LSU beat Arkansas, 28-0, back in November 1995.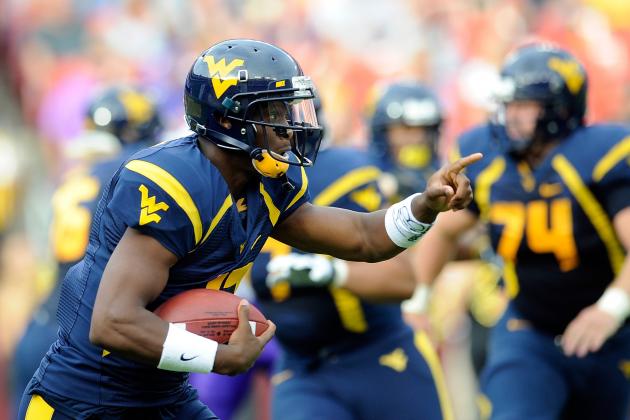 Patrick McDermott/Getty Images

The truth is that going 34-of-39 for 411 yards, 5 TD and zero picks is studly even when your opponent is FCS James Madison.
Yes, senior QB Geno Smith is the real deal.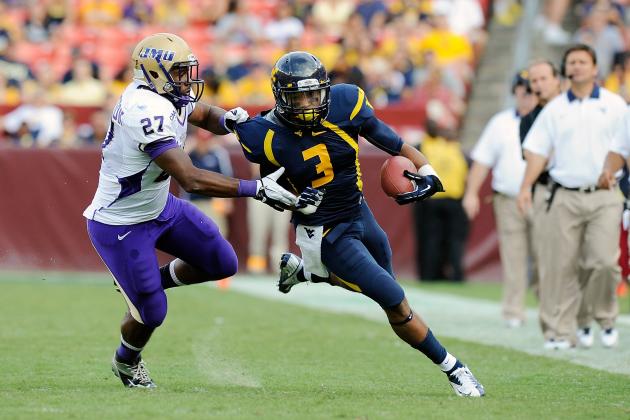 Patrick McDermott/Getty Images

Another leather-clad Mountaineer stud, junior WR Stedman Bailey sizzled with 13 catches for 173 yards and three scores in West Virginia's 42-12 win over FCS James Madison this past Saturday.
Thus far, Bailey has 277 yards receiving and five scores in just two contests in 2012.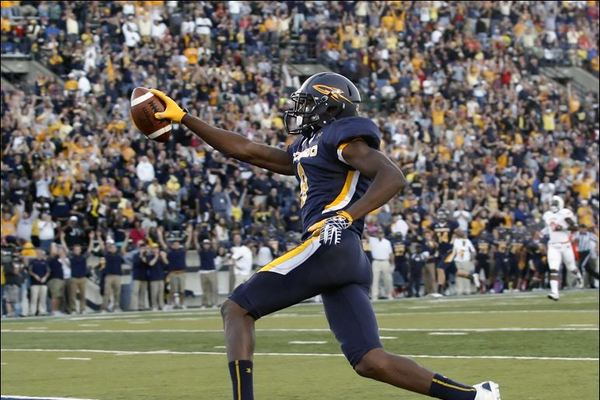 photo from toledoblade.com
After racking up 71 yards and one score on three catches in a thrilling overtime loss to Arizona and adding 52 more in a win at Wyoming, Toledo freshman WR Alonzo Russell had a 152-yard coming-out party vs. Bowling Green in Week 3.
Russell, who hails from Washington D.C., gained his 150-plus yards on six catches and scored one TD in the Rockets' 27-15 win over the Falcons.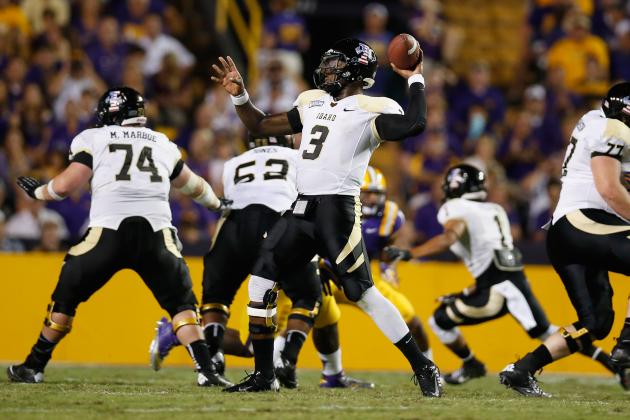 Chris Graythen/Getty Images

Even though Idaho eventually got drilled by LSU, 63-14, this past Saturday night in Baton Rouge, Vandals QB Dominique Blackman's four-pick performance still deserves mention in the dud category.
Yes, no matter how you slice it, tossing four INT in a single game just isn't a good thing.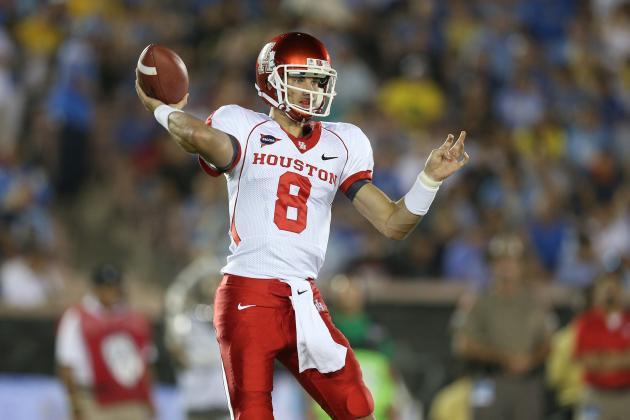 Stephen Dunn/Getty Images

If you want to try to explain how the once high-flying Cougars scored only six points vs. UCLA this past Saturday, a good place to start is the fact that sophomore QB David Piland threw five INT in the 37-6 loss.
Yes, after throwing only one pick in two games, Piland went 28-of-60 with 249 yards, zero TD and five INT vs. UCLA.
The six-point total for what was the No. 1 scoring offense in college football last season marked the lowest output since Michigan held Houston to three points in a 50-3 beat-down in Week 2 of 2003.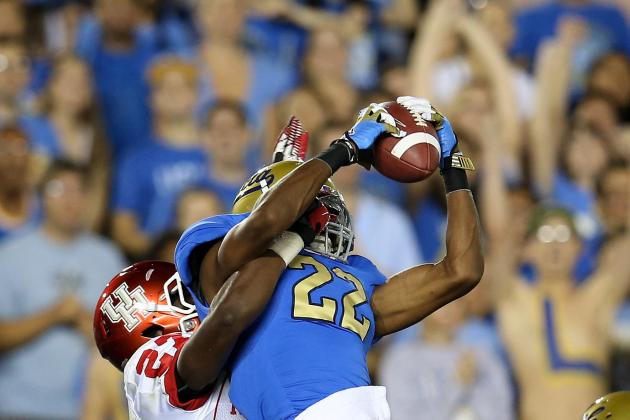 Stephen Dunn/Getty Images

If you're wondering where Houston QB David Piland's picks went, look no further than senior UCLA CB Sheldon Price. Price nabbed three INT this past Saturday.
Price's Week 3 performance gives him four picks thus far in 2012, a number that ties him for No. 1 in the nation.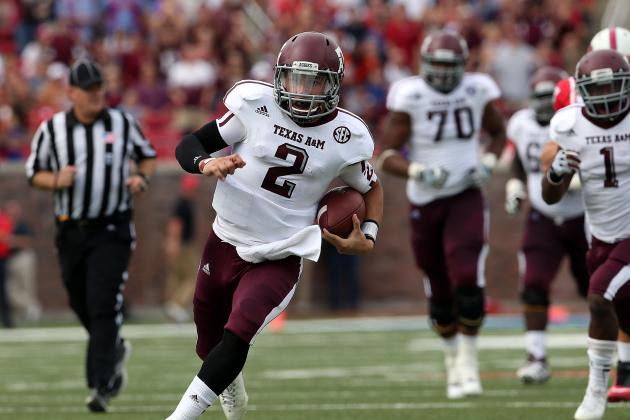 Ronald Martinez/Getty Images

Freshman Aggie QB Johnny Manziel went 20-of-36 for 294 yards, four TD and zero picks in A&M's 48-3 beat-down of SMU this past Saturday.
If that wasn't enough, Manziel tacked on an additional 124 yards and two TD on the ground, meaning that he was directly responsible for 36 of the Aggies' 48 total points.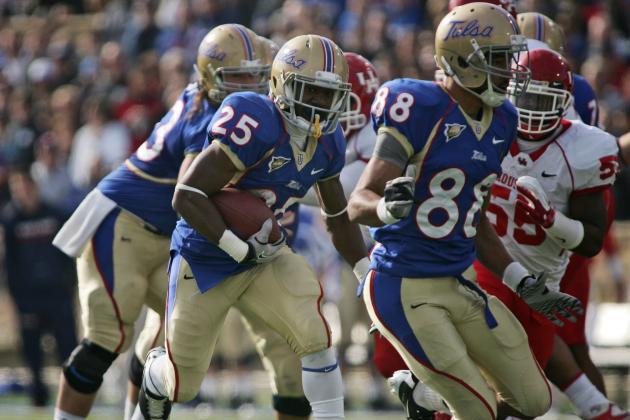 Brett Deering/Getty Images

Hidden beneath the cover of an expected win over FCS Nicholls State, Tulsa's Ja'Terian Douglas managed one of the best rushing performances of Week 3.
Douglas, a junior from Arlington, Texas, reeled off 163 yards and two scores on only five carries in the Golden Hurricane's 66-16 win over the Colonels.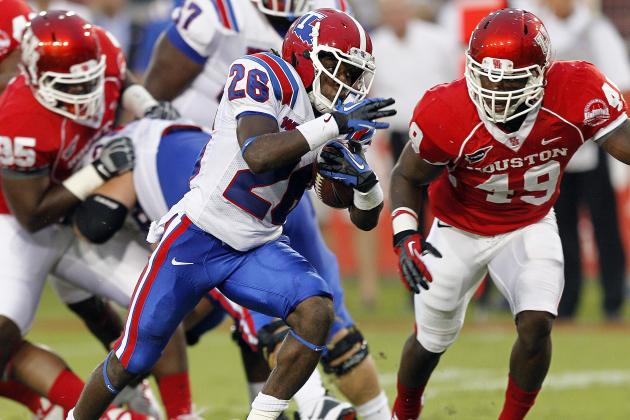 Bob Levey/Getty Images

A name we ought to hear more about as the season progresses, Louisiana Tech RB Tevin King is emerging as one of the most productive backs in the country.
King, a freshman from Moultrie, Ga., followed up on a 112-yard, three-score performance in Week 2's win over Houston with a 204-yard game vs. Rice in Week 3.
The Bulldogs triumphed over the Owls, 56-37, on their way to a 2-0 record thus far in 2012.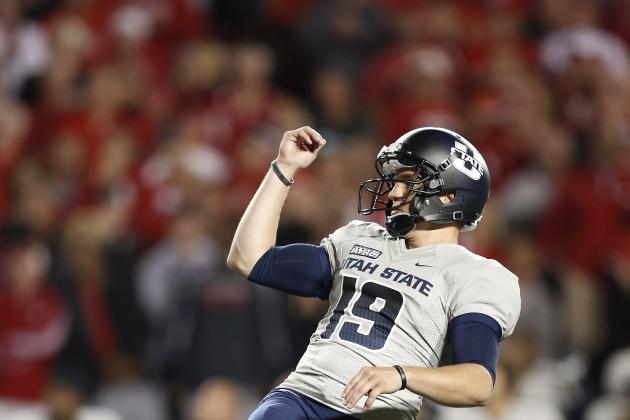 Tom Lynn/Getty Images

Though junior Utah State kicker Josh Thompson has only attempted and missed one field goal in 2012, it was a kick that was so costly, it earned him dubious honors on our studs/duds listing.
Thompson had a 37-yard attempt to beat Wisconsin in Madison this past Saturday night, and his miss cost the Aggies a 3-0 record that would have included two consecutive wins over BCS foes.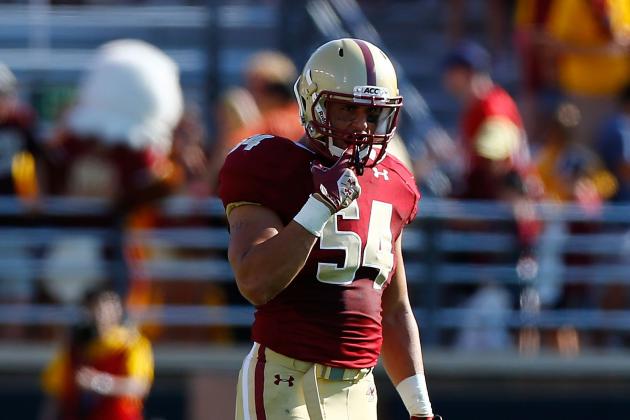 Jared Wickerham/Getty Images

Even though the Eagles succumbed to Northwestern, 22-13, on Saturday, senior LB Nick Clancy dazzled with 24 total tackles.
Clancy's statistical package included 14 solo and 10 assisted takedowns, and his 43 total tackles thus far on the season earn him the No. 1 spot in the land.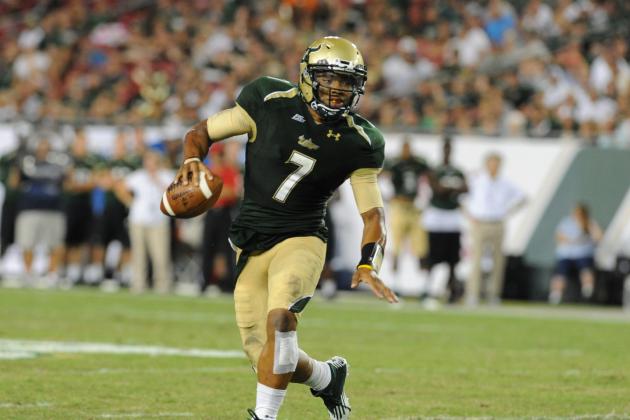 Al Messerschmidt/Getty Images

Senior USF QB B.J. Daniels threw seven picks as a junior in all of 2011 and threw nearly half of this total in the Bulls' loss to Rutgers this past Thursday night.
Daniels' first two picks versus the Scarlet Knights led directly to a Rutgers field goal and TD, and the third ended a Bulls drive at 2nd-and-goal from the Knights' 5-yard line.
This all adds up to a game-changing performance, not in a good way, in USF's 23-13 loss.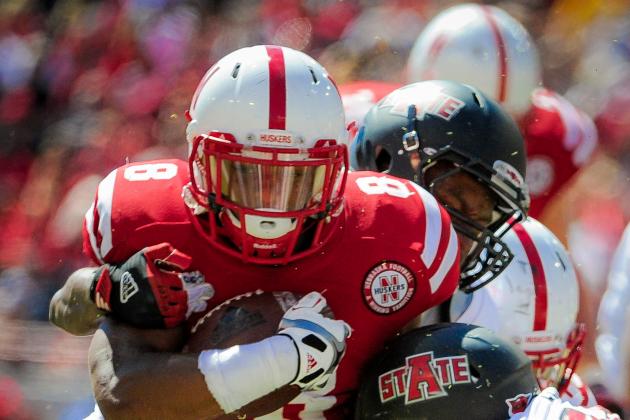 Eric Francis/Getty Images

Sophomore RB Ameer Abdullah ripped off 167 rushing yards and two scores in Nebraska's Week 3 beat-down of Arkansas State.
After gaining a mere 150 yards in limited action as a freshman in 2011, Abdullah rushed for 81 yards in this year's opener vs. Southern Miss and then gained 119 yards and two scores in the Huskers' loss to UCLA in Week 2.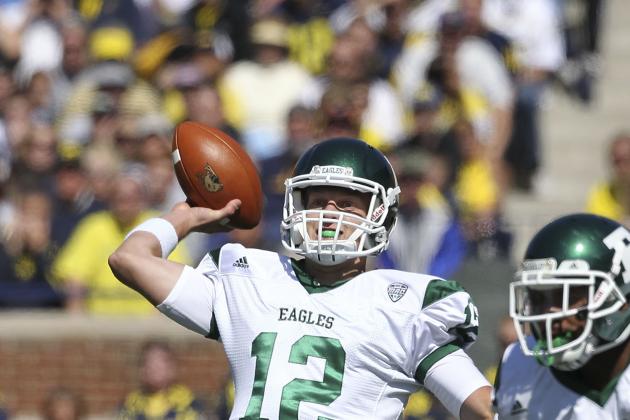 Leon Halip/Getty Images

After throwing three picks in EMU's embarrassing 31-14 loss to FCS Illinois State in Week 2, senior QB Alex Gillett threw three more INT this week versus Purdue.
Gillett threw seven total picks as a junior last season and is on pace to soar past that number with six picks through three games thus far in 2012.
The Eagles dropped their Week 3 meeting with the Boilermakers, 54-16, to go 0-3 on the season.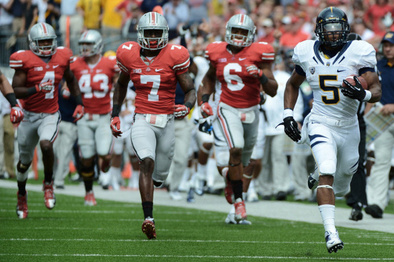 photo from buckeyextra.dispatch.com
Even though Cal couldn't quite knock off No. 12 Ohio State on Saturday, sophomore RB Brendan Bigelow managed to rush for 160 yards and two scores on only four carries.
Bigelow's first score came in the third quarter when he started at the Cal 19-yard line and bolted for 81 yards and a Golden Bear TD.
The second strike came in the fourth stanza when he took the ball from the Cal 41 and ran 59 yards for another score that tied the game at 28.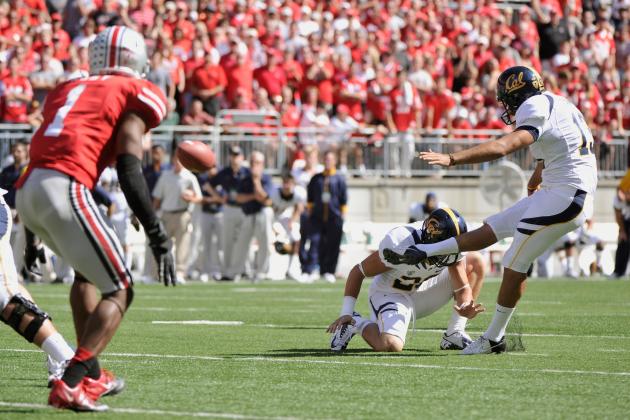 Jamie Sabau/Getty Images

When you get an opportunity to knock off No. 12 Ohio State at the Horseshoe, it's best not to miss every field-goal attempt you get.
Yes, Cal lost by seven points to Ohio State in Columbus this past Saturday, and yes, unfortunately, junior kicker Vincenzo D'Amato went 0-of-3, missing kicks from 40, 42 and then again from 42 yards to go ahead with seven minutes left in the game.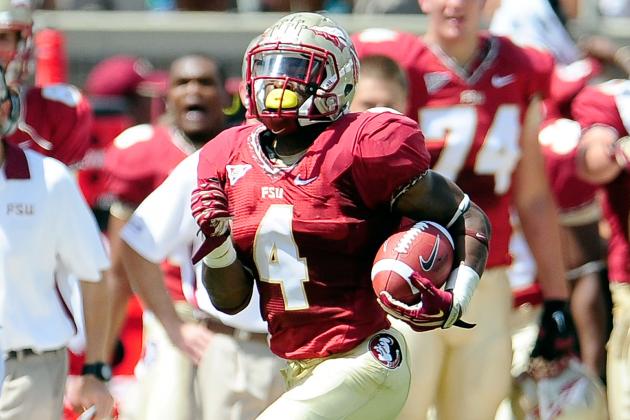 Stacy Revere/Getty Images

After ranking No. 104 last season in rushing yards, the Seminoles hung up a whopping 385 rushing yards on Wake Forest this past Saturday on their way to a 52-0 victory.
What made the difference?
Well, perhaps it's the return of senior RB Chris Thompson, who suffered a season-ending back injury in 2011 and made up for lost time this week with 197 rushing yards and two scores on a mere nine carries.
Thompson ran for 846 yards and six scores as a sophomore back in 2010 and is on track to eclipse that number in short order this season.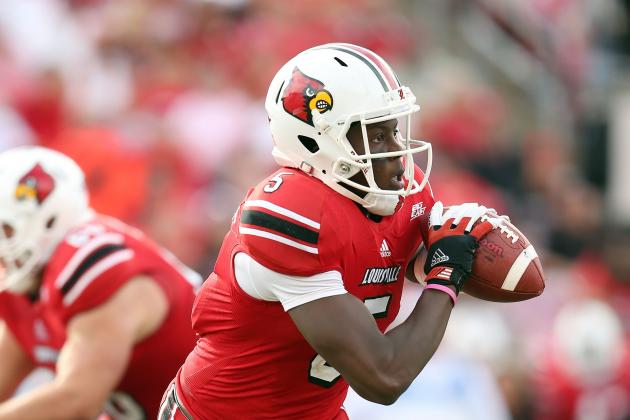 Andy Lyons/Getty Images

Sophomore gunslinger Teddy Bridgewater was almost perfect in the Cardinals' Week 3 39-34 win over North Carolina, a performance that has Louisville sitting pretty at 3-0 thus far this season.
Bridgewater was 23-of-28 (82.1 percent) for 279 yards, three TD and zero INT—numbers that aren't at all gaudy but this was a second-year guy playing a good defense.
Winning the Big East is Louisville's ticket to the BCS, and Bridgewater might be just the guy to get them there.
Otto Kitsinger III/Getty Images

Just when you thought it was safe to surf the web and not read about an overachieving Boise State athlete, senior Bronco RB D.J. Harper runs for 162 yards in Week 3.
Harper hung up his 162-yard total on Miami (Ohio) in the Broncos' 39-12 win upon the lauded Blue Turf, and he got it done on 16 carries that also spawned three TD.
The Cypress, Texas native ran for a total of 557 yards as a junior in 2011, a number he ought to slaughter in 2012.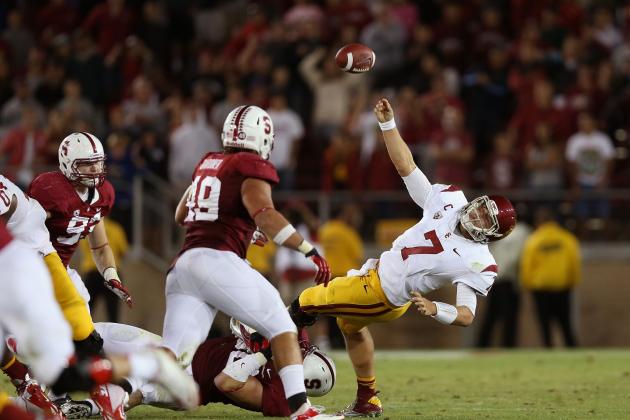 Ezra Shaw/Getty Images

After all the hype regarding USC's prolific offense and Stanford's Luck-less 2012 fortunes, kudos go out to the less-than-touted Cardinal defense for shutting down the Trojans this past Saturday night.
Stanford's defense held USC to 15 first downs, 280 total yards, a mere 26 yards of rushing and forced three turnovers.
Want more?
The Cardinal defense held the Trojans to a disparaging 1-of-13 mark on third-down conversions.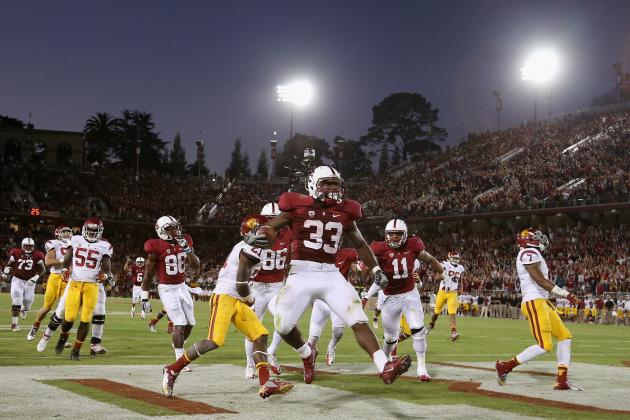 Ezra Shaw/Getty Images

While we have been constantly reminded that super-stud QB Andrew Luck has moved on to the NFL, why is it so easy to forget guys like senior RB Stepfan Taylor?
Taylor eclipsed the 1000-yard rushing mark in both 2010 and 2011, and his 153 yards and one score on 27 carries were absolutely critical in Stanford's Week 3 upset win over top-ranked USC.
Add in Taylor's 60 yards and additional score as a receiver, and it's clear why this guy earned Walter Camp National Player of the Week honors.
Yes, Luck was the star of the singular Cardinal, but did you know that Stanford ranked No. 18 nationally in rushing yards last season compared to No. 22 in passing yards?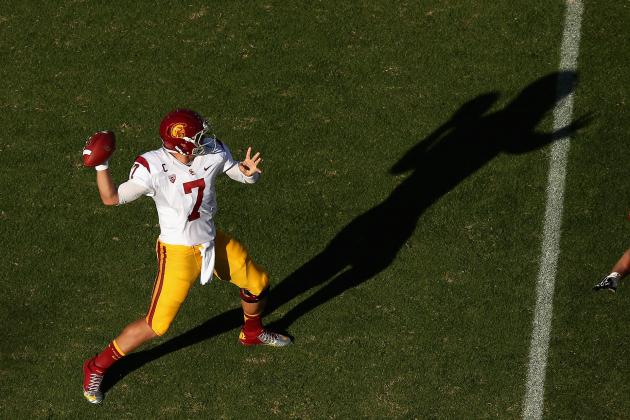 Ezra Shaw/Getty Images

After throwing a mere seven picks in all of 2011, USC QB Matt Barkley already has three INT to his name in 2012.
And two of these hiccups came in the Trojans' 21-14 loss to Stanford this past Saturday night.
Barkley's two picks versus the Cardinal came approximately three minutes apart late in the second quarter, and both were nabbed in Stanford territory.
You have to wonder what would have happened if one of the two drives ended by an INT would have resulted in a Trojan TD and gave USC a 21-7 lead going into the half.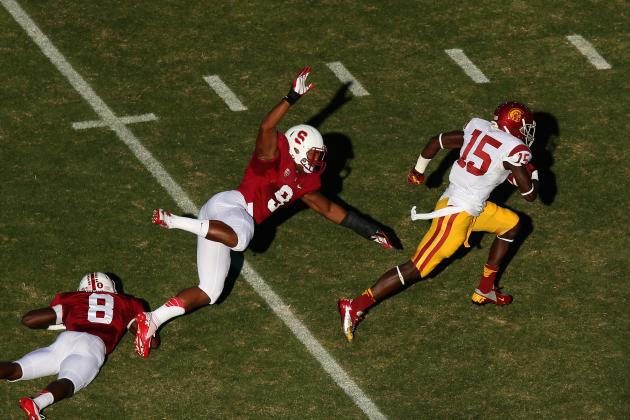 Ezra Shaw/Getty Images

Since we've already established the fact that Barkley's two INT cost USC dearly in its upset loss to Stanford, it's easy to label the guy who made both picks, sophomore safety Jordan Richards, a big-time stud.
Richards hauled in an INT in Stanford's Week 2 win over Duke and, with three total picks thus far on the season, he is tied for No. 4 in the country in total INT.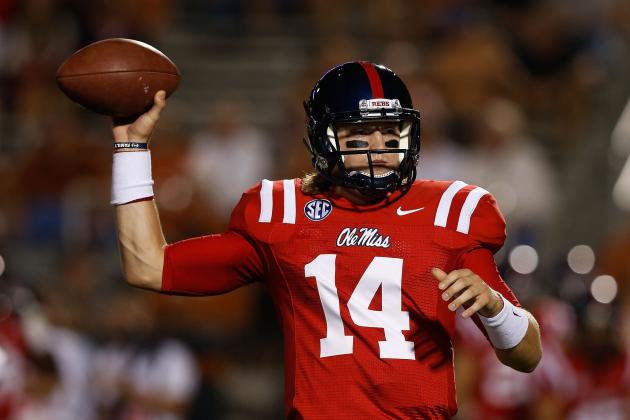 Scott Halleran/Getty Images

The tale of the tape of Ole Miss' 66-31 Week 3 beat-down at the hands of Texas will certainly include the three picks thrown by sophomore QB Bo Wallace.
Wallace was just 13-of-24 for 178 yards, one score and three INT this past Saturday night—a performance that may foreshadow a long couple of months in the scary SEC West.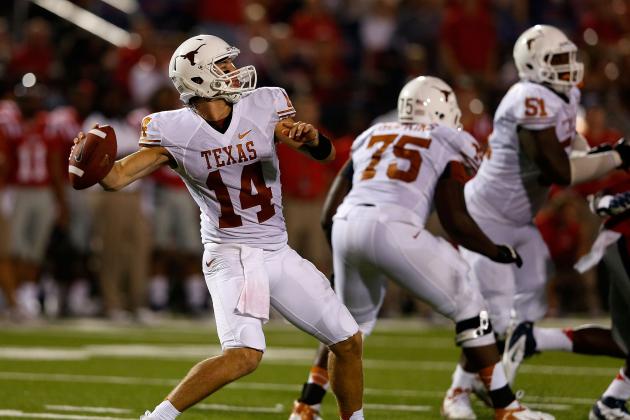 Scott Halleran/Getty Images

After finishing 2011 ranked No. 86 nationally in passing yards under the dual-passer scheme, it must be a huge boost for Texas fans to see a single Longhorn QB rip it up in a game versus a BCS team.
David Ash was 19-of-23 with 326 yards, four TD and zero INT in Texas' 66-31 win over the Rebels, bringing the Longhorns' passing yards per game over the 250-yard mark for the season.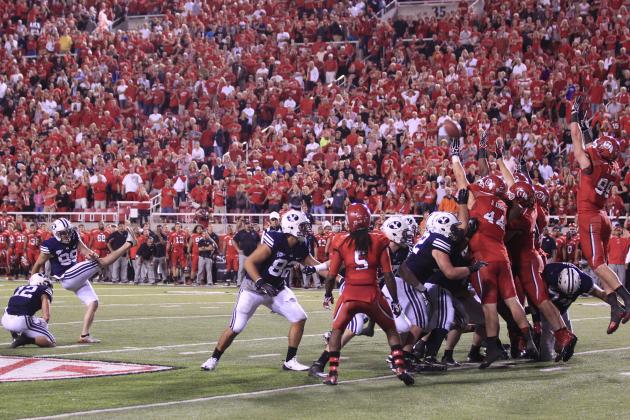 George Frey/Getty Images

After scoring 14 unanswered fourth-quarter points to pull within three of Utah, BYU had two shots to tie up the game via field-goal attempts last Saturday night, and missed both.
It was the story of two different kickers, two different distances and a Utah crowd that prematurely celebrated a victory, only to be penalized 15 yards.
BYU's first attempt came via a questionable game-clock reset that gave the Cougars a shot at a 51-yarder with one tick left on the clock.
This kick was attempted by Justin Sorenson and subsequently blocked by Utah DT Star Lotulelei.
After the Utes' fans rushed the field with time left on the clock, the officials gave BYU another shot at a tie, this time via a 36-yard attempt.
This kick, booted by Riley Stephenson, ultimately hit the left upright and bounced out of the scoring zone.
Luckily, the game was declared done before the Utah throng rushed the field once again, this time for good.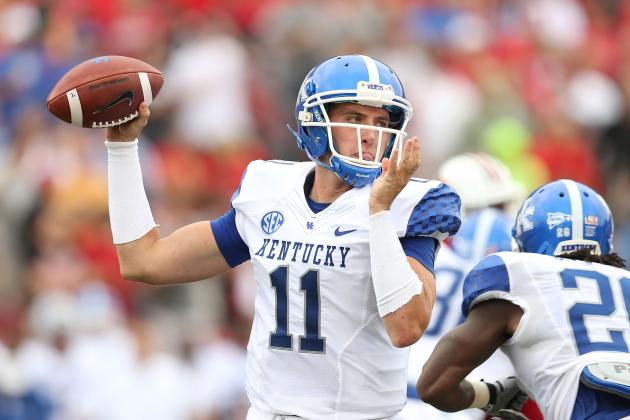 Andy Lyons/Getty Images

Sophomore Kentucky QB Maxwell Smith threw four INT in the shocking Week 3 loss to Western Kentucky.
Overall, Smith went 37-of-60 with 332 yards, two TD and four picks in Kentucky's first-ever loss to in-state foe WKU.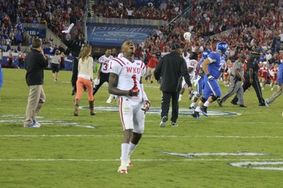 photo from kyforward.com
In yet another convenient coupling of Stud and Dud, three of Kentucky QB Maxwell Smith's errant passes landed in the greedy-yet-skillful hands of sophomore WKU DB Jonathan Dowling.
Dowling turned the picks into 70 yards of gain for the Hilltoppers in their epic 32-31 win over the SEC's Wildcats.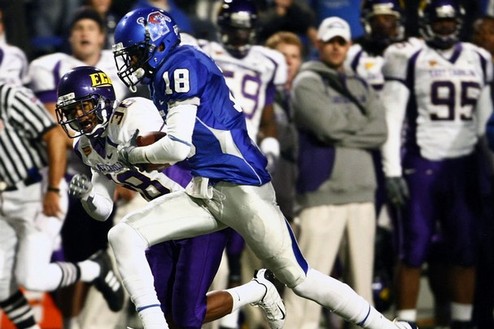 photo from commercialappeal.com
Even though the Tigers fell to Middle Tennessee, 48-30, this past Saturday, senior WR Marcus Rucker was impressive by national standards.
Rucker racked up 177 yards and two scores on only 10 receptions, making him one of the most productive receivers in the nation in Week 3.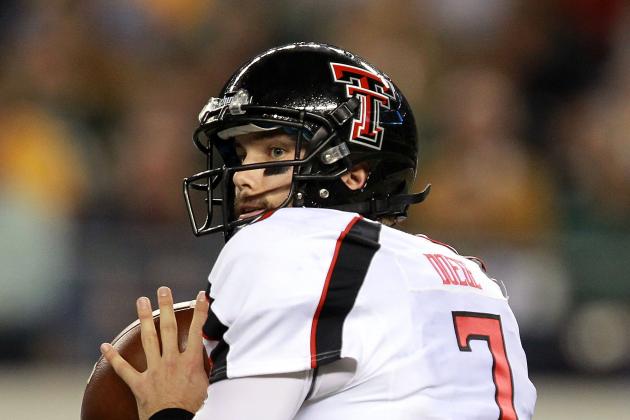 Ronald Martinez/Getty Images

Though it's never shocking to see a Red Raider QB rack up 340 yards and six TD in a game versus New Mexico, it is at least mildly surprising to have a guy put up those kinds of numbers in a single half.
Yes, Tech gunslinger Seth Doege managed one TD pass in the first few minutes of the third quarter, but other than that, he did all the damage in the first 30 minutes of the ballgame.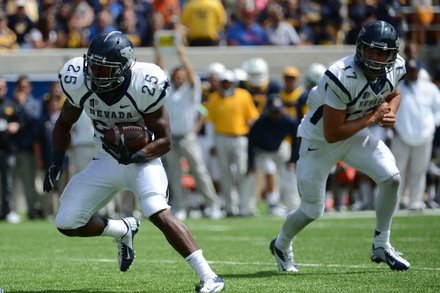 Leading the nation in rushing yards in Week 3 was Nevada junior RB Stefphon Jefferson, who rung up 247 yards and two scores on 27 carries this past Saturday.
Jefferson, who ran for a mere 429 yards last season as a sophomore, was a key element in Nevada's 45-34 win over FCS Northwestern State.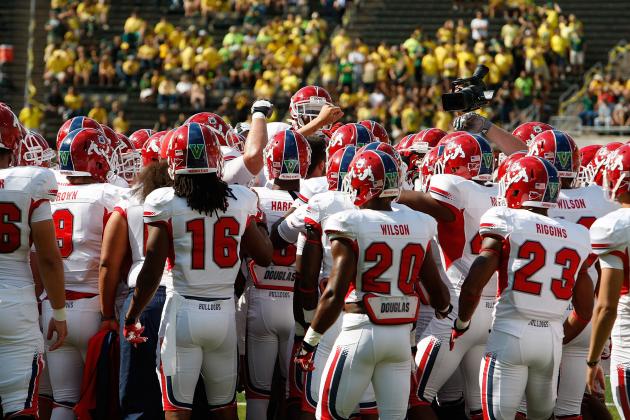 Kevin Casey/Getty Images

Though you rarely see a shout-out to an offensive line, it's time to recognize the guys in the trenches who powered Fresno State to a startling 69-14 win over Colorado in Week 3.
The Bulldogs' O-line provided the blocking, time and lanes for 665 yards of total offense, which included 377 yards of passing and 288 yards of rushing.
Additionally, Fresno State QB Derek Carr wasn't sacked once this past Saturday.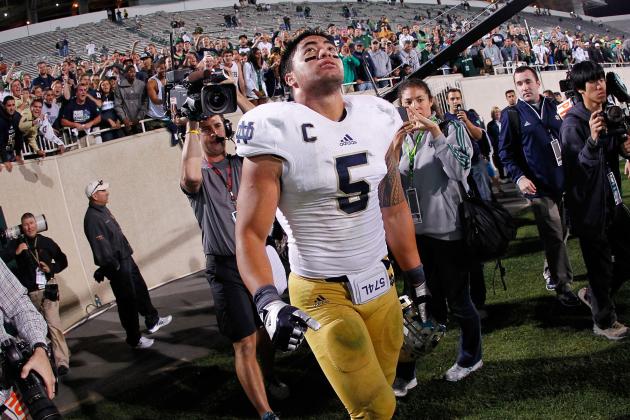 Gregory Shamus/Getty Images

Senior Irish LB Manti Te'o registered 12 tackles and deflected two passes in Notre Dame's critical 20-3 win over No. 10 Michigan State this past Saturday.
Te'o's performance, a feat he managed under extreme personal duress, earned him Walter Camp National Player of the Week honors.