5 Who Should Be In, 5 Who Should Be out of AP, USA Today College Football Polls
Otto Kitsinger III/Getty Images
With the upsets that occurred yesterday, there has been a lot of shuffling in the Week 4 polls. Stanford exposed USC, Virginia Tech went all Beamer against Pittsburgh, and Tennessee proved that it should not have been favored against the Gators quite yet.
Looking at the AP poll and the USA Today coaches' poll, here are five teams that don't belong in the polls and five teams that should be in.
Feel free to agree or disagree in the comment section.
*Stats and records are from ESPN.com
Should Be Out: Mississippi State Bulldogs (Both Polls)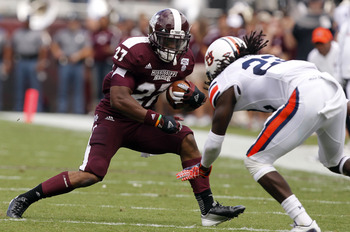 Butch Dill/Getty Images
While Mississippi State still stands undefeated at the end of Week 3, there are a few things to keep in mind:
1. The Bulldogs always field a high-caliber defense.
2. They always fall short on offense.
3. They haven't played anyone of note just yet.
The polls shift around a lot more in the early going than they do after October is underway, but to put Mississippi State in the Top 25 this early is a mistake.
The one SEC opponent they took down was Auburn. Other than that, it's just been Jackson State and Troy.
Auburn needed a Hail Mary at the end of the first half yesterday just to take Louisiana-Monroe to overtime. Granted, Auburn did better than Arkansas by beating the Warhawks in extra time, but that isn't something to hang your hat on.
Plus, the Bulldogs don't even face a team they might lose to until Oct. 13 against Tennessee. A 5-0 start is great, but quite misleading for a team that's an offense short of a national championship.
Should Be Out: Nebraska (Both Polls)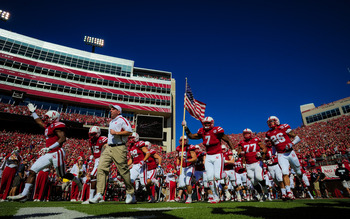 Eric Francis/Getty Images
Nebraska lost a close game to UCLA in Week 2 by a score of 36-30. UCLA has been moving its way up the rankings, but Nebraska has wins over Southern Miss and Arkansas State.
Should they be in the "Others Receiving Votes" category? Absolutely. Should they have to prove themselves against conference competition before making it back into the Top 25? Absolutely.
The Cornhuskers may be a Top 25 team, but they'll have a chance to actually prove that when conference play starts at the end of September.
Should Be Out: Wisconsin Badgers (USA Today)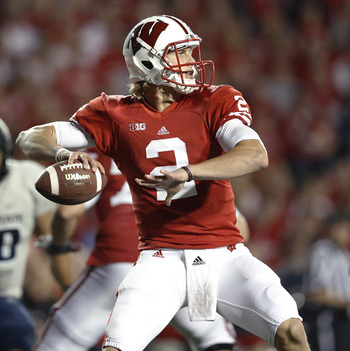 Tom Lynn/Getty Images
Wisconsin lost a defensive battle with the Oregon State Beavers and squeaked out a win over Utah State.
Utah State beat Utah, and Utah beat then-No. 25 BYU. The Badgers have plenty of time to prove they belong in the Top 25.
Putting them in there now makes it look like people are trying to get them in. The Badgers have yet to make a strong case for anything but looking through the window at the Top 25.
When a team like Oregon State can shut your star tailback down to roughly four yards per carry, it's fitting to sit in timeout for at least a couple of weeks.
Should Be Out: Oklahoma State (USA Today)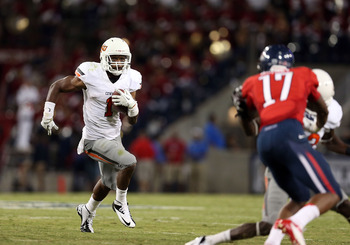 Christian Petersen/Getty Images
Oklahoma State was not in either poll in Week 3. What did they do to get back into the coaches' poll?
Well, they beat Louisiana-Lafayette 65-24. Yup, that's it. After being exposed by Arizona in Week 2, the Cowboys had rightfully dropped out of the rankings.
The big opportunity for the Cowboys to get back into the rankings is on Sept. 29, when the Longhorns come to town between the Cowboys' two bye weeks.
If you beat the Ragin' Cajuns, apparently you can sneak in the Top 25 ahead of teams that have yet to lose a contest.
Should Be Out: Boise State Broncos (AP)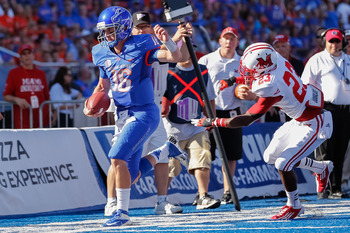 Otto Kitsinger III/Getty Images
Boise State is 1-1 with a loss to Michigan State in the season opener. While the victory over Miami (OH) was a commanding 39-12, it still shouldn't have been enough to bump them back into the rankings.
The Spartans just lost to Notre Dame and are one loss away from getting knocked out of the rankings themselves.
The Broncos lost to a team that is on its way out of the Top 25. Boise State should have to prove itself a bit more before getting back in, especially with a bye week already under its belt.
Should Be In: Oregon State Beavers (Both Polls)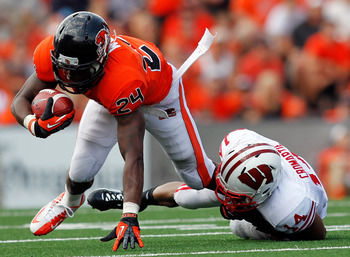 Jonathan Ferrey/Getty Images
This omission is mildly understandable. The Beavers' season opener was postponed and will not be played until Dec. 1. Oregon State only has one win so far and travels to UCLA on Sept. 22.
However, a short appearance in the Top 25 for taking down a Wisconsin squad that was No. 13 and had a legendary running back would have been a just reward for the hard-fought win.
If they beat UCLA on the road and still aren't in the Top 25, this slide will take a different tone entirely.
Should Be In: Baylor Bears (Both Polls)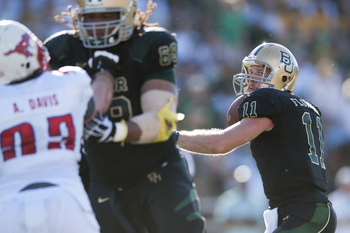 Cooper Neill/Getty Images
Baylor is undefeated at the moment, though it is against Sam Houston State and SMU.
However, the Bears won their first two games by a combined 60 points. No, RGIII isn't coming out onto the field to give them a nudge, but Baylor has shown that a bowl game is still a possibility in 2012.
Considering some of the teams that got in, it's not unreasonable to request that Baylor get some recognition.
Should Be In: Cincinnati Bearcats (Both Polls)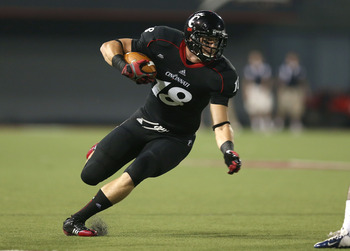 Andy Lyons/Getty Images
What is the deal with the Big East? I know it's a down conference after losing West Virginia to the Big 12, but other major players are still in there.
Is there some unwritten rule that the voters can't put two Big East teams in the Top 25 until October?
It's understandable not to let them in if their only victory was over Delaware State, but they destroyed Pittsburgh. The same Pittsburgh that just dominated No. 13 Virginia Tech to the tune of 35-17.
We shouldn't just throw all conference contenders into the mix, but to have the Bearcats completely out of the Top 25 seems a bit biased against the Big East.
Should Be In: Northwestern Wildcats (Both Polls)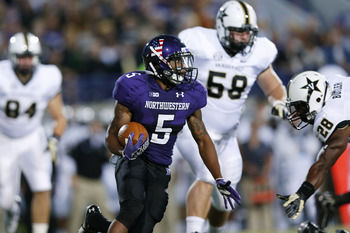 Joe Robbins/Getty Images
Northwestern is flying under the radar, and the Wildcats are learning that isn't always a good thing.
After starting the season 3-0 against Syracuse, Vanderbilt and Boston College, the 'Cats are nowhere to be found.
They are even behind Baylor in the "Others Receiving Votes" category. Maybe Boston College isn't exactly a signature win, but it is a better win than LSU over Idaho, right?
It's a better win than Wisconsin over Oregon State, right?
Exactly. Wisconsin didn't win that game and still got into the coaches' poll.
Should Be In: Purdue Boilermakers (Both Polls)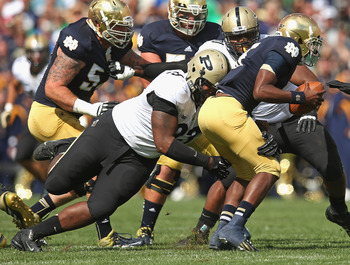 Jonathan Daniel/Getty Images
Purdue may not be a national contender, but it has already proved it is a Top 25 team by holding its own against the Fighting Irish.
Purdue lost to Notre Dame by three points, and Notre Dame beat Michigan State by 17. This is one of those occasions when common sense should take over.
Should Purdue be ranked higher than No. 21 Michigan State? Maybe not just yet, but the Boilermakers should at least be sitting at the 25th spot, ready to move up or out with the results of the Michigan game on Oct. 6.
Keep Reading