Notre Dame Football: 10 Things We Learned from the Irish's Win vs. the Spartans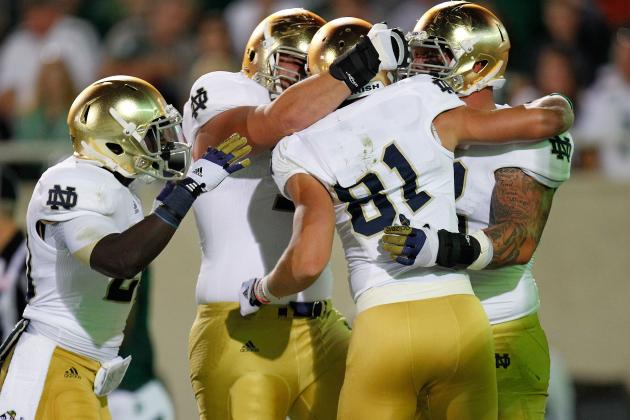 Gregory Shamus/Getty Images

Don't look now, but the Notre Dame Fighting Irish may finally be back.
Maybe that's going overboard just a little bit, but the team certainly looked the part as it dominated Big Ten powerhouse Michigan State on the road 20-3, led by a big-time defensive effort.
Everett Golson turned in a great first half and the Irish defense took it from there, making life miserable for the Spartans all night long.
Here are 10 things we learned from the Irish in their big road win over Michigan State.
Begin Slideshow

»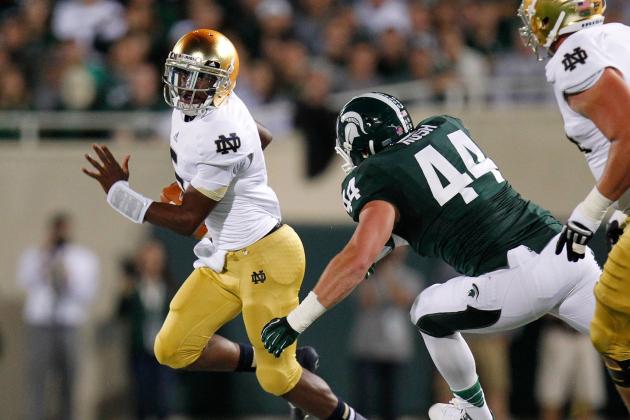 Gregory Shamus/Getty Images

It's time to put to bed the idea that Tommy Rees should be the guy at quarterback for the Irish.
Redshirt freshman Everett Golson stepped into a hostile environment in Spartan Stadium and made it look easy at times, throwing a touchdown pass in the first quarter to John Goodman and running for another score in the second.
He struggled in the second half, but with the way the defense was playing all night long, Golson almost never had to deal with any pressure situations.
He will have to get better with third downs, as he and the Notre Dame offense were just 1-of-14 on third-down conversions. But the future for Golson looks incredibly bright, and the potential he has with Brian Kelly is just scary.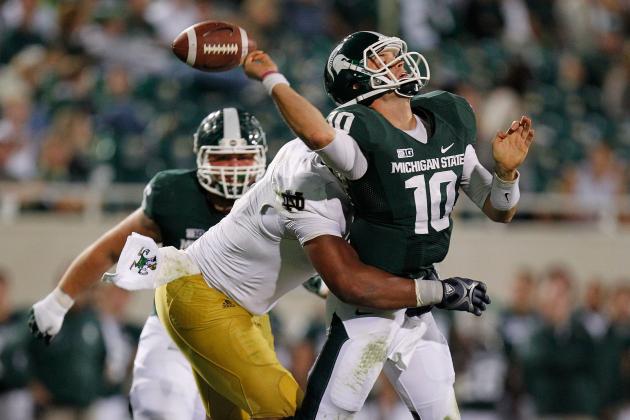 Gregory Shamus/Getty Images

After Notre Dame's defense became a joke under Charlie Weis, Brian Kelly has made the defense look like a very formidable force. He took a page from the SEC playbook and has brought in great defensive linemen, who are coming up big.
Prince Shembo and Stephon Tuitt helped lead a dominant front four that sacked MSU QB Andrew Maxwell four times.
The Irish held the Spartans to 237 yards of total offense, and Maxwell only averaged 4.2 yards per completion.
Their secondary is very young, but if their defensive line continues to play well, this defense could be very tough to score against.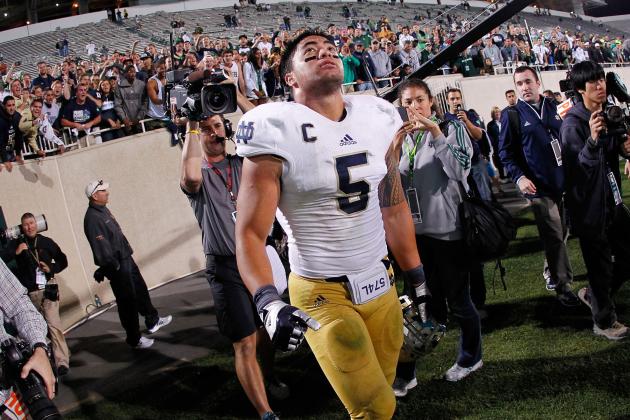 Gregory Shamus/Getty Images

Senior linebacker Manti Te'o had every reason not to play in Saturday's game because of the tragic week he had, losing both his maternal grandmother and girlfriend less than 24 hours apart.
With a heavy heart, Te'o played outstanding football, recording his first career interception late in the fourth quarter and a total of 12 tackles.
Te'o returned to Notre Dame for his senior year and reminded us just how spectacular a talent he is. Saturday showed he has just as much heart and courage as any player in the country, which is an incredible statement about his character.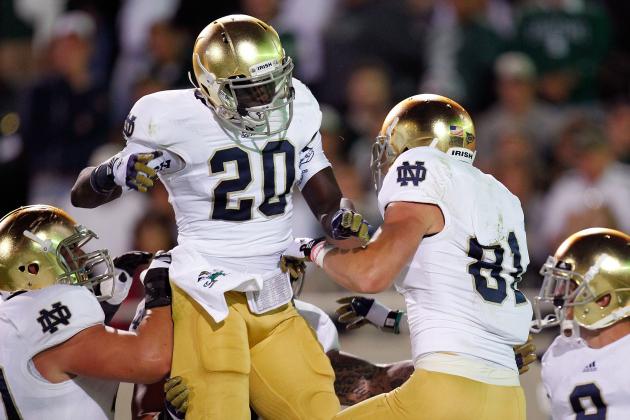 Gregory Shamus/Getty Images

After returning from his two-game suspension, Cierre Wood made a big impact for the Notre Dame offense with 10 carries.
He helped get Notre Dame out of their own territory and sparked a fourth-quarter field-goal drive with a few big carries.
When the Irish needed a big play from their running game, they turned to No. 20 and he got the job done.
That type of thing will only make Everett Golson's life easier the rest of the way.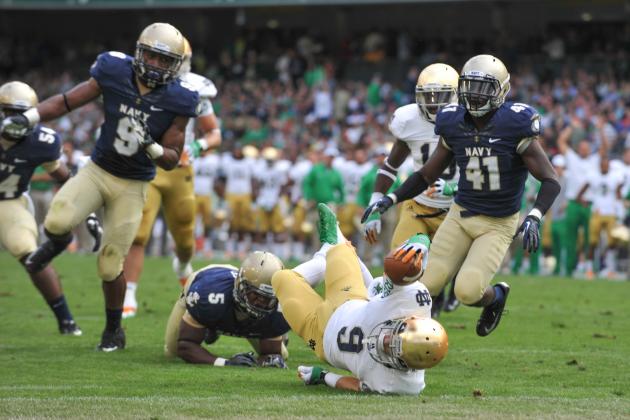 Barry Cronin/Getty Images

This was one of the few times that Tyler Eifert had absolutely no impact in the passing game, with no touches at all.
Luckily for the Irish, T.J. Jones and Robby Toma each stepped up and had nice games.
The two combined for 118 of Golson's 178 passing yards and had big first halves, setting up the first touchdown of the game to John Goodman.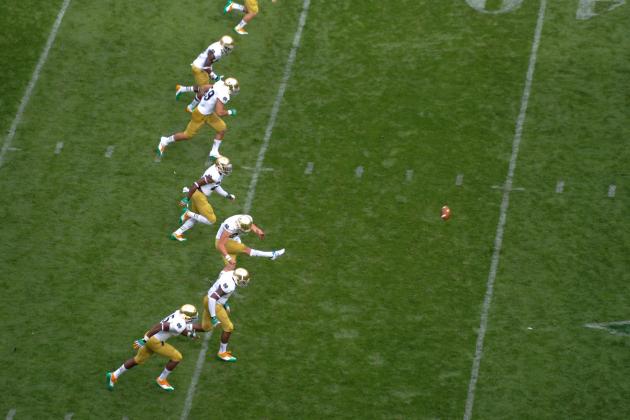 Barry Cronin/Getty Images

Throughout last year and the first few weeks of this year, we've seen so many kickers blow games or just have absolutely terrible outings.
It may be just one game, but the Irish's Kyle Brindza was stable and didn't make any mistakes.
Brindza was 2-of-2 in field goals, including a 47-yarder to put the game on ice late in the fourth quarter. He also had a couple of touchbacks, kicking the ball either to the back of the end zone or all the way through the end zone.
It's always good at any level of football to have a reliable kicker, and Brindza may be just that.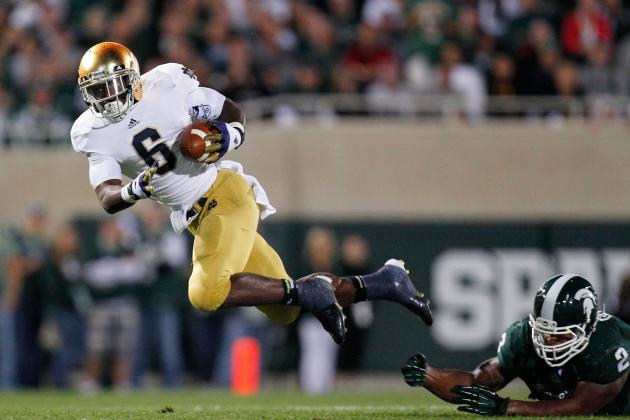 Gregory Shamus/Getty Images

Golson may be a dual-threat QB, but he didn't do much running on Saturday. He left it in the hands of Wood, Theo Riddick and George Atkinson III.
The trio combined for 129 yards rushing, despite none of them getting more than a dozen carries apiece.
Each back brings something different to the table, including Atkinson's incredible speed.
Wood will get most of the carries without a doubt, but now the Irish have a solid stable they can rely on.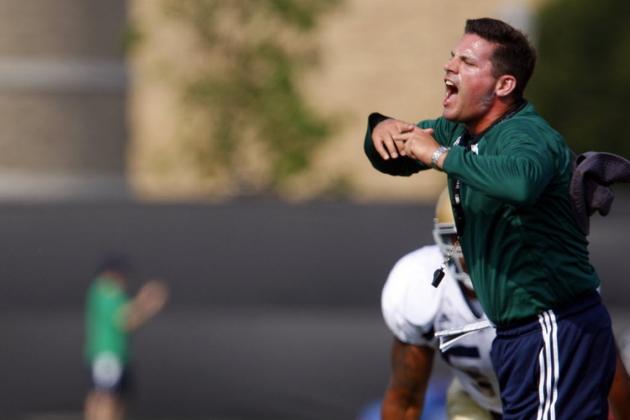 Notre Dame defensive coordinator Bob Diaco called a great game on Saturday—not only shutting down Heisman hopeful Le'Veon Bell, but also the entire Spartans offense.
Better yet, he did so without much experience in the secondary. It helps that Michigan State was limited in their passing and their front four was relentless, but Diaco dialed the right buttons throughout the game and helped set the tone.
If he keeps this up and the defense keeps having big games, other schools might come calling.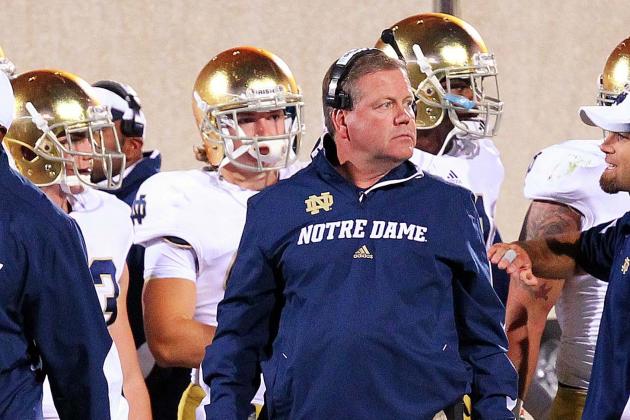 Mike Carter-US PRESSWIRE

It's been a long time for Notre Dame, but they might finally have the right guy. Brian Kelly has shown in his career that the third year is when he makes his mark. He did that at Western Michigan and Cincinnati, and year three in South Bend is off to a good start.
Unlike Charlie Weis, Kelly has worked to grow the defense into a formidable unit.
Even though it's a young group, they look like a force in the making. Golson is a good fit for this offense, which finally looks like it has a good group of skill players.
If they can navigate the rest of this rigorous schedule, they have a shot to make their first BCS bowl—and Kelly's third bowl in five years—since the 2007 Sugar Bowl.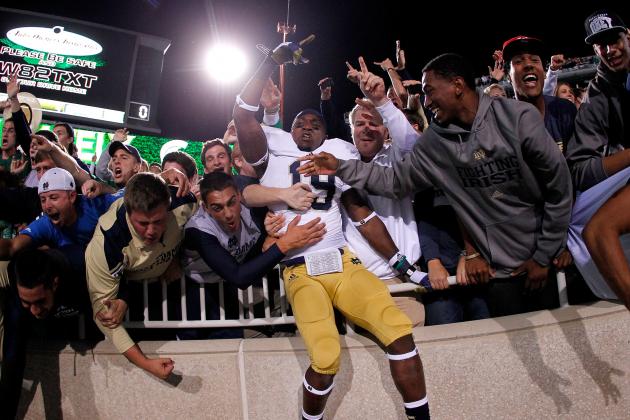 Gregory Shamus/Getty Images

This current crop of Fighting Irish seems poised to finally wake up the echoes and bring Notre Dame back to national prominence after years of mediocrity.
They're not quite there yet, but the opportunity is there. In their next five games, they play four ranked teams, including Michigan next Saturday and a road trip to Oklahoma on Oct. 27.
If they can go 3-1 or even 4-0 in that stretch, then you can make the case that they are finally back.
Saturday showed that it's not just about offense at Notre Dame anymore. The team can be physical, and it has speed and skill all along the defensive front.
In today's game of spread offenses and up-tempo play, that's a formula for a top-10 football team.
Follow me on Twitter @bielik_tim for the latest college football news and updates.