Spins, Spikes and Premature Celebrations: What I Loved and Hated in Week 3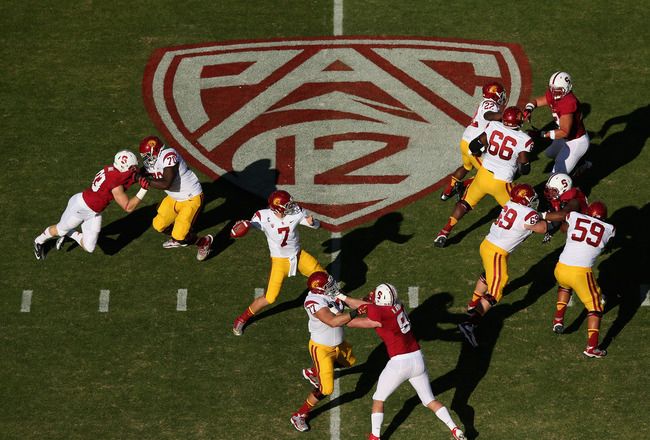 Ezra Shaw/Getty Images
After a relatively uneventful first few weeks and blowouts in the majority of the morning matchups, the College Football Gods threw on their favorite Skynyrd album, poured themselves a glass of their finest single-malt scotch and decided to unleash the fury.
Well, it's about time.
The USC Trojans spilled an entire glass of red wine on their dashing new white dress shirt. Don't bother Googling the proper techniques to salvage it, just toss that baby in the garbage and be more careful next time.
It's a lost cause. Trust me, red wine remains undefeated in this matchup.
And while USC stole the show, we didn't forget about you, Michigan State. Or you, Tennessee. Or you, BYU. Or even you, Colorado, because these depths of bad (Fresno State just scored again) warrant our utmost attention.
As for some of the items you might have missed in the madness, here is what I loved and hated in Week 3.
LOVED: This Video-Game Spin Move from Jawan Jamison
If you watched the entire Rutgers-South Florida game on Thursday night, congratulations. You deserve some sort of "I've got a college football addiction" trophy.
On top of the trophy, viewers were also treated to a B.J. Daniels interception buffet (you've had this before, and it tastes like turnover) and a video-game-esque spin move that you will want to watch more than once. In fact, just go ahead and grab a cocktail. You'll be here for a while.
Rutgers running back Jawan Jamison didn't just make a defender miss. He made the defender miss badly with a spin move that has no business being in real life. You wish you had this kind of spin control with the circle button on your gaming device of choice.
You don't, though.
HATED: The Miami Home Crowd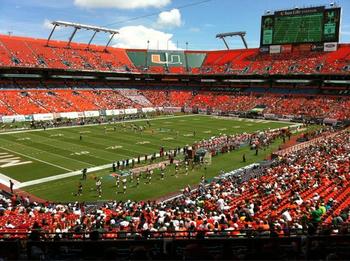 Image Via Tim Reynolds
In the same week that radio voice and former Miami defensive lineman Dan Sileo exploded on his team in a fantastic on-air rant, Miami fans showcased their excitement for their team's home opener against Bethune-Cook.
Wait, no. No they didn't.
The picture above was taken in the second quarter of that game, and unless Miami fans orchestrated the finest "Orange Out" of all time (they didn't), it would appear they have decided that the beach is a much better option than Miami football.
This is nothing new, and I'm sure Dan Sileo will have some reasonable thoughts on this if his head doesn't explode or he doesn't eat his microphone first.
Miami fans, trust me. You want to watch your freshman running back Duke Johnson. He certainly beats that $19 caesar salad you just ordered on South Beach.
LOVED: This Wild 81-Yard Touchdown from Cal's Brendan Bigelow
It was almost an upset win for Cal, but some iffy field-goal kicking (we're being nice here) and a late interception axed those wonderful plans. And while it was a day that could be summed up by "almost," there was nothing "almost" about Brendan Bigelow's ridiculous touchdown run.
It looked like he was going down, then it looked like it was going down again, and a couple of spin moves later (a theme this week), Bigelow kept his balance and was off to the races.
Following the nifty footwork, Bigelow traveled 81 yards in all to the end zone. If only Jeff Tedford's employment outlook was this promising.
HATED: That the John L. Smith Experiment Has Failed Miserably
Oh, poor John L.—and I mean that sincerely.
He was thrown into the strangest of situations at Arkansas, and I thought maybe, just maybe, it was crazy enough to work wonders. This is not the case, and Alabama's 52-0 beatdown pretty much told the story. He knew (and we knew) the story before that, but that doesn't change my fascination of watching this man speak.
If you were to sum up John L. in a nutshell, look no further than his halftime interview during this game when his team is getting destroyed.
How do you motivate your team? Well, by telling them to "get up" and making this hilarious butt-slap gesture. Yes, that will do it. I got your halftime adjustment right here.
LOVED: This Magnificent Block on This Virginia Tech Punt Return
Forget about the players scoring the touchdowns for a second. Don't you ever get tired of them? I know, neither do I.
HOWEVER, we have ourselves a nominee for Block of the Year, because yes, such a thing should absolutely exist. Virginia Tech freshman linebacker Ronny Vandyke deserves to be included in this conversation because of his work on this Virginia Tech punt return.
He took out two—count 'em, TWO Pitt players on one outstanding blow which paved the way for this 94-yard score.
And this concludes your highlight for the Virginia Tech Hokies in Week 3.
HATED: Derek Dooley's Spike of Tyler Bray's Pass
For a while, things looked very good for Tennessee. In fact, after a few early misfires, Tyler Bray and Co. appeared like they were ready to take down the Gators.
Well, that didn't happen, and Florida's 1,459 rushing yards in the second half were too much to overcome. This was a frustrating game for all of Rocky Top, and Derek Dooley's disappointment could be felt in this one unsatisfying spike.
Tyler Bray's pass went high and hit his head coach right in the hands. This accurately sums up the entire game, although I'm disappointed in Dooley's post-catch reaction.
A bigger spike? A touchdown celebration? A throw back to Bray? Any of these options would have dominated this halfhearted lob to the ground.
Hands: A-
Celebration/Frustration Moment: C-
LOVED: Western Kentucky's Testicular Fortitude
When you're in a game with an SEC team—and yes, Kentucky still counts, barely—there isn't time to mess around when you have a chance to take them down. When they're a team in your state and a rival (and they are very much that now), then the dials in these moments are turned up even more.
Western Kentucky could've kicked the extra point in OT against Kentucky and been on their merry way, but they didn't. They decided to go for two and win this one outright. They didn't just go for two, though.
Anytime the quarterback throws and catches the ball on the same play, you know you've done great things. Anytime this same quarterback wins the game on that same play, well, you deserve an applause from the entire football-loving world.
HATED: This Poor BYU Holder's Reaction

Via @BubbaProg

If you stayed up through the entire day of college football, then you were treated to utter madness at the very end.
Utah and BYU had the task of following USC's loss and did so in rather outstanding fashion. The Utah fans didn't really care that the game wasn't quite done, and they proceeded to storm the field on multiple occasions before time was up. Seriously, they're probably still storming their classrooms, libraries and rec centers.
This storming cost the team a 15-yard penalty and gave BYU a much more manageable game-tying field goal. This kick looked good off the foot, and BYU holder J.D. Falslev certainly thought it was staying between the uprights as he held up uprights of his own.
DOINK. Off the crossbar.
A premature celebration from the eyes of a Utah fan accurately encompasses what a week it was in college football.
Keep Reading