Alabama vs. LSU: Which Team Is Shaping Up to Be the Most Dangerous?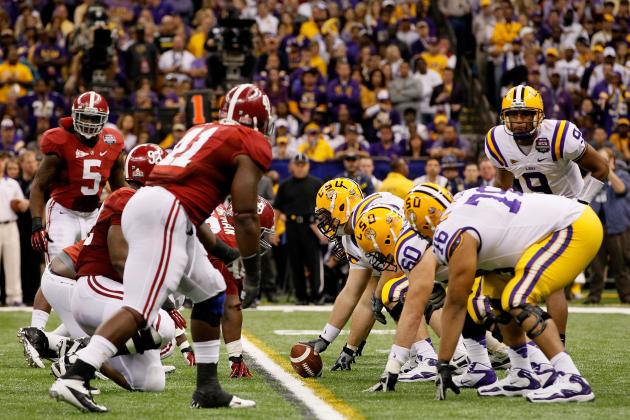 Kevin C. Cox/Getty Images

No, it is not November 3rd yet. In fact, both Alabama and LSU still have six other games before battling each other for the third time in a year.
Alabama and LSU quickly become one of the more heated rivalries in the SEC and a must-watch matchup for college football fans everywhere. Both programs are considered top three teams in both polls. They are not only the favorites for the SEC crown, but there is a very high possibility that one of these teams ends up in the national championship game once again.
If you had to pick which team is better right now, and is in greater shape to make a championship run—who would you pick?
Let's break this thing down and see which the better team early on between the two is.
Begin Slideshow

»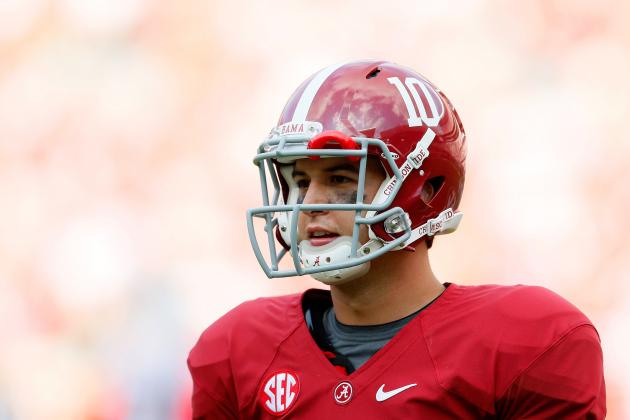 Kevin C. Cox/Getty Images

Alabama
AJ McCarron has really improved over the last year—his completion percentage is steady and he is limiting his mistakes. The second year starter has yet to throw an interception, while completing 60 percent of his passes on third down. He has really taken that step towards becoming a real solid quarterback and seems to only be getting better with each game he plays.


LSU
There was a lot of hype surrounding Zach Mettenberger because of his strong arm and NFL size. But in his first two games, it seemed like head coach Les Miles is taking the same approach he did with quarterbacks before him. Although Mettenberger is completing 70 percent of his passes, he has only thrown the ball 44 times and has one interception to two touchdown passes. We certainly have to see more of the first-year starter before we give the Tigers the edge here.
Edge: Alabama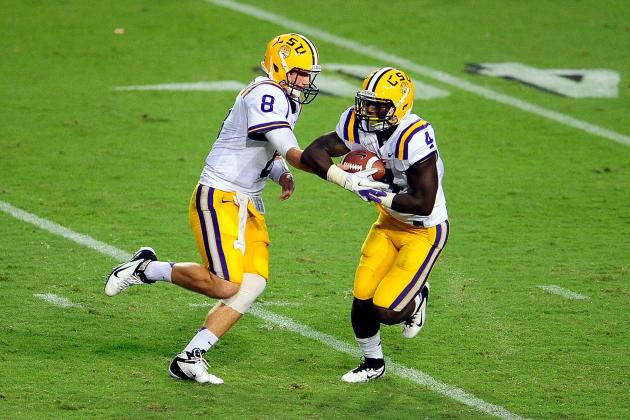 Stacy Revere/Getty Images

Alabama
The Crimson Tide received bad news when they were told that Jalston Fowler will miss the remainder of the season with a knee injury. But even with the teams second leading rusher no longer on the roster, Alabama still has T.J. Yeldon and Eddie Lacy, two backs who were expected to receive the bulk of the carries anyway. Alabama still has one of the better one-two punches at the position and should be fine in this department moving forward.
LSU
The running back position is what LSU has been known for over the years, as it is easily four deep in the backfield. Alfred Blue and Kenny Hilliard have stepped up in a big way, both averaging over seven yards a touch this season. Last year's leading rusher in Michael Ford and Spencer Ware are also producing in more of a limited role early on. The Tigers go with more of a running back by committee and it is one of the more effective backfields in the entire country.
Edge: LSU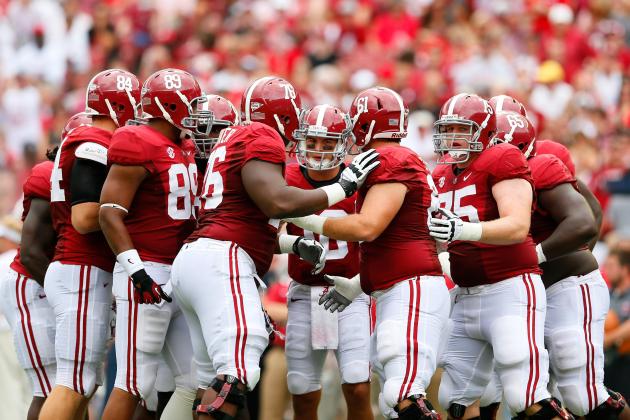 Kevin C. Cox/Getty Images

Alabama
As of right now, Alabama is averaging 379 yards of total offense, which is good for 10th in the SEC. And while that may not seem impressive, the running game is wearing down opposing defenses, the offensive line is doing a solid job of protecting the quarterback, and McCarron is making the throws when needed. It is also nice to see wide receiver Kevin Norwood take on the role of a possible No. 1 receiver, as he is averaging 24 yards per catch, and has caught two touchdowns on six receptions.
LSU
We know the running game is one of the best in the country; the Tigers are averaging 279 yards on the ground. But why isn't Les Miles allowing Zach Mettenberger to throw the ball a little bit more? The team said during the offseason that they would like to open up the passing game this season, but it isn't happening early on. And much like Alabama, LSU has a dominant offensive line as well, but suffered a major blow with the loss of left tackle Chris Faulk.
Edge: Alabama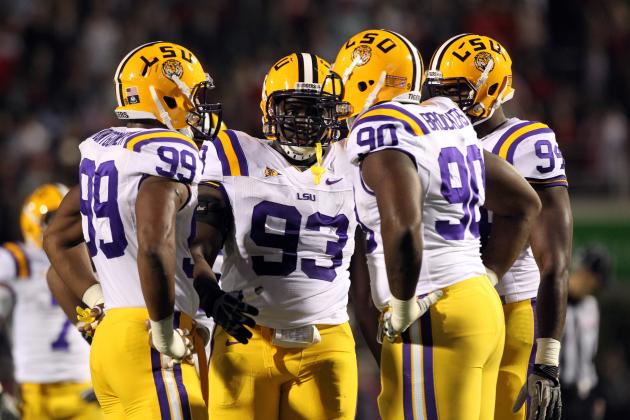 Joe Murphy/Getty Images

Alabama
So much for the lack of experience on the defensive side of the ball. I know we are still very early into the season, but Alabama is only allowing 246 total yards a game, which includes only 57 yards on the ground on average. Already, the defense has forced seven turnovers, while safety Vinnie Sunseri is fitting nicely into his new safety role. Really the only concern you can have with this unit at the moment is the lack of pressure they are generating up front.
LSU
Despite losing Tyrann Mathieu during the offseason, the Tigers still have the best defense in the SEC at the moment, allowing 201 yards a game. Teams are converting less than 30 percent of third downs against this unit and there has been 14 tackles for loss already. The secondary still needs work, as the Tigers have given up a few big plays in the passing game, but the Tigers still have the best defensive end duo in the country with Barkevious Mingo and Sam Montgomery coming off the edge.
Edge: LSU, in the slightest of margins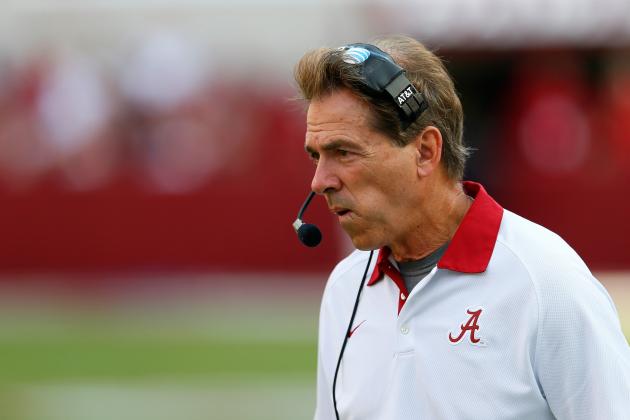 Kevin C. Cox/Getty Images

So if these two teams were to play this weekend, who would you pick? Well, thankfully that matchup isn't for another few weeks, which gives us more time to evaluate and learn about these two teams. If I had to make a pick right now for the team that is in the best position to make a title run, I would say it is the Alabama Crimson Tide.
Alabama has proven the most so far in absolutely dominating a Michigan Wolverines team. The defense—that was a major concern after losing many key contributors—seems to be ahead of the learning curve. The running game is looking terrific, as T.J. Yeldon has given the offensive an explosive playmaker that this team has lacked over the years. And the quarterback position is better in Tuscaloosa with McCarron really stepping up in the big moments and making plays for his team.
But then again, LSU is certainly no slouch and is considered a top three team in both polls for a reason. However, with both squads being ridiculous defensively, the winning offense will have to be balanced, keeping the opposing defense on its toes. A total of five of the last seven meetings have been decided by single-digits, and while both were great defensively, the offense that was able to be effective in the air and on the ground is 5-2 in those games.
Of course, there is a lot of time between now and then, but if I had to pick today, I would say Alabama is in better position to win its third national championship in four years.