On the field Notre Dame faces a monumental task in facing traditional rival Michigan State in East Lansing. Off the field, for the last several years Notre Dame has faced the equally daunting task of filling out it's schedule and staying relevant.
Notre Dame is one of only three programs nationally, including USC and UCLA, who have never scheduled a FCS-level opponent. This has been a fact that the athletic office takes seriously.
As an independent, Notre Dame has no league championship to play for, no conference foes who play many common opponents to measure themselves against.
In order to maintain ranking, they must play quality opponents week in and week out. That emphasis has been noted in schedules throughout the years.
While most teams' non-conference schedules are loaded with Southwestern Louisiana State, Akron, and the Florida Atlantic's of the world, the Irish take no such breaks. Until very recently, the Irish schedule was made up nearly entirely of BCS conference opponents and service academies.
As evident recently with schools like Nevada, Western Michigan and Tulsa, finding the name opponents was getting harder and harder.
The growing trend in college football is the alliance. Conferences are growing and expanding, or aligning with other conferences for both scheduling and bowl matchups.
Some either have, or about to move to a nine game conference schedule.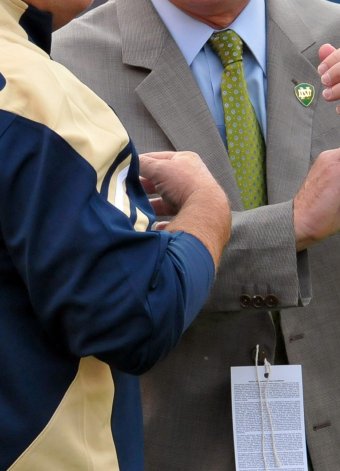 Matt Cashore-US PRESSWIRE
One of them is the B1G.
Notre Dame was facing the prospect of being unable to schedule multiple B1G teams in a season, more than likely finding themselves rotating between their traditional rivals year to year.
The Pac-12 has already adopted a nine game format, and through little more than tradition it appears that rivalries against USC and Stanford will continue.
Notre Dame has had a scheduling agreement with the Big East football teams, as well as being a conference member in all sports other than football and hockey.
Defection of Pittsburgh, West Virginia and Syracuse from an already weak football conference may have been the final straw that forced Notre Dame's departure.
The worry in filling out a schedule with quality opponents, coupled with having a safe harbor for the non-football Notre Dame sports had the Irish looking for a new partner.
Enter the ACC.
Notre Dame already owns rivalries with several member institutions. Irish faithful are accustomed to seeing Pittsburgh, Boston College and Miami on the schedule. Maryland, Florida State, Georgia Tech, Wake Forrest and North Carolina have also appeared on Notre Dame's schedules throughout the years.
The ACC also has quality educational institutions in Duke, Virginia Tech, Wake Forest, North Carolina and Georgia Tech.
Will the alignment with the ACC be good for Notre Dame?
The ACC gets the Notre Dame brand added to a conference that has played second fiddle to the SEC in most of its markets for the last decade, and will raise it's overall cache by scheduling five games per season against Notre Dame.
The oddity is geography.
Notre Dame is in the middle of B1G country. There are three other programs within 120 miles. Two in the state of Indiana; three that have appeared on the schedule 26 of the last 30 years.
If Notre Dame is committed to games annually against Navy, USC and Stanford, plus with the five teams from the ACC there are only four contests remaining.
Even if a pair of those come from the B1G teams that the Irish typically play there is little room for other traditional opponents like BYU, Air Force, Army or teams from the Big 12 like Texas or Oklahoma.
Currently the Irish have planned to schedule Purdue for the next 15 years and Michigan until 2030 with a two year break in 2018 and 2019. Michigan State has discussed a two year on, two year off format with the Irish, and Purdue will sign up to play ND any year that the Irish will have them.
It's hard to say exactly how it will shake out, but it's likely that with the B1G teams having only a pair of non-conference games they will be increasingly less likely to schedule Notre Dame.
It's more likely that the Irish will see more of Georgia Tech, Clemson, Florida State, Duke and North Carolina State as each ACC school will play Notre Dame once every three years.