College Football Recruiting 2013: Power Ranking the Top 30 Recruits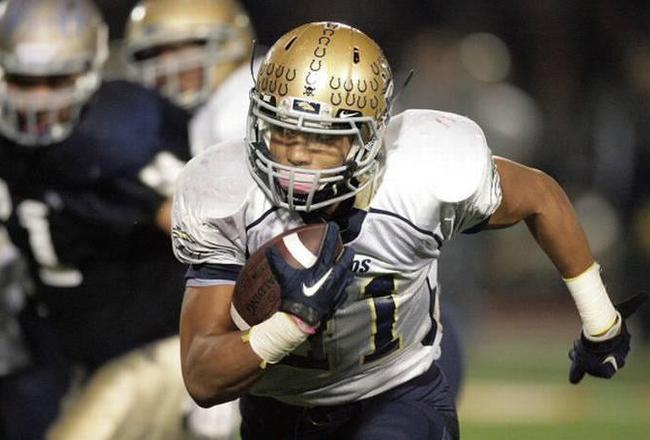 247Sports.com

The board is always a fluid list until a few weeks before national signing day.
So, as it moves, I like to keep you all abreast of who's falling and who's sliding by doing pieces that re-rank recruits. Some recruits are off to hot starts to their seasons, some have suffered injuries and others may be in line for a subpar senior season.
This piece is going to be pretty straightforward with a power ranking of the top 30 overall recruits for the 2013 class. This isn't a positional ranking list or anything of the sort. This is how the top 30 players in the country are stacked right now and where they sit on my board.
Let's get to some rankings, shall we?
30. Dorian Johnson, OT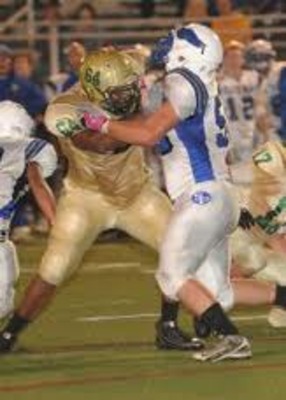 TRBLive.com
Johnson is big OT prospect from Pennsylvania who is a Penn State decommit. He stands 6'6" and weighs in the 280-pound range.
Johnson shows a quick get-off at the snap, plays big and strong at the point of attack, and has shock value in his punch. Targets get moved off their marks in the run game, and Johnson has second-level blocking ability.
He is a solid athlete and can shadow rushers well in space while using adjusting ability to cut off inside moves. Pitt, Ohio State and Virginia Tech are his top three, per 247Sports.com.
29. Tim Williams, DE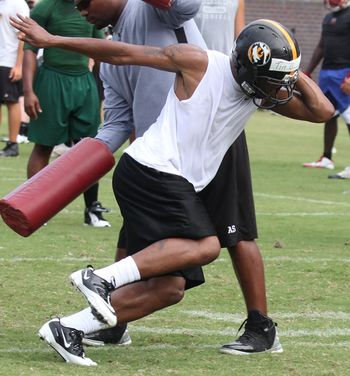 247Sports.com
Williams goes 6'4" and 230 pounds, and is one of the top DEs in this class. He is a nightmare on the edges and can play the run equally as well as he rushes the passer.
Williams has a long frame, which he uses to stay clean from blockers. He has surge at the snap to jump the O-line and a great burst to finish on the passer after he bends around the edges. He also shows good strength and can chase running backs down from the backside versus the run.
247Sports.com shows Florida State, Miami, USC, Alabama and USC as Williams' top five schools.
28. Ryan Burns, QB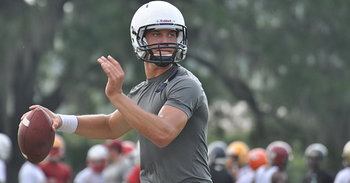 247Sports.com
Burns is a very good QB prospect from Virginia who has great size at 6'5" and 220 pounds. He has deceptive athleticism, gets to the top of his drops quickly and sets up well.
Burns flashes great field vision and can throw his receivers open with good anticipation of coverage voids. He has solid arm strength, accuracy and can pitch with touch on any throw that requires it.
He's committed to Stanford.
27. Cameron Burrows, CB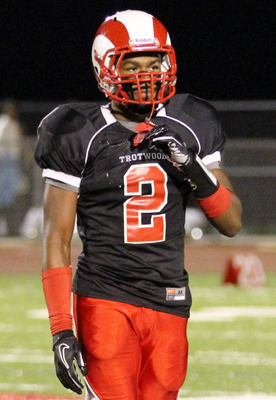 247Sports.com
A big corner from Ohio, Burrows has a 6'2", 200-pound body that looks like a safety's, but moves like a corner's. He can turn and run with ease, highlighting his recovery speed.
Burrows' length allows him to press and re-route at the line, throwing off a WR and QB's timing. He then locks on his man and uses good transition quickness to break, drive and close hard on the ball for the PBU.
Look for him to cure his effort questions and develop into a starter at Ohio State.
26. Derrick Griffin, WR/TE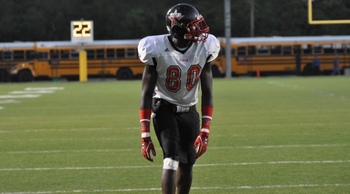 247Sports.com
Texas has a lot of big things, and Griffin is one of them, as the pass-catcher goes 6'6" and more than 220 pounds. He plays WR for his high school team now, and he uses his length, athleticism, solid speed and leaping ability to make catch after catch.
There is a growing feeling that Griffin will be a TE at Texas A&M, but it doesn't matter because Kevin Sumlin and Kliff Kingsbury definitely will exploit his strengths in their high-octane passing offense.
25. Eddie Vanderdoes, DT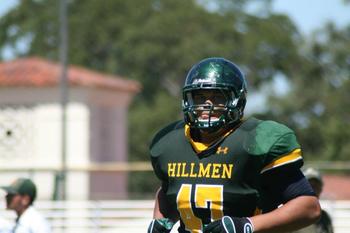 247Sports.com
Vanderdoes is a huge-bodied DT with amazing play strength. His 6'4", 305-pound frame has solid snap quickness, but his fight to pressure via his strength is remarkable.
It's nothing for Vanderdoes to stack at the point of attack, read run and either toss his opponent aside if he's single-blocked, or anchor down versus double-teams and make a mess in the middle for the stop. He is an OK pass-rusher, but his strength is his strength.
He's committed to USC.
24. Dee Liner, DT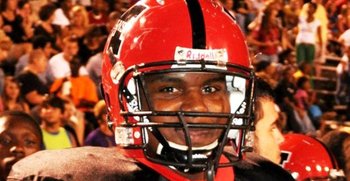 247Sports.com
I rank Liner here based on nothing he's done wrong, just that I like a couple other players higher than him. Nonetheless, he's a fantastic DL prospect who has one of the quickest first steps in the nation.
Hailing from Alabama, the Auburn commit is a 6'3", 275-pounder who plays with rare athleticism in the defensive trenches. Liner can line up at either DE or DT and menace a front for four quarters with speed, quickness and strength.
23. Derrick Henry, RB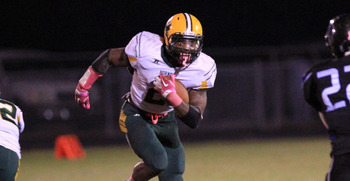 247Sports.com
You ever see a 6'3", 245-pound RB who has great athleticism, elusiveness, speed and quickness?
I have, and his name is Derrick Henry.
Coming into his senior season for Yulee High School in Florida, Henry is looking for his fourth straight 2,300-yard season. He has good run instincts and is very agile for such a large-bodied back. His strength is coming along, but it's his rare size, quickness and speed that make him legit.
Look for him to end up at Alabama soon.
22. Shane Morris, QB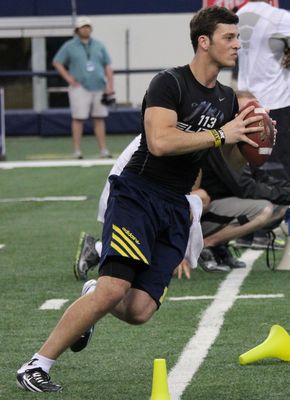 247Sports.com
Morris is a legend in Michigan and is the future face of Michigan football. He's a 6'3", 190-pound lefty with excellent set-up and delivery quickness.
Morris can rifle the football at anytime in his drops with good power, velocity and improved accuracy. He reminds me a bit of a Tony Romo due to his good mobility and ability to elude rushers, reset and fire downfield to open targets.
Michigan will love this guy.
21. Vonn Bell, DB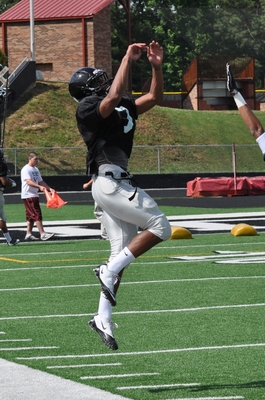 247Sports.com
At 6'0" and 190 pounds, Bell is a great DB from Tennessee who plays in Georgia. He has excellent ball skills, speed and a burst to make plays versus the run and pass.
Bell can squeeze down in the box versus the run to make stops like a linebacker with big hits. Then he can flip his hips the next play, roam the back end with great range and jump a passing lane to make a pick and return it.
247Sports.com lists Alabama, Tennessee and Ohio State as his final three.
20. Darius James, OL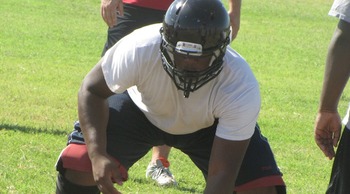 247Sports.com
James is a massive 6'5", 320-pounder who plays on the offensive front. He is perceived to be a center prospect due to his athleticism, quick feet, snap quickness and strength, but I can see him playing LT.
James moves very easily for a big man and also plays with great strength. He needs to refine his pass protection technique, but his athleticism, agility and lateral movement skills will help him immensely.
He's headed to Texas.
19. Kelvin Taylor, RB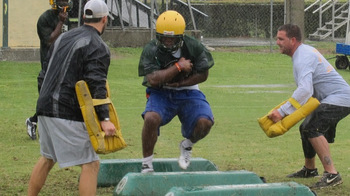 247Sports.com
If Taylor has been one thing in his career, it's productive. Super productive.
I say that because he's already the all-time leading rusher in Florida, and his senior year has just started.
He's 5'11", 216 pounds and has good tools to be a great college back. Taylor is quicker than fast and makes his money on the second level, where he eludes linebackers with lateral quickness and gets upfield in chunks.
His strength is good, and the Florida commit has great vision and instincts.
18. Christian Hackenberg, QB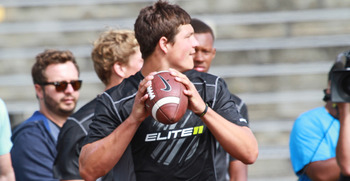 247Sports.com
Hackenberg plays in Virginia, but is originally from Pennsylvania. He stands 6'3", 215 pounds and has all the tools you look for in a top-flight starting college QB.
Hackenberg shows solid ball-handling skills, a quick release and good arm strength. He can zip the the ball to all areas of the field and make throws that win ball games. Hackenberg really gets lathered up when he's in rhythm and can really get going then when in sync with his receivers.
He's headed to Penn State.
17. Jaylon Smith, OLB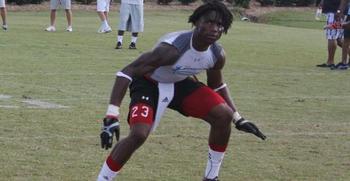 247Sports.com
Smith looks like a big safety when you see him play because he's so good in overage. Out of Indiana, he is a 6'3", 225-pound defender who has good athletic ability, movement skills and loose hips.
Smith can cover TEs, WRs and RBs in the passing game not just in zone coverages but in man schemes, too. He is still working on getting stronger so he can play bigger in his take-ons versus the run, but with his athleticism and cover ability, Notre Dame will put him to work.
16. Kendall Fuller, CB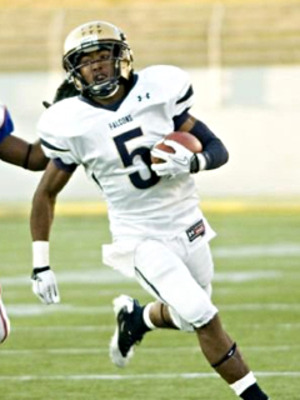 247Sports.com
One of the best all-around athletes on this list, Fuller can do an array of things on the field.
But cornerback is where he should stick to in college.
The 5'11", 190-pounder has the mirror ability, reaction quickness, feet and lateral agility instincts to be an elite, sticky, man-to-man cover corner. Fuller's athleticism, feel and anticipation skills make him an ideal candidate to be a No. 1 corner at Virginia Tech.
15. Matthew Thomas, OLB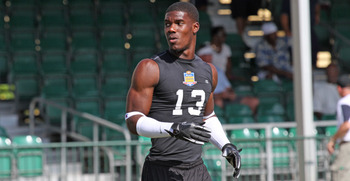 247Sports.com
Thomas is from Miami and is a 6'3", 210-pound OLB who is very scheme-versatile. He can play the Sam or Will in a 4-3, and I also can see him fitting in well as a Jack type in a 3-4 scheme.
Thomas' athleticism and speed are his top play traits and allow him to play with range. He is a good blitzer and also can provide a defense with a sub-package pass-rusher if needed.
Alabama, Florida State and USC will get trips, as reported by Scout.com.
14. Ty Isaac, RB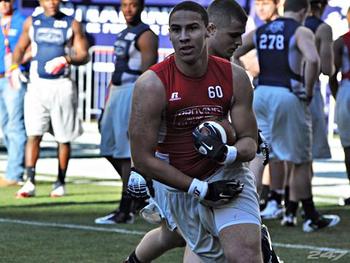 247Sports.com
Isaac is a very dynamic player at 6'3" and 220 pounds. He is a very good RB who has good speed, elusiveness, a burst to and through holes, instincts and run vision.
Isaac has done a good job of getting stronger this offseason, and that will allow him to to break even more tackles. Then comes his receiving ability, as Isaac can run routes and catch the football like a WR.
Whether it's as a traditional RB or a jack-of-all-trades type of player, big things are expected from him at USC.
13. Robert Foster, WR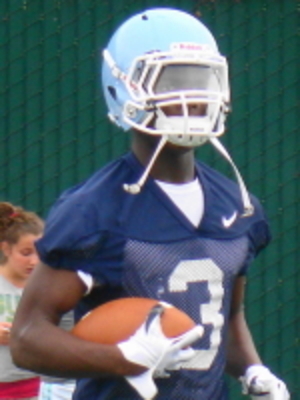 Scout.com
Foster has incredible speed and explosiveness. He is a 6'2", 190-pound WR prospect from Pennsylvania who can be a game-breaker.
Foster releases quickly and is very speedy in his route-running. He can detach from coverage with quick cut ability and make plays. Foster's hands will improve with better catch-placement decision-making.
He also has return value, too.
I expect Foster to end up at either Pitt or Alabama.
12. Montravius Adams, DT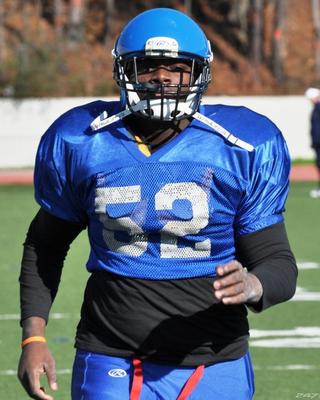 247Sports.com
Adams came into the offseason between 285-290 pounds, but is more than 300 pounds now.
Tack that on a 6'3" frame with his snap quickness, and you have dominating DT.
An athletic lineman, Adams comes off the snap well, and when he plays with a flat back and good leverage, he's a bear to block. His strength is very good, and he has quick hands to punch a blocker several times while fighting through.
My gut tells me Adams could be set on Auburn, but there's a lot of time left.
11. Su'a Cravens, S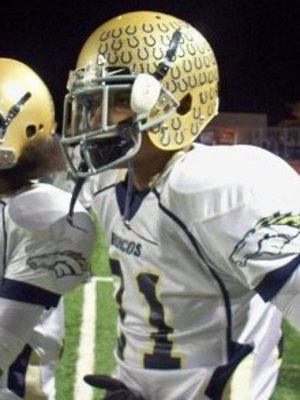 247Sports.com
At 6'1" and 205 pounds, Cravens is one of the best pure football players in America. He can play several different positions, but I can envision him being a Troy Polamalu type of defender at USC.
No, I didn't say he's the next Troy Polamalu, but rather he has the range, instincts and versatility to be deployed all over the field how Polamalu was at USC (and now is in Pittsburgh).
Cravens is a super-gifted athlete who has great football speed, ball skills and play smarts. He should be a star at USC.
10. Eli Woodard, CB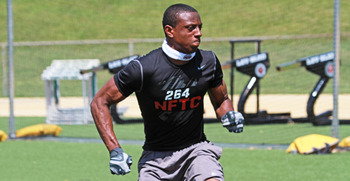 247Sports.com
Woodard comes from New Jersey and is a very smart player. He understands his assignments, plays soundly and solidly, and has great discipline.
Woodard knows when he can peel off his routes to go make a play and when to stay within the scheme to be productive. At 6'0" and 185 pounds, he has the strength, speed, lateral agility, hips and transition quickness to be an excellent corner at Ohio State.
9. Max Browne, QB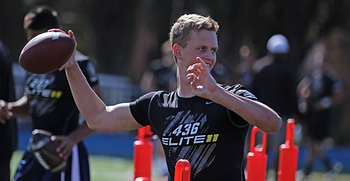 247Sports.com
The 6'5", 215-pound Browne comes from the greater Seattle area and is the top pro-style QB in the country. He has great mechanics, a quick release, good arm strength, accuracy, touch and anticipation.
Browne is very good in a pre-snap and post-snap phase of a play. He finds voids in coverage schemes, knows where all of his targets should be and is aware of his checkdown options. He can attack all three defensive levels and has good pocket presence.
Browne likely will enroll early at USC.
8. Antonio Conner, S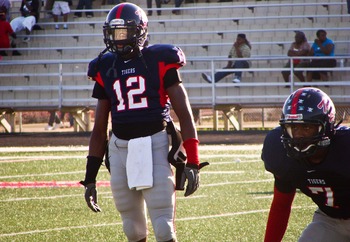 247Sports.com
Conner comes out of The Magnolia State and stands at 6'1", 200 pounds. He is a very good athlete and even better football player; whatever it takes to win Conner does, and that speaks to how competitive he is.
He shows great ball-locate skills and quickly will crash down to challenge ball-carriers to stop the run. Conner can thump with big hits or use his athletic ability to make great open-field tackles. He is improving his awareness as a zone defender, but his speed and ball skills make him a big factor on the back end.
I still believe Conner will end up at Ole Miss.
7. Kenny Bigelow, DT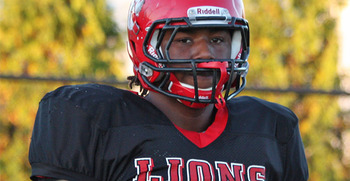 247Sports.com
Perhaps the top player in the Northeast, Bigelow is a 6'3" DT who weighs close to 300 pounds and has shocking athleticism; he has played LB, DE, TE and RB in his high school career.
As a DT, Bigelow fires off the ball with force and physicality, and plays big at the point of attack. He relishes contact, quickly sheds from blockers and can make stops in the backfield.
A tenacious pass-rusher, Bigelow is very active to get to the passer and fights to finish. He is committed to USC.
6. Carl Lawson, DE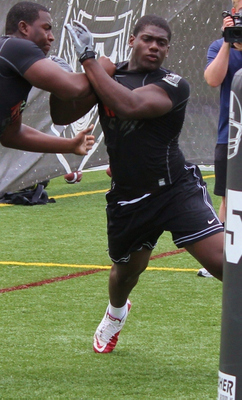 247Sports.com
Lawson has not allowed the shadow of Robert Nkemdiche hinder his shine this year. From Georgia, Lawson doesn't seem fazed by Nkemdiche getting much of the pub and has just worked hard this offseason to showcase his own skills.
A 6'2", 255-pound DE, Lawson has good strength holdup on the edges versus the run. He can anchor versus TEs and also hawks from the backside. He is a quick and active pass-rusher who has quick hands, speed and great bending ability to get around blockers.
Committed to Auburn, Lawson should become a leader for the Tigers.
5. Laremy Tunsil, OT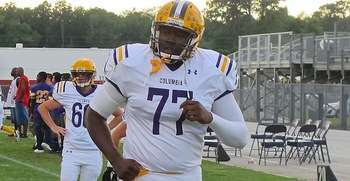 247Sports.com
Tunsil has bulked up to 295 pounds on his 6'6" frame this year. The Florida OT prospect has LT athleticism and a very high upside.
Tunsil really plays with natural knee bend, moves well both engaged and in space, and can just shadow anyone trying to get to his passer. He can roll up on a target in the run game with great snap quickness, has the athleticism to pull a trap and can hit moving targets.
I feel he ends up at Georgia, but Alabama and Florida are heavily involved, too.
4. Vernon Hargreaves, CB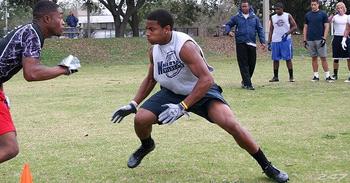 247Sports.com
At 5'11" and 180 pounds, Hargreaves has No. 1 CB ability. Sure, he has the athletic talent, but it's his mental makeup that separates him from the average prep cornerback.
Hargreaves plays with outstanding technique, smarts, instincts, savvy and feel. He can slowly play a route, process information quickly, recognize a QB's drop along with a WR's pattern and attack the football to deny a completion.
Hargreaves' athleticism, speed, agility, hips, quick feet and short-area quickness are all excellent and make him a candidate to develop into a complete CB at Florida.
3. Ricky Seals-Jones, WR/TE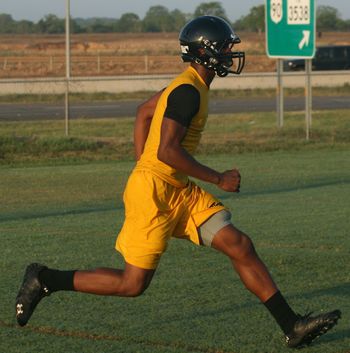 247Sports.com
It's a sight to see Seals-Jones play, which is why he will be missed for the 6-8 weeks he's out with a dislocated left kneecap. The Texas native plays QB and safety for his Sealy High School squad, but will be a pass-catcher in college.
Seals-Jones stands a staggering 6'5" and 230 pounds, and is a sensational athletic marvel. He is a playmaker and has great ball skills, good speed and more.
HornsNation.com (via ESPN) reports Texas, Texas A&M, LSU, Oregon and Baylor are his top schools. UCLA could be in the mix, too.
2. Reuben Foster, LB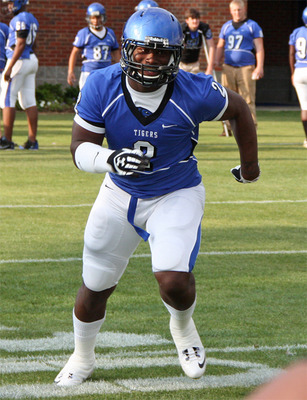 247Sports.com
A 6'2", 245-pound LB, Foster is from Georgia and plays in Auburn. He is a man amongst boys and has very good tools to be a plug-and-play player for Auburn.
Foster has a quick first step to insert himself into alleys, strength to take on blockers and not get dug out, shedding ability to free himself up and thumping ability upon contact with ball-carriers.
If you try to get to the edges, Foster can laterally scape across and fill outside, showing great speed and range. He'll bully through as a blocker and should be a national college defensive standout for Gene Chizik.
1. Robert Nkemdiche, DE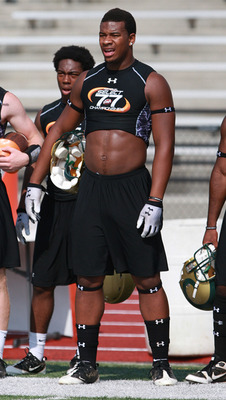 247Sports.com
Nkemdiche is ready to play college football right now. He's in the 6'4", 275-pound range and has the strength, power, quickness and tenacity to play big-time college football at a dominant rate.
Nkemdiche can surge off the ball at the snap, crash on the edges and simply overwhelm a blocker at the point of attack. He is a giant at contact, powerful to shed and beastly to fight through blocks. He is so strong that he can play DT and so athletic that he can play OLB in a 3-4.
The nation's top player is committed to Clemson.
Edwin Weathersby has worked in scouting/player personnel departments for three professional football teams, including the New York Giants, Cleveland Browns and the Las Vegas Gladiators of the Arena League. He spent a year evaluating prep prospects and writing specific recruiting and scouting content articles for Student Sports Football (now ESPN Rise-HS).
A syndicated scout and writer, he's also contributed to WeAreSC.com, GatorBait.net and Diamonds in the Rough Inc., a college football and NFL draft magazine.
Keep Reading